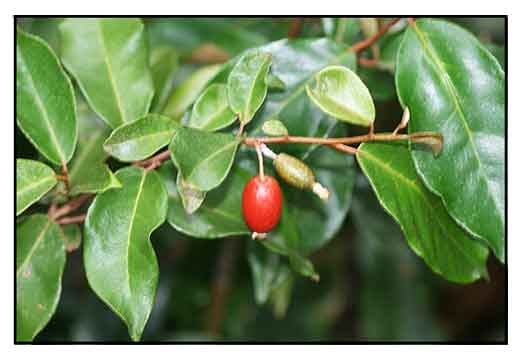 Gen info
- Elaeagnus (silverberry or oleaster) is a genus of about 50-70 flowering plants in the Elaeagnaceae family. The vast majority of the species are native to temperate and subtropical regions of Asia, with one species (E. triflora) extending south in northeastern Australia, another (E. commutata) restricted to North America, and a third (E. angustifolia) may be native to southeastern Europe. (4)
- Milaa milaa is taken from the Aboriginal language of the Atherton Tablelands.
Botany
Lingaro is a straggling or climbing shrub with long branches which are covered with minute, brown scales. Leaves are entire, subelliptic to ovately oblong, 4 to 9 centimeters long, 2 to 4 centimeters wide, pointed at both ends or blunt at the base, shining and dark green above, and coppery or silvery metallic underside. Flowers are yellow and fragrant, occurring singly in the axils of the leaves. Fruit is oval, about 1.5 to 3 centimeters long, pale red or pinkish, with a single large seed, sweet and juicy when ripe.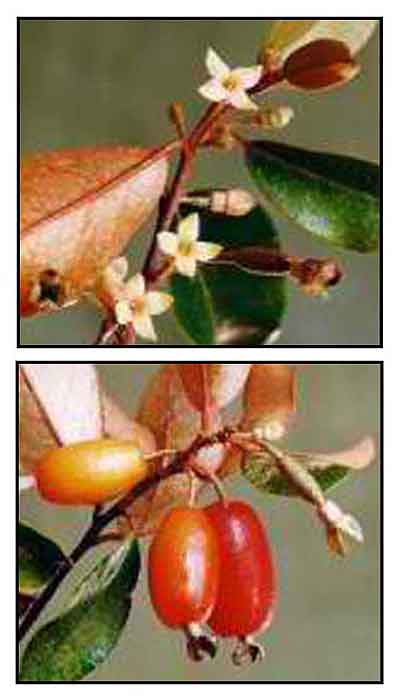 Distribution
- Native to the Philippines.
- In thickets and forests at low and medium altitudes, ascending to 1,500 meters throughout the Philippines.
- Sometimes cultivated as an ornamental or hedge plant, or for its edible fruit.
- Also native to Bismark Archipelago, Borneo, Jawa, Lesser Sunda Is., Malaya, Maluku, New Guinea, Queensland, Solomon Is., Sulawesis, Sumatera, Taiwan. (5)
Properties
- Flowers are astringent and cardiac.
- Flowers are highly scented.
- Reported to have four times as much lycopene as any other plant in the world.

Parts used
Flowers, fruit.

Uses
Edibility / Culinary
- Fruit can be eaten raw. Also, makes a fine jam, jelly, and preserve.
- Fruit has a sweet tomato taste.
- Seeds edible, raw or cooked, with a peanut flavor.
- In Australia, the fruit is considered "bush tucker."
Folkloric
- Ripe fruit given to children suffering with amoebic dysentery.
- In Benguet, fruits used for treating cough. (2)
- Flowers are astringent and cardiac.
Others
- Ritual: In Benguet, Cordillera region, an offertory wild fruit.

Studies
• No studies reported.
Availability
Wild-crafted.