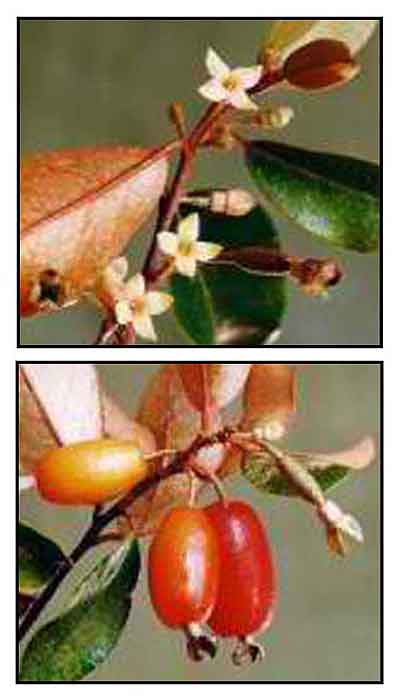 Botany
Lingaro is a straggling or climbing shrub with long branches which are covered with minute, brown scales. Leaves are entire, subelliptic to ovately oblong, 4 to 9 centimeters long, 2 to 4 centimeters wide, pointed at both ends or blunt at the base, shining and dark green above, and coppery or sometimes grayish-white beneath. Flowers are yellow and fragrant, occurring singly in the axils of the leaves. Fruit is oval, about 1.5 to 3 centimeters long, pale red or pinkish, sweet and juicy when ripe.
Distribution
- In thickets and forests at low and medium altitudes, ascending to 1,500 meters throughout the Philippines.
- Sometimes cultivated as an ornamental or hedge plant, or for its edible fruit.
- Also found in Taiwan, Indonesia, Malaysia, New Guinea, and Australia.
Properties
- Flowers are astringent and cardiac.

Parts used
Flowers, fruit.

Uses
Edibility / Culinary
- Fruit can be eaten raw. Also, makes a fine jam, jelly, and preserve.
Folkloric
- Ripe fruit given to children suffering with amoebic dysentery.
- Flowers are astringent and cardiac.

Studies
• No studies reported.
Availability
Wild-crafted.