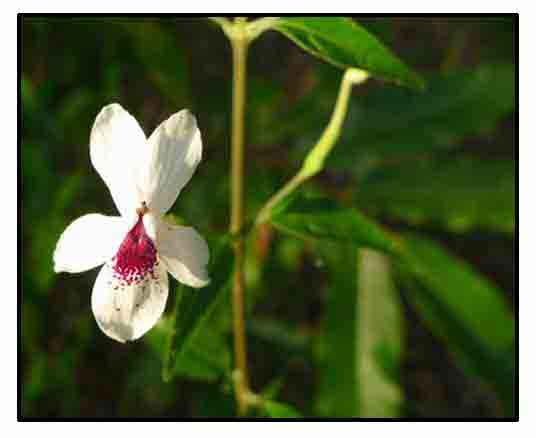 Gen info
- Pseuderanthemum is a genus of plants in the family Acanthaceae with a pantropical distribution. As of September 2022 Plants of the World Online listed 130 species. (9)
Botany
Limang-sugat is an erect, branched, rather slender undershrub or half-woody plant usually about 1 meter in height. Leaves are thin, elliptic-ovate to oblong-ovate or oblong-lanceolate, 5 to 12 centimeters long, the upper ones often reduced, pointed at the tip and narrowed to the petiole at the base. Peduncles are axillary and longer than the petioles, bearing near their apices 1 to 3 or more racemose or cymose flowers. Calyx is green, 5 to 7 millimeters long, with elongated, linear teeth. Corolla is white, the middle lobe of the lower lip has a purple spot at the base; the tube is slender and 2.5 to 3 centimeters long; lobes are spreading, elliptic to elliptic-oblong, and about 1.2 centimeters long. Fruit is a hairy, stalked capsule, about 2 centimeters long.
Distribution
- Native to the Philippines. (4)
- Common in thickets at low altitudes from northern Luzon to Palawan and Mindanao and in most islands and provinces. (7)
- Introduced into Bangladesh, Cuba, Jawa, Puerto Rico, Solomon Is., Trinidad-Tobago, Windward Is. (4)


Constituents
- A dichloromethane extract of Pseuderanthemum bicolor yielded lupeol, betulin, and a mixture of stigmasterol and sitosterol. (1)
- Study of methanol, chloroform, and ethyl acetate extract of leaves yielded major bioactive compounds of 1,6;2,3-dianhydro-4-deoxy-beta-D-ribo-hexopyranose, pseduosarsasapogenin-5,20-Dien, methyl ether/exatriacontane, Di-N-decylsulfone/Octadecanal, and squalene. (see study below) (6)

Properties
- Studies have suggested antimicrobial, anti-inflammatory, antidiabetic, alpha-amylase inhibitory, anticoagulant properties.

Parts used
Roots, stems, leaves.

Uses
Folkloric
- In the Philippines, decoction of leaves, stems and roots used against aphthae and as cicatrizant of wounds and ulcers.
- In India, plant paste is applied on boils. Leaves are fried in Brassica campestris oil (sarsoon) and applied externally on cracked feet. (2)
- The Gujjar tribe of Sub-Himalayan tract, Uttarakhand, India , used the plant paste on boils. Leaves are fried in oil of Brassica campestriis (sarsoon) and applied externally on cracked feet. (5)
Studies
• Antimicrobial Triterpenes and Sterols: A dichlormethane extract of Pseuderanthemum bicolor yielded lupeol, betulin, and a mixture of stigmasterol and sitosterol. Extracts and isolates showed activity against Gram-negative E. coli and Pseudomonas aeruginosa, with no activity against Gram-positive bacteria S. aureus and B. subtilis. Lupeol inhibited growth of fungi, Candida albicans and Aspergillus niger but was inactive against Trichophyton mentagrophytes. A mixture of stigmasterol and sitosterol was active against C. albicans and T. mentagrophytes, but inactive against A. niger. The extract and betulin were inactive against all tested fungi. (1)
• Anti-Inflammatory / Leaves: Study evaluated leaf extracts of P. bicolor for anti-inflammatory activity using test suspensions (TS) doses of 5, 10, 15mg/200 g, and measuring paw induced by carrageenan injection. Ethanolic TS showed higher ED50 (156.5 mg/200g BQ than aqueous TS wit 7.85 mg/200g BW. The significant anti-inflammatory activity was attributed to metabolites alkaloids, saponins, phenolic compounds, flavonoids and phytosterols in the plant. (3)
• Anticoagulant / Leaves: Study evaluated the anticoagulant activity of fresh leaves of P. bicolor macerated in 95% ethyl alcohol, using five test solutions. Heparin (TS3) was positive control and NSS the negative control. Results showed significant anticoagulant activity. TS3 showed highest anticoagulant activity with 100%, followed by TS2 (10mg/mL) with 76.97%, and TS1 (5mg/mL) with 28.37%. (5)
• Antidiabetic / Alpha-Amylase Inhibition Potential / Leaves: Study evaluated the anti-diabetic activity of P. bicolor leaf extracts. Acarbose was used as standard drug. A total of 19 secondary metabolites were subjected to protein-ligand docking study against alpha-amylase protein. Among the 19 test ligands, "2,2-Dibromocholestanone" from the EA extract showed the highest binding energy of −9.3 Kcal/mol. The next highest remarkable inhibition was showed by "Pseduosarsasapogenin-5,20-Dien Methyl Ether" present in the ME, with a binding energy of -9.3 Kcal/mol with the formation of 2 hydrogen bonds. Results suggest P. bicolor leaves contain bioactive compounds with potential as anti-diabetic drug. (see constituents above) (6)
Availability
- Wild-crafted.
- Ornamental cultivation.