Gen info
- Schefflera are shrubs or trees, sometimes climbers or epiphytes, usually with palmately compound leaves. Several recent phylogenetic studies have shown Schefflera is clearly polyphyletic, and that the Asian species belong to a single, well supported, morphologically coherent clade, which might have to be transferred to some other genera. (8)
- There are nearly 1100 species widely distributed in the tropics and subtropics of both hemispheres; about 5 or 6 species endemic in the Philippines.
Botany
Lima-lima is a smooth vine, 2 to 6 meters high. Petioles are longer than the leaflets. Leaves are palmately compound leaves, with 5 to 6 leaflets. Leaflets are smooth and shining, leathery, elliptic to broadly ovate, of different sizes in the same leaf, 10 to 24 centimeters in length, 3 to 8 centimeters wide, with pointed tips. Flowers are greenish, 6-parted, 2 to 3 millimeters in diameter, borne on terminal, lax panicles 10 to 20 centimeters long. Fruit is globose and fleshy when fresh, 4 to 5 millimeters long with 6 prominent angles when dry.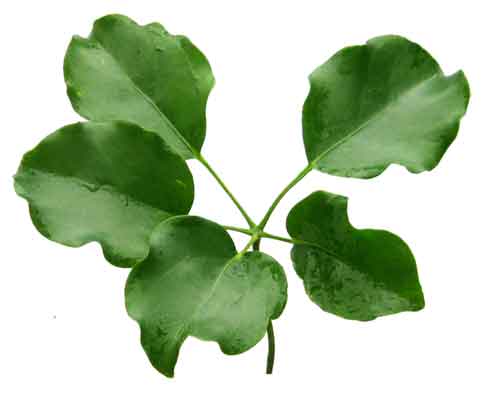 Distribution
- Common in secondary forests and thickets at low and medium altitudes, occurring in most or all islands and provinces from the Batan Islands and northern Luzon to Palawan and Mindanao.
- Also occurs in Indo-China, Thailand and Malaysia.
Constituents
- The leaves yield oleanolic acid, lutein, fatty alcohols and hydrocarbons. (1)
- S. venulosa yielded a betulinic acid glycoside.
- Aerial parts of S. venulosa yielded two new triterpenoid saponins: 3-O-β-D-rhamnopyranosyl (1→2)--β-D-glucuronopyransyl oleanolic acid 28-O-β-D-glucopy-ranosyl ester(1)、3-O-α-L-rhamnopyranosyl (1→2)--β-D-glucuron-opyransyl oleanolic acid 28-O-β-D-glucopyranosyl ester (2). (11 )
Properties
- Antiscorbutic, vulnerary.
- Studies have suggested wound healing, antioxidant, immunomodulatory, antiprotozoal, hepatoprotective properties.

Parts utilized
Leaves, bark.

Uses
Folkloric
- Bark is used for treatment of coughs.
- Used for asthma, liver diseases, rheumatism, arthritis, sprains.
- Used for fever and inflammation.
- Used as tonic.
- Decoction of leaves used as antiscorbutic.
- Resin used as vulnerary.
- In India, roots mixed with rice, eaten to cure dropsy.
- In Thailand, used as ingredient in post-partum baths and food supplements. (10)
- In Laos, stem bark used for rheumatism; also used as tonic. (15)
- - In India, leaves used in treatment of bone fractures.

Studies
• Secondary Metabolites / Oleanolic Acid / Leaves: Study of diclhloromethane extract of leaves yielded oleanolic acid, lutein, fatty alcohols and hydrocarbons from the leaves of Schefflera odorata. Some of the biological activities of the plant may be attributed to oleanolic acid. (1)
• Wound Healing / Lectins: Philippine study reports the potential of leaves of two medicinal plants - Pithecellobium dulce and Schefflera odorata as available and inexpensive sources of lectins and suggests further studies for its wound healing properties. (3)
• Lectins / Leaves: Study extracted a lectin from the leaves of Schefflera odorata, non-blood type specific and non-blood group specific. The lectin was a glycoprotein containing 2.33% total sugars. (5)
• Saponin / Cell-Signaling Pathway Modulator / Antioxidant / Immunomodulatory: Study evaluating the mechanisms of how saponins from leaf extracts of S. odorata modulate cell signaling pathways suggest: (1) leaf extracts act as an extracellular signal switching off extracellular enzymes and (2) induction of apoptosis through signal transmission into the nucleus promoting DNA fragmentation of cancer cell lines. Study also demonstrated antioxidant and immunomodulatory properties. (6)
• Anti-Protozoal: In a study of 10 lectins screened for cytotoxic activity against Acanthamoeba sp. (a keratitis-causing amoeba) and Tetrahymena pyriformis, lectins from Schefflera odorata and Swietenia macrophylla were found to possess high cytotoxic activity against the test organisms. (7)
• Cytotoxicity / Leaves and Roots: Study for cytotoxicity of air-dried leaves and roots of Schefflera odorata extracts showed an IC5020 µg/ml for all cell lines tested (A549, adenocarcinoma of lung; SL6, large cell of lung; Calu-1, squamous carcinoma of lung; Hep-2, epidermoid carcinoma of larynx; and L929, m mouse fibroblast as control). (9)
• Lupane Triterpenoids: Study yielded two new lupane triterpenoids, viz., 3-O-β-D-glucopyranosyl-(1→2)-β-D-glucopyranosyl-27-oxo-betulinic acid-28-O-β-D-glucopyranoside (1), 3-O-β-D-glucuronopyranosyl-27-oxo-betulinic acid-28-O-β-D-glucopyranoside (2). (12)
• Hepatoprotective / Antioxidant: Study evaluated the hepatoprotective activity of aqueous extracts of S. venulosa and S. wallichiana leaves on carbon tetrachloride-induced liver damage in male albino rats. Results showed S. venulosa aqueous extract has potent antioxidant and hepatoprotective activity when compared to AESW. (13)
• Antistress / Antioxidant / Bark and Leaves: Study of ethanol extract of bark and leaves showed showed antistress effect on mice at oral doses of 158 and 167 mg/kbw, respectively. The bark was more effective than the leaves, with efficacy increasing with doses. Both extracts showed in vitro antioxidant activity at 50-100 mcg/ml, with the bark showing greater effect than the leaves. The saponin extract of the bark exhibited antioxidant effects at 5-25 mcg/mL. The saponins may be th chemical constituent responsible for the antioxidant activity. . (17)

Availability
Wild-crafted.