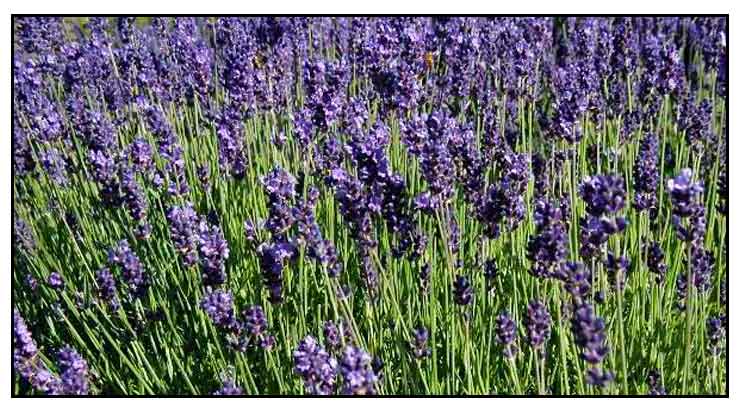 Botany
Lavender is a shrubby evergreen perennial growing to a height of 1 to 3 feet, with short, crooked, much-branched stems, covered with a yellowish-grey bark, with numerous, erect, straight, slender quadrangular branches. Leaves are opposite, sessile, entire, linear and blunt, with curved or curled back margins, 1 to 1.5 inches long, green with scattered hairs above, smooth or finely downy below. Flowers are in terminal, blunt spikes on long stems from young shoots. Spikes are whorls or rings of flowers, six to ten flowers in each. Flowers are short stalked, 3 to 5 in the axils of brown, thin and dry bracts. Calyx is tubular and ribbed, purple-gray, five-toothed and hairy. Two-lipped corolla is bluish violet in color.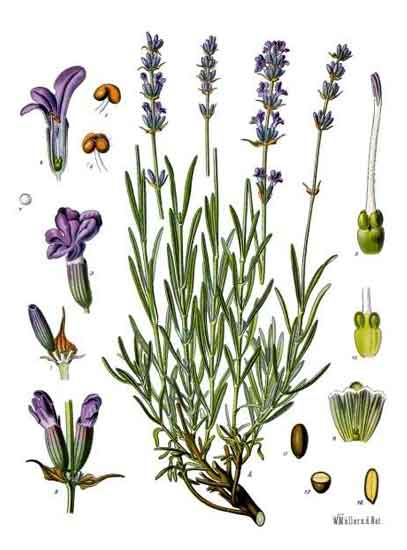 Distribution
- Introduced.
- Cultivated in the Baguio area.

Constituents
• Contains an essential oil, 1.0 to 3.0% – the major constituents are linalyl acetate (30-55%), linalool (20-50%).
• Essential oil contains over 300 chemical compounds. Dominant compounds were ocimene, gineol, camphor, linalool, linaly acetate, terpinen-4-0l, lavandulol, lavandulol acetate. (23)
• Study on essential oil of flowers yielded 34 components. The major component was linalol (24.63%); others were camphor (13.58%), linalyl acetate (8.89%), (Z)-ß-ocimene (7.59%), 1,8-cineole (7.14%), borneol (6.41%) (E)-ß-ocimene (4.76%), hotrienol (4.42%), hexyl butyrate (2.96%), α-bisabolol (1.13%) and caryophyllene oxide (1.02%). (see study below) (28)
• Lavender oil comes from the purple flower spikes. 100 pounds of fresh lavender yield a pound of essential oil. A typical concentration of lavender essential oil is a 2% dilution i.e., 12 drops of essential oil to 30 ml of a carrier oil.
• GC-MS analysis of flower essential oil yielded monoterpene alcohols as the dominant class of volatiles (51.8%), including linalool, lavandulol, and terpinen-4-ol as major components,followed by monoterpene esters (22.6%). (see study below) (26)
Properties
• Considered aphrodisiac, carminative, diuretic, emmenagogue, anxiolytic, analgesic, antiflatulence, anti-inflammatory, antispasmodic, sedative, central nervous system depressant.
• In aromatherapy, considered a holistic relaxant.
Parts utilized
Leaves, flowers, essential oil.
Uses
Culinary
• Flowers, buds, and leaves are edible.
• Flowers yield an abundant nectar from which bees can make honey. Also, candied and used as flavoring for baked goods, desserts and teas.
• Increasingly popular in cookery – dried buds, flowers and leaves.
• Flowers and leaves have been used in small quantities in soups, salads, dressings, stews, vinegar, and jellies.
Folkloric
• No known folkloric use in the Philippines.
• Used in traditional systems as diuretic and emmenagogue.
• For insomnia: pillows filled with lavender flowers to help restless people fall asleep.
• Used for treatment of burns, migraine
headaches, toothaches, diarrhea, sore throats, wounds.
• Used for treatment of hair loss (alopecia areata).
• Used for making lotions to soothe inflammation and insect bites.
• In Iranian folk medicine, leaves used for treatment of various inflammatory conditions.
New Age
• Aromatherapy: Lavender is one of the most popular essential oils in clinical aromatherapy. It is used for relief of anxiety and restlessness, to induce relaxation; decreases agitation in patients with severe demential.
• Balneotherapy: For treatment of circulation disorders.
• Postpartum Baths: To reduce perineal discomfort after childbirth, 6 drops of lavender oil is added to a bath. An alternative is 1/4 to 1/2 cup of dried flowers added to hot bath water.
• Essential Oil / Massage: Massage with lavender essential oil helps in decreasing anxiety and inducing relaxation.
• Commission E: In Germany, Commission E approved the internal use of lavender treatment of restlessness or insomnia and nervous stomach irritations, Roehmheld's syndrome, meteorism; for balneotherapy and treatment of functional circulatory disorders.(41)

Studies
• Essential Oil: Study showed the main components of the essential oil of the flowers were linalool 45.09%, camphor 13.32%, terpinen-4-ol 8.82%, 1,8-cineole 5.81%, borneol 5.22%, linaly acetate 3.08%. In the leaves, 49.23% 1,8-cineole, 34.67% camphor, 4.60% isoborneol, 2.13% D-3-carene and 2.11% sabinene.
• Natural Repellents: With the camphor content of the essential oils, concretes and absolutes of the flowers and leaves, lavandula could be employed as natural repellents. (3)
• Terpenes: Rich in terpenes and alcohols, various extracts present a potential for antiseptic, antifungal, antiviral, anti-inflammatory, analgesic and bactericidal use.
• Mucolytic / Expectorant: Expectorant and mucolytic property from the high 1,8-cineole content in the essential oil and absolute of the leaves.
• Alopecia Areata: In one study, for patches of baldness, scalp massage with lavender and other essential oils has produced significant regrowth of hair.
• Neuroprotective / Glutamate-Induced Neurotoxicity: In a study to evaluate the neuroprotective effect of L angustifolia flower aqueous extract in glutamate-induced neurotoxicity in rat pups, results showed LA protected the neurons against glutamate toxicity. (5)
• Anesthetic : In a study to evaluate the local anesthetic activity of the essential oil from LA compared to the essential oils from two citrus fruits (C reticulata and C limon), the essential oil of LA – linalyl acetate and linalool – but not the citrus oil, dose-dependently reduced the electrically evoked contractions of rat phrenic-hemidiaphragm. The results confirmed the in vivo local anesthetic activity observed in vitro. (6)
• Adjuvant Therapy in Depression: A double-blind randomized trial showed a combination of imipramine and lavandula tincture was more effective than imipramine alone. Overall finding suggests that the tincture provides a therapeutic benefit as adjuvant therapy in mild to moderate depression. (7)
• Antimutagenic: Study of LA essential oil showed concentration-dependent antimutagenic property, presenting lavender oil as a promising candidate for new applications in human health care. (8)
• Acaricidal: Study confirms the acaricidal properties of lavender essential oil and of linalool by inhalation, indication an additional route for the use of these substances for prophylactic and therapeutic needs. (9)
• Antifungal: Study shows lavender oil possess both fungistatic and fungicidal activity against C albicans strains. (10)
indication an additional route for the use of these substances for prophylactic and therapeutic needs.
• Essential Oil / Spasmolytic: Study showed spasmolytic activity on guinea pig ileum and rat uterus in vitro and also decreases the tone of skeletal muscle preparation of phrenic nerve-diaphragm of rats. Mechanism of action was postsynaptic and not atropine-like. The spasmolytic effect was likely mediated through cAMP, not cGMP. The mode of action resembles geranium and peppermint oils. (16)
• Aromatherapy as Adjuvant Therapy in Agitated Older Patients with Dementia: In a cross-over randomized trial of 70 Chinese elderly patients with dementia, aromatherapy using lavender showed to be an effective adjuvant therapy in alleviating agitated behaviors. Results suggest a potential and attractive alternative for a population vulnerable to side effects of psychotropic medications. (17)
• Analgesic / Anti-Inflammatory: A hydroalcoholic extract, polyphenolic fraction and essential oil of leaves were evaluated for anti-inflammatory activity using the carrageenan assay in rats and analgesic effects using formalin and acetic acid-induced writhing tests. Results confirmed the traditional use of L. angustifolia for painful and inflammatory conditions. (18)
• Local Anesthetic Activity / Essential Oil: In a rabbit conjunctival reflex test, treatment with a solution of essential oil of L. angustifolia, as well as linalyl acetate and linalool, showed a dose-dependent increase in the number of stimuli necessary to provoke the reflex, confirming in vivo the local anesthetic activity seen in vitro. (19)
• Alzheimer's Disease / Spatial Performance Improvement: A lavender extract effectively reversed spatial learning deficits in Alzheimer's disease (AD)in rats. (20)
• Mild Insomnia: A single-blinded, randomized pilot study evaluated the aroma of L. angustifolia as a treatment for mild insomnia. The aroma was delivered using an Aromastream device. There was improvement in the indices used. The results, favoring lavender, suggested a larger trial to draw definite conclusions. (21)
• Review: Low reporting of adverse reactions imply tolerability and safety. While the evidence for oral lavender is promising, long-term follow up data remains inconclusive. (22)
• Benefits in Depression: Study determined the effect of Lavandula angustifolia infusion on depression in patients taking Citalopram. Results showed the infusion has some positive therapeutic effects on depressed patients, decreasing mean depression score, alone or as adjunct to other antidepressant drugs. (24)
• Study of Dermally-Applied Oil in Agitated Patients: A randomized, single-blind cross-over trial evaluated a dermally-applied, neurophysiologically active, high purity 30% lavender oil in 64 nursing home patients with frequent physically agitated behaviors. Results showed lavender oil did not prove superior to control oil in frequency of agitated behaviors or in improving affect. (25)
• CNS Effects: Study investigated the anxiolytic effects of linalool and its potential interaction with the GABAa receptor in Sprague-Dawley rats. Linalool is a major component of the essential oil of lavender. Results showed linalool does not produce anxiolysis by modulation of the GABAa receptor; however, linalool modulates the CNS system by producing unconsciousness and degradation of motor movements. (26)
• Clearance of Amyloid Plaques from Brain of Alzheimeric Rats: Abnormal production of amyloid beta (Aß) peptide leading to plaque formation in the brain is an important marker in neurodegenerative Alzheimer's disease. Study concluded lavender extract dose-dependently decreased the extent of Aß aggregates. The mechanism needs elucidation. (27)
• Antioxidant / Essential Oil / Flowers: Essential oil of flowers yielded 34 components, with linalool as the major component. Study of antioxidant activity of essential oil showed a concentration dependent response in a DPPH assay. (see constituents above) (28)
• Anxiolytic Effect: Study evaluated the acute effects of hydroalcoholic extracts of LA on anxiety-like behavior in Elevated plus-maze (EPM) test via intraperitoneal injection in male Wistar rats. Results show an anxiolytic influence effect. (29)
• Antibacterial: Study compared the chemical composition and concentrations of flavonoids and sesquiterpene acids in the leafy stems in two varieties of lavender oils and their biologic activity against four pathogenic bacteria (S. aureus, P. aeruginosa, E. coli and E. faecalis). The least inhibition was for E. coli, the highest increase of S. aureus was inhibited by essential oils from both varieties. (30)
• Cardioprotective: Study demonstrated the cardioprotective effects of Lavandula angustifolia essential oil against isoproterenol-induced MI in rats, probably through its anti-inflammatory, free radical scavenging and antioxidant activities. (31)
• Reversal of Bacterial Resistance through Membrane Disruption and Anti-Quorum Sensing Effects: Study showed LV has the potential to reverse bacterial resistance to piperacillin in E. coli J53 T1 through two mechanisms: alteration of outer membrane permeability and inhibition of bacterial quorum sensing. (32)
• Role in Diabetic Dyslipidemia: Study evaluated the potential role of methanolic extract in the management of diabetic dyslipidemia. Results showed in vitro inhibitory effects on both hormone sensitive lipase (HSL) and pancreatic lipase (PL) activities. The inhibitory pattern on enzymatic activities of HSL and PL matched the inhibitory pattern of orlistat. (33)
• Comparative Antifungal Activity: Study showed Lavender brew and Lavender essential oil had more antifungal effect on standard Candida albicans when compared with Clotrimazole. (34)
• Antiproliferative / Antimicrobial / Antioxidant / Essential Oil of Flowers: Study evaluated the chemical composition, antimicrobial, antioxidant, and antiproliferative activities of essential oil from flowers. Results showed antibacterial activity, especially on Gram-negative strains. It showed dose dependent antioxidant activity by DPPH assay with IC50 of 0.421 mg/ml. The EO exhibited antiproliferative activity against three cancer cell lines, MOLT-4. MCF-7, and NCI-H460 cells, with IC50 of 17, 94, and 97 µg/ml, respectively. MOLT-4 showed highest sensitivity to the EO. (see constituents above) (36)
• Central Nervous System Targets / Mechanisms / Essential Oil: Study evaluated the effects of lavender essential oil on well-established CNS targets, as well as in vitro models of neurotoxicity. Results showed EO and its main components exert affinity for glutamate NMDA-receptor in a dose dependent manner. Lavender and linalool also bind to serotonin transporter (SERT), with no affinity for GABAa-benzodiazepine receptor. The antidepressant and anti-agitation activities of lavender may be attributed in part to modulation of NMDA receptor and inhibition of SERT. The EO also protected SH-SY5Y cells from H2O2 induced neurotoxicity. (38)
• Moderate Drug Interactions: Lavender may increase the effects of chloral hydrate such as sleepiness and drowsiness. Likewise, it may increase the sedative effects of medications such as amobarbital (Amytal), butabarbital (Butisol), pentobarbital (Nembutal), phenobarbital (Luminal), and others. It also interacts with CNS depressants such as clonazepam, ativan, phenobarbital, zolpidem and others. (39)
• Antibacterial / Essential Oil: Study evaluated the antibacterial activity of essential oils of two herbal pharmacopoeia of Algeria. The mixing of infused oils and essential oils of lavender in 1v/2v and 1v/3v proportions, respectively, had significant antibacterial effect on E. coli and S. aureus with inhibition one of 20 mm and 22 mm respectively. (40)
• Effect on Acute Inflammatory Response / Essential Oil: Study evaluated the effect of Lavandula angustifolia essential oil on acute inflammatory response. GC-MS analysis showed a predominance of 1,8-cineole (39.83%), borneol 22.63%) and camplor (22.12%). Results showed reduction of edema, myeloperoxidase (MPO) activity, and NO (nitric oxide) production in croton oil-induced ear edema and carrageenan-induced paw edema models. The proposed mechanism of anti-inflammatory activity was attributed, in part, to the participation of prostanoids, NO, pro-inflammatory cytokines, and histamine. (42)

Interactions
• CNS Depressants: Although lacking in scientific studies, it may potentiate the effects of CNS depressant drugs – narcotic analgesics, sedatives and anxiolytics.
Lavender oil and pregnancy
•There have been conflicting reports and advice on the use of lavender during pregnancy, with concerns raised because of reported emmenagogue and uterine stimulant properties, and possible toxicity of some of its constituents (linalool and camphor). Robert Tisserand's post addresses these concerns, reviewing relevant studies, and concluding lavender oil is completely safe to use in pregnancy.
Availability
- Wild-crafted.
- Essential oils, extracts, gels, infusions, soaps, teas, tinctures in the cybermarket.