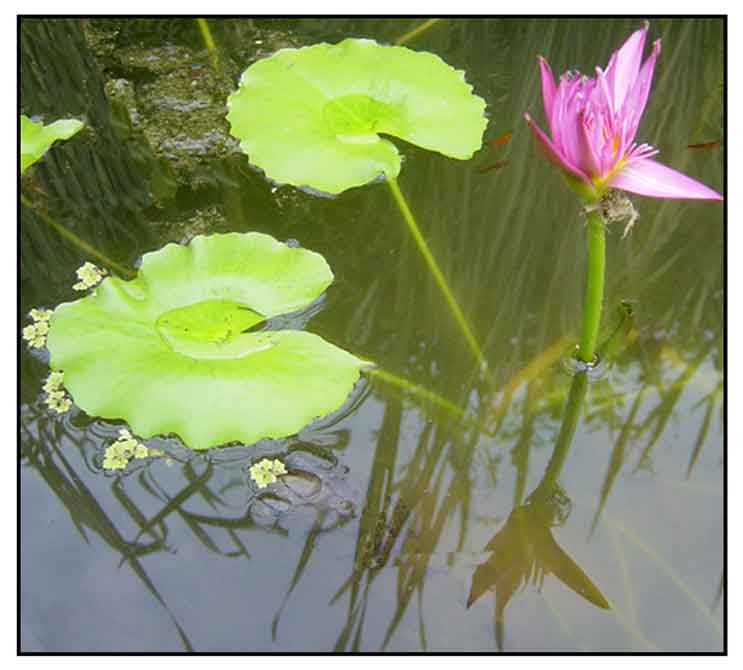 Gen info
- The genus name is Greek-derived, mythology dedicating the water lily to the semi-divine maidens, the nymphs. The genus has roughly about 40 species found in the tropical and temperate climates of both hemispheres. There is confusing synonymy as plants are placed in different species or species sometimes misapplied. There are many variants and hundred of hybrids.
- Nymphaea nouchali is the national flower of Sri Lanka where it is called Nil Manel.
- It is the national flower of Bangladesh where it is known as "Shapla" in Bengali.
- Nymphaea stella struggles in a confusing landscape of synonyms and common names. It is a synonym of Nymphaea nouchali var. nouchali, and is commonly known as Indian blue water lily.(4)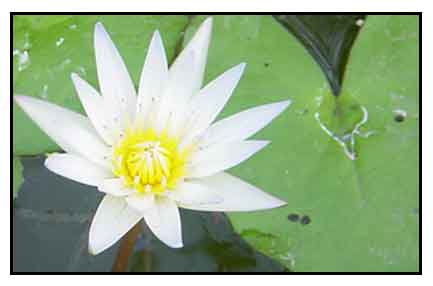 Botany
Lauas is long-lived aquatic herb, with rootstock rooting in the mud. Leaves are long-stalked and leathery, floating on the surface of water, ovate to almost circular, prominently toothed, slightly peltate, 12 to 15 centimeters across, with the base deeply heart-shaped, and densely hairy beneath. Petioles are long, slender and submerged. Flowers are fragrant, white or red, about 8 centimeters in diameter, borne on long peduncles. Petals are linear-oblong to lanceolate. Fruits are globular, with longitudinally numerous, striated seeds.
Distribution
- Native to the Philippines.
- In shallow lakes and ponds, often locally abundant, from northern Luzon to Mindanao.
- Usually cultivated for its attractive flowers.
- Native range of the species is Tropical and Subtropical Old World to N. Australia. A tuberus hydrogeophyte that grows primarily in the wet tropical biome. (14)
- Also native to Afghanistan, Anadaman Is., Assam, Bangladesh, Cambodia, China, Hainan, India, Laos, Lesser Sunda Is., Malaya, Myanmar, New Guinea, Nicobar Is., Northern Territory, Pakistan, Queensland, Sri Lanka, Sumatera, Taiwan, Thailand, Vietnam. (30)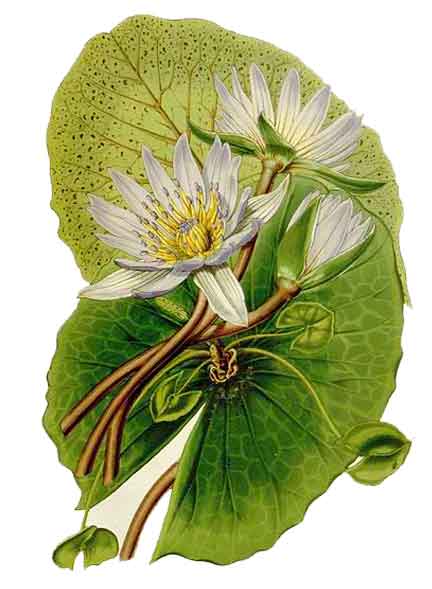 Constituents
- The leaves and rhizomes contain an abundant amount of tannic acid, an alkaloid resembling nupharin, glucose, metaarabic acid, starch, fat; and ash.
- The leaves contain myricitin, saccharose and phytosterin.
- Phytochemical analysis of a methanolic extract of stems yielded flavonoids, alkaloids, saponins, and tannins. (see study below) (17)
- Study of flowers yielded 10-eicosenoic acid (1), linoleic acid (2) from n-hexane,7,8 - dihydroxy α-tocopherol-9-O-pyranoside (3), quercetin-3-O-alpha-rhaminoside (4), kaempferol (5) from EtOAc and vasicinone (6) from ethanolic extracts. (22)
- Study of leaves for phenolic content yielded 6.53 ± 0.26 mg/g GAE for the ethanol extract and 5.55 ± 0.06 mg/g GAE for the chloroform extract. Flavonoid content yielded 4.58 ± 0.19 mg/g quercetin equivalent for the chloroform extract and 5.99 ± 0.33 mg/g quercetin equivalent for the ethanol extract. Phenolic content correlated with antioxidant activity. (see study below) (25)
- Methanolic extract of N. nouchali tuber yielded rutin (39.44 mg), catechin (39.20 mg), myricetin (30.77 mg), ellagic acid (11.05 mg), gallic acid (3.67 mg), vanillic acid (0.75 mg), rosmarinic acid (4.81 mg), p-coumaric acid (3.35 mg), and quercetin (0.90 mg) in 1g of dry extract. (see study below) (31)
- Study of ethanol extract of seeds isolated a new steroid, characterized as 24-methyl-cholesta-5-ene-3-ol-(23,24,29)-cyclopropane (1) and designated as Nymphasterol. (32)
- Phytochemical screening of extract of whole plant revealed reducing sugars, terpenoids, alkaloids, steroids, tannins, flavonoids, and phenolic compounds. (see study below) (37)

Properties
- The juice is bitter and astringent has some narcotic properties.
- Flowers are astringent and cardiotonic.
- Juice is bitter.
- Studies have shown antioxidant, antinociceptive, antimicrobial, antidiabetic, cholinergic, antihepatotoxic, anti-inflammatory, anticancer, antihyperlipidemic, anthelmintic, anti-platelet aggregation properties.
Parts utilized
Rhizomes, flowers, roots, seeds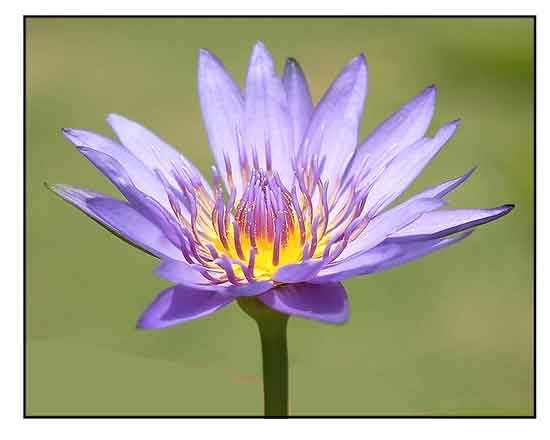 Uses
Edibility
- The seeds, long stalks of flowers and rhizomes are edible; eaten boiled or roasted.
- Roots and rhizomes often eaten raw.
- The tender leaves and flower peduncles of the red and blue-water lily are also valued as food.
- Flowers stalks considered an excellent source of iron and a fair source of calcium.
Folkloric
- N. stellata is an important and well-known plant, widely used in the Ayurveda and Siddha medicine for treatment of diabetes, inflammation, liver disorders, urinary disorders, menorrhagia, blenorrhagia, menstrual problems, and as aphrodisiac and bitter tonic. (4)
- Juice is astringent; decoction of the juice used as injection for gonorrhea.
- Plant juice considered mildly narcotic, rubbed on the forehead and temples to induce sleep.
- Powdered roots used as demulcent for piles; also for dysentery and dyspepsia.
- Powdered root prescribed for piles as demulcent; also for dysentery and dyspepsia.
- Flowers used as astringent and cardiotonic.
- In Bangladesh, the roots used by the traditional healers of the Tripura, Marma and Murong tribes to treat dysuria, urinary tract infections and leucorrhea. Also, used for indigestion, heart diseases, stomachaches, cancer, and as anti-hemorrhagic.
- In Nepal and India flowers used in treatment of diabetes.
- In Ayurveda and Siddha systems of medicines, used for diabetes, liver disorders, urinary problems, menorrhagia, blenorrhagia; also used as tonic and aphrodisiac.
Studies
• Antioxidant: Study showed high levels of non-enzymatic antioxidants like phenols, flavonoids, tannins, etc., as well as antioxidant potential in the methanol extracts of dry flowers. High levels of enzymatic antioxidants were found in the fresh flower aqueous extracts. (3)
• Antidiabetic / ß-Cell Stimulation: Hydroalcoholic extract also showed a dose-dependent response possibly through ß-cell stimulation, release of insulin and activation of insulin receptors.
• Antihepatotoxic / Hepatoprotective / Carbon Tetrachloride Toxicity: Study of alcoholic extract of N. stellata flowers showed hepatoprotective activity against CCl4-induced hepatic damage possibly through cell membrane stabilization, hepatic cell regeneration and antioxidative enzyme activation. (6) Study evaluated a flower extract for hepatoprotective activity against carbon tetrachloride induced liver necrosis. Pretreatment showed a significant (p<0.001) recovery effect equal to that of standard drug silymarin. (24)
• Cholinergic : Study of alcohol extract of defatted fruits of N. stellata produced mild sedation and ataxia, potentiated hexobarbitone-induced hypnosis in mice. Large doses after atropinization caused a rise in blood pressure and a stimulant effect on guinea pig ileum, suggesting an unstable cholinergic principle.
• Antimicrobial : Flower extract showed activity against P. aeruginosa, B. cereus, S. aureus.
• Analgesic . Anti-Inflammatory: Study showed significant analgesic and antipyretic activity. The anti-inflammatory activity was comparable to hydrocortisone.
• Intestinal Alpha-Glucosidase Inhibitory Activity / Toxicological Evaluation: Study showed potent rat intestinal alpha-glucosidase inhibitory activity for maltose hydrolysis. Genotoxicity assessment showed the extract did not cause genotoxic in Ames test. (5)
• Antihyperglycemic / Antihypolipidemic / Flowers: Study of N. stellata flower extract exhibited blood sugar lowering effect as well as an antihyperlipidemic effect on alloxan-induced diabetic rats. (7)
• Nymphayol / Antidiabetic: Chloroform extract showed significant glucose lowering effect. Study isolated a nymphayol, found to lower blood glucose, increase insulin content, and a significant increase in beta cell mass. (8)
• Antioxidant / Analgesic / Anti-Inflammatory: A methanolic extract of flowers was evaluated for antioxidant, analgesic and anti-inflammatory activities. The extract exhibited a dose-dependent increase in pain threshold in hot plate method, significant reduced writhing cause by acetic acid and number of licks caused by formalin. There was also significant dose-dependent inhibition of carrageenan-induced paw edema. There was good antioxidant potential exhibited in DPPD, ONOO and total ROS scavenging methods. (10)
• Antimicrobial: Hexane, ethyl acetate and methanolic extracts were evaluated for antimicrobial activity against S. aureus, Pseudomonas aeruginosa, B. subtilis, E. coli, enterococcus faecalis, X. campestris, Streptococcus mutans, Lactobacillus casei, L. acidophilus, Candida albicans. The ethyl acetate extract of leaf were active against all investigated bacteria. (11)
• Lectin / Antibacterial / Antiproliferative: A lectin (termed NNTL) was purified from the extracts of Nymphaea nouchali tuber. NNTL showed toxicity against brine shrimp nauplii with an LC50 of 120±29 µg/ml and exerted strong agglutination activity against four pathogenic bacteria. In addition, it showed antiproliferative activity against EAC (Ehrlich ascites carcinoma) cells. (12)
• Antidiabetic / Antioxidant / Hypolipidemic: Study evaluated the possible antidiabetic, hypolipidemic, and antioxidant effects of an ethanol extract of N. pubescens tuber. Results showed significant reduction of blood glucose, lipids except HDL-C, serum enzymes, significant increase in HDL. The effects may be due to its potent antioxidant potential. (13)
• Antibacterial / Flower: Study evaluated the antibacterial activity of Nymphaea nouchali flower on human and plant pathogenic bacteria. A methanol extract showed better antibacterial activity against two pathogenic bacteria, B. subtilis and S. lutea than commercial antibiotic nalidixic acid. Results suggest a potential candidate for development of a novel broad spectrum antibacterial herbal formulation. (15)
• Antidiabetic / Seeds: Study evaluated the antihyperglycemic activity of a hydroalcoholic extract of Nymphaea nouchali seeds in STZ-induced diabetic rats. Results showed significant restoration of blood glucose to normal level, together with improvement of lipids, renal, and hepatic markers. Histopath exam suggests the activity is due to extrapancreatic mechanisms. (16)
• Antihyperglycemic / Antinociceptive / Stems: A methanolic extract of stems showed significant and dose-dependent reduction of blood glucose in glucose-loaded mice. In antinociceptive activity evaluation with acetic acid induced pain model in mice, there was significant and dose dependent reduction in acetic acid induced abdominal constrictions in mice. Glibenclamide and aspirin were used as standard drugs. (see constituents above) (17)
• Antihyperglycemic Mechanisms / Adipocyte Differentiation / Glucose Consumption / Seeds: Study has demonstrated the antihyperglycemic effect of a hydroalcoholic seed extract in diabetic rats, but the functional mechanisms remains unknown. This study evaluated the effect of NN extract on PPAR? activation, adipocyte differentiation, and glucose consumption in 3T3-L1 cells. Study suggests N. nouchali seed extract promotes adipocyte differentiation and glucose consumption by inducing PPAR? activation which increases mRNA GLUT-4 expression and subsequently enhances insulin responsiveness in insulin target issues. (18)
• Membrane Stabilizing Activity / Antimicrobial / Petals: Study evaluated different extractives of N. nouchali petals for membrane stabilizing, antioxidant, cytotoxic, and antimicrobial activities. An aqueous extracts demonstrated strong membrane stabilizing activity. Brine shrimp lethality assay exhibited no lethality after 24 hours. Chloroform and aqueous soluble fractions exhibited significant antibacterial and antifungal activities against test microorganisms. (19)
• Antimicrobial / Seed: Study evaluated the antimicrobial activity of five different concentrations of crude extract of seeds against few common human pathogenic microorganisms. Results showed high zones of inhibition against P. aeruginosa (25mm), S. aureus (20mm), and C. albicans (19mm). Of the phenolic compounds quantified, catechin was the highest (3.06%), followed by gallic acid (0.27%) and quercetin (0.04%). (20)
• Antihyperglycemic / Flowers: Study evaluated the hypoglycemic and antihyperglycemic effect of a hydroalcoholic extract of Nymphaea stellata flowers on normal and allloxan-induced diabetic rats. While it had not effect on normoglycemic rats, it showed significant (p<0.001) reduction in blood glucose level in alloxan-induced hyperglycemic animals by improving OGTT. (21)
• Postprandial Antidysmetabolic and Antioxidative Stress Properties / Seeds and Tuber: Aqueous methanol extract of seeds and tubers of N. nouchali exhibited potent pancreatic lipase and intestinal
α-glucosidase inhibitory properties which may reduce diet induced postprandial hyperlipidemia and postprandial hyperglycemia. The extracts also showed strong inhibitory activities against formation of advanced glycation end-products which may induce postprandial oxidative stress due to hyperlipidemia and hyperglycemia. Results suggest a potential dietary supplement as herbal therapeutics in the management of T2DM and obesity. (23)
• Antioxidant / Leaves: Study evaluated ethanol and chloroform extracts of Nymphaea nouchali leaves. DPPH assay showed an IC50 of 10.102 ± 0.23 µg/ml and 13.11 ± 0.11 µg/ml for ethanol and chloroform extracts, respectively. IC50 for ascorbic acid was 19.89 ± 0.22 µg/ml. (see constituents above) (25)
• Antidiabetic / Antiplatelet Aggregation / Leaves: Study evaluated different methanol fraction of leaves of N. stellata for anti-diabetic and anti-platelet aggregation activity. The unsaponified petroleum ether fraction of methanol extract sowed significant changes in all studied parameters. It showed IC50s of 19.30 ± 1.1 mg/ml and 13.11 ± 0.7 µg/ml in PTP1B inhibition study and anti-platelet aggregation study, respectively. (26)
• Toxicity Study: Study evaluated a petroleum ether extract of whole plant for acute and chronic toxicity in rats. On acute toxicity study, it was found safe at doses of 2000 mg/kbw orally as per OECD guidelines. In chronic toxicity study, no toxicity or death was observed after 6 weeks at oral doses of 100, 200, and 400 mg/kbw once a week for 6 weeks. Results suggest a wide margin of safety for therapeutic use of pet ether extract of N. nouchali whole plant. (27)
• Anthelmintic: Study evaluated extracts from the thalamus of Nymphaea nouchali for anthelmintic activity against Pheretima posthuma. Chloroform and alcoholic extracts sere found to have more significant activity than both standards i.e, piperazine citrate 10 mg/ml and albendazole 10 mg/ml. (28)
• Anticancer / Melanoma Cell Apoptosis: Study investigated the effects of Thai water lily on cell apoptosis and cellular invasion through the role of cellular oxidants in B16 melanoma cells. The Nymphaea stellate extracts was markedly toxic to B16 melanoma cells with IC50 of 814 µg/ml. Doses of 800 and 1,000 µg/ml demonstrated pro-oxidant activity relating to the cell apoptosis. Results suggest potential as chemopreventive agent on the modulation of oxidative stress-induced apoptosis and suppressed cancer cell invasion. (29)
• Anticancer: Study evaluated the bioactive phytochemicals, antioxidant activities, and anticancer pathways of N. nouchali. Extract showed radical scavenging activities by DPPH, ABTS. and N,N-dimethyl-p phenylenediamine. Network pharmacology predicted 130 target genes associated with cancer pathways. Top hub genes IL6, AKT1, EGFR, JUN, PTGS2, MAPK3, CASP3, and CXCL8 were identified, which were associated with cancer pathways and interacted with bioactive phytochemicals of the methanolic extract of tuber. (see constituents above) (31)
• Hypoglycemic / Leaves: Ethanolic extract of leaves of N. stellata administered by oral route at dose of 100 and 200 mg/kg/day for 7 days significantly reduced plasma glucose level by 31.6 and 42.6%, which was increased by intraperitoneal injection of 120 mg/day of alloxan. Treatment also significantly affected levels of cholesterol and triglyceride. (33)
• Nymphayol / Antinociceptive / Immunomodulatory / Antipyretic / Flowers: Study evaluated the antinociceptive, antipyretic, and immunomodulatory activities of nymphayol in wistar rats and mice. Results empirically indicated the nymphayol was effective in the treatment of inflammatory diseases. It showed potent invivo antinociceptive, immunomodulatory and antipyretic effect. Inhibition of synthesis and/or release of inflammatory mediators may be the main mechanism of action of nymphanol. (34)
• Potential as Food Additive and Revitalizer / Petals: Study evaluated the potential of Nymphaea nouchali petal extracts (NPE) for commercial application as natural food additive. NPE was a rich source of carbohydrate, bioactive molecules, and essential macrominerals. NPE showed strong antimicrobial activity against food pathogens although zilch toxicity was recorded in different model systems. The NPE showed is a source of nutraceuticals with not toxicological consequences. A herbal beverage was formulated using a combination of petal extract and green tea, which showed to be an excellent source of nutraceuticals with potential as a perfect revitalizer for physiological needs. (35)
• Gold Nanoparticles / Batericidal Against E. Coli: Study reports on the fast, single-step, eco-friendly. synthesis of gold nanoparticles (AuNPs) from 15% aqueous leaf extract used as both reducing and stabilizing agent. The AuNP showed strong invitro bactericidal effect against E. coli (DH5-Alpha). Study also explored the interaction between essential protein HSA and identified its potential for diverse biomedical applications like drug delivery or receptor targeting. (36)
• Immunomodulatory / Whole Plant: Study evaluated the immunomodulatory effect of successive extracts of whole plant of N. nouchali using NBT dye test and cellular lysosomal enzyme activity technique. The extract showed good dose response effect in peritoneal macrophage phagocytosis assay and also activated lysosomal activity. Results suggest excellent immunomodulant activity. (see constituents above) (37)
• Nymphayol / Gastroprotective / Flowers: Study evaluated the anti-ulcerogenic activity of nymmphayol (NYM), isolated from N. stellata, against an ethanol-induced ulcer model in rats. NYM pretreated animals showed considerable increases in antioxidants, gastric mucus, and PGE2 level and significant decreases in ulcer index, lipid peroxidation, and myeloperoxidase (MPO) level. Increases in pro-inflammatory cytokines (IL-6, IL-1ß, TNF-α, and IFN-y) and decreased IL-10 in ethanol-induced ulcerated animals were amended by NYM pretreatment. Pretreatment with indomethacin, SC560, rofecoxib, and L-NAME prevented the ulcer protective effect of NYM, indicating involvement of COX and NOS in NYM-mediated gastroprotection against ethanol induced ulcer. Results suggest the gastroprotective effect of NYM might be mediated by adjustment of inflammatory mediators and apoptotic markers and increasing antioxidants. (38)
• Anti-Depressant / Antinociceptive / Flowers: Study evaluated the neuropharmacological and antinociceptive activities of methanol extract of N. nouchali flower. Antinociceptive testing by tail immersion test and acetic acid-induced writhing showed strong, significant, and dose-dependent activity that is comparable to reference drug diclofenac sodium. The extract showed reduced locomotor activity in both hole cross and both open field tests. (39)
• Nymphayo / Anti-Breast Cancer / Flower: Controlled production of cyclin dependent kinases (CDK) and stabilization of tumor suppressor genes are important factors in preventing carcinogenesis. Study evaluated the cyclin dependent apoptotic effect of nymphayol on breast cancer MCF-7 cells. Treatment with nymphayol significantly increased reactive oxygen species (ROS) level. Nymphayol treatment potentially inhibits MCF-7 cell viability up to 78% with IC50 of 2.8 µM in 24 h and 1.4 µM in 48 h. Nymphayol treatment effectively inhibited cell cancer viability, and is associated with early expression of Cdkn2a, pRb2, and activation of p53 and caspases. (40)
Availability
- Wildcrafted.
- Cultivated.