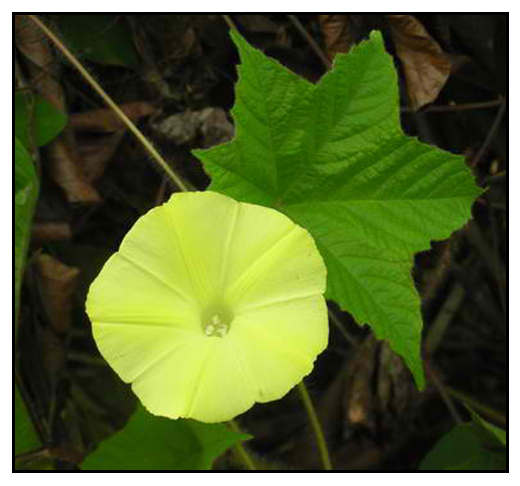 Botany
Lakmit is a hairy, woody climber with slender stems. Leaves are rounded, 5 to 15 centimeters wide, palmately 5-lobed, and heart-shaped at the base. Sepals are hairy, ovate, 10 to 15 millimeters in length, and longer in the fruit. Corolla is yellow, bell-shaped, and 3.5 to 4 centimeters long. Capsule is rounded and 10 to 15 centimeters in diameter. Seeds are dark brown, smooth, about 5 millimeters in diameter.
Distribution
- Found in the Laguna Province in Luzon; and in Palawan, Balabac, Semirara, and Negros, in open grasslands by deserted dwellings, and in thickets at low altitudes.
- Also occurs in southeastern Asia and Malaya.
Constituents
- Leaves yield a glycoside, which on hydrolysis yields hydrocyanic acid and benzaldehyde.
- Phytochemicals in stems and leaves include alkaloids, terpenoids, phenolic compounds, tannins, carbohydrates, saponins, and flavonoids. (6)
- Study of fraction of aqueous extract of leaves for secondary metabolites yielded alkaloid, carbohydrate, flavonoid, tannin, triterpenoids, and phenols. (see study below) (9)
Properties
- Hairs on the leaves are irritating.
- Juice considered diuretic and cooling.
- Studies have suggest anti-Staphylococcal, antioxidant, thrombolytic, antiarthritic, antinociceptive properties.

Parts used
Stem, roots, fruits, plant juice.

Uses
Edibility
- Juice considered cooling and is given with milk and sugar.
- Immature, unripe fruits are chewed.
Folkloric
- Infusion is drunk for high fevers.
- Juice used for poulticing soreness and inflammation.
- In Kerala, India, used for strangury and urethral discharges—immature unripe fruits are chewed or roots are cooked and eaten. (3)
- Roots ingested as stomachic.
- In Konkan, juice given with milk and sugar for fevers.
- In Peninsular Malaysia, infusion is drunk for high fever
- In Cambodia, infusion of stem used internally and externally for malaria and small pox.
- The Khasia and Bengali folk practitioners of Khakiachora village in Sylhet district of Bangladesh apply macerated whole plant to insect bite areas. (5)
- Used by people in Luwu, Southern Sulawesi, Indonesia, ans cure for diabetes mellitus. (8)
Others
- Sahasthara: Sahasthara is a Thai traditional medicine derived from Ayurveda. Merremia vitifolia is one of 21 plant ingredients in the Sahasthara formula used for muscle pain and as anti-inflammatory. (4)
Studies
• Prussic Acid Plant: According to F. Weehuizen, Merremia vitifolia is another prussic acid plant, whose leaves have the distinct odor of bitter almond oil. It yields 0.04% prussic acid, which in addition to benzaldehyde can be split off enzymatically. (7)
• Flavonoid Content: Study evaluated the flavonoid content of M. vitifolia (Bilajang bulu). The sample was prepared from air-dried leaves by maceration method using 96% ethanol. Flavonoid content by spectrophometry UV-Vis, using quercetin as standard, yielded a flavonoid content of 163.4 mg/L or equivalent to 0.01634%. (8)
• Antioxidant / Thrombolytic / Anti-Arthritic / Anti-Nociceptive / Leaves: Study evaluated the biologic efficacy if aqueous fraction of leaves through invitro and invivo experimental models. The aqueous fraction showed strong antioxidant effects high scavenging activity (IC50 146.61 µg/ml) and reducing power in a dose dependent manner. Extract showed notable clot lysis effect and substantial anti-arthritic activity at higher doses (500 µg/ml). Anti-nociceptive activity in Swiss albino mice showed promising reduction of number of writhing and duration of paw licking in acetic acid induced writh8ing and formalin-induced paw licking in a dose dependent manner. (see constituents above) (9)
• Anti-Staphylococcus aureus / Leaves: Study evaluated the activity of ethanol extract of the leaves of Bilajang Bulu Merremia vitifolia against Staphylococcus aureus bacteria. Results showed the 20% concentration gave the most optimal activity with an average 9.5 mm clear zone. (10)

Availability
Wild-crafted.