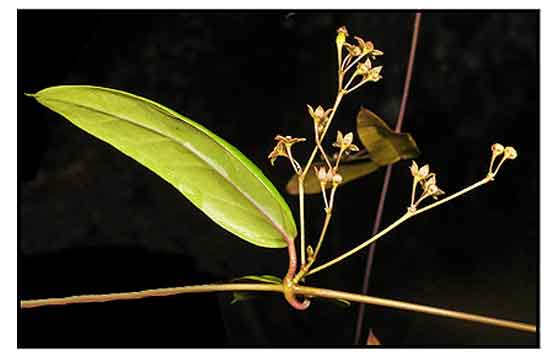 Gen info
- Vincetoxicum is a genus of plants in the family Apocynaceae. Although sometimes included in Cynachum, chemical and molecular evidence show Vincetoxicum is more related to Tylophora, now included in Vincetoxicum. (2)
- Etymology: The generic name derives from Latin, meaning "poison-beater" referring to the plants' supposed antidotal effects against snakebites. (2)
Botany
Kulañgan is a slender, twining, smooth, herbaceous vine, 2 to 5 meters in height. Leaves are green, shining, oblong to oblong-ovate, 5 to 8 centimeters in length, pointed at the tip, with a broad, rounded or slightly heart-shaped base. Inflorescence is terminal and axillary, simple or slightly branched, slender, and 10 to 30 centimeters long. Flowers are numerous, dull-purple, 4 to 5 millimeters in diameter, and borne in scattered, racemosely arranged fascicles; the pedicels are few and about 7 millimeters long. Follicles are green, lanceolate, about 5 centimeters long, 5 millimeters thick below the middle and narrowed upward to the pointed apex.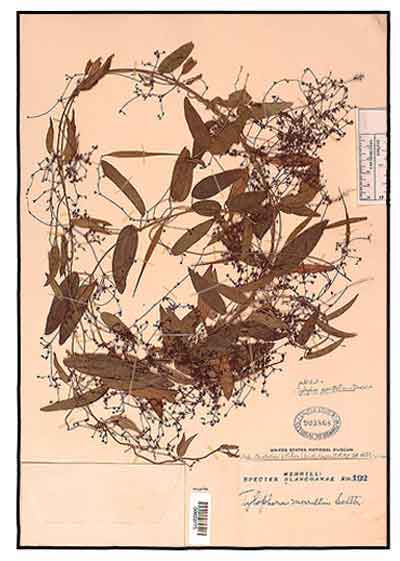 Distribution
- Found only in the Philippines.
- In thickets at low altitudes in Cagayan, Ilocos Norte, Bontoc, La Union, Benguet, Pangasinan, Nueva Vizcaya, Nueva Ecija, Rizal and Laguna Provinces in Luzon.
Properties
Leaves considered vulnerary.

Parts used
Leaves

Uses
Folkloric
- Leaves used for wound healing and dressing wounds. (3)
Studies
• No studies found.
Availability
Wild-crafted.