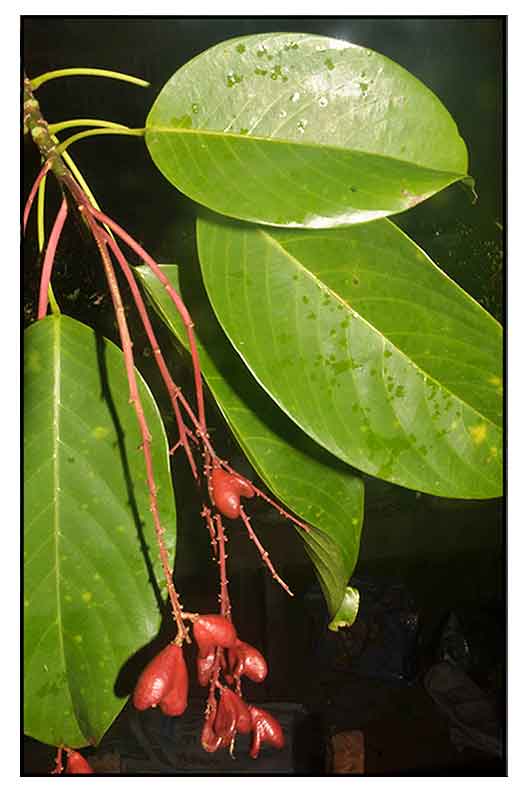 Gen info
- Bhesa is a small genus of eight species of wood plants in the family Centroplacaceae. It was formerly classified in Celastraceae until molecular phylogenetc study moved it to the family Centroplacaceae.
- Bhesa paniculata is a species of plant in the Centroplacaceae family. It is sometimes considered a synonym of Bhesa indica. (4)

Botany
Bhesa paniculata is a medium-sized tree up to 35 m tall, with a dark green, heavy crown. Leaves are spirally arranged with long stalks that are swollen at both ends. Leaf blades are thinly leathery, oval to oblong, pointing downwards, and 5.5–39 by 2–15 cm, with finely crowded, parallel veinlets between the secondary veins. Flowers are faintly fragrant, yellowish-cream or dark purplish-red, and 5 mm wide, arranged in panicles up to 38 cm long at the end of leafy twigs. Fruits are heart-shaped, gradually ripening from yellow to rose-red. (3)

Distribution
- Native to the Philippines.
- Also native to Borneo, India, Malaya, Myanmar, Sumatera, Thailand. (2)
- Grows primarily in the wet tropical biome.
- In undisturbed forests up to 2000 m altitude.

Constituents
- Study of methanol extract of bark isolated three new quinovic acid glycosides, names gonggonsides A, B, and C (1-3), along with quinovic acid (4), 3-oxoquinovic acid (5), quinovic acid 3-O-ß-D-quinoranoside (6) and 28-O-ß-D-glucopyranosylquinovic acid 3-O-ß-D-quinovopyranoside (7). (5)
- Study of wood of Bhesa paniculata isolated a novel derivative of sucrose, ß(3,6-di-O-feruloyl)-fructofuranosyi-α-(2,3,4,6-tetra-O-acetyl)-glucopyranoside, along with known compounds glycerol 1-9',12'-octadecadienoate, ß-sitosterol, ( + )-pinoresinol, methyl 3,4-dihydroxybenzoate, 4-hydroxy-3-methoxybenzoic acid, anofinic acid and 2-(l'-methylethenyl)-benzofuran-5-carboxylic acid. (6)
- Study of bark isolated four new triterpene-glycosides, named gongganosides D (4), E (5), F (6), and G (7), and two new secoiridoid-glucosides, (7R)-7-caffeoyloxysweroside (8) and (7S)7-caffeoyloxysweroside (9). (8)
- Study of bark isolated two new alkaloids: bhesine (1) and dehydrobhesine (2). (9)


Uses
Edibility
- Fruits are edible.
Folkloric
- No reported folkloric medicinal use in the Philippines.
- In Indonesia, used for treatment of vomiting and diarrhea. (

5

)


Studies
• Gongganosides A-C / Quinovic Acid Glycosides / Bark: Study of methanol extract of bark isolated three new quinovic acid glycosides, names gonggonsides A, B, and C (1-3). (see constituents above)   (5)

Availability
Wild-crafted.