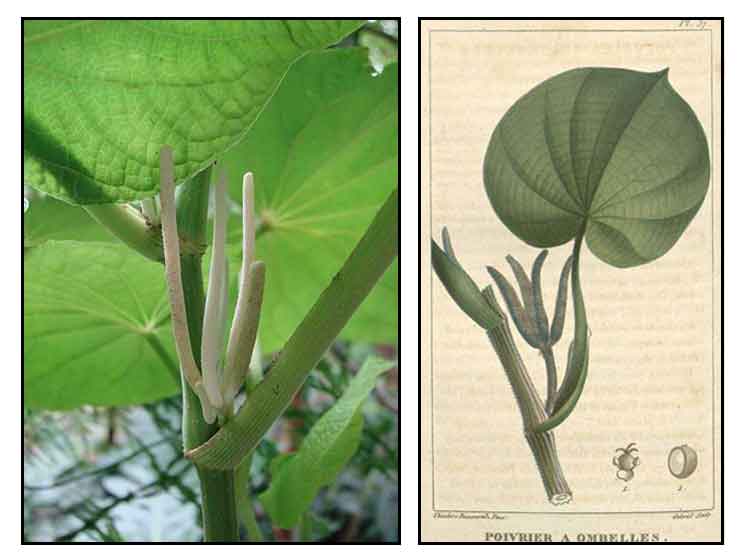 Botany
Kubamba is an erect, suffrutescent plant, 1 to 2 meters high. Leaves are membranaceous with conspicuous, glandular, brown to black dots beneath, broadly ovate to suborbicular-ovate, 17 to 37 centimeters long, 15 to 32 centimeters wide, the base subpeltate, multiplinerved and equilaterally deeply heart-shaped, the apex with a pointed tip, somewhat hairy on the nerves on both surfaces, and the margins ciliate. Petioles are very long, more or less hairy, 11.5 to 27.5 centimeters long. Spikes are numerous, umbellate, axillary, hermaphroditic, 5.5 to 12 centimeters long, 2 to 3.5 millimeters in diameter. Rachis is smooth. Bracts are stalked, peltate, about 1 millimeter long, with semilunar, triangular disk. Fruit is free, crowded, obovoid-trigonous, 0.75 to 1 millimeter long, about 0.5 millimeter in diameter, glandular, with the apex truncate and umbonate. Stigmas are cuspidate. Stamens are two, 0.2 millimeter long and with very short stalks.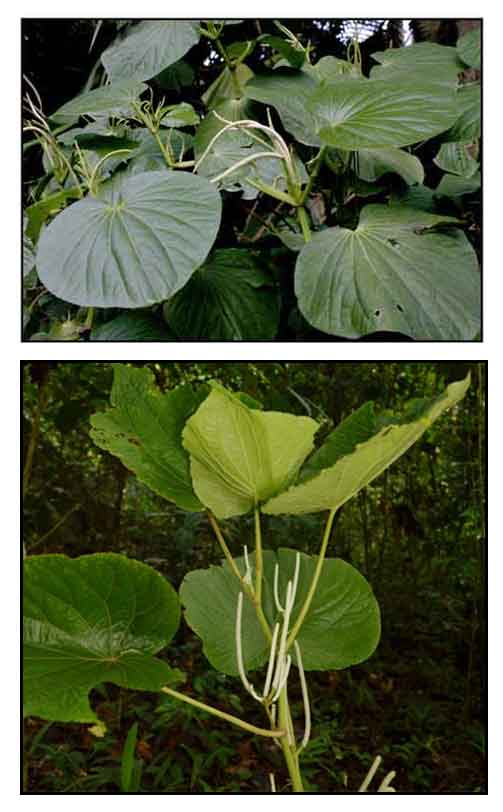 Distribution
- In damp forests at low and medium altitudes throughout the Philippines.
- Introduced from tropical America.
- Pantropic.
Constituents
- Essential oil from aerial parts contain B-pinene, a-pinene, E-nerolidol and B-caryophyllene.
- Yields safrole, germacrene-D, ß-cadinene,, o-cadinene, and bicyclogermacrene.
- Roots and aerial parts contain 4-nerolidylcatecol.
- Study yielded three pure compounds, viz. isoasarone, 2-(4'-methoxyphenyl)-3-methyl-5-propenylbenzofuran and 2,3-dihydro-2-(4-hydrophenyl)-3- methyl-5-propenylbenzofuran. (10)
- Phytochemical screening of dry leaves indicated the presence of carbohydrates, cardiac glycosides, saponins, tannins, and alkaloids. (11)
- Phytochemical analysis yielded a very high amount of steroid (more than 95%), little traces of tannin and alkaloid; saponin and phenol, slightly 10% each; flavonoid, less than 10%. (13)
- Proximate composition of leaves yielded protein (20%), lipids, ash (17%), high amounts of fiber (55.6%), moisture (less than 10%) and small amounts of carbohydrate and lipid. (13)
- Phytochemical screening yielded steroids +, alkaloids ++, cardiac glycosides +++, phenolics +, tannins ++. (21)
- Study of essential oil yielded 37 components. The major components were: aromadendrene (13.74%), caryophyllene (10.44%), linalool (8.55%) and γ- bisabolene (8.06%). (see study below) (22)
- Study of leaf essential oil yielded 49 compounds accounting for 92.8% to 98.7% identified from 10 samples of leaf EO, dominated mainly by monoterpenes (49.1%-71.6%). The prevalent monoterpenes were linalool (15.8%-41.1%), limonene (63%-38.6%), and thymol (up to 25.0%). Other monoterpenes in varying proportions were ß-pinene (7.3 and 7.7%) and α-pinene (6.8% and 6.9%). (24)
Properties
- Plant is considered vulnerary, detergent, antiscorbutic, diuretic.
- In Africa, considered emollient, vulnerary and antiseptic.
- Fruits considered rubefacient and diuretic.
- 4-nerolidylcatechol considered antioxidant.

Parts used
Leaves, roots, fruit, juice.

Uses
Culinary
- In many parts of the tropics, young leaves and inflorescences are eaten raw, steam or boiled as vegetable.
- Also used as condiment for fish or meat and rice.
- In Sierra Leone, leaves are a favorite leafy vegetable.
- Used in the preparation of medicinal soups combined with assorted vegetables; leaves most commonly used, followed by stems, roots, and seeds. (26)
- Sweet and ripe fruits are eaten as delicacy.
Folkloric
- In the Philippines, fresh leaves are applied on the surface of abscesses as topicals.
- Juice of leaves applied to eyes for conjunctivitis.
- In French Guiana, plant is used as remedy for tapeworms.
- In other countries, used as antiscorbutic and diuretic.
- In Africa, used as poultices for swellings, boils and burns. Juice taken as emmenagogue, galactagogue and diuretic. Juice used as eardrops for earaches. Decoction of leaves or roots used for jaundice, malaria, urinary problems, syphilis, gonorrhea, constipation and stomachaches. Also used for migraines. Decoction used as wash for fevers in children.
- In Cote d'ivoire and Central Africa aerial parts used to regulate menstruation and prevent abortion.
- In Guinea, plant used to expel tapeworms; in the Congo, leaves are used a vermifuge.
- In Cameroon, used for toothaches and hypertension. Also used for treatment of diabetes.
- In Nigeria, leaves, roots and fruits used for rheumatism, inflammatory tumors, stomach pains, ascites and anasarca. Leaves boiled with local palm kernel oil used as laxative for pregnant women. Root decoction in local dry gin used for inflammation and rheumatism. (16) Used for womb cleansing. (26)
- In Madagascar, leaves applied in friction for rheumatism.
- In Brazil, used in baths for treatment of edema and uterine problems. Also, used for malaria.
- In Malaysia, fruits chewed with betel leaves for cough.
- In Libreville, Gabon (West Africa), plant decoction used for management of hypertension. (23)
Others
In SE Asia and South America, used as an ingredient of arrow poison.

Studies
• Anti-Venom: Phospholipases A2 are important constituents of snake venoms, responsible for their toxic actions. Study showed extracts from P umbellatum and P peltatum showed inhibition of the enzymatic activity of myotoxin 1, a PLA2 from Bothrops asper, and isolated 4-nerolidylcatechol which completely inhibited the enzyme activity of B asper myotoxin. (2)
• Aristolactams / Antioxidant / Antifungal: Study isolated four alkaloids, piperumbellactams A-D from the branches of P umbellatum together with three other known compounds. Some compounds showed a-glucosidase enzyme inhibition, DPPH radical scavenging activity and antifungal activity. (3)
• Antioxidant: In a study evaluating the antioxidant capacity of 14 herbs/spices from Cameroon, P umbellatum led the antioxidant activity on one assay method. (4) Study of methanol extract of whole plant for DPPH radical scavenging activity an reducing power activity. Results showed significant antioxidant activity. The presence of phenol and flavonoid compounds were higher in methanol extracts than ethyl acetate and acetone extracts.
• Essential Oil: Major essential oil constituents of the fruits showed to be linalool (14.4%) and (E)-nerolidol (10.0%); from the leaves, B-pinene (10.8%), B-caryophyllene (28.2%) and (E)-nerolidol (16.5%). (5)
• Anti-Plasmodial: (1) Study of extracts of seven Cameroon plants used by traditional healers showed P umbellatum extract had moderate activity against P falcifarum. (2) Crude methanol extract of leaves showed strong dose-dependent antimalarial activity against P. berghei-infected mice. (6)
• Insecticidal / Anti-Cockroach: Study yielded isoasarone, a compound shown to be capable of causing immediate hyperexcitation and complete inhibition of the cockroach cercal nerve activity. (10)
• Antimicrobial: Study evaluated a methanol extract and fractions of P. umbellatum for antimicrobial activity. Results showed in inhibition of all test microorganisms at the doses used. MIC for the ME and n-hexane fraction was <25mg/ml. (11) Powdered samples extracted in three different solvents showed activity against five pathogenic organisms (Staphylococcus aureus, Klebsiella pneumonia, Escherichia coli, Streptococcus mutans, and Candida albicans). (14)
• Contraceptive Effect / Leaves: Study evaluated the effect of a methanol extract of leaves on conception and sexual behavior in rodents. The extract protected the rodents from conception from one to three gestational periods. There was dose-related inhibition of regular estrus cycle and ovulation. The contraceptive effect may be due, in part, to secondary metabolites which included phenols and saponins. (12)
• Anti-Cancer / Anti-Inflammatory: Study evaluated the evaluated the anticancer (in vitro antiproliferative activity and in vivo Ehrlich solid tumor model) and anti-inflammatory (carrageenan induced inflammation model) activities of a standardized dichlormethane extract of P. umbellatum leaves. Treatments showed no toxicity. Results showed reduced paw edema and leukocyte migration suggesting that the anticancer activity could involve antiproliferative and anti-inflammatory effects. (15 )
• Gastric-Ulcer Protective / Leaves: Study evaluated the gastroprotective and anti-ulcer effects of a hydroalcoholic extract of leaves in experimental rodents. Results showed the HEPu possesses preventive and curative effects in experimental models of gastric ulcers in animals. The effects were considered partially dependent on antioxidant, antisecretory, anti-inflammatory and mucosa regenerative effects. (18)
• Inhibition of Myotoxic Phospholipases A2 from Bothrops Snake Venom: Phospholipases A2 (PLA2) are important constituents in snake venoms. Extracts from Piper umbellatum and P. peltatum were screened for inhibition of enzymatic activity of myotoxin 1, a PLA2 from Bothrops asper. Fractionation of both plants isolated 4-nerolidylcathechol. The enzyme activity of B. asper myotoxin I was completely inhibited by 4-nerolidylcatechol at an inhibitor:toxin ration of 10:1 wt/wt with an IC50 of approximately equal to 1 mM. Bothrops myotoxin. In situ, immediately after toxin injection, the inhibitory effect was substantially lower or negligible, which may be explained by rapid action of toxins in vivo, together with slow activation of PLA2. (19)
• Anti-Trypanosomal: Study evaluated a crude extract of P. umbellatum for anti-protozoan activity in epimastigote form of Trypanosoma cruzi "Y" strain. After 120 h. of incubation, results showed growth inhibition percentages of the cells of 28.8%, 85.3%, 94.2%, and 98.4% in concentrations of 10.0, 100.0, 500.0 and 1000.0 µg/ml of crude extract of Pariparoba, respectively. (20)
• Insecticidal / Grain Storage Pests / Essential Oil: Study investigated the insecticidal activities of essential oil of P. umbellatum against bean weevil (Callosbruchus maculatus) and rice weevil (Sitophilus oryzae). Results showed the essential oil to be toxic to both insects in a dose- and time-dependent manner (p<0.05). The essential oil showed higher toxicity to bean weevil than rice weevil. (see constituents above) (22)
• Antidiabetic / Leaves: Study evaluated the methanol leaf extracts of Piper umbellatum and Persea americana for inhibitory activity on enzymes involved in starch digestion or diabetic complications. The tested extracts strongly inhibited α-glucosidase, maltase-glucoamylase, aldose reductase, and aldehyde reductase activities. None of the extracts showed inhibitory effect against ß-glucosidase . On GC-MS study, 10 compounds were isolated from P. umbellatum. (25)
• 4-Nerolidylcatechol (4NC) / Antidermatophytic / Cytotoxic / Leaves: Study evaluated leaves of P umbellatum for anti-dermatophytic bioactive compounds. 4-nerolydilcatechol was isolated from ethanolic extract of P. umbellatum. Molecular modeling suggests 4-NC could bind to CYP51, present i lanosterol synthesis. Results suggest the crude ethanol extract and 4-NC demonstrated high and selective in vitro antifungal activity. (27)

Availability
- Wild-crafted.