Botany
Kuasia is a smooth shrub growing 2 to 3.5 meters high. Leaves are alternate, about 20 centimeters long. Petiole and rachis are broadly winged. Leaflets are five, stalkless, elliptic-oblong, although the terminal one could be oblong-obovate, and 7 to 12 centimeters long. Flowers are borne on racemes, 8 to 20 centimeters long, bright red, with the corolla about 2.5 centimeters long.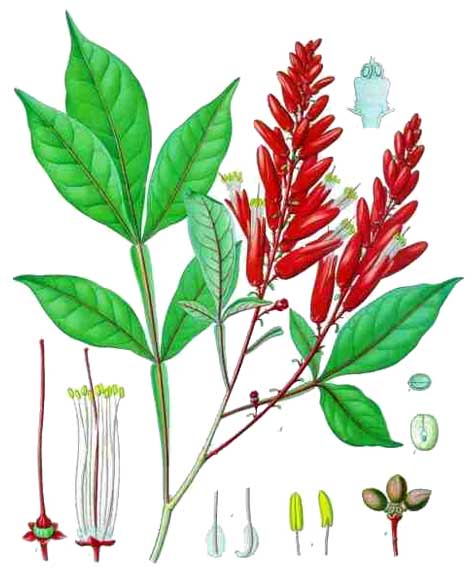 Distribution
- Ornamental cultivation.
- Certainly introduced; native of tropical America.
Constituents
- Bark contains quassin, the bitter principle, 0.1 percent.
- Contains no tannin.
- Yields (1) quassain, a mixture of a-picrasmin and B-picrasmin bitter principles, (2) a volatile oil.
- Phytochemicals: Quassinoids (quassimarin, quassol, quassin, neoquassin, isoquassin, 18-hydorxyquassin, quasinol), alkaloids, beta-sitostenone, gallic acid, mallic acid, simalikalactone D.
- Flowers and leaves also contain quassin.

Properties
- Considered anthelmintic, antilithic, carminative, bile stimulant, digestive stimulant, insecticidal, analgesic, antiviral, antiulcer, gastroprotective, antimalarial, sedative, tonic, vermifuge.
- Considered a bitter tonic without astringency.
- Infusion of wood is considered tonic, febrifuge, and stomachic.

Parts used
Various plant parts.

Uses
Folkloric
- Used for dyspepsia and anorexia.
- A strong enema infusion destroys threadworms.
- Infusion used for dyspepsia, loss of appetite, debility after fevers; also given in bilious fevers.
- Infusion used in gout, mixed with alkaline salts, aromatics and ginger.
- In hysteria, used with camphor and tincture of valerian.
- Applied to the scalp to treat lice infestation.
- In dyspepsia, used with zinc sulfate, iron or mineral acids.
- Infusion of wood used as tonic and febrifuge; also, as stomachic.
- In French Guiana, leaf tea is is most frequently used antimalarial remedy.
- In Mexico, plant decoction used to treat diabetes. (20)
- Amerindians in NW Guyana used decoction of bark and leaves to kill lice.

Others
- Insecticidal.
Studies
• Antifertility Effect in Male Rats: Study on the male reproductive toxic effect of Q. amara in a Swiss mouse model showed extract-treated mice showed dose-dependent toxicity on epididymal sperm parameters, with decreased sperm count, decreased motility, with abnormal morphologies in more than 50% of the sperm. Results affirm the male reproductive toxic effects of QA when applied as a therapeutic or biopesticide. (1)
• Antifertility Activity in Male Rats / Quassin: A crude methanol extract of stem wood significantly caused reduction in weights of testis, epididymis and seminal vesicle, with an increase of the anterior pituitary gland. Treatment with the extract caused significant reduction of epididymal sperm counts serum levels of testosterone, LH, and FSH. Fractionation isolated two compounds: quassin and 2-methoxycanthin-6-one. Quassin appeared to be the antifertility principle of Quassia amara. (2)
• Quassinoids: Young leaf tea contains several quassinoids: simalikalactone, picrasin B, picrasin H, neoquassin, quassin, picrasin and picrasin J. Both biologic activity and cytotoxicity may be attributed to the simalikalactone D. (3)
• Insecticidal: Study has shown the water extract of Quassia has anti-larval activity on Culex quinquefasciatus.
• Anti-Headlice: Report presents the pediculicide activity of Quassia Vinegar as an alternative form of therapy for headlice infestation. It combines Quassia amara, a natural repellent and inhibitor of chitin synthesis with vinegar which prevents the attachment of nits to the hair shafts by dissolving their chitin envelops. (4)
• Anti-Malarial: Six extracts from two Nigerian plants, Q amara and Q undulata were screened for antimalarial properties. The Q amara leaf methanol extract showed the highest suppressive activity. (5)
• Anti-Ulcerogenic: Quassia amara extracts showed an an important anti-ulcerogenic effect in acute ulcer induction models. The effect was probably related to an increase in gastric barrier mucus and non-protein sulfhydril groups. (7)
• Anti-Diabetic / Anti-Dyslipidemic: QAe significantly increased the glucose tolerance in nicotinamide-STZ-induced diabetic rats. QAe and glibenclamide normalized dyslipidemic associated with STZ-induced diabetes. (8)
• Antibacterial / Antifungal: In a study of extracts of Q. undulata and Q. amara, all eight extracts exhibited marked antibacterial (E. coli, S. faecalis, S. aureus) and antifungal (Aspergillus niger) activities, in most cases higher than the standard reference drug. QA leaf methanol leaf extract singularly exhibited the highest activities in both assays. (9)
• Simalikalactone / Antimalarial: Study yielded a new quassinoid, simalikalactone (SkE), from the leaves of Q. amara. SkE inhibited the growth of Plasmodium falciparum. It also decreased gametocytemia seven-fold lower than that of primaquine. (10)
• Topical Rosacea Therapy: A topical gel with 4% Quassia amara extract in the treatment of various grades of rosacea showed it to be very effective relating to flushing, erythema, telangiectasia, papules and pustule scores. Results suggest the extract can a new, efficient, and safe alternative in the management of rosacea. (11)
• Hematologic Effects / Quassia / Anti-Anemic: Quassin and 2-methoxycathine-g-one, isolated from a stem bark extract, was studied for hematological effects. All doses of extract and quassin significantly increased RBC count, packed cell volume, and hemoglobin concentration. 2-methoxycathine-6-one effected no change. (13)
• Antiulcerogenic Effects / 2-methoxycanthin-one: Study evaluated an extract and bioactive principles-quassin and 2-methoxycanthin-one on gastric ulcerations in albino rats. The extract and 2-methoxycathine-one significantly inhibited gastric ulceration induced by indomethacin. (14)
• Facial Seborrheic Dermatitis: Study evaluated the efficacy and safety of a topical gel of 4% Q. amara extract in the treatment of SD (seborrheic dermatitis). QA was tested and compared with topical ketoconazole and topical ciclopiroxolamine. All three were found effective, with an efficacy advantage for 4% Quassia extract. Results showed the topical gel from the 4% extract represents a safe and effective treatment for SD. (15)
• Reproductive Toxicity / Sperm Capacitation / Acrosome Reaction: Thirty nine percent of rat sperm cells treated with Q. amara failed to be capacitated and their acrosome remained intact white 30% failed to undergo acrosome reactions. Quassia amara may mediate its antifertility effect by acting on ion channels or on caudal epididymal sperm proteins critical for sperm capacitation. (16)
• Inhibitory to Entamoeba histolytica: Entamoeba histolytica is an important etiologic agent of diarrhea, globally infecting 40 to 50 million people with 40,000 to 100,000 deaths per year. Metronidazle is effective treatment but can cause serious adverse reactions. Study showed Quassia amara crude extract has inhibitory effects on Entamoeba histolytica in vitro. (19)
Interactions
- Reported interactions with digoxin and diuretics. Also reported to decrease the efficiency of antacids and proton pump inhibitors by increasing stomach acid. (see: interactions)

Availability
Wild-crafted.
Tinctures, extracts, and pills in the cybermarket.