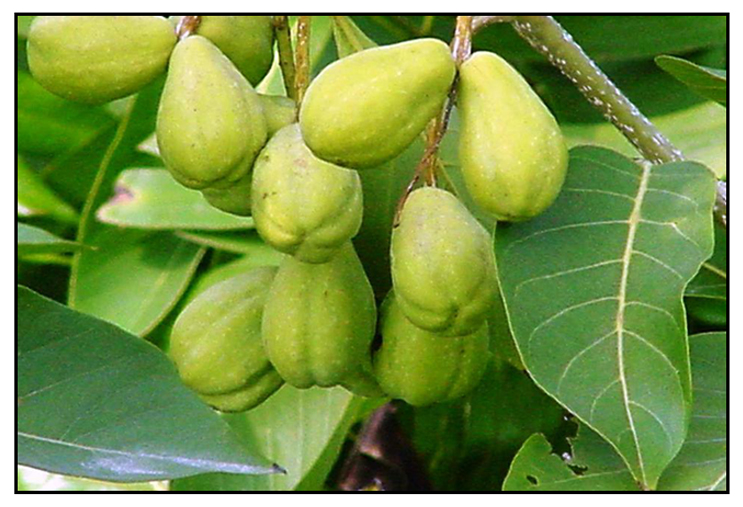 Plant snippets
- In Tibet, Terminalia chebula Retz. is called the "King of Medicine." (35)
- In the top list of "Ayurvedic Materia Medica." (35)
Botany
Komintana is a deciduous tree reaching a height of 25 meters or more, with a diameter of 80 centimeters. Leaves are alternate to subopposite, ovate, 7 to 10 centimeters long, 4 to 7 centimeters wide, pointed at the tip, usually somewhat rounded at the base, and equipped with fairly long stalks. Flowers are somewhat yellow and fragrant, borne in large numbers in compound inflorescences. Fruit is drupe-like, yellow to green, turning blackish when dry, elliptical, about 2 centimeters long, with longitudinal ridges.
In India, plant is classified according to the shape of the fruit: Vijaya (alabu shape), Rohini (round), Pootana (small, less mesocarp, bigger seed), Amrita (more mesocarp), Abhya (five-ribbed), Jeevantee (golden yellow), and Chetaki (three-ribbed). (35)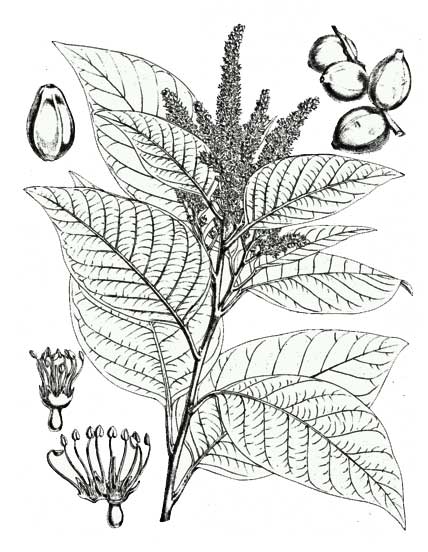 Distribution
- In most or all provinces in Luzon and in Mindoro, Bancalan, Ticao, Leyte, Masbate, Negros and Mindanao In forests at low and medium altitudes.
- Also occurs in Borneo and Celebes.
- Widely distributed in India, Burma, and Sri Lanka.
Constituents
- Terminalia chebula contains tannin, chebulic acid, glycosides, sugar, triterpenoids, steroids, small quantities of phosphoric acid.
- Major bioactive constituents are tannins, anthraquinones, chebulinic acid, chebulagic acid, chebulic acid, ellagic acid and gallic acid.
- The other minor compounds include corilegin, β-D-glucogallin, glucose and sorbitol. Polyphenolic compounds, triterpene glycosides, terchebulin, punicalagin, terflavin A, flavonoids, reducing sugars and starch are other constituents of the fruit. Also yields terpenene glycosides, arjungenin and arjunglucoside-I, 18 amino acids and a small quantity of phosphoric, succinic, syringic and quinic acids.
- Study of fruit yielded ellagic acid, chebullic acid, neochebulic acid, gallic acid, 2,4-chebulyl-beta-D-glucopyranose, chebulinic acid, hydroxybenzoic acid derivatives, hydroxycinnamic acid derivatives, flavonol aglycones, glycosides; and chebulagic acid from both fruit and seed. (35)
- Fruits have yielded steroids/sapogenins, saponins, anthraquinone derivatives, flavonoids, and tannins.
The most important component is tannin (32%-45%) which includes gallic acid, ellagic acid, chebuli acid, chebulinic acid, punicalagin, and tannic acid. Monosaccharaides/oligosaccharides (9%) consist of D-glucose, D-fructose, and saccharose. Fruit acids include quinic acid (1.5%), shikimic acid (2%), and fatty oil (from seeds, 40%). (36)

Properties
- Fruit is astringent.
- Considered adaptogenic, anthelmintic, expectorant, laxative, nervine, stomachic and tonic.
- Studies have demonstrated antioxidant, antimicrobial, antidiabetic, hepatoprotective, anti-inflammatory, antimutagenic, antiproliferative, radioprotective, cardioprotective, anti-inflammatory, antimutagenic, radioprotective, anticaries, antidiabetic, wound healing activity. (13)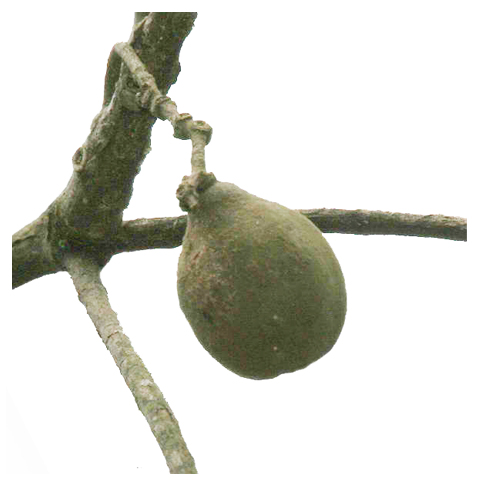 Parts used
Fruit.

Uses
Folkloric
- Decoction of fruit used for thrush and as gargle for mucous membrane inflammations of the mouth.
- Decoction of fruit also used for obstinate diarrhea.
- In India, used for digestive disorders, diarrhea, irregular fevers, flatulence, cough, wound infections, and urinary tract infections.
- Used for renal calculi, dysuria, and urinary retention. Used as blood purifier, gargle for sore throat, gum ulcers, and muscular rheumatism. Used for fever, cough, and asthma. (16)
- Elsewhere, used for asthma, piles and cough.
- Extensively used in Ayurveda, Unani, and Homeopathic medicine.
- In Ayurveda, used for asthma, sore throat, vomiting, hiccups. Fruit, fresh or reconstituted, taken before meals stimulates digestion; taken after meals, for diseases caused by aggravation of vayu, pitta, and kapha.
- Fruit decoction used as gargle in oral ulcers. Powder considered a good astringent artifice in loose gums. Powder of fruits used in chronic diarrhea. (35)
- In Thailand, used for wound healing and treatment of skin diseases. In Pakistan, used for treatment of chronic ulcers, dental caries and heart ailments. (36)
Others
- Dye: Yields a natural dye. (see study below) (44)

Studies
• Hypoglycemic / Antioxidant: Study of methanolic extracts of T chebula, T belerica, Emblica officinalis and their combination, "Triphala" were found to inhibit lipid peroxide formation and to scavenge hydroxyl and superoxide radicals in vitro. Orally, the extracts significantly reduced the blood sugar in normal and alloxan diabetic rats within 4 hours, an effect that was sustained with daily administration.(1)
• Chebulagic Acid / Apoptosis Inducing / Anti-Inflammatory: Study on the methanolic extracts of fruits yielded chebulagic acid. Chebulagic acid showed potent COX-LOX dual inhibition activity and also showed anti-proliferative activity against various cell lines. Further mechanistic study showed induction of apoptosis in COLO-205 cells. (2)
• Glucose Lowering / Metabolic Syndrome: Study of fruit extract of T chebula showed significant and dose-dependent glucose lowering in the rat model of metabolic syndrome. (3)
• Antioxidant / Anti-Tyrosinase Activity: In a study of 5 medicinal plants to evaluate free radical scavenging activity, T chebula and Q infectoria significantly inhibited tyrosinase activity and DPPG radical. (4)
• Herb-Drug Interaction: A report describes two relapses of depression in a patient well controlled with sertraline monotherapy in close temporal relationship with starting an ayurvedic herbal mixture. The herbal plant responsible for the interaction is suspected to be either Terminalia chebula or Commiphora wighteii. (5)
• Chebulagic Acid / Alpha- Glucosidase Inhibitor: Chebulagic acid, isolated from T chebula, showed significant alpha-glucosidase inhibition. Results suggest a use for chebulagic acid in the management of T2 diabetes.
• Triphala / Anti-Stress: Study investigated the effect of Triphala (T. chebula, T belerica, E officinalis) against cold stress-induced alterations in rats. An increase in LPO (lipid peroxidation) and cortisone levels were observed. Results suggest Triphala supplementation can be regarded as protective against stress.
• Anti-Caries: A concentrated aqueous extract prepared from the fruit of TC, used as a mouth rinse, suggests it to be an effective anticaries agent. (6)
• Immunomodulatory: Aqueous fruit extract of Terminalia chebula produced an increase in humoral antibody titer and delayed-type hypersensitivity in mice. It suggests an extract with promising immunostimulant properties. (7) Study investigated the immunomodulatory activity of an alcohol extract of T. chebula dried ripe fruits at the cellular level. Results showed immunomodulatory activity as evidenced by increase in concentration of antioxidant enzymes, GSH, T and B cells. There was also enhancement of melatonin in the pineal gland as well as levels of cytokines such as IL-2, IL-10, and TNF-α. (27)
• Prokinetic / Increased Gastric Emptying: In a study on prokinetic and antikinetic activities, Terminalia chebula was found to increase gastric emptying. Results suggest it may be a useful alternative to prokinetic drugs. (8)
• Anti-Ulcer: The anti-ulcer activity of a methanolic extract of TC was investigated in pylorus-ligated and ethanol-induced ulcer models in rats. Results indicate the fruit extract to have potential anti-ulcer activity on both models. Its antiulcerogenic and ulcer healing properties may be due to antisecretory activity. (9)
• Antidiabetic / Glycoproteins: Glycoproteins are carbohydrate-linked protein macromolecules in the cell surface of animal cells. Impaired metabolism of glycoproteins plays an important role in the pathogenesis of DM (Knecht et al, 1990). Study evaluated the effect of fruit extract of TC on plasma and tissue glycoprotein components of streptozotocin-induced diabetic rats. Study showed a decrease in plasma insulin and C-peptide levels in diabetic rats. The efficacy of the fruit extract was comparable to glibenclamide.(10)
• Antioxidant / Radioprotector: Study of an aqueous extract of T. chebula showed potent antioxidant activity and probable radioprotector activity with ability to protect cellular organelles from radiation-induced damage. HPLC analysis of aqueous extract yielded ascorbate, gallic acid, and ellagic acid. (12)
• Antimicrobial: Study of a fruit extract of T. chebula showed antimicrobial activity against both gram negative bacteria (E. coli, S. flexineria, and P. aeruginosa) and gram-positive bacteria (B. subtilis, S. aureus, and S. epidermis). (13)
• Effect on Metallobetalactamas: ESBL (extended spectrum of ß lactamase) is one of the most important resistance mechanisms for ß lactam antibiotics like penicillin and cephalosporins. An aqueous extract from Terminalia chebula was found to be effective on MBL which were produced by eleven isolates of Pseudomonas and eight isolates of Acinetobacter. (14)
• Anticonvulsant / Fruits: Study of an ethanolic extract of fruits showed anticonvulsant activity. Phytochemical screening yielded glycosides, carbohydrates, flavonoids, proteins, steroids and tannins. The anticonvulsant activity was attributed to the antioxidant property of the constituents. (16) Ethanolic extract of T. chebula fruits showed anticonvulsant activity with reduction of seizure duration produced by maximal electroshock and delayed latency of seizures produced by pentylenetetrazole and picrotoxin.     (29)
• Anti-Acne / Antibacterial / Terminalis chebula and Terminalia bellerica: Study evaluated the extracts of Terminalia chebula Retz and Terminalia bellirica Linn. for anti-acne property. The herbal anti-acne test extracts were prepared as single and combination formulations against Acne vulgaris. The combination of actives with 20% alcoholic T. bellirica and 20% T. chebula was found to be more effective against Acne vulgaris. (17)
• Antinociceptive / Fruits: Various extracts of T. chebula and T. bellerica were evaluated for analgesic activities using the tail immersion model in mice. Ethanolic extracts both exhibited an analgesic response. Results indicate the fruits could be potential candidate of isolation of natural analgesic agents for the management of chronic pain. (18)
• Mutagenicity / Oral Toxicity Study: In an oral toxicity study, the single oral dose of the an EtOAc extract at 2000 mg/kg did not produce mortality or abnormal lesions in the internal organs of rats. In the bacterial mutation assay, up to 5000 µg/mL concentration of the EtOAc soluble portion, the number of colonies did not increase with or without metabolic activation. (20)
• Wound Healing: Study evaluated various organic and aqueous extracts of T. chebula against fibroblast and keratinocytes cells. Results showed bioactive components from the various organic and aqueous extracts could be used for enhancing the rate of wound healing by increasing cell proliferation and increasing free-radical scavenging ability. (21) Study (Saguna et al, 2002) investigated the in vivo effects of topically administered alcohol extract of T. chebula leaves on healing of rat dermal wound. Results showed acceleration of wound healing, increased contraction rats and shorter epithelization periods, with a 40% increase in tensile strength of tissues from treated wounds. (36)(37)
• Chebulinic Acid Extraction / Anti-Cancer: Study reports on the extraction of chebulinic acid from Terminalia chebula by Soxhlet extraction and its purification by Column chromatography. Chebulinic acid has shown many bioactivities including inhibition of cancer cell growth, inhibition of contractile responses of cardiovascular muscles, antifungal and antibacterial activities, among others. On in-vitro evaluation of anti-cancer activity on Colon adenocarcinoma HT-29 cancer cell lines, maximum percentage inhibition of cancer cell lines was 41.2% at dose of 2000µg/ml. (22)
• Antioxidant / Antidiabetogenic / Fruits: Study evaluated the antioxidant potential of Terminalia chebula fruits on STZ-induced diabetic rats. Results showed TC extract significantly controlled the alteration in levels of thiobarbituric acid reactive substances, hydroperoxides, and both enzymatic and nonenzymatic antioxidants. There was a significant decrease in blood glucose levels and glycosylated hemoglobin. Results were comparable to glibenclamide. The presence of bioactive fruit ingredients may be responsible for the antioxidant properties, which may be partially responsible for the antidiabetogenic activity. (23)
• Antibacterial / Anticaries Mouthrinse / Antidiabetogenic / Fruits: Study evaluated an ethanol extract for antibacterial effect against Streptococcus mutans. Results showed the mouthrinse formulated from the ethanol extract of T. chebula possessed substantial antibacterial activity and can be used as an effective anticaries agent. (24)
• Apoptosis in Lung Cancer Cells: Study evaluated an aqueous extract of T. chebula and its main pathway by MTT methods against human lung cancer (A549) and mouse lung cancer cell line LLC. Results suggest T. chebula acts by regulating Bcl-2 family protein-mediated mitochondrial pathway. (25)
• Antiarthritic / Fruits: Study evaluated the anti-arthritic activity of acetone extract of fruits in wistar rats in an experimental model of rheumatoid arthritis induced by intradermal injection of Complete Freund's Adjuvant (CFA). Results showed the extract of fruits had a better effect on controlling CFA induced arthritis. TCE showed good reduction of paw edema and joint thickness, with a reduction in ESR and RF values comparable to the dexamethasone treated group. (26)
• Antibacterial / Fruits: Study evaluated the in-vitro antibacterial property of T. chebula against a wide spectrum of human pathogenic strains conducted for finished textile samples. Results showed bacterial inhibition and suggests potential application in traditional medicine and an alternative ecofriendly potential against human pathogenic bacterial strains in wound beds. (28)
• Analgesic / Anti-Inflammatory / Fruits: Study evaluated the analgesic and anti-inflammatory activities of ethanolic extract of T. chebula fruits in experimental animal models. Results showed significant analgesic activity by hot plate method and significant anti-inflammatory activity by carrageenan induced paw edema method. (30)
• Antioxidant / Cytotoxic / Analgesic / Fruits: Study evaluated the antioxidant, analgesic, and cytotoxic activity of a methanolic extract of T. chebula fruits. Results showed significant activities in all antioxidant assays used. On analgesic testing using acetic acid-induced writhing, there was maximum 44.17% inhibition (p<0.05) of writing reaction compared to diclofenac (66.96%). The extract showed moderate cytotoxicity in brine shrimp lethality bioassay with an LC50 value of 97.36 µg/mL. (31)
• Anti-Aging Benefits / Preventive and Restorative: Study evaluated the skin benefits of a hydrolyzable, tannin-enriched T. chebula fruit extract. The extract used for the study was standadized for total hydrolyzable tannins (>50%) as well as chebulinic and chebulagic acids, constituents that have been ascribed biological activities. Results indicate that a defined, water-soluble TC fruit extract can be used topically for preventive and restorative anti-aging and skin tone-evening effects. (32)
• Neuronal Cell Protection Against Ischemia / Antioxidative / Anti-Inflammatory: Study evaluated a fruit extract for potential to protect neuronal cells against ischemia and related diseases by reduction of oxidative damage and inflammation in rat pheochromocytoma cells (PC12) using in vitro oxygen-glucose deprivation by reoxygenation (OGD-R) ischemia and hydrogen peroxide induced cell death. Results suggest the extract has potential as a natural herbal medicine to protect cells from ischemic damage, possibly through inhibition of oxidative and inflammatory processes. (33)
• Spasmogenic / Seeds: Study evaluated the spasmogenic action of T. chebula seeds on a rat ileum model. Results showed the excitatory effects of ATC on ileal contractile frequency and tension are probably mediated through Ca2+ channels activation. Findings support the use of ATC for the treatment of constipation. (34)
• Antiprotozoal / Antiplasmodial: A combination of T. chebula and four other botanicals viz., Boerhavia diffusa, Berberis aristata, Tinospora cordifolia, and Zingiber officinale showed a maximum cure rate of 73% in experimental amoebic liver abscess in hamsters and 89% in experimental caecal amoebiasis in rats showing antiamoebic activity against Entamoeba histolytica. (Sohni et al) An acetone extract of seeds showed antiplasmodial activity against Plasmodium falcifarum. (Bagayan et al) (35)
• Cardioprotective: T. chebula extract ameliorated the effect of isoproterenol on lipid peroxide formation and retained the activities of diagnostic marker enzymes in isoproterenol induced myocardial damage. (Suchalatha et al, 2004) A study on the pericarp has also showed cardioprotective effect in isolated frog heart model. (Reddy et al, 1990) (35)
• Wound Healing / Antimicrobial / Leaves: Study evaluated the effects of topical administration of an alcohol extract of leaves on healing of rat dermal wounds. In vivo results showed faster wound healing, improved rates of contraction, decreased period of epithelization, along with biochemical studies showing increased total protein, DNA, and collagen contents in the granulation tissues of treated wounds. In addition, T. chebula showed antimicrobial activity, largely against Staphylococcus aureus and Klebsiella. (37)
• Neuroprotective / Antioxidant: Study analyzed the components absorbed in plasma and brain tissue of rats after intragastric administration of T. chebula extracts. Nine components (gallic acid, methyl gallate, ferulic acid, ethyl gallate, brevifolin carboxylic acid, ellagic acid, galloflavin, arjugenin, and arjunic acid) and four metabolites were identified in the plasma and five components ( ethyl gallate, brevifolin, carboxylic acid, ellagic acid, arjugenine and arjunic acid) were identified in the rat brain based on fragmentation behaviors. The plasma components were associated with antioxidant activity, while the brain components were associated with neuroprotective effects. (38)
• Anti-Lipoxygenase Activity / Leaf Galls: Study evaluated the photochemical constituents and anti-LOX potential of leaf galls of T. chebula using linoleic acid as substrate and lipoxidase as enzyme. The ethanolic extract of leaf galls yielded the highest total phenolic and flavonoid content at 141 ± 2.2 mg of GAE/g d.w. and 125 ± 1/4 mg QE/g d.w. and maximal LOX inhibitory activity (52.67%) at 800 µg/mL concentrations. Results confirm the folklore use of T. chebula leaves as a natural anti-inflammatory agent. (39)
• Plaque Control in Chronic Gingivitis: Study evaluated the clinical efficacy of T. chebula as an anti-plaque agent in patients with chronic gingivitis. Gingival massage with T. chebula showed a significant reduction in plaque index, gingival index, and gingival bleeding index. Results suggest T. chebula has potential as herbal formulation for plaque control in patients with chronic gingivitis. (40)
• Antibiofilm Formation of Common Pathogens: Study evaluated the bioefficacy and biocidal activity of T. chebula fruit water extract against common infectious bacteria viz., S. aureus, B. subtilis and mixed 1:2 culture of S. aureus and B. subtilis by TCP and CRA methods. Results suggest effective biocidal activity of the extract on biofilm formation, with an optimum extract concentration of 2%. Study suggests a potential for the fruit extract as alternative to commonly used hospital chemical biocides for eradication of biofilm formation in medical devices. (41)
• Silver Nanoparticles / Antibacterial / Fruit: Study reports on the synthesis of silver nanoparticles using aqueous and methanol extract of fruits. The silver nanoparticles exerted a significant antibacterial action against P. aeruginosa, B. subtilis, S. aureus, K. pneumonia, Streptococcus sp., Salmonella sp., and E. coli. S. aureus showed the highest zone of inhibition at 150 µl. (42)
• Hypoglycemic / Fruits: Study evaluated the hypoglycemic effect of ethanol extract of T. chebula fruits on alloxan induced diabetic rats. Results showed significant hypoglycemic effect comparable with standard drug, metformin. Effective dose was 200 to 400 mg/kg. (43)
• Natural Dye: Study evaluated the color parameters and fastness properties of woolen yarns dyed with T. chebula natural dye. Use of different metal salt mordants produced a wide range of beautiful shades with good color and wash fastness properties. (44) In this study, T. chebula was used as an eco-friendly natural colorant for sustainable textile coloration of woolen yarn with primary emphasis on thermodynamic and kinetic adsorption aspects of the dyeing process. Polyphenols and ellagitannins were the main coloring components of the dye extract. Wash and rub fastness data showed mordanting increased resistance of color transfer to adjacent fabrics. (45)
• Mechanisms of Effects in Alzheimer's Disease: Review reports on the various potential mechanisms of T. chebula effects in Alzheimer's disease. In addition to the effects of gallotanins on AChE inhibition, tannic acid as an active component of T. chebula has a potential inhibitory effect on AChE. Gallic acid and ellagic acid, phenolic compounds in the fruits of T. chebula, could also inhibit AChE. Study of Nag and De showed the inhibitory effect of methanolic extract (gallic acid 0.25 µg, ellagic acid 0.08 Mg) has a linear relationship with increasing dosage (IC50 10.96). Review reports that T. chebula extracts and its constituents have acetylcholinesterase inhibitors (AChEI) and antioxidant and anti-inflammatory effects, all of which are relevant to the treatment of Alzheimer's disease. (46)
• Nootropic / Learning and Memory Benefits: Study evaluated the nootropic activity of ethanolic extract of Terminalia chebula in mice. Results showed acute administrations of ethanolic extracts enhanced the learning and memory recall in mice in an inverse dose-dependent manner. Further studies are suggested to investigate for active ingredients to be developed as herbal brain boosters and anti-Alzheimer's herbal drugs. (47)
• Antiparkinsonian Activity / Fruits: Study evaluated the antiparkinsonian activity of T. chebula fruit extracts by haloperidol-induced catatonia model in Sprague-Dawley rats. Haloperidol induced a time-dependent increase in cataleptic score in rats. The fruit extracts exhibited significant antiparkinson's activity. Extract treated groups showed significantly (p<0.05) lower scores of catalepsy at all time periods as compared to haloperidol-inducing group. (48)

Availability
- Wild-crafted.
- Capsules, supplements, powder, extracts, herbal formulations in the cybermarket.