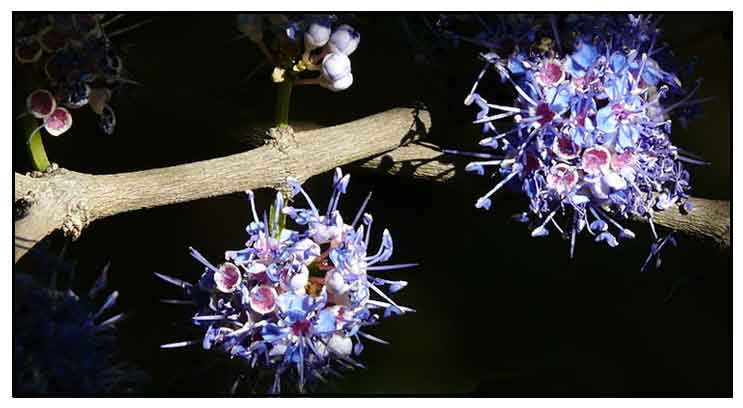 Botany
Kolis is a smooth shrub or small tree reaching a height of 8 meters. Leaves are leathery, oblong-ovate to oblong elliptic, 6 to 14 centimeters long, green, shining, and usually pointed at both ends. Flowers are faintly scented, numerous, about 7 millimeters across, deep blue or purple, and borne on axillary, solitary or fascicled cymes, 2 to 4 centimeters long. Fruit is rounded, 7 to 10 millimeters diameter, fleshy and dark purple.
Distribution
- Common in thickets at low altitudes, especially along the seashore but also extending inland from the Batan Islands and northern Luzon to Palawan and Mindanao.
- Also occurs in India to Malaya.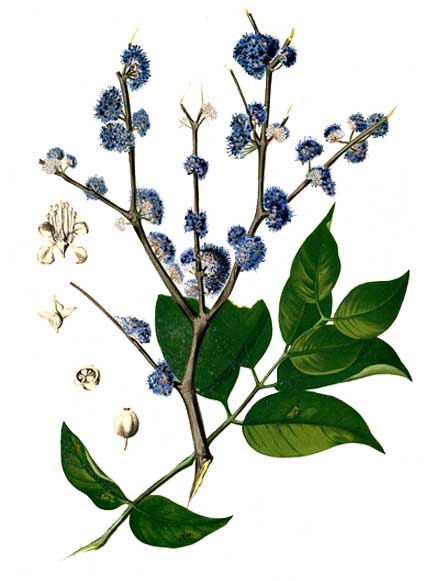 Constituents
- Plant yields alkaloids, triterpenes, flavonoids and saponins.
- Aerial parts yield umbelactone, beta-amyrin, ursolic acid, oleanolic acid, sitosterol and its glucoside.
- n-hexane extract of roots of M. umbellatum yielded octocosonoic acid, cerotic acid, ethyl palmitate, palmitic acid and butyric acid.
Properties
- Fruit and leaves are astringent.
- Leaf is spasmolytic, hypoglycemic.
Parts used
Roots, leaves.
Uses
Folkloric
- Decoction of roots used for excessive menstrual discharge.
- Infusion or lotion of leaves used as astringent in ophthalmia.
- Leaf considered astringent and antileucorrheic.
- In India, leaves used in the treatment of gonorrhea.
Studies
• Antibacterial: . Results showed the ethyl acetate and chloroform extracts of the plant with moderate antibacterial activity. Maximum activity was shown by the chloroform extract against Bacillus subtilis. (1)
• Radical Scavenging / Anti-Inflammatory / Analgesic: . The ethyl acetate extract showed the highest stimulation for interleukin-10 production; it also caused significant inhibition of the writhing response. The methanol fraction exhibited radical scavenging activity. (2)
• Green Synthesis of Gold and Silver Nanoparticles: An aqueous leaf extract of M. edule was found to be a suitable plant source for the green synthesis of silver and gold nanoparticles. On treatment with aqueous solutions of silver nitrate and chloroauric acid with M. edule leaf extract, stable silver and gold nanoparticles were rapidly formed. The M. edule nanoparticles have potential for various medical and industrial applications. (4)
• Hypoglycemic Effect: Study on an alcoholic extract of leaves of Memecylon umbellatum showed significant lowering of serum glucose levels in normal and alloxan-induced diabetic mice. The mechanism was unclear. (5)
• Antimicrobial: Study of methanol extracts of M. edule and M. umbellatum showed significant activity against gram-positive, gram-negative bacteria and fungus. (8)
• Apoptogenic / Human Gastric Carcinoma: Study evaluated the anti-proliferative and apoptogenic activity of an ethyl acetate extract of leaves of Memecylon edule in various cancer cell lines. Results showed the extract inhibited the gastric cancer cell growth in a dose-dependent manner, inducing apoptosis by mitochondrial dependent pathway. (9)
• Antioxidant / DNA Protection Properties: Study evaluated methanolic extracts of three species of Memecylon i.e., M. umbellatum, M. malabaricum, and M. talbotianum. M. umbellatum and M. malabaricum could scavenge hydroxyl radicals and thus protect DNA. (10)
Availability
Wildcrafted.