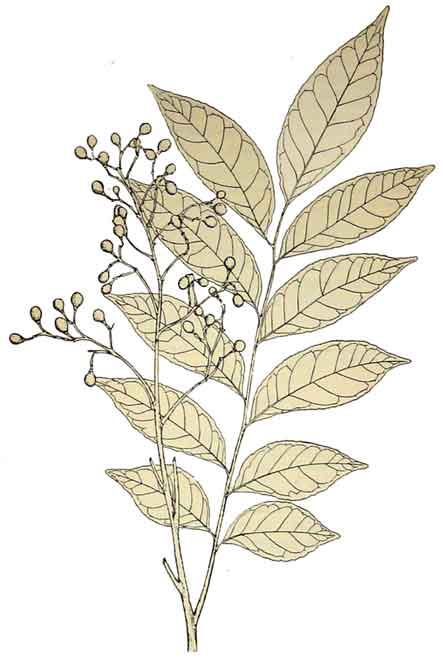 Botany
Kayumanis is a small tree up to 3 to 6 meters in height. Leaves are 20 to 30 centimeters long, with 7 to 11 leaflets which are ovate-lanceolate to lanceolate, 5 to 11 centimeters long. Panicles are 15 to 20 centimeters long, terminal, and in the upper axils. Flowers are greenish, white, fragrant, 5-parted, about 8 millimeters in diameter. Fruit is nearly spherical or ovoid, about 1 centimeter in diameter, whitish when mature.
Distribution
- In forests, at low and medium altitudes, in Bontoc, Benguet, Pampanga, Batangas, Bataan, Laguna, Rizal, and Sorsogon Provinces in Luzon; and in Masbate, Basilan and Mindanao, ascending to 1,500 meters.
- Also endemic to Borneo.
- Cultivated in China, Vietnam, Cambodia, and Taiwan.
- Reported naturalized in China.
Constituents
- Distillation of the leaves yield a colorless oil with a faint odor of anise or anethol.
- The volatile oil contains methyl clavicol.
- The chemical composition of the oil varies among individual plants, from almost pure methyl chavicol (estragol) to almost pure anethol. A minor component is anisaldelhyde.
- Analysis of aqueous extract yielded tannins and saponins.
- Study isolated a new cyclopeptide, clausenain.
- Essential oils from stems roots, leaves, fruits, and flowers yielded 4-methoxy-6-(2-propenyl)-1,3-benzodioxole. The main types of the compounds are aromatic hydrocarbons,alkane,olefin and fatty acids. (9)
- 100 kg. of fresh leaves yield 1.6 - 2 kg of oil. One ha estimates a possible essential oil yield of 350-750 kg per year.
Properties
- Leaves when crushed are aromatic.
- Alcoholic extracts have a strong anise-like odor.
- Oil extracted from the leaves is inactive, with a faint odor of anise or anethol.
- Study suggests hepatoprotective and antimicrobial properties.

Parts used
Roots, leaves and fruits.

Uses
Culinary and nutrition
- Leaves used in preparing local dishes and beverages.
- Essential oil from the leaves considered a potential substitute of anise oil for the making of "anisado," a local alcoholic beverage.
Folkloric
- In the Philippines, decoction of roots and fruits used for cough with fever.
- Decoction of leaves used for nausea of pregnancy.
- Leaves are stuffed in pillows for its soporofic effect.
- Leaves used in baths for rheumatism.
- In China, the leaves and twigs are used for the treatment of dysentery and arthritis.
Others
- Leaves also used to flavor cigarettes.
- Essential oil is a potential cheap source of natural anethol.

Studies
• Monoterpenoid Coumarins / Antifungal: Study isolated two new monoterpenoid coumarins: anisucumarin A and B. The EtOH extract of Clausena anisum-olens showed antifungal activity against C. albicans, C. tropicalis and C. krusei. Anisucumarin A and B failed to show detectable antifungal activity. (1)
• Octapeptide: Study isolated a new cyclic octapeptide, clausenain B, a phenylalanin-rich cyclic octapeptide. (2)
• Hekumarone: Study isolated a new O-terpenoidal coumarin, hekumarone, from the leaves and twigs. Coumarins are considered characteristic and distinguishable chemical markers for the Rutaceae family. (4)
• Insecticidal / Anisaldehyde: Anisaldehyde, a compound found in the essential oil of Clausena anisum-olens was tested for insecticidal activities against Acanthoscelides obtectus and Callosobruchus maculatus. It caused significant mortality in the two tested insects, the latter more susceptible than the former. (3)
• Antimicrobial: Study extracted a volatile oil from the nutlets of Clausena anisum-olenas. The major chemical compositions were 4-methoxy-6-(2-propenyl)-1,3- benzodioxole (47.07%), 1,2,3-trimethoxy-5-(2-propenyl)- benzene (8.25%), 2,6- dimethoxy-4-(2-propenyl)-pheno (7.17%), n-hexadecanoic acid (7.05%) and tricosane (4.95%). The volatile oil had strong inhibitory effect against Staphylococcus aureus, Escherichia coli, Bacillus subtilis and Bacillus cereus. (8)
• Choleretic / Hepatoprotective / Leaves: A previous study showed an ethanolic extract to possess a choleretic effect in mice. This study showed an ethyl acetate fraction with the highest choleretic and hepatoprotective effect in mice, inhibiting the increase of ALT, AST, and bilirubin levels. (12)
Availability
Wild-crafted.