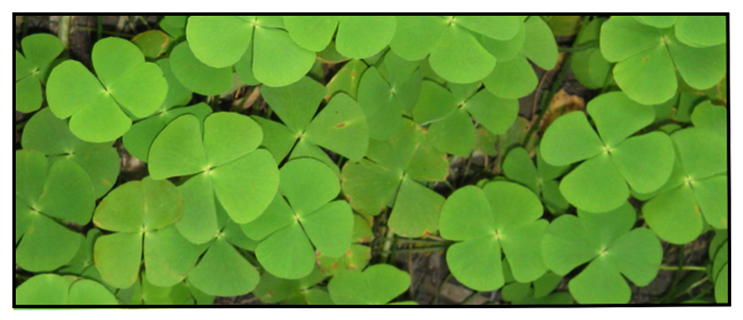 Gen info
- Marsilea is a genus of approximately 65 species of aquatic ferns of the family Marsileaceae.
- The genus name honors the Italian naturalist Luigi Ferdinando Marsili (1656-1730). (26)
Botany
Kaya-kayapuan is an aquatic, herbaceous fern. Rootstock are slender, creeping, branched, the stipes of the sterile fronds 2 to 12 centimeters high, slender. Leaves are arranged in two rows on long, the young leaves sightly downy, on trailing, wiry stems. Leaflets are 4, light to dark green, obovate-cuneate, glabrous, 10 to 15 centimeters long or smaller in terrestrial forms, rounded and slightly crenate or subentire at the apex , the lateral margin entire, straight, cuneately narrowed to the sessile base. Sporocarps (spore bearing organ found near the rootstock) are covered with brown hairs when young, becoming glabrous and nearly so, oblong, about 3 millimeters long, rounded, slightly compressed, somewhat clustered or solitary, their pedicels 5 millimeters long or less, the upper basal tooth prominent.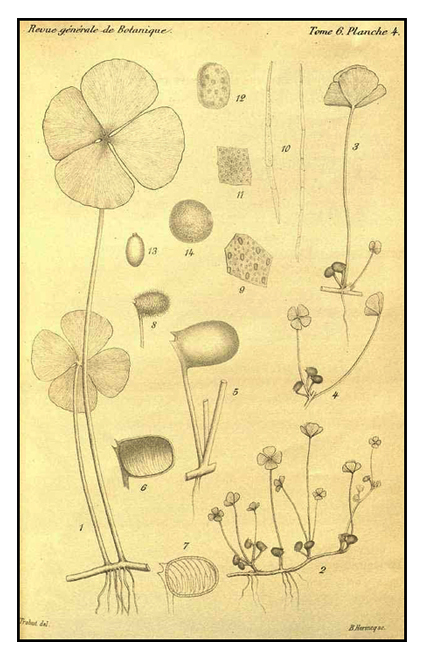 Distribution
- Native to the Philippines.
- Widely distributed in the Philippines; in muddy places, ditches, shallow pools, and rice fields.
- Also native to Assam, Bangladesh, Cambodia, China, Himalaya, India, Malaya, Pakistan, Taiwan, Thailand, Vietnam, etc. (15)
- In many countries, a noxious weed of irrigated rice.
Constituents
- Study for bioactives yielded alkaloids, saponins, phenolics and flavonoids. Protein content was as high as 4.4 mg/g. (7)
- Preliminary screening of dried M. crenata leaves and n-hexane extraction by GC-MS analysis yielded monoterpenoid, diterpenoid, fatty acid compounds and other unknown compounds. (12)
Properties
- Prepared drug sweet tasting with cooling nature.
- Diuretic, antiphlogistic and tranquilizer.
- Studies have suggested antioxidant, estrogenic, anti-H. pylori, anti-skin aging, phytoremediative, anti-neuroinflammatory properties.
Parts used
· Entire plant.
Uses
Edibility / Culinary
- Leaves are used in Indonesian East Javanese cuisine, served with sweet potatoes and peanut sauce. (1)
- In Thailand, leaves are used in Isan cuisine, as Phak waen and eaten raw with Nam phrik chili dip. (1)
- Young plants are consumed all year round. Young shoots or whole plant is eaten raw or parboiled (4)
Folkloric
- Used for neurasthenia, edema.
- Dosage: 15 to 25 gms of dried material or 30 to 60 gms fresh material in decoction.
- In India, used against leprosy, for skin diseases, fever, and blood poisoning. (14)
- In the Rajshahi district of Bangladesh, used for hepatic disorders (jaundice, hepatitis). (13)
Others
- Fodder: In Thailand, when grass is scarce, M. crenata used as substitute to feed grazing cattle.

Studies
• No Effect on Endometrial Histopathology: Study of 96% ethanolic extract of semanggi leaf on female mice showed no significant histopathologic endometrial effect. (2)
• Antioxidant / Flavonoid Content: Study evaluated the flavonoid content and antioxidant activity from ferns such as D. esculentum, Marsilea crenata and D. querciforia. The flavonoid content of M. crenata was 11.202 mg/g dried. Antioxidant activity was determined using DPPH assay where M. crenata showed 27.644 inhibition on ethanol extraction. (3)
• Phenolic Content / Antioxidant Activity: Study evaluated five Thai vegetables for phytochemical contents, phenolic content and antioxidant activity. Marsilea crenata extract exhibited the highest phenolic content (3.6041 mg GAE/g dry weight) and showed the most potent antioxidant activity on DPPH assay (IC50=248.94µg/ml). The Marsilea extract also yielded alkaloids. (5)
• Early Detection of Lead Stress: Study showed that Pb concentration tends to inhibit the plant growth and suggests its potential use as an early detection remediation process. (6)
• Estrogen Effect / Potential for Hormone Replacement Therapy: Study evaluated the effects of water clover extract on estrogen and progesterone levels and its effect on uterine histology. Phytoestrogen content in water clover leaves was 538.0 pg/g, while dried clover increased to 1068.0 pg/g. Uterine histology showed some endometrial thickening. Results showed consumption of water clover extract has promise as replacement estrogen hormone therapy. However, further study is need to find the proper dose for human consumption. (8)
• Loliolide and Isololiolide / Potential Phytotoxic Substances: Study explored the phytotoxic properties and phytotoxic substances from Marsilea crenata. Aqueous methanol extracts showed inhibition various seedling growths (lettuce, alfalfa, cress etc). Inhibition increased with concentration. Two substances were isolated: loliolide and isololiolide. These compounds may be responsible for the phytotoxic effects of the extract and presents a potential of ruse in organic agriculture. (9)
• Renal Function Benefits in Urolithiasis / Leaves and Stalks: Study evaluated the effect of M. crenata leaves extract and stalk juice in preventing disturbances of kidney functions in male Wistar rats with urolithiasis. Results showed leaf extract and stalk juice can prevent kidney function disturbance in urolithiasis, as evidenced by decreases in BUN and increase in Cr clearance. (10)
• Anti-Helicobacter pylori Activity: Helicobacter pylori is recognized as a cause of gastritis, dyspepsia, peptic ulcers, and gastric carcinoma. Study evaluated the anti-Helicobacter pylori activity of 57 methanolic extracts of edible plants in Thailand. Marsilea crenata was one of eight plants found to have activity against H. pylori with MIC of 2.5 µg/ml compared to amoxicillin, positive control, with 7.8 µg/ml. (11)
• Effect on Reproductive Parameters Adverse Effects Induced by MSG: Study evaluated the effect of M. crenata ethanol extract on luteinizing hormone (LH), testosterone levels, sperm quality, and testis histology of adult male rats induced by monosodium glutamate (MSG). Results showed significantly increased LH and testosterone level (p<0.05). Higher doses of ethanol extract resulted in decreased MDA level in MSG-treated rat testis, increase of spermatogonia, spermatocytes, spermatids and Leydig cells number, and increase of seminiferous tubular diameter and germinal epithelium thickness. (16)
• Effect on Low Blood Calcium Level and Osteogenesis / Leaf Juice: Study evaluated the potential of M. crenata leaf juice to boost low levels of blood calcium in adult female white rats (Rattus norvegicus). Results showed Mc juice increase blood Ca content (p<0.05). Histological observations of bone tissue of rat os humerus showed the increased number of osteoblasts with increase bone density, especially at 80% concentration. Results suggest potential as food supplement in low blood calcium patients, especially to protect against low level of estrogen. (17)
• Potent SIRT1 Activators and NFkB Inhibitors / Flavonoids: Ovarian aging is a natural process in females and is due to elevated ROS-induced inflammation caused by oxidative stress. Study evaluated the pathways involved in aging and identified the flavonoid compounds from M. crenata that may be useful as SIRT1 activators and NFkB inhibitors. Molecular docking study evaluated the interaction between hyperoside, luteolin, naringenin and quercetin against SIRT1 and NFkB. Seven proteins were similar to SIRT1 and NFkB pathways. Six protein s were involved in aging, and quercetin interacted with SIRT1. Hyperoside was a SIRT1 activator and NFkB inhibitor, with best binding affinity compared to other flavonoids. Results suggest the flavonoids may be a promising activator of SIRT1 and inhibitors of NFkB. (18)
• Antioxidant / Use in Testicular Dysfunction / Leaves: Study evaluated the effect of M. crenata ethanol extract as source of antioxidants through SOD1 and Nrf2 expression levels in rat testes. Quercetin and genistein were found the the ethanol leaf extract with retention times of 8.812 and 22.309 min, respectively. The leaf extract was categorized as a strong antioxidant by DPPH assay (IC50 33.68 ppm). There was an increase in Nrf2 expression in rat testis in one group, and an upregulation of SOD1 expression in another group. Results suggest Mc extract is a rich natural source of antioxidants and phytoestrogen and may be useful in the management of testicular dysfunctions. (19)
• Anti-Skin Aging: Extrinsic and intrinsic factors influence skin aging. Hormonal factors, especially estrogen, significantly affect intrinsic skin aging. Decreased estrogen levels reduce skin collagen content and skin elasticity. Study evaluated Mc leaf extract against estrogen receptor (ER)-ß on female Wistar rats, measuring (ER)-ß expression and dermal thickness. Group 2 at 30 mg/kbw showed highest expression of (ER)-ß and dermal thickness. Results suggested the water clover extract has potential as alternative treatment for skin aging. Further studies were recommended to determine proper dose for human consumption. (20)
• Anti-Neuroinflammatory / Metabolite Profile / Leaves: Study evaluated the metabolite profile of 96% ethanol extract of M crenata using UPLC-QToF-MS/MS and anti-neuroinflammatory activity of compounds with molecular docking. Three compounds were predicted to have activities similar to 17ß-estradiol viz. prochlorperazine, 12-aminododecanoic acid, and 1-methyl-2-[(4-methylpiperazin-1-yl)-
methy]benzimidaol-5-amine hydrochloride. The three compounds were predicted to have phytoestrogen compounds from C. crenata leaves with potential as anti-neuroinflammatory. (21)
• Anti-Skin Aging: Skin aging in menopausal women is related with reduced ER-α and ER-ß expression and negatively correlated with MMP-1 expression. Synthetic estrogen has negative side effects like breast and ovarian cancer. Study evaluated the effect of Marsilea crenata leaves on MMP-expression in skin of ovariectomized Rattus norvegicus. Results showed water clover leaves reduced expression of MMP1 in fibroblast of skin ovariectomized Rattus norvegicus significantly. (22)
• Phytoestrogen Stimulating Activity / Leaves: Study evaluated the phytoestrogen stimulating activity of M. crenata leaves on alkaline phosphatase (ALP), a marker in osteoblast differentiation. Results showed that the palmitic acid in fractions 2 and 4 were phytoestrogen compounds in M. crenata that played a role in improvement of ALP activity in MC3T3-E1 osteoclast cell. (23)
• Potential Phytoremediation for Lead: Study evaluated the phytoremediation capability of water clover (Marsilea crenata) in synthetic Pb solution. The Pb concentration was measured by ICP (inductively coupled plasma) and free amino acid was analyzed by HPLC. The highest concentration of Pb was found in root tissue, followed by stem and leaves. (24)
• Antineuroinflammation in Microglia HMC3 Cell line / Leaves: Neuroinflammation is one of the main causes of neurodegenerative events. Phytoestrogen has high potential to overcome neuroinflammation caused by estrogen deficiency in postmenopausal women. Study evaluated the activity of n-butanol fraction of M. crenata leaves in inhibiting the classical pathway activation of microglia HCM3 cell line, which has proinflammatory characteristics. The best dosage to inhibit MHC II expression was 250 ppm with value of 200.983 AU. Results suggest anti-neuroinflammation activity, which was attributed to phytoestrogens. (25)
Availability
Wildcrafted.