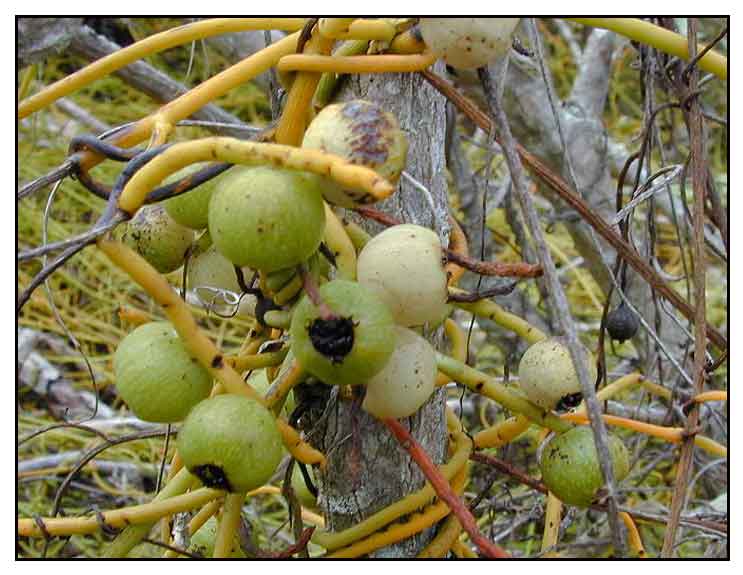 Botany
Kauad-kauaran is a parasitic vine, adhering to the host by suckers. Stems are very long, slender, brown, yellowish brown or greenish, twining and matted together, with numerous branches forming a web of leafless cords over grasses or bushes. Flowers, borne on short spikes, are small and stalkless. Perianth segments are unequal, the outer small and rounded, and the inner ones much longer, oblong or oval in shape. Stamens are 9, in 3 rows, anthers are all 2-celled, 2 outer rows introrse, the inner row extrorse. Ovary is superior, 1-celled. Fruits is nearly spherical, smooth, fleshy and about 7 millimeters in diameter.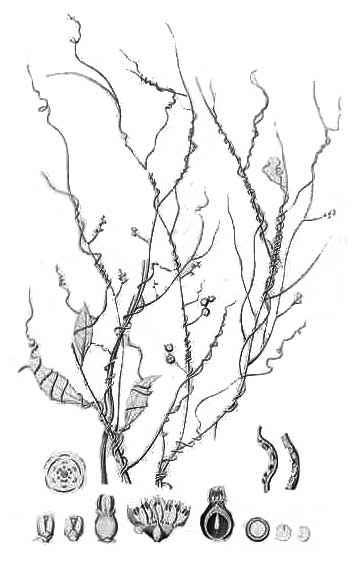 Distribution
- Grows in thickets, especially near the sea, in dry regions and sometimes inland up to an altitude of 500 meters, throughout the Philippines.
- Parasitic on various coarse grasses, shrubs, etc.
- Pantropic.
Constituents
- Contains an alkaloid (0.1 %) identical to laurotetanine, described under Litsea sebifera.
- Study yielded three major aporphine alkaloids: actinodaphnine, cassythine, dicentrine)
- Study yielded three new compounds: two alkaloids, cassyformine and filiformine, and a lignan along with 14 known compounds.
- Study estimated total alkaloidal content to be around 0.11 to 0.43%. A Brazilian species yielded 13 alkaloids. In Taiwan, a methanolic extract yielded aporphine alkaloids: cathafiline, cathaformine, actinodaphnine, Nmethylactinodaphnine, predicentrine, and ocoteine. (11)
- Study of aerial parts yielded alkaloids, tannins, cathetic tannins, gallic tannins, and mucilage.
- Phytochemical screening of methanol extracts of leaves yielded saponins, steroids, and tannins. GC-MS analysis of butanol fraction yielded 8 saponin compounds viz., 9,12-octadecadienoic acid (Z,Z)-2,3-dihydroxypropyl ester (1), 5-stigmastan-3, 6-dione (2),
didodecyl phthalate (3), eicosanoic acid, methyl ester (4), hexatriacontane (5), campesterol (6), cholestan-7-one, cyclic 1,2-ethanedienyl acetal (7), and cholan-24-oic acid, 3,7,12-tris (acetyloxy)-,methyl ester, (3α, 5β, 7α, 12α). (8) (20)

Properties
- Sweet and mildly bitter tasting, astringent, diuretic, antiphlogistic , anticontusion, laxative, cooling, tonic, and alterative.
- Laurotetanine can cause cramps, and in sufficient doses, death.
- Studies have shown anti-platelet aggregation, anti-trypanosome, anti-cancer, vasorelaxant, antibacterial, anti-hemorrhagic, anticonvulsant, diuretic properties.
Parts utilized
· Entire plant.
· Collect from May to October.
· Rinse, cut into pieces, dry under the shade, compress before using.
Uses
Edibility
· In Micronesia fruit is used as premasticated food for infants.
Folkloric
· Little therapeutic use in the Philippines.
· In Manila, decoction of fresh plant used to hasten parturition, and to prevent hemoptysis.
· Sanskrit writers describe it as a tonic and alterative, and its power of increasing the secretion of semen.
· Used for constipation, dysentery, hemoptysis, epistaxis, acute conjunctivitis, furuncles, cold, fever, and headaches.
· Decoction of dried material used for nephritic-edema, urinary lithiasis and infections, hepatitis, hepatic fever among infants, cold-fever among infants, headaches, multiple furuncles.
· Poultice of pounded fresh material applied to furuncles; or, decoction applied as external wash to same.
· In India, the powdered plant, mixed with sesame oil, used to strengthen the hair. Whole plant used as alterative in bilious disorders and piles. Stems used for epilepsy.
· Used by Brahmins, in a mixture of butter and ginger, for cleansing of inveterate ulcers
· In Maritius, decoction used for rachitic infants.
· In African folk medicine, used to treat cancer and African trypanosomiasis.
· In southern Africa, used for washing the hair, destroying vermin, and promoting hair growth.
· In Senegambia, used for urethritis.
· In Cochin-China used as antisyphilitic.
· In Thailand, decoction of plant parts used as potion or bath for treatment of jaundice.
· In Palau, whole plant of C. filiformis is mixed with bark of Terminalia cata and copra crushed together, and the juice squeezed out and drunk for gonorrhea. (9)
· In Thakar tribe of Maharashtra use infusion of aerial roots and pendulous branches for snake bites. (23)
· In the Bahamas, Cassytha filiformis (Love Vine) is one of four main plants that serve as ingredients for love potions, the others viz., Bourreria ovata (Strong Back), Tabebuia bahamensis (Five Finger), and Diospyros crassinervis (Stiff Cock). (24)
Others
• Magic: Plant use for sorcery.
• Thatch root construction: Vine used for thatched roof construction in Papua New Guinea.
• Hair use: Sap from stems used as shampoo and hair conditioner.
• Ornamental: Used in Hawaii as human ornament and in decorative garlands and lei.
• Dye: Dye extracted from vine used as coloring agent to provide a black color for fabrics.

Studies
• Chemical Constituents / Antiplatelet aggregation activity: Study yielded three new compounds, including cassyformine (an aporphine alkaloid), filiformine (an oxoaporphine alkaloid) and a lignan. Some isolates, including octoeine, exhibited significant antiplatelet aggregation activity.
• Aporphines / Anti-cancer / Anti-trypanosome: Alkaloids from Cassytha filiformis and related aporphines: Antitrypanosomal activity, cytotoxicity, and interaction with DNA and topoisomerases: Study showed isolated aporphines to possess in vitro cytotoxic properties and exhibited interactions with DNA which may partly explain the effect on cancer cells and on trypanosomes. (5)
• Aporphines / Anti-cancer / Anti-trypanosome: Study isolated six aporphines, and analyzed the in vitro cytotoxic properties of four on different cancer and non-cancer cell lines. Major alkaloids - actinodaphnine, cassythine and dicentrine – showed antitrypanosomal properties in vitro. (2)
• Ocoteine / Alpha1 Adrenoceptor Blocking Agent: Study isolated ocoteine and was found to be an alpha-1 adrenoreceptor blocking agent in rat thoracic aorta. At high concentrations, it also blocks 5-HT receptors. (3)
• Vasorelaxant / Alkaloids / Flavonoids: Study yielded two aporphine alkaloids, isofiliformine and cassythic acid along with 22 known compounds from the whole herb of Cf. Cassythic acid, cassythine, neolitsine and dicentrine showed potent vasorelaxing effects on precontracted rat aortic preparations. (4)
• Toxicity Studies / LD50: Study suggests the aqueous extract of C. filiformis administered at normal therapeutic doses is not likely to produce severe toxic effects on some organs or hematologic and biochemical parameters in rats. Acute toxicological evaluation of the plant extract showed an LD50 greater than 500 mg/kbw. (6)
• Diuretic Activity: Study of the aqueous and alcoholic extracts of Cuscuta reflexa and Cassytha filiformis exhibited significant diuretic activity and marked increase in Na and K excretion. The diuretic effect was higher with the C filiformis extract. (7)
• Antioxidant Activity: Study evaluated the antioxidant study of alcoholic extracts of Cuscuta reflexa and Cassytha filiformis. Both ethanolic extracts neutralized the activities of radicals and inhibited the peroxidation reactions. C. reflexa showed greater in vitro antioxidant activity and contained more polyphenol contents. (12)
• Analgesic / Antipyretic: An alcohol extract of leaves was evaluated for analgesic and antipyretic activity. The extract showed significant reduction of elevated body temperature in rat when compared to standard Paracetamol and produced significant increase in reaction time in in hot plate and tail flick methods. Results suggested antipyretic and analgesic activities. (13)
• Hepatoprotective / Antioxidant / Acute Toxicity Study: Study evaluated a methanolic extract in male Wistar rats against hepatotoxicity induced by CCl4 and olive oil. Analysis yielded polyphenolic compounds, tannins, flavonoids, alkaloids, and saponins. Acute toxicity study showed safety up to 5000 mg/kbw. Results showed hepatoprotective activity with histopathological changes partially or fully prevented in treated animals. (14)
• Antibacterial / Urogenital Gram-Negative Bacteria: Various extracts from aerial parts were evaluated for antibacterial properties. The extracts from aerial parts, except the n-hexane extract, were active against gram negative bacterial. Results suggest active antibacterial ingredients comparable or more potent than gentamicin against clinical bacteria isolates studied. (15)
• Antioxidant / Anticonvulsant: Study evaluated an ethanolic extract on antioxidant enzymes in rat brain after induction of seizures by MES and PTZ.. In both models, antioxidant enzymes, catalase and lipid peroxidation in rat brains were decreased due to seizure but significantly restored by administration of the ethanol extract. The antioxidant activity might be due to antioxidant properties which delays the generation of free radicals in MES and PTZ induced epilepsy. (16)
• Anti-Hemorrhagic / Pro-Coagulant Effect: Study evaluated four species of medicinal plants sold by herbalists in South Benin for treatment of bleeding. C. filiformis showed pro-coagulant effect with a 31% reduction of plasma re-calcification time (PRT), an action different from the classical pathway of blood coagulation. (17)
• Antibacterial / Staphylococcus aureus: Study showed the water extract of Cleistopholis patens was inactive against strains of S. aureus whereas Cassytha filiformis extracts were active against the organism. Study showed no synergism and suggests the two plant extracts should not be combined. (19)
• Effect of Brain Neurotransmitters / Effect on Seizures: Study investigated the effect of ethanolic extract of Cassytha filiformis on biogenic amines concentrations in rat brain after induction of seizures by MES and PTZ. In the MES model, there was significant restoration of decreased levels of brain monoamines. In the PTZ model, the was significantly increased monoamines in the forebrain of rats. The increased monoamines in rat brain may decrease the susceptibility to MES and PTZ induced seizure in rats. (21)
• Hepatoprotective / Paracetamol Induced Hepatotoxicity: Petroleum ether and methanol extracts exhibited hepatoprotective properties in a paracetamol induced model of hepatotoxicity on Wistar albino rats. (23)
• Toxicity of Defatted Extract: Defatted ethanolic extract of CF has shown potential antihypertensive activity on a previous study. This study evaluated the acute and delayed toxicities of the extract on 90 mice. Animal body weight, food and water intakes were affected. Results suggest the defatted ethanolic extract of C. filiformis is toxic and produces delayed toxicity. (24)

Availability
Wild-crafted.