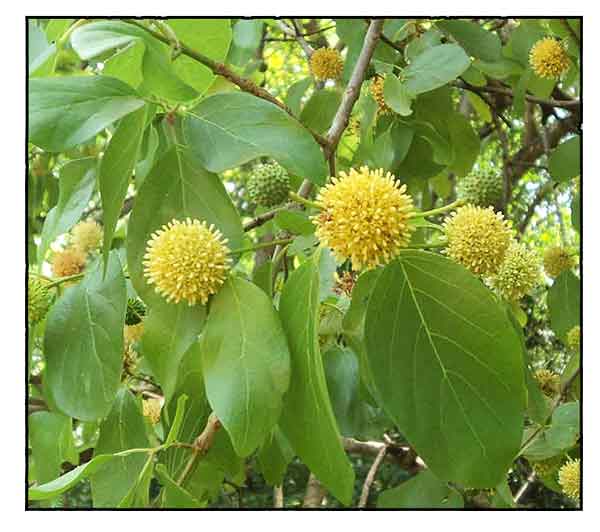 Gen info
- The Mitragyna genus from the family Rubiaceae encompasses 10 species, of which six are Asian and four are African. Six in Asia, Mitragyna speciosa, M. diversifolia, M. hirsuta, M. parviflora, M. rotundifolia, and M. tubulosa, are known to contain indole alkaloids with pharmacological properties. Of these, M. speciosa (kratom) has the most documented narcotic properties. (7)
Botany
Mitragyna diversifolia is a tree, perhaps deciduous, to 15 m tall; branches angled becoming terete, pilosulous to glabrescent. Petiole 5-15 mm, glabrous, puberulent, or pilosulous; leaf blade drying papery, ovate-oblong to elliptic-ovate, 6-14 × 3-9 cm, adaxially glabrous, abaxially sparsely to densely pilosulous or tomentulose, base rounded to cordulate, apex obtuse to shortly acuminate; secondary veins 8 or 9 pairs, strongly ascending, sometimes with pilosulous domatia in abaxial axils; stipules elliptic-oblong to ovate, ca. 2.5 cm, strigillose to glabrous, abaxially weakly to strongly keeled and pilosulous, apex obtuse to rounded. Inflorescence densely pilosulous or strigillose to glabrescent; peduncles 1-3 mm (i.e., portion above articulation of subtending leaves but not including entire growth of branch); flowering heads 3 to numerous, 8-10 mm in diam. across calyces, 13-20 mm in diam. across corollas; bracteoles linear-spatulate, ca. 3 mm, glabrous to sparsely ciliolate. Calyx glabrous; ovary portion obconic, ca. 1.5 mm; limb ca. 1.5 mm, subtruncate to lobed for up to ca. 1/2; lobes triangular, obtuse. Corolla yellowish white, outside glabrous, inside densely pilosulous in throat and on lobes; tube ca. 3 mm; lobes triangular, ca. 2.5 mm, acute. Fruiting heads 8-10 mm in diam. Capsules 3-4 mm, with persistent calyx limb markedly thickened; seeds 1-2 mm. (Flora of China)
Distribution
- Native to the Philippines.
- Also native to Bangladesh, Cambodia, China, Jawa, Laos, Malaya, Myanmar, Thailand, Vietnam. (1)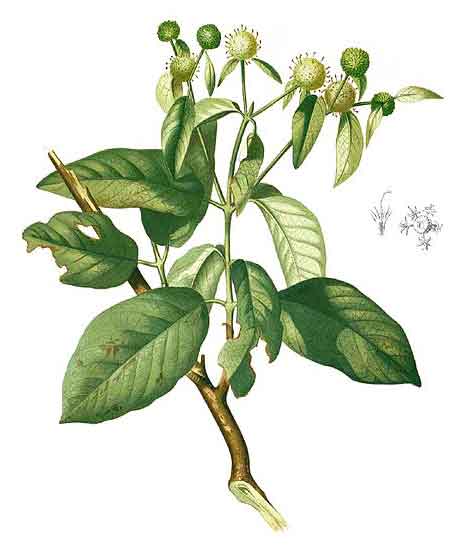 Constituents
- Chromatographic analysis of stem bark isolated 8 triterpenes identified as 3α, 6β, 19α-trihydroxy-urs-12-en-28-oic acid (1), 3β, 6β, 19α-trihydroxy-urs-12-en-28-oic acid (2), 3-oxo-6β-19α-dihydroxy-urs-12-en-28-oic acid (3), 3β, 6β, 19α-trihydroxy-urs-12-en-24, 28-dioic acid 24-methyl ester (4), 3β, 6β, 19α, 24-tetrahydroxy-urs-12-en-28-oic acid (5), rotundic acid (6), 23-nor-24-exomethylene- 3β, 6β, 19α-trihydroxy-urs-12-en-28-oic acid (7), and pololic acid (8). (see study below) (3)
- Study isolated five monoterpene indole alkaloids, mitradiversifoline, with a unique rearranged skeleton, specionoxeine-N(4)-oxide, 7-hydroxyisopaynantheine, 3-dehydropaynantheine, and 3-isopaynantheine-N(4)-oxide, and 10 known ones, were isolated from Mitragyna diversifolia. (see study below) (4)
- In a study for phytochemical contents and antioxidant activity, M. diversifolia wood yielded highest total phenolic content (TPC) of 437.57 GAE g. TPC and TFC displayed strong correlations with DPPH in wood and FRAP with bark and wood. (5)
- Study of hexane, EtOAc, MeOH, and alkaloid extracts of air-dried branches yielded two tritepenoids (1 and 4), one phenolic acid (3), one coumarin (2) and one alkaloid (5). Three compounds were known. sitost-4-en-3-one (1), scopoletin (2) and protocatechuic acid (3). (see study below) (6)
Properties
- Studies have suggest antioxidant, antidiarrheal, cytotoxic, anticancer, cholinesterase inhibitory properties.

Parts used
Leaves, bark.

Uses
Folkloric
- No reported folkloric medicinal use in the Philippines.
- In Bawm community of Bandarban, Bangladesh, bark used for treatment of diarrhea. (2)
- Leaves taken for fatigue.
- Leaves frequently used as substitute of M. speciosa (kratom) as stimulant, but considered less effective by the native population of Thailand.

Studies
• Antidiarrheal / Bark: Study evaluated the antidiarrheal activity of ethanolic bark extract of M. diversifolia in experimentally-induced acute diarrheal activity in a barium sulfate milk model and castor oil-induced diarrhea in albino rats. The extract significantly (p<0.01) inhibited the mean number of defecation and decreased the severity of diarrhea induced by castor oil. The % inhibition of defecation (88.6%) was almost comparable to effect of standard antidiarrheal drug loperamide (94.2%). (2)
• Cytotoxicity / Anticancer / Triterpenes / Stem Bark: Study evaluated the chemical constituents and bioactivity of stem bark of M. diversifolia. Chromatographic analysis of stem bark isolated 8 triterpenes. All isolated were tested against two human tumor cell lines, MCF-7 (breast) and HT-29 (colon). Compounds 5, 6, and 7 exhibited potent inhibitory effects on the growth on MCF-7 and HT-29 cells. Other showed no cytotoxicity. (see constituents above) (3)
• Acetylcholinesterase Inhibitory Potential / Indole Alkaloids: Study isolated five monoterpene indole alkaloids and10 known ones. All isolates were evaluated for inhibition of acetylcholinesterase activities. Four showed moderate activities with IC50s of 4.1, 5.2, 10.2, and 10.3 µM. (see constituents above) (4)
• Antioxidant / Bark and Wood: In a study for phytochemical contents and antioxidant activity, M. diversifolia wood yielded highest total phenolic content (TPC) of 437.57 GAE g. TPC and TFC displayed strong correlations with DPPH in wood and FRAP with bark and wood. (5)
• Cytotoxicity / Air-Dried Branches: Study of hexane, EtOAc, MeOH, and alkaloid extracts of air-dried branches yielded two tritepenoids (1 and 4), one phenolic acid (3), one coumarin (2) and one alkaloid (5). Compound 3 (a protocatechuic acid) exhibited cytotoxicity against NCI-H187 cell lines with IC50 of 25.24 µg/mL. (6)
Availability
Wild-crafted.