Gen info
- Aglaia cucullata is described in IUCN Red List of Threatened Species as "not well known" and "poorly known" and designated as "data deficient". Indeed, it is not strongly featured in mangrove literature. (3)
- The genus Aglaia, previously known as Amoora, comprises 25-30 species, many of which are commercially important timber trees.  (3)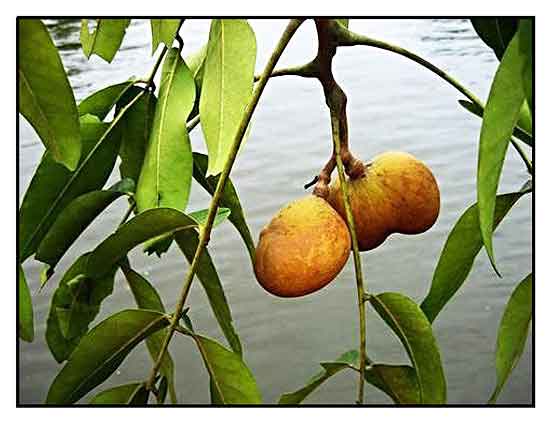 Botany
Aglaia cucullata is a small to medium-sized, sometimes large tree up to 30(-45) m tall, bole branchless for up to 24 m, up to 100 cm in diameter, buttresses up to 3 m high, bark surface brown, pinkish-gray or pale orange-brown, inner bark pink; leaflets 5-9, subopposite, with 8-13 pairs of secondary veins, glabrous above, below rugulose and faintly pitted, with a few pale peltate scales with a darker center and a sometimes fimbriate margin on the midrib and sometimes on the surface; flowers 3-merous, anthers 6, style-head ellipsoid, with 3 apical lobes and 6 longitudinal ridges; fruit dehiscent, (2-)3-locular. (1)
A. cucullata is a small to medium-sized tree with plank buttresses and pneumatophores. The bark is smooth, brown or pale orange, and somewhat scaly. The wood is pale yellowish to orange-brown, with white latex. Leaves are compound bearing 5‒9 asymmetrical leaflets. Inflorescences are in clusters, each bearing numerous small, yellowish flowers, with three petals and six slightly protruding anthers. Fruits are round with leathery skin and they split into three locules each containing one seed wrapped by a shiny red aril.  (3)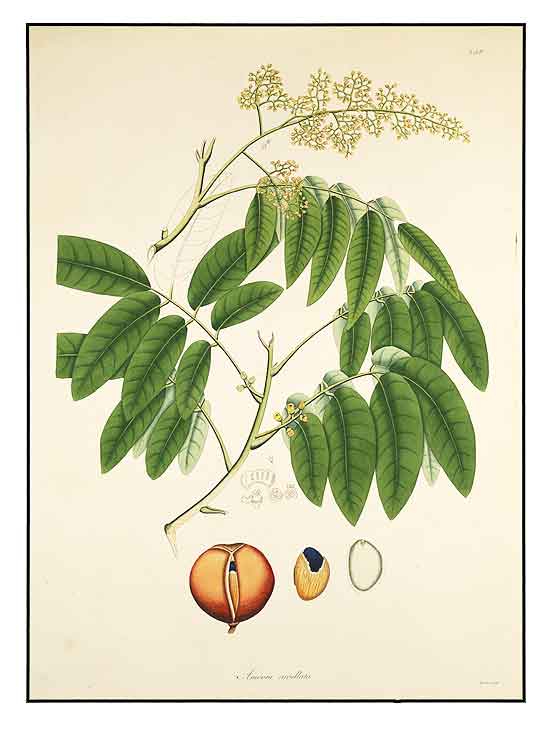 Distribution
- Native to the Philippines.
- Also native to Andaman Is., Assam, Bangladesh, Borneo, Cambodia, India, Jawa, Laos, Malaya, Myanmar, New Guinea, Solomon Is., Sumatera, Thailand, Vietnam.  (2)
- Grows primarily in the wet tropical biome.
- An understorey tree in riverine forests, tidal estuaries, mangrove and nipah swamps, at elevations up to 20 m.
Constituents
- Study of Amoora cucullata fruits isolated two new rocaglamide derivatives, 1-O-formylrocagloic acid (1) and 3-hydroxy rocagloic acid (2), together with five known compounds, rocaglaol (3), rocagloic acid (4), 3-hydroxymethylrocaglate (5), 1-O-formylmethyl rocaglate (6) and methylrocaglate (7). (see study below)  (4)
Properties
- Studies have suggested cytotoxic, anticancer, anti-inflammatory, antioxidant, antinociceptive, antibacterial properties.

Parts used
Leaves, aerial parts.

Uses
Folkloric
- No reported folkloric medicinal use in the Philippines.
- In Thailand, leaves and fruits used for treatment of diarrhea, dysentery, inflammations, skin infections, and heart diseases. (3)
- In Myanmar, leaves used for inflammation; seeds used for rheumatism.  (7)
Others
- Wood: Used for boat building, house posts, making toys and cigar pipes.
- Fuel: Used as fuel wood.

Studies
• Little Known Mangrove: Report seeks to enhance the information on this "not-well-known" "poorly-known" and "data-deficient" mangrove. The paper encourages further research on the potential of the mangrove tree and invites focused studies on eco-physiology.  (3)
• Cytotoxic Rocaglamide Derivatives / Fruits: Study of fruits isolated two new rocaglamide derivatives, 1-O-formylrocagloic acid (1) and 3-hydroxy rocagloic acid (2), together with five known compounds. Compounds 1-3, 6 and 7 exhibited potent cytotoxicity against KB, BC, and NCI-H187 cell lines, whereas compounds 4 and 5 exhibited selective toxicity against NCI-H187 cell line. (see constituents above)  (4)
• Anti-Inflammatory / Antinociceptive / Diuretic / Leaves: Study evaluated a crude methanolic extract of leaves for anti-inflammatory activity in rats and antinociceptive activity in mice. At doses of 200 and 400 mg/kbw, the extract showed significant anti-inflammatory activity in both carrageenan induced paw edema in rats and cotton pellet implantation in mice. In antinociceptive testing, same doses also significantly reduced acetic acid induced abdominal constriction (writhing) in mice. The extract also showed significant diuretic activity in mice.  (5)
• Antioxidant / Antibacterial / Cytotoxicity / Bark and Leaves: Study evaluated petroleum ether, chloroform, and methanol extracts of bark of leaves of Amoora cucullata for antioxidant and antibacterial activities and cytotoxicity by brine shrimp lethality assay. Results showed moderate antioxidant properties by DPPH free radical scavenging assay. The methanolic extract showed good reducing capacity by reducing power assay. The extracts showed significant inhibition against enteropathogenic bacterial. In brine shrimp lethality assay, LC50s were 10, 2.3 and 7.28 in bark, and 1.3, 1.94 and 2.14 µg/mL in leaves. Results suggest A. cucullata leaf possess moderate antioxidant property, strong antibacterial activity, and potential cytotoxic properties.  (6)


Availability
Wild-crafted.