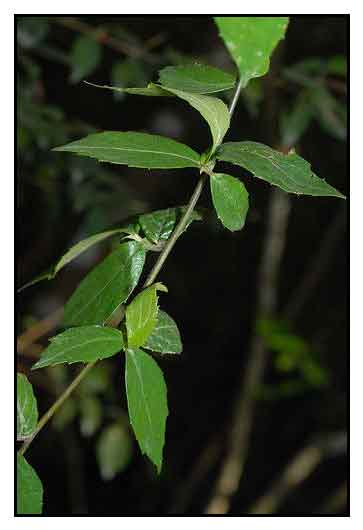 Botany
Katarai is a smooth vine with stems up to 3 meters long. Leaves are elliptic-lanceolate, 3.5 to 9 centimeters long, pointed-tipped, blunt-based, and distantly toothed at the margins. Flowering heads are 1.2 to 1.5 centimeters in diameter, clustered on the short, distant branches of a long, terminal hairy panicle. Corolla-lobes are hairy. Fruits are achenes, strongly 10-ribbed, and hairy. Pappus is white.
Distribution
- In thickets, openings in forests, old clearings, etc. at low and medium altitudes, ascending to a height of 1,100 meters, in Bontoc, Laguna and Quezon Provinces in Luzon; in Catanduanes, Mindoro, Palawan, Samar, Leyte, Mindanao, Basilan, and Jolo.
- Occurs in India to southern China, through Malaya to New Guinea.
Constituents
- Studies on B. riparia have yielded flavonoids, acetylenes, sesquiterpenes, phenolic acids, xanthenes, polysaccharide, proteins, polypeptides, tannins, saponins, phenols, coumarin, lactones, reducing sugar, and glycosides.
- Study yielded six flavonoids: eriodictyol-7, 4'-dimethyl ether, eriodictyol-7, 3'-dimethyl ether, eriodictyol-7-methyl ether, quercetin-7, 3', 4'-trimethyl ether, tamarixetin, rhamnocitrin.
- Study yielded a flavone, seven organic acids, and three other compounds: 5,7,4'-trihydroxy-3',5'-dimethoxy flavone (I), 2,6-dimethoxy-p-benzoquinone, 3-methoxy-4-hydroxybenzoic acid, caffeic acid, chlorogenic acid, ferulic acid, protocatechuic acid, hydroxycinnamic acid, 3,5-dimethoxy-4-hydroxybenzoic acid, hydroquinone,

Parts used
Roots, aerial parts.

Uses
Folkloric
- Malays drink a decoction of roots for colic.
- In Chinese folk medicine, used to treat headaches, colic, menorrhagia, puerperal metrorrhagia, peripheral edema, infertility. Also used as diuretic and antihypertensive.

Studies
• Hemostatic Activity: Study yielded a flavone, seven organic acids, and three other compounds. (See above) EtOAc fraction exhibited strong hemostatic activity. (4)
• New Oligosaccharide: Study isolated a water-soluble oligosaccharide (BROS), composed of 8 monosaccharides: Glcp, Frup and Fruf in molar ratio of 1:1:6. (5)
• Anti-cancer: Physiochemical analysis of a 70% ethanol extract yielded 48 compounds, 8 of which were new. Cytotoxic in vitro testing was done against three cancer cell lines - HL-60, U937, and T47D. Compound 1, a new xanthene, showed strong activity against cancer cells HL-60.
monosaccharides: Glcp, Frup and Fruf in molar ratio of 1:1:6.
• Pro-Coagulant: Study evaluated the effects of extracts of aerial parts and their phenolic acids on hemostasis. Results showed significantly reduced blood clotting time and tail bleeding time of transection of mice in vivo. Fraction contained anillic acid syringic acid, p-coumaric acid, caffeic acid, and protocatechuic acid. Data suggest compounds 1, 3, and 5 possess procoagulant activity which jointly synergize blood coagulation through various mechanisms. (8)
Availability
Wild-crafted.