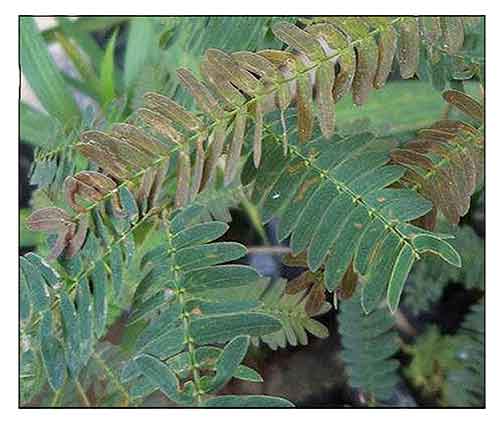 Botany
Albizia lebbekoides is a small to medium-sized tree, 8-15(-32) m tall, trunk up to 40(-80) cm in diameter; branches terete, glabrous, with grayish bark. Leaves alternate, minutely stipulate, bipinnately compound with 5-13 cm long rachis provided with glands near base and top; petiole 2.5-6 cm long; pinnae in 3-8 pairs, with glandular axis, 5-15 cm long; leaflets (5-)15-25(-35) pairs per pinna, (narrowly) oblong, 6-20 mm × 2-6 mm, asymmetric and truncate at base, mucronate at apex, sessile. Flowers in axillary up to 18 cm long panicles composed of 10-15-flowered heads; calyx narrowly campanulate, very small; corolla tubular, 3.5-5 mm long, 5-lobed; stamens numerous, 7-10 mm, filaments united into a tube; ovary superior, sessile and glabrous. Fruit a strap-shaped dehiscent pod, 7-15(-20) cm × 1.5-2 cm, glabrous, chartaceous and dark brown. Seeds up to 12 per pod, obovate or suborbicular, 4.5-7 mm × 3.5-5 mm × 1-1.5 mm, areolate. Specimens aberrant with regard to the width of the pod (up to 2.8 cm), and the size of the leaflets (up to 27 mm × 14 mm) occur on the Lesser Sunda Islands, but no varieties are recognized. (4)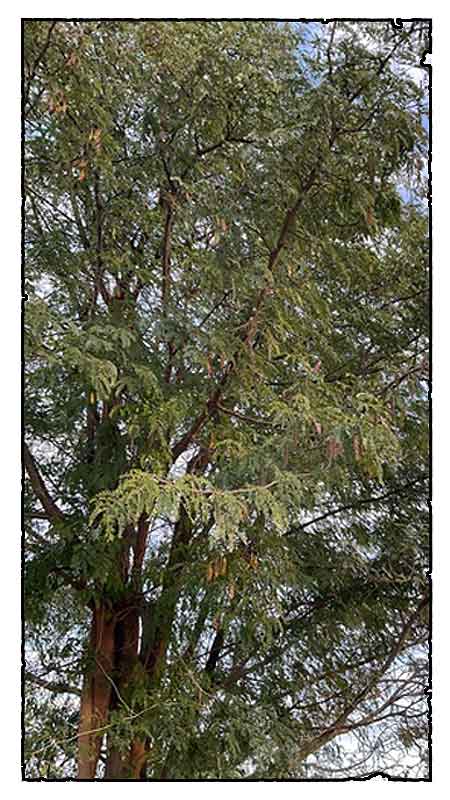 Distribution
- Native to the Philippines.
- Also native to Cambodia, Jawa, Laos, Lesser Sunda Is., Myanmar, New Guinea, Sulawesi, Thailand, Vietnam. (

1

)
- Commonly in deciduous forests in dry localities, less commonly in savanna and evergreen forests. Found in forest margins, roadsides, along streams, and in forest clearings, at sea level to up to 800 m altitude. (

2

)

Constituents
- Study for tannins yielded: bark, 11.04 % extraction (w/w), concentration 150.00 mg/g; branch, 3.93% (w/w), concentration 17.00 mg/g. (3)
- Study of hexane extract of leaves isolated a new pentacyclic triterpenoid with an oleanane skeleton. Structure was determined as 3ß,16α-dihydroxyolean-6(7),12(13)-dien-28-oic acid. (5)

Parts used
Bark.

Uses
Folkloric
- In Cambodia, bark used for treatment of colic and diarrhea.
Others
- Dye: Provides a red dye used for coloring cloth, known as soga tekik in eastern Java. (2)
- Tannin: Yields tannin. In Java, occasionally used to tan hides and fishing nets. (2)
- Fermented drink: In the Philippines, tannin-rich bark use in the manufacture of fermented drink from sugar cane, basi.
- Wood: Used for indoor construction.



Studies
• Antioxidant / Bark: Chemically-induced oxidative hemolysis is usually associated with formation of Heinz bodies-insoluble precipitates within RBCs, indicating oxidative destruction of hemoglobin. Study evaluated 21 Thai mimosaceous plants for antioxidant activity by Heinze body induction in invitro model. Albizia lebbeckoides bark exhibited 58.90 % Heinz body inhibition. (3)
• Pentacyclic Triterpenoid / Leaves: Study of hexane extract of leaves isolated a new pentacyclic triterpenoid. (5)

Availability
Wild-crafted.