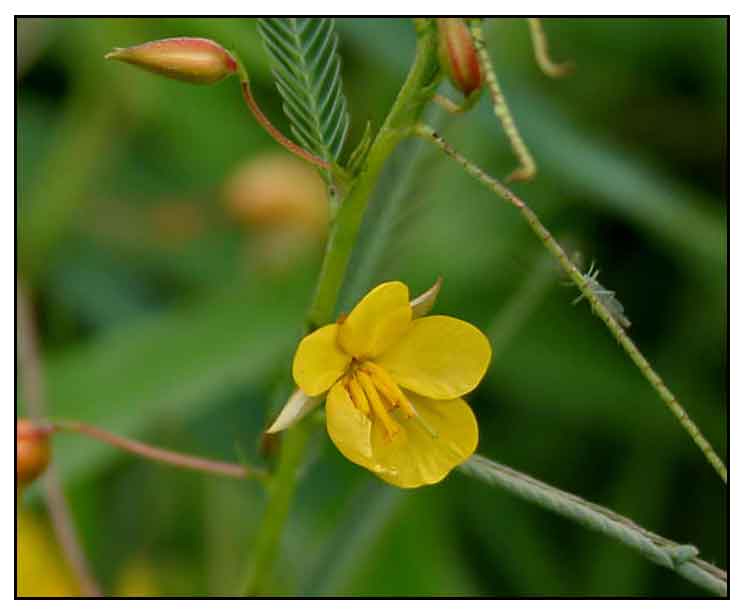 Botany
Karagain is a low, diffuse shrub, 15 to 30 centimeters or more in height. Leaves are 7 to 10 centimeters long, with 40 to 60 pairs of narrow leaflets, and a solitary, sessile gland on the rachis below the leaflets. Flowers grow one or two together in the axils of the leaves, shining, small and yellow. Pods are strap-shaped, flat, and about 5 centimeters long, containing rhomboid, dark-brown seeds.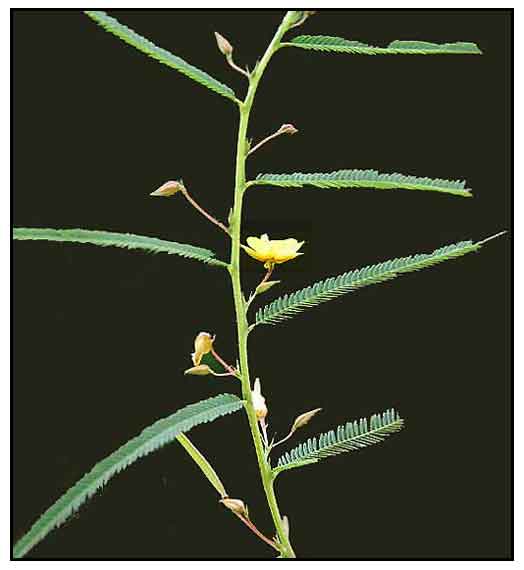 Distribution
- In northern Luzon to Mindanao in open grasslands at low and medium altitudes.
In some areas, ascending to 1,500 meters.
- Also occurs in India to southern China, and southwards through Malaya to Australia.
Constituents
- Anthraquinones reported from seeds (physcion, physcion-9-antrhone, emodine-9-anthrone, and physcion 10,10-bianthrone; aerial parts (chrysophanol, physcion, and emodin). (12)
- Ethanol extract yielded eight compounds: emodin (1), luteolin (2), 1,3-benzenediol (3), oleanolic acid (4), (R)-artabotriol (5), α-L-rhamnose (6), β-sitosterol (7) and daucosterol (8). (17)
Properties
- Antidiarrheal, stomachic.


Parts used
Roots, stems, leaves.

Uses
Culinary
- In Japan, young stems and leaves are dried and used as a substitute for tea.
- An aqueous extract from leaves, stems and pods called "hama-cha" is a conventional beverage in the San-in district of Japan. (12)
Folkloric
- Roots used as a cure for diarrhea.
- In tropical Africa, roots used for colic.
- Milk decoction used in dysentery.
- Entire plant used as remedy for facial eruptions.
- Roots given for stomach spasms.
In northwestern Tanzania, aerial parts of C. mimosoides are pounded and mixed with animal fat, applied topically or taken orally for fractures, cleaning of the uterus by pregnant women, as antibacterial. Also, aerial parts pounded with the leaves of Cassia polytricha and the paste tied around a fracture to promote healing.
- In Japan, raw material used as diuretic or antidote in folk remedy. (12)
- In Uganda, decoction of fresh leaves drunk for pediatric cough. (25)
- In souther Benin, used for the treatment of typhoid fever. (28)
Others
- Dream-Induing: Some South Afican diviners used the for dream-inducing property (oneirogenics). Dream inducing plants (Silene undulata and C. mimosoides) are believed to produce 'true visions' that elicit intuitive powers that normally arise only while sleeping. To remember dreams, powdered root infusions are taken orally; same also use to induce sleep. (26)
New Age / Fat Burner Ingredient
• Weight loss: Cassia mimosoides sold as extract or ingredient in diet pills and various weight-reducing products because of it possible lipase-inhibiting property, with consequent less fat being absorbed and stored. To date, there are no validating clinical data.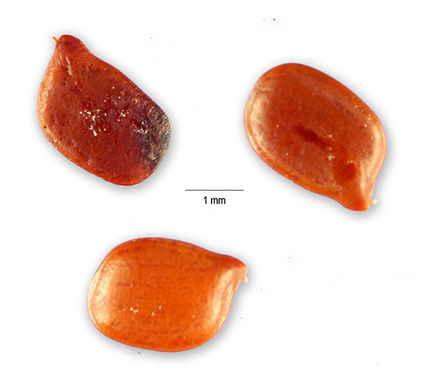 Studies
• Lipase Inhibitor / Fat Burning Potential: Studied as possible lipase inhibitor. Some studies in rats have shown fat loss; not demonstrated in humans.
• Nyctinasty: Novel and non-radioactive photoaffinity probes for the bioorganic study of nyctinasty are designed and synthesized based on potassium isolespedesate, a leaf-opening substance of Cassia mimosoides.
(2)
• Lipase Inhibitor / Anti-Obesity Effect: In the course of screening lipase inhibitors among natural products, an extract from Nomame Herba (Cassia mimosoides L. var. nomame Makino) showed a remarkable inhibitory effect on lipase. CT-II inhibited lipase activity in vitro and suppressed body weight in a dose-dependent manner. Results suggest the lipase inhibitor CT-II was effective in preventing and ameliorating obesity, fatty liver and hypertriglyceridemia in rats fed a high-fat diet. (4)
• Lipase Inhibitor: Study concluded that as a lipase inhibitor Cassia nomame extract reduced body weight and fat, reduced plasma triglyceride elevation and is an effective aid in preventing and ameliorating obesity, fatty liver and hypertriglyceridemia. Additionally, weight loss effect may be through enhanced thermogenic activity and diuretic effect.
• Hepatoprotective: Ethanol extract of Cassia mimosoides showed significant inhibitory effect on the dimethylnitrososamine-induced hepatic fibrosis in rats, and the inhibitory mechanism may be related to the protection of hepatic cells and the inhibition on collagen fiber synthesis. (6)
• Suppression of Mitomycin Cytotoxicity: Study showed extract from Cassia nomame pods, leaves and stems can prevent the physiological damage in Chinese hamster ovary K1 cells treated with MMC (mitomycin C). (9)
• Anticlastogenic Effects: Study evaluated the suppressing effect of a hot-water extract of C. nomame on the frequency of chromosomal aberrations in Chinese hamster ovary K1 cells. The frequency of chromosome aberrations in100 metaphase cells was significantly lower with the extract than without the extract. (10)
• Nyctinasty / Probe Compounds: Study synthesized probe compounds. NBD-type probe, 2, showed leaf opening activity, one-fifth as strong as the natural product, potassium isolespedezate. The fluorescence-labeled probe compound directly bound to a motor cell in pulvina of C. mimosoides. The binding was specific to C. mimosoides. (11)
• Larvicidal / Mosquito Repellent: Study evaluated the larvicidal activities of extracts of C. mimosoides leaves and pods vector control potential in malaria and repellent effect against Anopheles gambiae mosquito. Results showed larvicidal activity with petroleum ether>dichlormethane>ethanol>water. The cream containing 2%-6% (w/w) extract achieved 100% repellency against mosquitoes. Results suggest potential for an eco-friendly larvicide and mosquito repellent. (14)
• Anti-Hepatic Fibrosis: Study evaluated the effect of C. mimosoides in rats with demethylnitrosamine induced hepatic fibrosis. Results showed C. mimosoides can preserve liver functions and inhibit the hyperplasia of collagenous fibers. (15)
• Anti-Ulcer / Bark: Study evaluated the antiulcer activity of C. mimodoides bark extracts in shay rat model. Results showed anti-ulcer activity at 800 mg/kbw, comparable to that produced by 5 m/kg ranitidine in shay rat. (16)
• Anti-Ulcer / Leaves: Study evaluated the anti-ulcer activity of petroleum ether and chloroform extracts of leaves in pyloric ligation and aspirin induced ulcer models. Results showed anti-ulcer and anti-secretory activity which may be attributed to gastrin inhibition. (17) Study evaluated the antiulcer activity of leaves of Cassia mimosoides in albino rats using pyloric ligtion model and aspirin induced model. All the tests showed significant antiulcer activity, in the order of: fresh leaf powder juice < ethanolic extract < aqueous extract. Total acidity and free acidity showed significant decrease. (27)
• Larvicidal on Storgae Grain Pest Tribolium castaneum: Study evaluated the toxicity and repellent effects of Cassia mimosoides, Eucalyptus camaldulensis and Vepris heterophylla extracts on adults and oldest larvae of storage pest insect, Tribolium castaneum. The repellent effects of the three plant extracts used on adults and oldest larvae showed an average repulsion between 60 and 80%. The extracts of C. mimosoides and E. camaldulensis gave a total mortality (100±0 %) in adults at 0.75g/ml 72 hours after exposure. Results suggest the plants can be used as a novel safe method to protect grains from damages caused by T castaneum. (20)
• Antioxidant / Acetylcholinesterase Inhibitory Activity / Roots: Alzheimer's disease is the most common type of dementia in the aging population. Enhancement of acetylcholien levels in the brain in one of the treatments for the disease. Study evaluated whole plant of Salvia tiliifolia, roots of Chamaecrist mimosoides, whole plant of Buddleja salviifolia, and root and bark of Schotia brachypetala for phenolic content, antioxidant, and acetylcholinesterase inhibitory (AChEI) activity. DPPH and ABTS assays were used for determine antioxidant activity and Ellman colorimetric method to quantify AChEI activity. All four plants showed acdtivity in both assays. The organic root extracts of C. mimosoides showed highest AChEI activity with IC50 of 0.03 ± 0.08 mg/ml. (21)
• Antibacterial / Antifungal: Study evaluated chloroform, methanol, and extracts against bacteria and fungi. The chloroform extract showed ++++ effect against Staphylococcus aureus, +++ against Escherichia coli and Shigella dysenteriae, ++ against Pseudomonas aeruginosa, Bacillus pumilus, Candida albicans and Aspergillus niger. Inhibition zone on S. aureus was 15.32 ± 1.34 mm and Candida albicans 11.61 ± 0.09 mm. (22)
• Antitrypanosomal / Leaves: Trypanosomiasis is a protozoan disease caused by a unicellular parasite and transmitted by the bite of tsetse fly. Study evaluated the methanolic extract of Chamaecrista mimosoides for anti-trypanosomal activity using mice infested with Trypanosoma brucei brucei. Results showed trypanocidal properties as evidenced by significant dose-dependent recution (p<0.05) in parasite count. Study suggests a source of new trypanocidal agent from medicinal plants. (23)
• Inhibitory Effect on HMG-CoA Reductase: Study evaluated different constituents of Cassia mimosoides viz. ß-sitosterol, oleanolic acid, emodin, carotene, resorcinol, luteolin and α-L-rhamnose for potential anti-HMG-CoA reductase effect. Among them ß-sitosterol, oleanolic acid, anti-emodin, carotene, luteloin and α-L-rhamnose showed good inhibition of HMG-CoA reductase activity. Emodin and luteolin showed more significant decrease of HMG-CoA reductase activity compared to Pravachol. Results suggest potential for treatment of hyperlipidemia. (24)

Availability
Wild-crafted.
Raw materials, extracts, and as ingredient in weight loss supplements in the cybermarket.