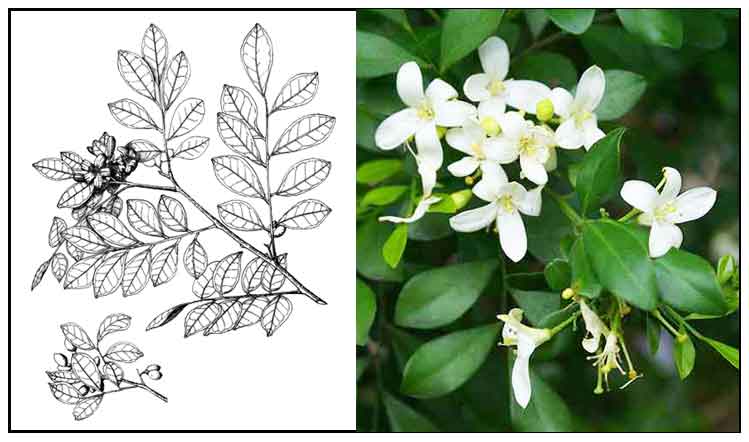 Gen info
- Murraya paniculata is a species of shrub or small tree in the family Rutaceae, native to South Asia, Southeast Asia, and Australia.
- Orange jasmine was first described in 1767 by Carl Linnaeus who named it Chalcas paniculata in Mantissa Plantarum. In 1820, William Jack changed the name to Murraya paniculata in his book Descriptions of Malayan Plants (Malayan Miscellanies). (35)

Botany
Kamuning is a small, smooth tree, growing from 3 to 8 meters in height, and having a very hard wood. Leaves are 8 to 15 centimeters long, with usually 7 to 9 leaflets on each side, oblong to ovate, elliptic or subrhomboid, and 2 to 7 centimeters. Stems are hairy. Flowers are few, white, very fragrant, 1.5 to 2 centimeters long, and borne on short, terminal or axillary cymes. Fruit is fleshy, red when ripe, pointed or oval-shaped, 1 to 1.5 centimeters long.
Murraya paniculata is a shrub or tree, 1.8-12 m tall. Older branchlets grayish white to pale yellowish gray. Leaves 2-5-foliolate; petiolules less than 1 cm; leaflet blades mostly suborbicular to ovate to elliptic, 2-9 × 1.5-6 cm, margin entire or crenulate, apex rounded to acuminate. Inflorescences terminal or terminal and axillary. Flowers 5-merous, fragrant. Sepals ovate to lanceolate, to 2 mm, persistent in fruit. Petals white, narrowly elliptic to oblanceolate, to 2 cm. Stamens 10. Fruit orange to vermilion, narrowly ellipsoid or rarely ovoid, 1-2 × 0.5-1.4 cm. Seeds villous. (Flora of China)
Distribution
- Native to the Philippines.
- Common in thickets and secondary forests at low and medium altitudes throughout the Philippines.
- Often cultivated.
- Also native to Andaman Is., Assam, Australia, Bismarck Archipelago, Borneo, Cambodia, China, Christmas I., Hainan, Himalaya, India, Jawa, Laos, Lesser Sunda Is., Malaya, Maluku, Myanmar, Nepal, New Guinea, New South Wales, Northern Territory, Queensland, Solomon Is., Sri Lanka, Sulawesi, Sumatera, Taiwan, Thailand, Vanuatu, Vietnam.
- Now pantropic.
- Invasive in some places. In southeast Queensland. regarded as one of the most invasive species. (35)
Constituents
- Leaves yield a volatile oil, 0.01%, with cadinene and sesquiterpene.
- Flowers yield murrayin (glucoside), murrayetin, and indol.
- Study yielded alkaloids, tannins, cardiac glycosides and saponins.
- Study yielded eight highly oxygenated flavones, identified as gardenin A, gardenin C, gardenin E, 5-O-desmethylnobiletin, umhengerin, 5,3--dihydroxy-6,7,4'5'--tetramethoxyflavone and new compound, 5,3',5'-trihydroxy-6,7,4'-trimethoxyflavone.
- Study reported nine coumarins from the aerial parts of the plant. Of these three – murrmeranzin, 1'2'-O-isopropylidene murrangatin and murralonginal are new; one, pranferin was reported for the first time from the plant.
- Study yielded flavonoids, indole alkaloids, coumarins.
- Yielded 60 compounds from the volatile and essential oil extracted from the leaves.
- Leaf essential oil yielded a total of 76 volatile components. The major components were methyl palmitate (11.1%), isospathulenol (9.4%), (E,E)-geranyl linalool (5.3%), benzyl benzoate (4.2%), selin-6-en-4-ol (4.0%), ß-caryophyllene (4.0%), germacrene B (3.6%), germacrene D (3.4%), and y-elemene (3.2%). (see study below). (24)
- Leaves yielded four coumarins viz., auraptene (1), trans-gleinadiene (2), 5,7-dimethoxy-8-(3-methyl-2-oxo-butyl)coumarin (3) and toddalenone (4). (see study below) (25)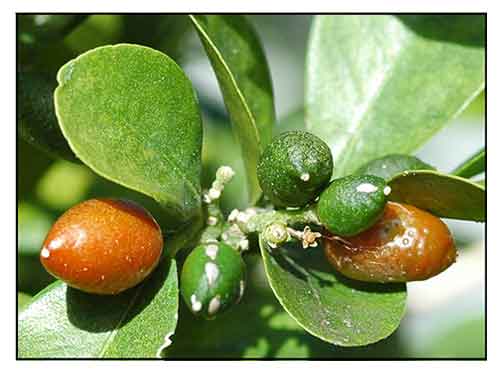 Properties
- Mildly bitter-minty tasting and warming.
- Considered anti-herpetic, anti-diarrheal, aromatic, refrigerant, tonic and stomachic.
- Leaves are stimulant and astringent.
- Leaves and flowers considered tonic and stomachic.
- Studies have shown antioxidant, anti-amoebic, anti-giardial, antiplatelet aggregation, insecticidal, anti-diabetic, antinociceptive, antifungal, antibacterial, antifertiity, cytotoxic, nematicidal, antidiarrheal, antihypertensive, antiasthma, gastroprotective, anticancer, membrane stabilizing properties.
Parts utilized
- Leaves, roots, root bark.
Uses
Edibility
- In Malaysia, widely used as food flavor additive for cuisine, in preparing meat, fish and soup.
- Flowers are used for scenting tea. Leaves used to flavor curries. (23)
Folkloric
· Decoction of dried material (3 - 9 gms) or 0.3 - 0.9 gm of pulverized material by mouth with water: Used for gas pains. swelling pain due to sprain and contusions, rheumatic bone pain and poisonous snake bites.
· Poultice of fresh leaves used for swelling due to sprain and contusions; poisonous snake bites.
· Infusion of leaves used as tonic; also used for diarrhea and dysentery.
· Decoction of leaves also used as mouthwash for toothaches.
· Infusion of leaves and flowers is tonic and stomachic.
· Leaves and root bark used for rheumatism, cough, and hysteria.
· Used for abscesses, cellulitis, tapeworm disease, rheumatic fever, coughs, giddiness, hysteria, thirst, and burning of the skin.
· Infusion used for herpes of the stomach, and the sediment applied externally.
· In Malaysia, used to treat dysentery and morning sickness.
· In Yi medicine in China, used for common colds, fever, cough, sore throat, influenza.
· In the Gujarat region of India, used to regulate fertility.
· In Singapore, leaves are ingredient of a tonic given for irregularities in the regenerative organs of young women. Also similarly used in Java.
· In China, plant is widely used for stomachaches, toothaches, rheumatism, paralysis, and diabetes.
· In Nepal, used for the the treatment of abdominal pain, diarrhea, stomach aches, headache, swelling, thrombosis and blood stasis.
· In Bangladesh, leaf decoction with a little added salt used as gargle three or four times daily for oral care. In India, stems of the plant use for brushing the teeth for toothache relief and for maintaining healthy gums and teeth. (30)
Others
· Wood: Most useful part of the tree is the yellow wood, in demand for making canes. Also used for making kris handles.
· Crafts: Top branches, with the leaves, used for making wreaths and in giving body to bouquets.
· Cosmetic: In Thailand and Burma, powdered bark and root used as cosmetic. Flowers are sometimes put in the hair for their pleasant smell. In Java, flowers are used in making cosmetics.
· Perfumery: Essential oil used in perfumery. Sweet scented "Thanaka powder," made from wood and roots used as cosmetic on women's cheeks. (23)

Studies
• Antiplatelet Aggregation / Coumarins / Leaves: Study isolated two coumarins-minumicroline acetonide and epimurpaniculol senecioate from the leaves of Murraya omphalocarpa Hayata. Both compounds showed activity in the antiplatelet aggregation assay. Also, a possible acetonide artifact exhibited significant antiplatelet aggregation induced not only by AA and collagen, but also by platelet activating factor (PAF). (1)
• Antiamoebic Activity: The anti-amoebic activity of some medicinal plants used by AIDS patients in southern Thailand: 12 Thai medicinal plants were screened against a Entamoeba histolytica strain. Murraya paniculata extracts were classified as "moderately active."
• Anti-Giardial Activity: The in vitro anti-giardial activity of extracts from plants that are used for self-medication by AIDS patients in southern Thailand: Of 39 medicinal plant extracts studied, the chloroform extract from Murraya paniculata was "moderately active." (2)
• Insecticidal Activity: Leaf-derived petroleum ether fraction was found more toxic than ethyl acetate fractions were evaluated against adult male and female Callosobruchus maculatus. Males were more susceptible than females. It suggests further study for its potential as an insect-control agent. (4)
• Essential Oil Composition: Oil of M. paniculata contained 58 compounds – caryophyllene oxide, ß-caryophyllene, spathulenol, ß-elemene, germacrene D, cyclooctene, 4-methylene-6-(propenylidene) among others. (7)
• Antinociceptive / Bioactivity: Study of the ethanol extract of leaves showed a profound nociceptive dose-dependent effect. The extract also showed considerable brine shrimp toxicity. (8)
• Antidiabetic / Antioxidant / Leaves: Study of the ethanol extract of leaves on STZ-induced diabetic rats showed significant reduction of blood glucose, serum cholesterol, serum triglycerides. Study also showed significant reduction of TBARS, lipid peroxidation and increase in GSH. Results showed significant antidiabetic activity along with potent antioxidant potential in diabetic conditions. Supplementation of MP extracts may be beneficial in correcting hyperglycemia and preventing diabetic complications. (9) Study evaluated the antihyperglycemic and antioxidative potential of hydroalcoholic extract of leaves of M. paniculata on STZ-induced diabetic rats. MPE produced significant dose-dependent decrease in blood glucose and lipid levels in diabetic rats. There was significant decreased free radical level, with significant increase of SOD, GSH, and CAT towards normal values. (26)
• Antifungal: Study showed activity against C. albicans, C tropicalis and C luteolus. (10)
• Antibacterial / Antioxidant: M. paniculata showed antibacterial activity against E. coli, P. mirabilis, S. typhi, E. aerogenes, and S. flexneri. Ethanol extract demonstrated antioxidant activity. (11)
• Analgesic: Extract of bark showed significant dose-dependent reduction in acetic acid induced writhing. The reduced writing may be through the same mechanism of action as aminopyrine. The analgesic activity in radiant heat method was attributed to a central anti-nociceptive activity like that of morphine. (12)
• 2ʹ-O-ethylmurrangatin / Lipoxygenase and Respiratory Burst Inhibition: Study yielded a secondary metabolite, 2ʹ-O-ethylmurrangatin, from the leaves of M. paniculata. It exhibited significant activity against lipoxygenase enzyme and moderate respiratory burst activity. (13)
• Antifertility: Murraya paniculata showed a prominent effect in preventing implantation, terminating early pregnancy and mid-pregnancy of mice, but could not prevent ova transport. Of the plant parts, the cortex of the root and stem was the most effective. (14)
• Hypoglycemic: Study of a hydroalcoholic extract of leaves showed hypoglycemic effects in oxidative stress condition. The mechanism may be through potentiation of insulin effect either by increased pancreatic secretion of insulin from beta cells of its release from the bound form. (18)
• Toxicological Study on Leaves: Study in mice evaluated a 50% ethanolic extracts for acute and subacute toxicities . Results sowed M. paniculata to be safe in its oral effective dose. (19)
• In Vitro Antioxidant Activity / Leaves: Study evaluated a 50% ethanolic extract of leaves in various in vitro antioxidant assays. Results showed strong antioxidant potential and an easily accessible source of natural antioxidants or food supplement. (20)
• Leaf Essential Oil / Antifungal / Cytotoxicity / Nematicidal: Study investigated the chemical composition and bioactivities of leaf essential oil from M. paniculata from Nepal. EO showed no antibacterial activity, marginal antifungal activity against A. niger (MIC=313 µg/mL), moderate activity against A. salina (LC50= 41 µg/mL), and good nematicidal activity against C. elegans (LC50 = 37 µg/mL). (see constituents above) (24)
• Coumarins / Antibacterial Activity / Leaves: Study of leaves yielded four coumarins. Study of crude extracts and pure compounds showed the chloroform extracts, together with compound 2 (gleinadiene) to exhibit moderate activity against Bacillus cereus. (see constituents above) (25)
• Warfarin and Coumarin-Like Components / Inhibition of EpCAM-Mediated Cell Adhesion: Study identified an extract from M. paniculata which inhibited both embryonic implantation to human-endometrium as traditionaly used for abortion and CTC adhesion to human endotheium. Results showed warfarin and coumarin like components Z3, Z5, and Cm from Murraya paniculata could directly inhibit Ep-CAM-mediated-cell adhesion and cause inhibition on adhesion of cancer cells to human endothelial cells. (27)
• Antioxidant / Membrane Stabilizing / Antimicrobial / Leaves: Study evaluated the bioactive components, antioxidant, antimicrobial, and membrane stabilizing activities of leaf extracts of M. paniculata. A methanol extract showed highest flavonoid and phenolic content. Acetone extract showed considerable ABTS inhibitory activity (IC50 555.18 µg/mL). Hexane extract exhibited highest H2O2 radical scavenging activity (IC50 509.84 µg/mL). An aqueous extract showed 19.4% RBC hemolysis and 80.5% protection caused by hypotonic solution. Hexane fractions showed higher zone of inhibition. Major components in the fractions were cyclohexane (40.11%) and 3-(6-methoxy-3-methyl-2-benzofuranyl) cyclohexane (13.68%) by GC-MS analysis. (28)
• Antimicrobial / Effect on Hepatoma Cells / ß-Caryophyllene and Essential Oil: Study evaluated the invitro antioxidant, cytotoxic, antibacterial and antifungal activity and time-kill curve studies of orange jasmine essential oil and ß-caryophyllene. GC-MS analysis identified 13 compounds, with ß-caryophyllene as the major compound. The EO exhibited moderate antibacterial activity (MIC <0.1 mg/mL) and strong antifungal activity. Time-kill curve studies showed the EO or ß-caryophyllene exhibited rapid bacterial killing and fungicidal effect; both displayed weak free radical scavenging activity. Cytotoxic activity showed prominent selective effect against hepatoma cancer cells (IC50 63.7 µg/mL), while ß-caryophyllene showed low cytotoxicity. Activities were attributed to synergistic action among its components. (29)
• Ameliorative Effect on Alloxan-Induced Diabetes: Alloxan-induced diabetic rats were treated with hydroalcoholic extract of M. paniculata (100, 200, and 400 mg/kg) for 60 days.The extract decreased glycemia, along with cholesterol and triglyceride levels. The extract hypoglycemic effects were potentiated by glibenclamide and metformin. MPE also decreased fructosamine and glycated hemoglobin levels, and reduced diabetic-induced morphological alterations of the kidney, pancreas, and liver. Glucose-lowering activity is partly due to ATP-sensitive K+ channel inhibition. The MPE may be a potential therapeutic alternative for diabetes treatment. (31)
• Natural Coumarins / Mixed Type Inhibitors of Cholinesterases: Current acetylcholinesterase (AChE) inhibiting drugs in clinical use viz., tacrine, donepezil, rivastigmine, and galanthamine, are associated with serious side effects and short half-lives. Study isolated three coumarins from leaves of M. paniculata, 2′-O-ethylmurrangatin (1), murranganone (2), and paniculatin (3) and were tested against two cholinesterases (ChE) enzymes, AChE and butyrylcholinesterase (BChE) using invitro assay. Classical enzyme inhibition kinetics suggested compounds 2 and 3 were potent inhibitor of AChE and BChE via competitive and non-competitive inhibition mechanisms. The stability of the ligand-AChE complex for the most active compound (3) is comparable to widely used Tacrine™. In silico evaluation showed good ADME profiles. Study suggests the coumarin nucleus with diverse side chains at C-8 position has potential as cholinesterase inhibitor and may be a lead for a new semisynthetic drug for the treatment of AD. (32)
• Gastroprotective / Alcohol-Induced Gastric Lesions: Study compared the effects and potential mechanisms of Murraya paniculata (MP) and M. exotica (ME) as source plants for MFC (murrayae Folium et Cacumen), a traditional Chinese medicine recorded in Chinese Phamacopoeia for promoting qi and relieving pain, for treatment of stomach pain, rheumatism, and arthralgia. Study compared the effects on a rat model of gastric lesions induced by 70% aqueous ethanol and 150 mmol/L HCl. MP and ME showed similar effects on improving rat stomach lesions and reducing cytokine levels related to inflammation and digestion of rats. MP and ME demonstrated similar metabolic modulation for gastric lesions by acting on similar pathways and metabolites. PLA2 was an important pathway for modulation of glycerophospholipid metabolism in gastric lesions. Results suggest it is reasonable to use both ME and MP as source plants for MFC, due to similar pharmacodynamics and metabolomics. (33)
• Validation for Use in Diarrhea, Asthma, and Hypertension: Study evaluated an aqueous-ethanolic extract of MP using invitro techniques on isolated rabbit tissues (jejunum, trachea, and aorta). Extract relaxed spontaneous and high K+ induced contraction in rabbit jejunum, produced relaxation of carbachol and high K+ induced contractions in rabbit trachea, and produced relaxation of phenylephrine and high K+-induced spastic contractions on isolated aorta. Results showed anti-spasmodic, bronchodilator, and vasodilator activity facilitated through Ca++ antagonist mechanisms. (34)

Availability
- Wild-crafted.
- Cultivated for fragrant flowers.