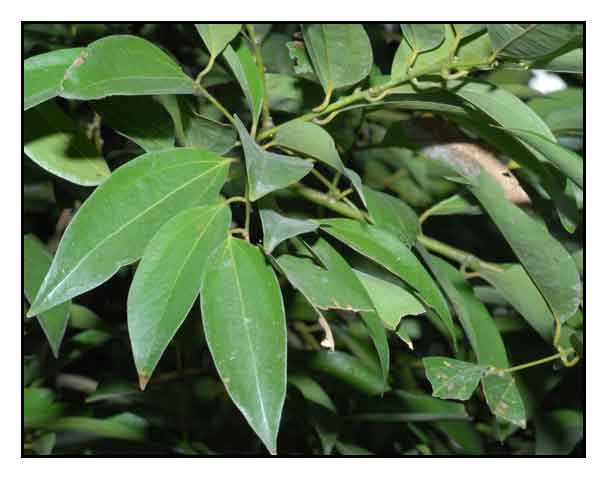 Botany
Kami is a medium-sized tree, about 10 meters in height. Leaves are opposite or subopposite, smooth, leathery, oblong with the smaller ones sometimes lanceolate, 7 to 15 centimeters long, 3 centimeters wide, pointed at both ends, on petioles less than 1 centimeter long. Inflorescence is about 15 centimeters long, bearing 1 to 2 small, greenish flowers at its end, about 5 millimeters long. Fruit is obovately ellipsoid, about 1.25 centimeters long and 7.5 millimeters wide, lucid green with minute whitist spots when unripe and a shinning steel blue when ripe.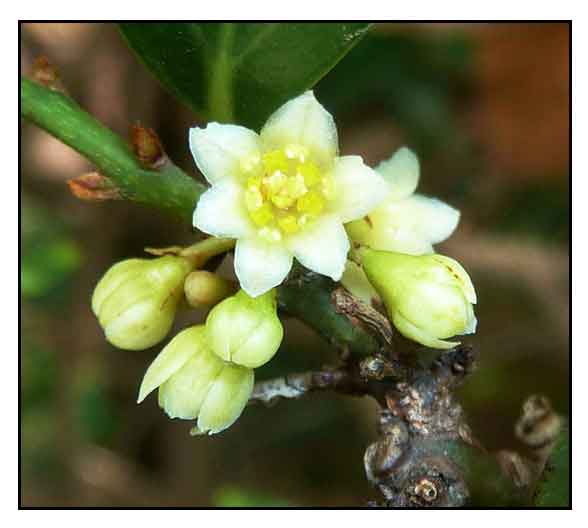 Distribution
- In the Philippines, only in Surigao, Davao, and Zamboanga Provinces in Mindanao.
- In thickets and forests at low and medium altitudes.
Constituents
- Study has suggested the bark to be closely allied to Cinnamomum zeylanicum, and the bark, in appearance, taste and odor, is just like the cinnamon of commerce.
- The oil does not agree very closely with Ceylon cinnamon oil from Cinnamomum zeylanicum.
- Bark contains 60% cinnamic aldehyde.
- Constituent studies on C. burmannii have yielded cinnamyl alcohol, coumarin, cinnamic acid, cinnamaldehyde, anthocynin, and essential oils, together with sugar, protein, crude fates, and pectin among others. (3)
- Study isolated a pigment from the peel of C. burmannii, scarcely soluble in water and all common organic solvents, and soluble only in alkaline aqueous and DMSO. (7)
Properties
- Leaves considered stimulant and carminative.
- Bark considered stomachic.
- Studies on Cinnamomum burmannii have demonstrated analgesic, antibacterial, anti-diabetic, antifungal, antioxidant, antirheumatic, anti-thrombotic, anti-tumor activities.

Parts used
Bark

Uses
Culinary
- Bark used in the same manner as Ceylon cinnamon.
- Dried inner bark of C. burmannii used as flavoring agent in foods, beverages, etc. In Mexico, used for brewing chocolate and flavoring confectionary and liquors. (3)
- Bark decoction described as very agreeable and hygienic drink.
Folkloric
- Bark decoction with ginger, star anise (Illicium anisatum) and sugar as a stomachic beverage.
- Powdered bark used for treatment of nausea, flatulent dyspepsia, coughs, diarrhea, gripe and malaria. (3)
Others
• Bark used in soap and perfume manufacturing.
• Bark sold in commerce as cinnamon; considered the best cinnamon bark produced in the Philippines by a wild species.
Studies
Studies were done on Cinnamomum burmannii
• Antibacterial: C. burmannii extract was evaluated for antibacterial activity against five common food-borne pathogenic bacteria viz. B. cereus, L. monocytogenes, S. aureus, E. coli and Salmonella anatum. Results showed significant antibacterial activity possibly significantly contributed to by (E)-cinnamaldehyde and proanthocyanidins. (6)
• Anti-Inflammatory: Study evaluated 20 different Indonesian medicinal herbs for anti-inflammatory activity using soybean lipoxygenase (SLO). The ethyl acetate fraction from the methanol extract of bark of C. burmannii showed the highest level of SLO inhibitory activity. (3)
• Antimicrobial / Synergism of Essential Oil and Cinnamaldehyde: Study clarified the crucial role of cinnamaldehyde as a potent antimicrobial compound of the C. burmannii's essential oil. (4)
• Synergism of TCE (Trans-cinnamaldehyde) and Cisplatin on Nasopharyngeal Carcinoma: Study investigated the effects of methanol extract stem bark and its main constituent, TCA, on human NPC cell lines. TCA showed an ability to scavenge nitric oxide. The combination of TCA and cisplatin produced synergistic anti-proliferative effects. Results suggested a potential use of TCA for the treatment of NPC. (5)
• Gastroprotection / DLBS2411 / Anti-Secretory: Study evaluated the gastric antisecretory effect of DLBS2411 fractionated from C. burmannii. Results showed the fraction exhibited gastroprotective and antioxidant activity through hydrogen potassium ATP activity inhibition and downregulation of its expression, suggesting a promising agent for the management of dyspepsia and gastric diseases requiring gastroprotection. (8)


Availability
- Wild-crafted.
- Essential oils in the cybermarket.