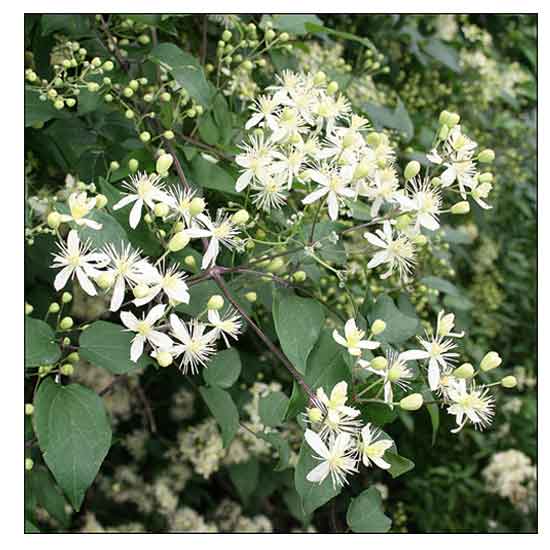 Gen info
- Clematis gouriana is a liana belonging to the buttercup family, Ranunculaceae. It was first described by Roxb. ex DC and published in Regni Vegetab8iilis Systema Naturale in 1818.
- The species epithet gouriana derives from the city 'Gour' or Gaur' where it was first found. This lost city was located in what is known today as the State of West Bengal in India.
Botany
Clematis gouriana is a large climbing shrub, reaching up to the canopies of trees. Glabrous, except for the younger parts of the plant. Grooved stem and branches. Leaves are pinnate, sometimes bi-pinnate or tri-pinnate. Leaflets may be ovate or oblong acuminate, with nerves and reticulate venation, and have a shining surface. Small flowers in many branched pannicles. Each flower is 1 to 1.5 inches wide, fragrant and greenish-white. Petals are absent but four greenish sepals present which are oblong-ovate and covered with soft down. Many stamens, with free, narrow and straight filaments which thicken towards the top. Compressed achenes, narrowly ovoid or oblong, with persistent feathery style. (3)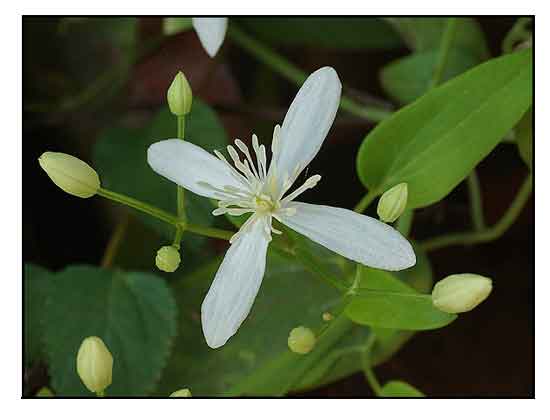 Clematis gouriana is a woody vine. Stems 3--5 m; branches longitudinally 5-grooved, puberulous, glabrescent. Leaves pinnate, 5-foliolate; petiole 1--7 cm, sparsely puberulous to subglabrous; leaflet blades ovate, narrowly ovate, or lanceolate, 2.4--10.5 × 1.2--5.5 cm, papery to subleathery, both surfaces glabrous or only sparsely puberulous on midveins, base rounded to subcordate, margin entire or rarely 1-denticulate, apex attenuate to acuminate; basal veins abaxially prominent. Cymes axillary or terminal, 9--100-flowered; peduncle 1.2--7 cm; bracts simple or foliaceous, triangular to ovate, 4--10 mm. Flowers 7--10 mm in diam. Pedicel 6--12 mm, puberulous. Sepals 4, white, spreading, narrowly obovate to obovate-oblong, 5--6 × 1.8--2 mm, abaxially usually densely puberulous, adaxially sparsely puberulous, margin abaxially velutinous, apex obtuse to truncate. Stamens 3--4.5 mm, glabrous; anthers narrowly oblong, 1.1--1.5 mm, apex obtuse. Ovaries pubescent. Style 3--3.8 mm, densely villous. Achenes lanceolate to fusiform, 3--3.5 × 1--1.5 mm, appressed puberulous; persistent style ca. 2 cm, plumose. (Flora of China)
Distribution
- Native to the Philippines.
- Also native to Assam, Bangladesh, China, Himalaya, India, Myanmar, Nepal, New Guinea, Pakistan, Sri Lanka, Thailand, Vietnam. (2)
Constituents
- Ethanolic extract of leaves yielded alkaloids, flavonoids, phenols, tannins, carbohydrates, saponins, coumarin glycosides, steroids, fixed oils, with absence of anthraquinones, proteins and amino acids. Total phenolic content was 63.2 mg GAE/g. Total flavonoid content was 99.28 mg GAE/g of ethanolic extract. (see study below) (6)
Properties
- Leaves and fresh stems applied to the skin can cause blistering.
- Studies have suggested antioxidant, anti-inflammatory, snake venom-neutralizing, hepatoprotective, antibacterial, cytotoxicity, mosquito larvicidal properties.

Parts used
Leaves, roots, aerial parts.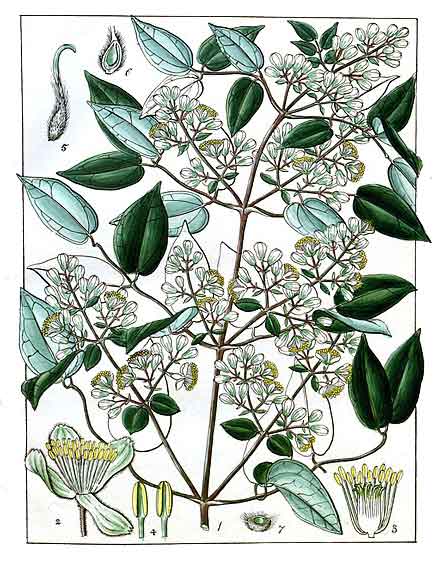 Uses
Edibility
- None reported.
Folkloric
- In Indo-China, root decoction used as diaphoretic and diuretic. Fresh, crushed leaves used as rubefacient or vesicant. In Taiwan, pounded leaves are applied to wounds and snakebites; leaves also used as febrifuge. In Chinese traditional medicine, root used to treat goitre, and fruit as tonic and stomachic. Above ground parts used as drastic purgative, which can easily cause a toxic overdose. In Nepal, stem used as anthelmintic. (1)
- In Ayurveda, plant used to treat malarial fever and headache. Root and stem paste applied externally for psoriasis, itches, and skin dermatoses.
- Root decoction (about 15 ml) drunk three times daily for stomachache. (4)
- Juice of freshly crushed leaves and stems have a vesicant action. (5)
- Leaves used as poultice for festering wounds and ulcers.
- Used for treatment of gallstones and mastitis. (6)
Others
- Fiber: Stems yield a fiber used making coarse rope and tying material.
- Fodder: Leaves are reportedly poisonous to livestock.

Studies
• Anti-Inflammatory / Antioxidant / Leaves: Study evaluated an ethanol leaf extract of Clematis gouriana for antioxidant and anti-inflammatory effects in Wistar rats. Extract showed significant inhibition of carrageenan-induced rat paw edema compared to standard drug indomethacin. At dose of 50 µg/ml, the extract exhibited significant free radical scavenging activity (51.63%) of DPPH. The extract exhibited IC50 of 48.97 µg/ml at 48.97 µ/ml concentration. (see constituents above) (6)
• Ikshusterol / Snake-Venom Neutralizing Capacity / Root: Study of root isolated ikshusterol-3-O-glucoside. The anti-venom activity of the compound was assessed using PLA2 assay against Naja naja (Indian cobra) crude venom. Results showed Ikshusterol3-O-glucoside has potent snake-venom neutralizing capacity and may be a potential molecule for therapeutic treatment of snakebites. (7)
• Antioxidant / Hepatoprotective / Leaves: Study of C. gouriana leaf extract showed significant antioxidant, hepatoprotective, and antiproliferative properties compared to standard silymarin. The LD50s of methanolic and aqueous leaf extracts were 500 and 700 mg/kbw, respectively. Both extracts significantly reduced levels of LPO and POX but increased activities of SOD and CAT. The ME and AE showed 50.03% and 97.28% inhibition against DPPH radical scavenging activity, respectively, compared to ascorbic acid at 97.28% inhibition. The extracts showed no cytotoxicity against HT29 or human breast cancer cell line MCF7 using the sulforhodamine B assay. (8)
• Antimicrobial / Leaves: Petroleum ether, chloroform, and methanol extracts from powdered leaf material were screened for antimicrobial activity against 27 clinical associates from different infectious sources viz. G(-) P. aeruginosa and K. pneumonia and G(+) S. aureus and five fungi, T. rubrum, T. tonsurans, M. gypseum, M. audouini and Candida albicans. The ME showed maximum inhibition zone on S. aureus (16.56-24.23mm), P. aeruginosa (12.56-23.36 mm) and K. pneumonia (14.30 - 22.40 mm( by agar well diffusion method. Among fungi, maximum zone of inhibition was against T. rubrum (13.36 mm) and C. albicans (9.96 mm). (9)
• Ursolic Acid / Wound Healing / Leaves: Ursolic acid (UA) was isolated from methanolic extract and was subjected to in silico studies on Glycogen synthase kinase 3-ß (GSK3-ß) protein, to inhibit protein function. UA showed least binding energy and showed minimum potential energy and greater stability with target protein. UA may be a potential inhibitor of GSK3-ß protein. Wound healing activity was assessed by excision, incision, and dead space wound models on Wistar strain rats. Results showed significant wound healing activity, with significant increase in skin-breaking strength in rats treated with UA. There was pronounced effects on dead space wound model, with significant increase in weight of granulation tissue, tensile strength, and hydroxyproline content. Animals treated with nitrofurazone, ME and UA showed increased collagenation and decreased accumulation of macrophages at the site of injury. (10)
• Cytotoxicity / Antioxidant / Leaves: Study of C. gouriana leaves using different solvent extracts revealed promising phenolic content (18.19 to 22.17 mg GAE/g and flavonoids (2.83 to6.52 mg as mg QE/g). Aqueous acetone extract showed higher antioxidant activity with IC50 of 129.11 and 25.35 µg/mL against DPPH and ABTS free radicals, respectively. FRAP antioxidant yield was 16.87 to 24.48 mg/g Trolox equivalent. The EA extract exhibited strong in vitro cytotoxicity against Chinese hamster ovary and glioma cell lines. (11)
• Mosquito Larvicidal / Cx quinquefasciatus / Leaves: Study demonstrated the effectiveness of Clematis gouriana against growing wrigglers of Culex quinquefasciatus. Larvicidal efficacy was found in 5% concentration of crude and 250 ppm solvent extract, with most effective LC50 (22.78 ppm) against first instars. FT-IR spectrum showed presence of aromatics, alkanes, alcohols, amines, and amine salts in chloroform (1:1, v/v) extract. Results suggest a potential natural source for vector management programmes. (12)

Availability
Wild-crafted.