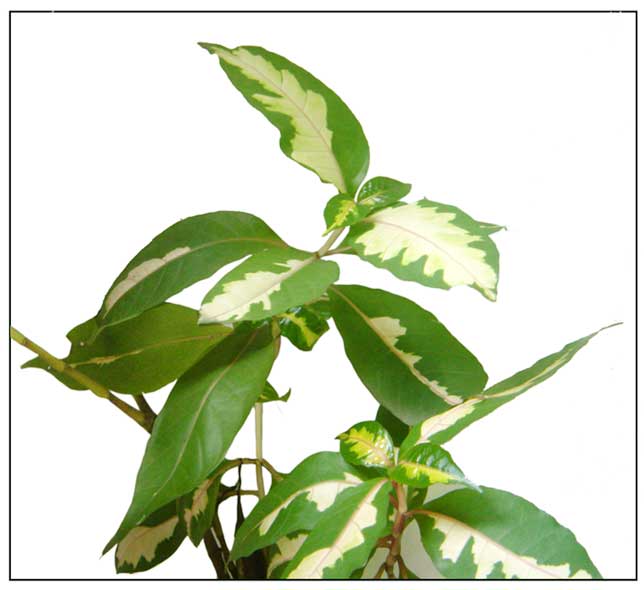 Botany
Kalpueng is an erect, smooth and branched shrub growing up to 3.5 meters in height. Leaves are opposite, oblong to broadly ellliptic, 10 to 20 centimeters long, purplish or green splotched with light yellow or orange, narrow and pointed at both ends, with entire margins. Flowers are large, generally dark purple or reddish purple color, about 4 centimeters long, and borne in terminal, erect racemes, 6 to 12 centimeters long. Corolla throat is compressed.
Distribution
- Widely planted as a hedge.
- Ornamental cultivation.
- Occurring in two forms in the Philippines: Green leaves blotched in white, the other, with dark purple leaves.
- Native to New Guinea.
Properties
- Distilled leaves emit a scent of coumarin.
- Considered diuretic, emollient, resolvent.
- Studies have suggested anti-inflammatory, analgesic, anti-diabetic, oxytocic, nephroprotective properties.

Parts used
Leaves, juice, flowers.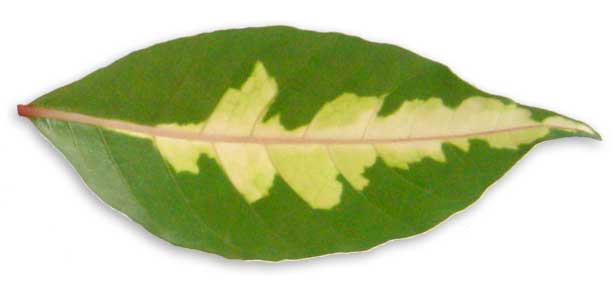 Uses
Folkloric
• In the Philippines leaves are used as an emollient poultice on ulcers of the hand and for keeping artificial ulcers open for medicinal purposes.
• Leaves are applied to cuts.
• Juice squeezed into the ear for earaches.
• Leaves used as emollient poultice on ulcers on the hand.
• Juice use for certain skin complaints.
• Leaf infusion drunk for constipation.
• Flowers used to promote menstruation.
• Reports of use as diuretic.
• In Java and the Moluccas, leaves are applied to swelliings.
• The mottled-leafed variety is pounded with coconut milk, used to reduce swellings.
• In Java, decoction of flowers taken to promote menstruation.
• Leaves used as emollient and resolvent.
• In Indonesia, traditionally used for hemorrhoid treatment; also for back pain.
• Poultice of leaves used on breasts to relieve inflammatory obstruction to the flow of milk.
• In Sabah, leaves pounded in hot water applied as paste for headaches.
• In Cameroon, used for female reproductive disorders.
Others
• Leaves used as soap substitute.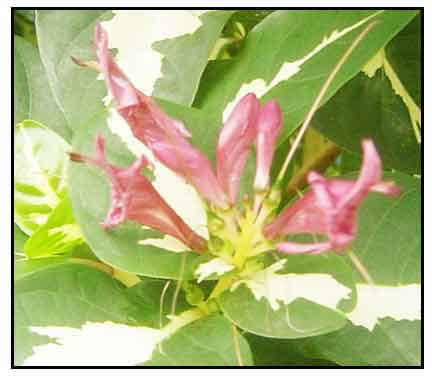 Studies
• Anti-Inflammatory / Analgesic Effect. Study of the ethanol extract of GP showed both an anti-inflammatory and analgesic effect. Flavonoids found in one of the fractions was assumed to be partly responsible for the anti inflammatory effect. (1)
• Anti Dental Plaque: Study of G pictum extract on the growth of plaque on acrylic resin complete denture showed inhibition of plaque growth, with highest growth inhibition on 40% extract of PG. (3)
• Oxytocic / Anti-Implantation: Study in virgin female Sprague-Dawley albino rats showed the ethanol extract of Graptophyllum pictum exhibited oxytocic activity comparable to oxytocin while the aqueous extract reduced the normal contraction of the uterine strip. Results support the use of the plant in folkloric medicine as a delivery aid and suggests it can be used early in pregnancy as a contraceptive. (4)
• Antidiabetic / Leaves: Study in alloxan-induced diabetic Wistar rats suggests an aqueous extract of fresh leaves possess a hypoglycemic effect comparable to metformin. Toxicity study suggests it can be safely administered orally without any immediate unwanted effect. (5) Study showed the ethanol extract of purple leaves of G. pictum has glucose reducing effects. The most effective concentration was 210 mg/kbw with a decrease of 70.4%. (11)
• Renoprotective / Cisplatin Induced Nephrotoxicity: Study evaluated the effects of an alcoholic extract of G. pictum on cisplatin induced nephrotoxicity in albino rats. Results indicated G. pictum rendered significant preventive effect with reduction of creatinine and urea levels and restoration antioxidant defense systems to normal. (6)
• Alkaline Phosphatase Activity / Osteoblast Differentiation Cells: Study evaluated various extracts of Graptophyllum pictum and Spilanthes acmella for stimulative activity on alkaline phosphatase of MC3T3-E1 osteoblast cells. The n-butanol and water fractions of G. pictum showed 112% and 122% activity, respectively. (8)
• Inhibition of Plaque Growth on Acrylic Resin Complete Denture: Study evaluated the effect of Graptophyllum pictum extract on the growth of plaque on acrylic resin complete denture. Results showed GP extract could inhibit plaque growth on acrylic resin complete denture. The highest plaque growth inhibition was seen with 40% concentration of GP extract. (9)
• Nephroprotective / Gentamicin Induced Renal Injury: Study evaluated the effect of GP on lipid peroxidation and tissue antioxidant enzymes in liver and kidney of gentamicin induced nephrotoxic rats. After treatment with GP extract, the abnormal biomarkers induced by gentamicin were returned to normal. (10)
• Estrogenic / Alleviation of Post-Ovariectomy Menopausal Symptoms: Study evaluated Graptophyllum pictum and Tragia benthamii and a mixture of the two plants for estrogenic like effects on primary estrogen targets, uterine, vagina, and mammary gland and their ability to alleviate hot flushes in ovariectomized adult rats. Results showed evidence of estrogen-like effects and suggest the presence of secondary metabolites with estrogenic properties that can induce cell proliferation, and correct disorders of post-oophorectomy estrogenopenia in Wistar rats. (13)

Availability
Wild-crafted.