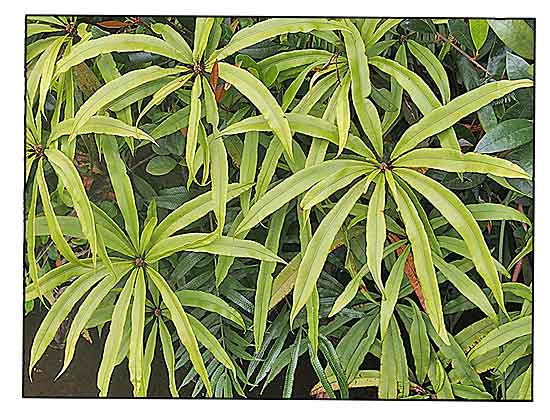 Gen info
- The taxonomy of the genus Oleandra is confused and various authors have stressed worldwide revision. (2)
- Some compilations place the plant in the family Oleandraceae, others in Polypodiaceae. There is also a confusing clutter in synonyms.

Botany
- Kaliskis-ahas is a terrestial and epiphytic fern, scandent and brushy in habit. Rhizomes are woody, clothed with dense adpressed bases of scales which sometimes grow to several meters long and are branched. Scales are arranged in a way resembling somewhat those of snakes; hence the common name, kaliskis-ahas. Stipes are clustered. Fronds are single and entire, 10 to 35 centimeters long and 1.5 to 4 centimeters wide, with acuminate or caudate apex, and not very hairy. Sori are arranged in a row on each side of the costa; the insidium is reniform and persistent.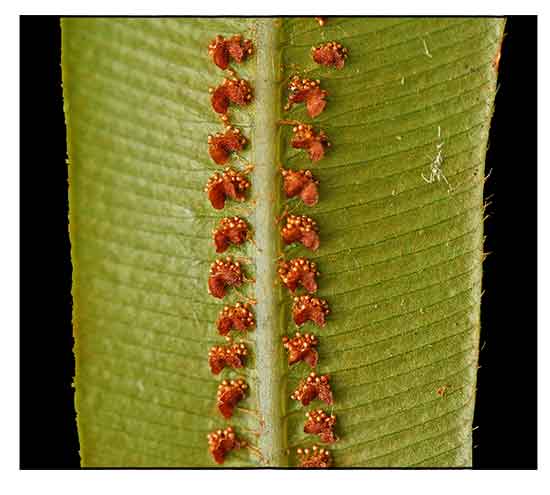 - A terrestrial thicket-forming fern, up to 2 m tall, with a branching shrublike habit, easily mistaken for a flowering plant, sometimes climbing-epiphytic. Rhizome stiff, erect or suberect, up to 10 mm in diameter, acting as an aerial stem, densely covered with scales; scales appressed, imbricating, the peltate basal part 1-1.5 mm wide, dark brown to black, narrowed abruptly into the up to 3.5 mm long apical part which is ciliate when young; aerial stem branched, straight, 1-1.5(-2) m tall, with few or no rhizophores, the leaves close together in pseudowhorls of 4-14, the whorls separated by 2-10 cm long internodes. Leaves simple, clustered, more or less coriaceous, on 2-5 mm long phyllopodia borne on all sides of the aerial stem; petiole 0.5-10 mm long, scaly; lamina oblanceolate, up to 40 cm × 3.5(-7.5) cm but often narrower, base attenuate, margins entire, apex caudate-acuminate, midrib scaly when young, glabrous or pilose; veins close together, simple or once forked, straight, at a broad angle to the midrib. Sori in one irregular row on each side of the midrib, usually 0-3 mm from the midrib; indusium reniform, up to 2 mm wide. Spores monolete, ellipsoid to spheroid, with irregularly toothed wings. (2)
Distribution
- Native to the Philippines.
- On tree tops and terrestially, in the sun, at middle and higher altitudes, throughout the Philippines.
- Also native to Bismarck Archipelago, Borneo, Cambodia, Fiji, Jawa, Lesser Sunda Is., Malaya, Maluku, New Guinea, Queensland, Samoa, Santa Cruz Is., Society Is., Solomon Is., Sulawesi, Sumatera, Thailand, Vanuatu, Vietnam. (1)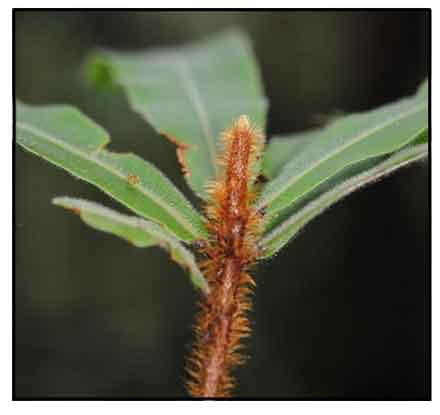 Constituents
- Several compounds have been isolated from O. neriiformis : filicene (C30H50), n-octacosanol lignocerate, the 4-desmethyl sterols campestersol, stigmasterol, β-sitosterol and a trace of cholesterol, the 4a-methyl sterols cycloeucalenol, citrostadienol and traces of 24-methylen lophenol, the dimethyl sterols cycloartenol and 24-methylene cycloartenol, the triterpene alcohol nerifoliol, neriifoloxide, a triterpene epoxide (C30H50O) and the triterpene 29-ethoxyhopane (C32H56O). Histochemical tests in the Philippines showed abundant amygdalin and saponin in rhizomes and pinnae, and formic and tartaric acid in aerial stems. (2)
Properties
- Emmenagogue.

Parts used
Stipes, rhizomes.

Uses
Folkloric
- In the Philippines, decoction of stipes considered an effective emmenagogue and alleviating difficult menstruation.
- Decoction of rhizome used for treatment of venomous snake bites. (3) (4)
Studies
- No studies found.

Availability
Wild-crafted.