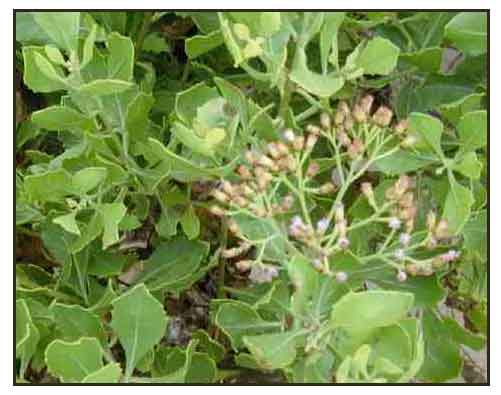 Botany
Kalapini is an erect, much-branched shrub, 1 to 2 meters in height. Leaves are oblong-ovate to oblong-elliptic and 1.5 to 4 centimeters long, with pointed or blunt tip, wedge-shaped base, and slightly and irregularly toothed margins. Inflorescence is a compound, terminal, slightly hairy corymb 5 to 11 centimeters long. Numerous heads are about 5 millimeters long. Involucral bracts are ovate, with the inner ones gradually longer. Flowers are numerous, and pink-purple or lilac. Achenes are minute and ribbed; the pappus is white, scanty, and spreading.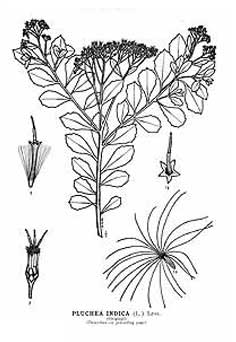 Distribution
- From northern Luzon to Mindanao, along the seashore and tidal streams within the influence of salt or brackish water.
- Also occurs in India to China and Malaysia.
Constituents
- Yields an essential oil.
- Nutrient analysis of leaves yielded (g/100 g) water 87.53 g, protein 1.79 g, fat 0.49 g, ash 0.20 g, insoluble dietary fiber 0.89 g, soluble dietary fiver 0.45 g, total dietary fiber 1.34 %, carbohydrate 8.65 g, calcium 251 mg, ß-carotene 1,225 µg/100g, vitamin C 30.17 µg/100g. (23)
- Study of leaves for bioactive compounds (mg/100 g fresh leaves) yielded total phenolic acids 28.48 ±0.67, chlorogenic acid 20.00 ±0.24, caffeic acid 8.65 ±0.46; total flavonoids 6.39, quercetin 5.21 ±0.26, kaempferol 0.28 ±0,02, myricetin 0.09 ±0.03; total anthocyanins 0.27 ±0.01, ß-carotene 1.70 ±0.05, total carotenoids 8.74 ±0.34. (23)
- Study of Khlu leaves for antioxidant activity yielded total phenols 0.831 ±0.129 mg/GAE/ g fw, total flavonoids 6.39 ±0.27 mg/g fw, DPPH 96.4 ±15.2 µmole TE/ g fw; ABTS 3.75 ±0.16 µmole TE/g fw, ferric reducing 81.1 ±0.6 µmole TE/ g fw, % inhibition of lipid peroxidation 98.5 ±0.4. (23)

Properties
- Astringent, antipyretic.
- Studies suggest anti-inflammatory, antimicrobial, gastroprotective, antivenom, antioxidant, CNS depressant, hepatoprotective properties.

Parts used
Roots, leaves.

Uses
Folkloric
- In India, roots and leaves used medicinally as astringents and antipyretics.
- In Indo-China, decoction of roots used in fevers as diaphoretic; infusion of leaves for lumbago.
- In South-East Asia and Thailand, leaves are used as nerve tonic and for treating inflammation.
- Decoction of bark used for hemorrhoids.
- In Thai folk medicine, khlu is used for treatment of kidney stones (stem), hemorrhoids (bark), inflammation, lumbago, and leucorrhea (leaves). (23)

Studies
• Anti-Inflammatory: Study of methanolic fraction of chloroform extract of defatted Pluchea indica roots showed significant inhibitory activity against carrageenan-, histamine-, serotonin-, hyaluronidase- and sodium urate-induced pedal inflammation. Results establish the extract efficacy in exudative, proliferative and chronic stages of inflammation. (1)
• Phenolic Content: Study showed a significant difference in the total phenolic content among different parts of the tested plant. Leaves contained the highest phenolic compounds, followed by the stems, and lower in the flowers. (2)
• Antimicrobial: An aqueous extract was tested against both gram positive and gram negative bacteria. Results showed zone of inhibition against E coli and K pneumonia. Result showed a possibility of using P. indica as an alternative therapy in the treatment of urinary tract infections. (3)
• Gastroprotective: The methanolic fraction of P. indica root extract was found to possess significant antiulcer activity in different experimental animal models. It showed significant protective actions in acetylsalicylic acid, serotonin and indomethacin-induced gastric lesions in experimental rats. (4)
• Antioxidant / Root: Study on P. indica root extract showed significant anti-inflammatory activity against glucose oxidase-induced paw edema, inhibition of hydroxyl radical and superoxide generation, CCl4-induced lipid peroxidation and dioxygenase activity. (5)
• Snake Venom Neutralization: Studies on antidotes for snake envenomation has shown Pluchea indica as one of several herbal plants that possess moderate neutralizing activity against snake venom. (6)
• Viper and Cobra Venom Neutralization: Study reports the neutralization of viper and cobra venom by b-sitosterol and stigmasterol isolated from the root extract of P. indica. Study suggests beta-sitosterol and stigmasterol may play an important role, along with antiserum, in neutralizing snake venom-induced actions. (7)
• CNS Depressant: Study of root extract showed a potent CNS depressant action with alteration of behaviour pattern, reduction in spontaneous motility, prolongation of pentobarbitone-induced sleep, suppression of aggressive behaviour patters and conditioned avoidance response. (8)
• Anti-Inflammatory / Antioxidant: : Study assessed the inhibitory effect of P. indica on croton oil-induced mouse ear edema, lipid hydroperoxide, and in vitro lipid peroxidation. Results showed the methanolic fraction of root extract possessed significant anti-inflammatory and antioxidant activity. (11)
• Antioxidant / Anticholinesterase: A methanolic extract of stems was found to have both anti-AChe properties and moderate antioxidant activity. Anticholinesterase inhibitors are one of the treatment options in Alzheimer's disease. (12)
• Antioxidant / Herbal Tea: Study showed a hot water extract of P. indica leaves is a source of antioxidants and inhibitors of NO and PGE2 production and can be used as dietary supplement with health promoting effect. (13)
• PITC II / Anticancer: PITC-2 is a new thiophene compound obtained from P. indica cultured plant. Synthesized monoamine derivatives showed in in-vitro studies to have anticancer and cytotoxic effects against human leukemic cell lines. (14)
• Mosquitocidal / Essential Oil: Study evaluated the mosquitocidal activity of essential oil of Pluchea indica against larvae and eggs of Aedes aegypti, A. albopictus, Anopheles stephensi, A. subpictus and Culex quinquefasciatus. Results showed various degrees of ovicidal activity that increased with concentration. Results lead the path for exploration of P. indica for the eradication of selected medically important human vector mosquitoes. (15)
• Anti-Cancer / Leaf and Root: Crude aqueous extracts of P. indica leaf and root suppressed proliferation, viability, and migration of GBM8401 and HeLa cells. In vitro anti-cancer effects of crude leaf and root extract show potential as a new anti-cancer agent. (16)
• Corrosion Inhibition / Leaf Extract: Study investigated the inhibition of low carbon steel in 3.5% NaCl of Pluchea indica leaves extract. Results showed the extract to behave as a mixed type corrosion inhibitor.
(17)
• Anti-Diabetic / Increased Insulin Release: A previous study showed a crude extract to lower blood glucose in hypoglycemic test on normal rats. Study of glibenclamide-treated, hexane, dichlormethane and water extract treated groups showed ß-cell effect with increase insulin release. (18)
• α-Glucosidase Inhibition / Increased Insulin Release: Pluchea indica leaf extracts have inhibitory activity against intestinal maltase. Study suggests a potential for P. indica as functional food and medical supplement for the treatment and prevention of diabetes. (19)
• Hepatoprotective / Thioacetamide-Induced Liver Fibrosis: Study evaluated an aqueous extract of root of Pluchea indica on a TAA-induced liver fibrosis mouse model. Results showed an anti-fibrotic effect. (20)
• Anti-Inflammatory / Molecular Mechanism / Leaves: Study of Pluchea indica leaf extract induced showed potent inhibitory effect on nitric oxide (NO) production in LPS-induced macrophages and also inhibited PGE2 release. The extract also showed anti-inflammatory activities on acute phase of inflammation as seen in EPP (ethylphenylpropiolate)-induced ear edema and carrageenan-induced paw edema in rats. (22)
• PITC-2 Sub-Acute Toxicity Studies: PITC-2, a thiophen derivative isolated from the root extract of tissue-cultured P. indica showed not significant adverse effect on cellular structure. There were no abnormalities noted on sub-acute toxicity testing—no abnormalities on body weight, behavior, hematological and biochemical parameters and histopathological study. Results of toxicological studies suggest PITC-2 can be subjected to chronic toxicological studies and clinical trials. (24)
• Anti-Leishmania / Roots / PITC-2: Study evaluated Pluchea indica root extracts and PITC-2 for antileishmanial activity. Results showed the ethyl acetate insoluble part showed maximum antileishmanial activity against Leishmania donovani promastigotes with EC<20µg/ml, followed by PITC-2 compound and its derivative. (25)
• Antimicrobial / Thiophene Derivative PITC-2 / Roots: Study extracted a pure compound from the roots of P. indica labeled as PITC-2. The compound was evaluated for antimicrobial activity. Study showed PITC-2, a thiophene derivative, is a bacteriostatic agent. Results conclude that PITC-2, besides being an active antibacterial agent, can interfere and restrict the action of polymerase chain reaction for rebuilding new DNA strands. (26)
• Apoptotic and Antiproliferative / Nasopharyngeal Carcinoma Cells: Study evaluated the anti-cancer activity and molecular mechanisms of ethanolic extracts of roots of P. indica (PIRE). Results showed PIRE could induce the apoptosis-signaling pathway in nasopharyngeal carcinoma (NPC) cells by activation of p53 and by regulation of apoptosis-related proteins. (27)
• Hypoglycemic / Antihyperglycemic / Toxicity Study / Leaves: Study of methanolic extract of Pluchea indica leaves in normal and streptozotocin-induced diabetic rats showed reduction in both normal and STZ-induced diabetic rats. Toxicity study showed the extract to be safe up to doses of 3.2 mg/kg body weight orally. (28)

Availability
Wild-crafted.