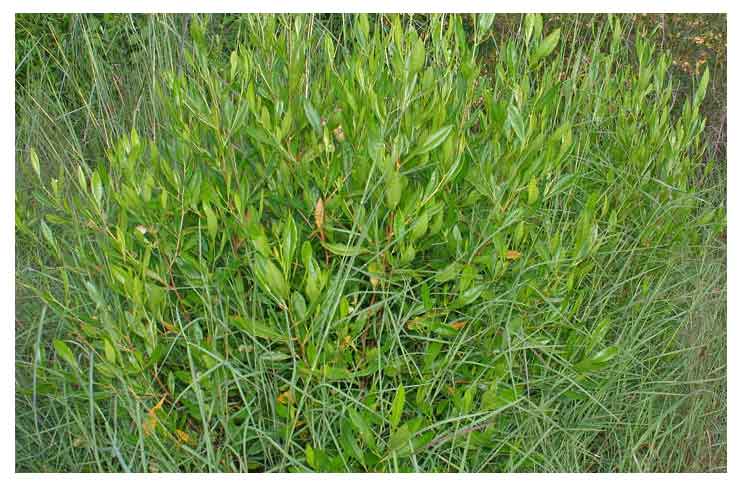 Botany
Kalapinai is a shrub or small tree. Leaves are alternate, oblanceolate, 4.0 to 12 centimeters long, 2.5 to 3 centimeters wide. Flowers are yellowish, very small, borne on terminal short racemes. Sepals are oblong. Petals are absent. Fruit is flattened, membranous, somewhat two-lobed, about 18 millimeters across, including the two wings. Wings are very thin, rounded, about 12 millimeters long. Seeds are dark brown or black.
Distribution
- Throughout the Philippines, along the seashore and in regions subject to a pronounced dry season, extending inland and ascending to 2,000 meters.
- Also reported in China, Taiwan.
- Now Pantropic.
Constituents
- The active principle is an acid resin.
- Leaves contain two acid resins, gum, albumen, tannin, and ash.
- Study of leaves yielded an carbohydrates, flavonoids, fixed oil, proteins and amino acids, saponins, steroids and sterols, tannins, and triterpenoids.
Properties
- Bark considered astringent.
- Considered analgesic, anti-inflammatory, antiviral, antifungal, anti-ulcerogenic, spasmolytic, laxative, anti-microbial, hypotensive.

Parts used
Bark, wood, leaves, fruits.

Uses
Folkloric
- In the Philippines, decoction of bark used as effective astringent for humid eczema and simple ulcers. Also considerred a good febrifuge.
- Decoction of wood also used as febrifuge.
- In Reunion, infusion of leaves used for sudorific effect.
- In Peru, the sour and bitter leaves are chewed for its stimulant effect, like coca leaves.
- In Madras, leaves are used as poultice.
- In Martinique, the aromatic leaves and fruits are used in bath preparations; lotion used as astringent.
- Decoction used for flatulent colic and as purgative.
- In La Reunion, used for gout and rheumatism. Also, used in baths and fomentations.
- Powdered leaves are applied on wounds which would then heal without scars.
- Leaves are applied to burns and scalds.
- In India, used for headaches, backaches, stomach pains, piles and simple ulcers.
In Australia, used for wound healing.


Studies
• Anti-Inflammatory: Study showed no inhibition of COX-2 and no effect on PGE2 production. Alternative mechanisms for anti-inflammatory activity is considered, such as the alternate arachidonic acid metabolity - 5-lipoxygenase.
• Antioxidant: The hot water extract showed the greatest antioxidant activity, followed by ethanol extracts. Activities were attributed to flavonoids and/or saponins.
• Wound Healing: Initial studies suggest extracts have a strong proliferative effect on fibroblast growth.
• Antifungal: (1) Study showed solvent extracts of leaves and shoots of Dodonaea viscosa were effective against all tested fungi - Aspergillus niger, A flavus, Paecilomyces varioti, Microsporum gypseum and Tricophyton rubrum. (2) DV var angustifolia inhibited the adherence of C albicans to oral epithelial cells, which is the initial step of colonization in the infection process.
• Dermal Toxicity Studies: Study on dermatotoxicity showed that dermal application of D viscosa was not associated with any toxicologically relevant effects with data of a preclinical evidence of safety for clinical trials on the plant extracts.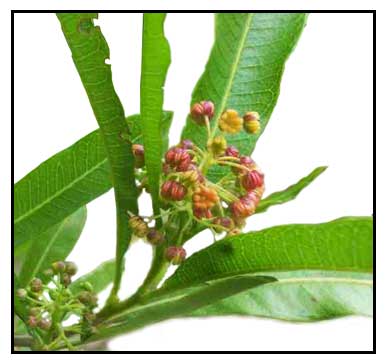 • Antibacterial: (1) Study showed promising antimicrobial activity against both Gram positive and negative organisms. (2) Study of 16 selected plants from different localities in Yemen, the methanolic extract of D viscosa was one of eight that showed the highest antimicrobial activity and one of six with high free radical scavenging activity.
• Anti-Diabetic / Hypolipidemic / Antioxidant: Study water extract and polar fraction of ethanol extract of DV in streptozotocin-induced diabetic rats showed dose-dependent reduction in glucose levels and restoration of altered lipid levels. Results suggest antioxidant effects might play a role in the observed antidiabetic and hypolipidemic activities.
• Anti-Diabetic: (1) Results of study of DVW and DVE-4 in high-fructose diet-induced insulin resistance in rats showed pharmacologic evidence of DV in treatment of prediabetic conditions and the effects probably mediated by interacting multiple targets operative in diabetes mellitus - decreased oxidative stress by improving endogenous antioxidants, inhibition of protein tyrosine phosphatase, partial inhibition of dipeptidyl peptidase-IV. (2) Study of methanol extract of leaves in normal and STZ-diabetic rats indicated antidiabetic and antioxidant effect in diabetic rats.
• Gastroprotective: Phytochemical screening yielded flavonoids, saponins, bitter principles and phenols. Results showed dose-dependent inhibition of indomethacin-induced gastric lesions. The hexane extract decreased the total amount of total acid in gastric juice. Toxicity studies showed no toxicological signs in rats.
• Chemopreventive in Lead Poisoning: Treatment with the flavonoidal drug, D viscosa to lead-poisoned rats resulted in decrease levels of glycoproteins and sialic acid contents in liver and plasma. Plant flavonoids are considered natural antioxidants, providing protection against membrane damages during hepatic and renal toxicity. Results suggest the flavonoids rich D viscosa leaves attenuate lead acetate-induced alterations and offer a potential as chemopreventive agent against lead poison in rats.
• Gastroprotective / Toxicity Study: A hexane extract dose-dependently inhibited ethanol-induced gastric lesions and indomethacin-induced gastric lesions. Acute toxicity studies at higher doses did not manifest any toxicological signs in rats. Phytochemicals showed flavonoids, saponins, bitter principles and phenols.
Availability
Wild-crafted.