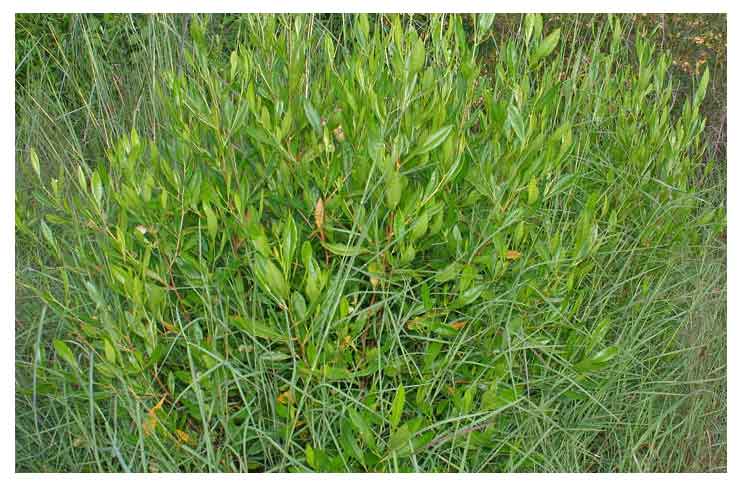 Gen info
- Dodonaea is a genus of about 70 species of flowering plants, often known as "hop bushes", in the soapberry family, Sapindaceae. It is the largest genus in the family.
- The genus Dodonaea is named after Rembert Dodoens, a 16th century Flemish botanist, royal physician and professor. The species epithet viscosa derives from Latin, meaning sticky, referring to the texture of the leaves.
- The common name "hop bush" is used for D. viscosa specifically and for the genus as a whole. In the past, used by Australians as a substitute for hops in brewing.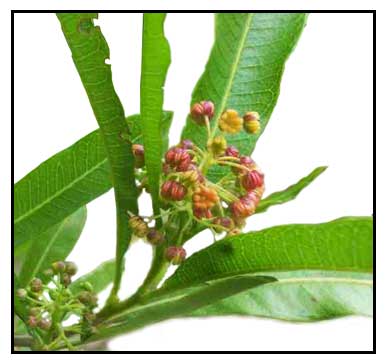 Botany
Kalapinai is an erect shrub or small tree growing to 5 meters high. Leaves are alternate, oblanceolate, 4.0 to 12 centimeters long, 2.5 to 3 centimeters wide, with entire margins, glabrous, sticky when young. Flowers are yellowish to greenish yellow, very small, borne on terminal short racemes. Sepals are 3 to 4, oblong. Petals are absent. Fruit is rounded, membranous, somewhat two-lobed, about 18 millimeters across, including the two wings. Wings are very thin, rounded, about 12 millimeters long. Seeds are dark brown or black.
Distribution
- Native to the Philippines.
- Throughout the Philippines, along the seashore and in regions subject to a pronounced dry season, extending inland and ascending to 2,000 meters.
- Native range is tropical and subtropical coasts. A shrub or subshrub that grows primarily in seasonally dry tropical biome.
(25)


- Now Pantropic.
Constituents
- The active principle is an acid resin.
- Leaves contain two acid resins, gum, albumen, tannin, and ash.
- Study of leaves yielded an carbohydrates, flavonoids, fixed oil, proteins and amino acids, saponins, steroids and sterols, tannins, and triterpenoids.
- Aqueous leaf extract yielded alkaloids, terpenoids, flavonoids, and saponins. (see study below) (27)
- Phytochemical analysis yielded one flavanone: 5,7-dihydroxy flavanone (pinocembrin) (1) and eight flavones, viz., 5,7-dihydroxy-3,6,4'-trimethoxyflavone (santin) (2), 5,7,4'-trihydroxy-3-methoxy flavone (kaempferol 3-O-methyl ether) (3), 3,4',5-trihydroxy-7-methoxy flavone (kaempferol 7-O-methyl ether) (4), 3',4',5,7-tetrahydroxy-3-methoxy-flavone (quercetin 3'-O-methyl ether) (5), 3,3',4',5,7-pentahydroxyflavone (quercetin) (6), 5,7,4'-trihydroxy-3,6-dimethoxy flavone (7), 5,7-dihydroxy 3,6,3',4'-tetramethoxy flavone (8), and isorhamnetin-3-O-robinobioside (9). (see study below) (28)
- GC-MS analysis of methanolic extract yielded various compounds viz. 3,7,11,15-Tetramethyl-2-Hexadecen-1-Ol; 2,3-Dihydro-3,5-Dihydroxy-6-Methyl; 4H-Pyran- 4-One; 9,12,15-Octadecatrienoic Acid; N-Hexadecanoic Acid, Methyl Ester; 9,12- Octadecadienoic Acid; Phytol Isomer, 2-Hexadecen-1-Ol; 1,2Benzenedicarboxylic and N- Hexadecanoic Acid. (52)
- Crude ethanol extract of leaves yielded tannins, flavonoids, alkaloids, terpenoids, glycosides, steroids, and phenols. (see study below) (53)
- Methanol extract of stems isolated one nor-clerodane diterpene (1) and two labdane diterpenes (2,3), along with 17 known compounds (4-20). (see study below) (59)
- Study of aerial parts isolated a new methylene-bridged bisflavonoid, methylenebissantin (1), and nine known compounds, including flavonoids (2–5), diterpenoids (6 and 7), and phenol derivatives (8–10). (see study below) (61)
Properties
- Bark considered astringent, bitter; leaves, bitter and refrigerant.
- Considered analgesic, anti-inflammatory, antiviral, antifungal, anti-ulcerogenic, spasmolytic, laxative, anti-microbial, hypotensive.
- Studies have shown antimicrobial, antioxidant, anti-diabetic, anti-inflammatory, gastroprotective, wound healing, antifungal, anti-diarrheal, wound healing, reproductive toxicity, hepatoprotective, anticholinesterase, anti-germ tube and biofilm forming, antihyperlipidemic, collagenase inhibitory, tyrosinase inhibitory, antiplasmodial properties.

Parts used
Bark, wood, leaves, fruits.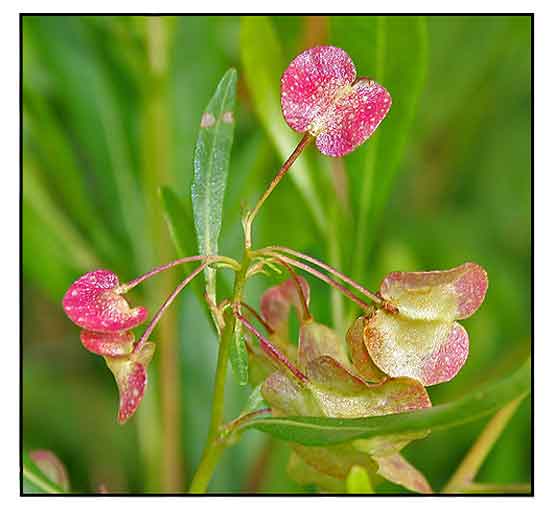 Uses
Folkloric
- In the Philippines, decoction of bark used as effective astringent for humid eczema and simple ulcers. Also considered a good febrifuge.
- Decoction of wood also used as febrifuge.
- In Reunion, infusion of leaves used for sudorific effect.
- In Ethiopia, used for skin diseases.
- In Peru, the sour and bitter leaves are chewed for its stimulant effect, like coca leaves.
- In Madras, leaves are used as poultice.
- In Martinique, the aromatic leaves and fruits are used in bath preparations; lotion used as astringent.
- Decoction used for flatulent colic and as purgative.
- In La Reunion, used for gout and rheumatism. Also, used in baths and fomentations.
- Powdered leaves are applied on wounds which would then heal without scars.
- Leaves are applied to burns and scalds.
- In India, used for headaches, backaches, stomach pains, piles and simple ulcers. Leaves used in treatment of rheumatism, gout, hemorrhoids, fractures, and snake bites.
- In Australia, used for wound healing.
- In Pakistan, leaves are used for fevers and to reduce swelling. Fruit and bark used to treat diarrhea; externally, used to help wounds heal.
- Australian aborigines chew leaves for relief of toothache. Chewed leaf pulp are used as binding wads for jelly fish and stonefish stings; juice from prepared wads used as antiseptic. Smoked leafy branches used for flu-like fever and body aches, and for loosening phlegm. (31)
- In Papua New Guinea, leaves used by women to become sterile; leaves rubbed over the womb after having eaten Colocacia antiquorum or Ipomoea batatas. Heated leaves made into a poultice for boils and sores. Bark decoction drunk to treat dysentery. (34)
- Used by mothers to stimulate lactation. Used for treatment of dysentery, digestive disorders, skin problems, and rheumatism. (38)
- In Peru, used as folk remedy for rheumatism and bone pain.
- In Yemen, used for treatment of malaria.
- In Tamil Nadu, India, Irula tribes use the plant for treatment of rheumatism, skin infections, diarrhea, stomachaches, hepatic and splenic pains, uterine colic, sore throat, hemorrhoids, and as antipruritic. (60)
Others
- Wood: Extremely tough and durable. In New Zealand, it is the heaviest of any native wood. The Maori used it for making weapons, carved walking staves, axe-handles, weights on drill shafts. Also used for house building and as firewood. (38)
- Agroforestry: Used for dune stabilization, reforestation, and remediation of polluted lands. (38)
- Dye: Fruit yields a red dye. (38)
Studies
• Anti-Inflammatory: Study showed no inhibition of COX-2 and no effect on PGE2 production. Alternative mechanisms for anti-inflammatory activity is considered, such as the alternate arachidonic acid metabolite - 5-lipoxygenase.
• Antioxidant: The hot water extract showed the greatest antioxidant activity, followed by ethanol extracts. Activities were attributed to flavonoids and/or saponins.
• Wound Healing: Initial studies suggest extracts have a strong proliferative effect on fibroblast growth.
• Antifungal: Study showed solvent extracts of leaves and shoots of Dodonaea viscosa were effective against all tested fungi - Aspergillus niger, A flavus, Paecilomyces varioti, Microsporum gypseum and Trichophyton rubrum. All crude extracts were effective against tested fungi, with the chloroform extract showing the stronger inhibition compared to ethanol, methanol, EA, and aqueous extracts. (2)
• Dermal Toxicity Studies: Study evaluated the dermatotoxicity of an 80% methanol leaf extract in animals in standard measures of irritation, sensitization, acute and repeated toxicity tests. Skin irritation test in rabbits showed slight or negligible irritation, with primary irritation index of 0.45. Sensitization test in mice by mouse ear swelling showed it was a non-sensitizer at dose range of 12-30 mg/mL. Acute and repeated dermal toxicity tests on rats showed no overt signs of toxicity. Results showed that dermal application of D viscosa was not associated with any toxicologically relevant effects and provides data of preclinical evidence of safety for clinical trials on the plant extracts. (3)
• Antibacterial: (1) Study showed promising antimicrobial activity against both Gram positive and negative organisms. (2) Study of 16 selected plants from different localities in Yemen, the methanolic extract of D viscosa was one of eight that showed the highest antimicrobial activity and one of six with high free radical scavenging activity.
• Anti-Diabetic / Hypolipidemic / Antioxidant: Study water extract and polar fraction of ethanol extract of DV in streptozotocin-induced diabetic rats showed dose-dependent reduction in glucose levels and restoration of altered lipid levels. Results suggest antioxidant effects might play a role in the observed antidiabetic and hypolipidemic activities. (6)
• Anti-Diabetic: Results of study of DVW and DVE-4 in high-fructose diet-induced insulin resistance in rats showed pharmacologic evidence of DV in treatment of prediabetic conditions and the effects probably mediated by interacting multiple targets operative in diabetes mellitus - decreased oxidative stress by improving endogenous antioxidants, inhibition of protein tyrosine phosphatase, partial inhibition of dipeptidyl peptidase-IV. (7)
• Anti-Diabetic / Leaves: Study of methanol extract of leaves in normal and STZ-diabetic rats indicated antidiabetic and antioxidant effect in diabetic rats.
• Gastroprotective: Phytochemical screening yielded flavonoids, saponins, bitter principles and phenols. Results showed dose-dependent inhibition of indomethacin-induced gastric lesions. The hexane extract decreased the total amount of total acid in gastric juice. Toxicity studies showed no toxicological signs in rats.
• Chemopreventive in Lead Poisoning: Treatment with the flavonoidal drug, D viscosa to lead-poisoned rats resulted in decrease levels of glycoproteins and sialic acid contents in liver and plasma. Plant flavonoids are considered natural antioxidants, providing protection against membrane damages during hepatic and renal toxicity. Results suggest the flavonoids rich D viscosa leaves attenuate lead acetate-induced alterations and offer a potential as chemopreventive agent against lead poison in rats.    (8)
• Antifungal / Adherence to Oral Epithelial Cells: DV var angustifolia inhibited the adherence of C albicans to oral epithelial cells, which is the initial step of colonization in the infection process. (9)
• Gastroprotective / Toxicity Study: A hexane extract dose-dependently inhibited ethanol-induced gastric lesions and indomethacin-induced gastric lesions. Acute toxicity studies at higher doses did not manifest any toxicological signs in rats. Phytochemicals showed flavonoids, saponins, bitter principles and phenols. (13)
• Hautriwaic Acid / Anti-Inflammatory / Leaves: Study identified bioactive diterpene substance identified as hautriwaic acid (HA). The diterpene exhibited good anti-inflammatory activity in TPA mice ear edema models. (17)
• Antimicrobial / Leaves: Study evaluated various extracts for antimicrobial activity against Pseudomonas aeruginosa, Klebsiella pneumonia, Aspergillus niger, Trichoderma viride and Candida albicans. Leaf extracts showed the highest inhibitory activity. (18)
• Anti-Diarrheal / Roots: Study evaluated alcohol and aqueous extracts of roots in castor oil induced diarrhea in mice. Results showed significantly reduced diarrhea in mice with reduction in weight of stools. (19)
• Anti-Diabetic / Leaves: Study evaluated various leaf extracts for anti-diabetic activity in normal and alloxan-induced diabetic rats. Aqueous and butanol extracts showed significant anti-diabetic activity. Blood glucose levels were lowered to normal in glucose tolerance test. Effect was comparable with that of glibenclamide. (20)
• Antifertility Effect / Seeds: Study evaluated various extracts of seeds for anti-fertility activity in female albino rats. Ethanol extract and fractions showed significant anti-fertility activity which was reversible upon withdrawal of treatment. (21)
• Neuropharmacological Effects / Seeds: Study of an ethanolic extract of seeds showed neuropharmacological effects with potentiation of phenobarbitone-induced sleeping time, reduced locomotion without motor incoordination. (22)
• Hypoglycemic Activity / Leaves: Study evaluated leaf extracts in normal and alloxan-induced diabetic rabbits. Results showed significant reduction of blood glucose levels in both normal and alloxan-induced diabetic rats. (23)
• Wound Healing Activity / Ointment: Topical administration of a methanolic extract of Dodonaea viscosa ointment showed wound healing activity with facilitation of healing as evidenced by increase tensile strength in the incision model and faster epithelizaton and higher wound contraction in the excision model. (24)
• Anti-Inflammatory / Polyphenols and Flavonoids: Study evaluated the anti-inflammatory activity of ethanolic extract of D. viscosa in induction model of granulomatous tissue and the total polyphenols and flavonoid content. Results showed significant anti-inflammatory activity with 54.46 ±3.99% inhibition of the formation of granulomatous tissue. The measurements of total polyphenols and flavonoids were 16.89±1.02% and 15.20±1.35%, compared to standards of gallic acid and rutin, respectively. (26)
• Toxicological Study / Leaves: Study investigated the toxicological effect of oral administration of aqueous leaf extract of Dodonaea viscosa in albino rats. Leaf extract produced significant (p<0.05) changes in AST, ALT, unconjugated bilirubin and globulin. No deaths were reported in the acute toxicity test. At doses administered, the aqueous leaf extract of D. viscosa does not appear to be toxic. (see constituents above) (27)
• Flavones / Anti-Liver Fibrosis / Antioxidant: Study investigated the phytochemical constituents and activity against liver fibrosis induced by carbon tetrachloride (CCl4) in rats. Phytochemical analysis yielded one flavanone: 5,7-dihydroxy flavanone (pinocembrin) (1) and eight flavones. An ethanol extract and compounds 5, 6, and 7 exhibited strongest antioxidant activities. Treatment with extract and fractions attenuated the increments of MDA, AST, ALT, ALP, GGT, total protein, and increased GSH and SOD levels, with the ethanol extract showing the most potent effect. (see constituents above) (28)
• Anti-Diabetic / Leaves: Study investigated a methanolic extract of leaves of D. viscosa and pods of Wrightia tinctoria for antidiabetic activity. Results showed D. viscosa extract enhanced the uptake of glucose by isolated rat hemi-diaphram significantly (p<0.01) more than W. tinctoria, and nearly as effective as insulin. (29)
• Topical Formulation as Anti-Inflammatory and Antiarthritis / Antioxidant: Study evaluated whether extracts of D. viscosa subsp. could provide for biologic activity in topical formulations for dermatitis and as anti-inflammatory and antiarthritis. Leaves extracted with ethanol provided sufficient flavonoid for therapeutic actions. It exhibited antioxidant activity by peroxyl trapping in vitro method. Ethanol extract of leaves stimulate human dermal fibroblast growth suggesting wound healing potential. Results suggest testing of formulations on humans in small clinical studies. (30)
• Wound Healing by Cell Proliferation Assay: Study investigated an ethanol extract and flavonoid-rich fraction on a simplified in vitro wound healing study. The flavonoid-rich fraction induced significant cell proliferation after 48 hours exposure, with greater efficiency than the ethanol extract. The cell proliferation assay can be used as a platform for evaluating a plant's wound healing property. (32)
• Antibacterial / Inhibitory Effect on Cariogenic Oral Pathogens: Study investigated the effect of D. viscosa var. angustifolia (DVA) on the virulence property of cariogenic Streptococcus mutans and Porphyromonas gingivalis implicated in periodontal diseases. DVA had no effect on acid production by S. mutans, but significantly inhibited acid production in planktonic cells. DVA significantly reduced Arg-gingipain (24%) and Lys-gingipain (53%) by P. gingivalis (p≤0.01). Results suggest DVA has potential for use in controlling oral infections including dental caries and periodontal disease. (33)
• Female Antifertility Effects / Leaves: Study investigated antifertility efficacy of methanolic extract of leaves of Dodonaea viscosa in female rats. Results showed the extract administered by oral route significantly reduced (p,0.01) the number of litters in a dose-dependent manner. The extract showed early abortifacient activity and significantly prolonged anti-implantation. (35)
• Male Antifertility Effects / Leaves: Study revealed medicinal plants Melia azedarach and Dodonaea viscosa leaf extracts possess antifertility activity, with decrease sperm count, reproductive organ weights, and necrotic changes in the seminiferous tubules of testis. (36)
• Antinociceptive / Viscosine: In a study for potential analgesic components, the principal flavonoid component, 5,7,4'-trihydroxy-3,6-dimethoxyflavone (vicosine) was isolated. Vicosine, tested in acetic acid-induced writhing and hot plate analgesic models, showed significant (p<0.05) antinociceptive activity in a dose dependent manner, probably through both central and peripheral mechanisms. (37)
• Hepatoprotective / Antihyperlipidemic / Leaves: Study evaluated the antihyperlipidemic and hepatoprotective activity of D. viscosa leaves extract in alloxan-induced diabetic rats. Oral administration of aqueous:methanol (70:30) extract of leaves significantly (p<0.01) decreased elevated triglyceride, total cholesterol and LDL cholesterol to normal values, and significantly increased HDL-C. The antihyperlipidemic effect may be due to decreased cholesterogenesis and fatty acid synthesis due to extract supplementation. The reduction in AST and ALT levels suggest protection from adverse effects of lipid peroxide-mediated tissue damage in alloxan-induced diabetic rabbits. (39)
• Reproductive Toxicity: Study evaluated the reproductive toxicity of D. viscosa in experimental animals, using Zebrafish embryos as in-vivo developmental toxicity animal model. A crude extract and hexane fraction induced higher level of toxicity compared to chloroform and butanol fractions. GC-MS study yielded two major compounds viz. phytol and methyl ester of hexadecanoic acid. Results suggest reproductive toxicity and cautions on use and closely monitored doses in pregnant patients. Detailed studies were suggested on pregnant experimental animals. (40)
• Cytotoxicity Effect on Colon Cancer Cell Line (HT29) / Leaves: An ethanol extract of leaves exhibited major inhibitory effect to human colon cancer cells (HT-29) compared to different fractions. It did not show detectable cytotoxic effect on epidermal cells from mouse (3T3), slight cytotoxic effect against HT-29 tumor cells compared to 5-FU. (41)
• Antioxidant / Analgesic / Cytotoxic / Flowers: Study evaluated an 80% ethanolic extract of flowers for antioxidant, analgesic, and cytotoxic activities. Fractionation of the extract isolated 14 natural bioactive compounds viz. a novel one, 6-OH-kaempferol-3,6-dimethylether- 4`-glucopyranoside besides 13 known compounds including one kaempferol glycoside, three methylated kaempferol,onequercetin glycoside, five methylated quercetin and three aglycones. The 300 µL extract concentration showed most potent antioxidant activity by DPPH radical scavenging method with 82.09% inhibition. Cytotoxic activity against breast cancer cell line (MCF-7) showed IC50 of 19.4 µg/ml compared with standard Cisplatin with IC50 of 5.48 µg/ml. Anti-nociceptive testing at 200 µL concentration showed significantly (p<0.05) increased response time in hot plate method and decreased number of writhes in acetic acid writhing test. (42)
• Antifungal on Candida albicans from HIV-Infected Patients: Study evaluated the MIC and time taken to kill Candida albicans compared with chlorhexidine gluconate (CHX) and triclosan (TRN). Investigation used 41 strains of C. albicans from HIV+ (20) and HIV-(20) patients and C. albicans ATCC 90028. Results showed D. viscosa var. angustifolia has antifungal properties and is more effective than commercially available mouthrinses. (43)
• Antiulcerogenic / Leaves: Study conducted bioactivity-guided fractionation studies of D. viscosa leaves using experimental gastric ulcer models. Of all tested extracts, ethyl acetate extract showed significant activity in all selected parameters viz. 58% inhibition of ulcers, significant reduction in free acidity, total acidity and ULI (p<0.05). The antiulcer activity may be attributed to cytoprotective and healing activity of flavonoids. The antiulcer activity of flavonoids is attributed to their free radical scavenging effect and ability to inhibit cyclooxygenase responsible for the synthesis of inflammatory prostaglandin. (44)
• Antioxidant / Anticholinesterase Activities / Aerial Parts: Study of aerial parts isolated six compounds, clerodane diterpenoids (1 and 2) and phenolics (3-6), along with three crystals (1A, 3A, and 7A). Compound 3A exhibited good antioxidant activity by DPPH assay (IC50 27.44 µM), superoxide inhibition (28.18% at 100 µM) and CUPRAC (A0.5:35.89 µM) assays. Compound 5 showed best activity in ABTS assay (IC50 11.02 µM) and compound 6 in ß-carotene-linoleic acid assay (IC50 14.30 µM). Phenol 6 showed moderate anticholinesterase activity against acetylcholinesterase enzymes (IC50s 158.14 and 111.60 µM, respectively). (45)
• Inhibition of Germ Tube and Biofilm Formation by Candida albicans / Leaves: The virulence factors of Candida albicans are germ tube and biofilm formation, adherence to host tissues, and production of hydrolytic enzymes. Study evaluated the effect of D. viscosa var. angustifolia leaf extract on germ tube and biofilm formation of C. albicans. Three concentrations of leaf extract were inoculated with C. albicans. Crude plant extract significant concentration dependent (p<0.01) reduction of germ tube formation at 3.125 (85.36%), 1.56 (61.91%), and 0.78 mg/mL (26.27%). Scanning electron microscopy (SEM) showed concentration dependent reduction in biofilm and hyphae formation. The extract exhibited ability to reduce virulence of C. albicans by inhibiting germ tube and biofilm formation through damage to cell wall. (46)
• Hautriwaic Acid / Hepatoprotective / Whole Plant: Study evaluated the hepatoprotective potential of methanolic extract and fractions of whole plant against carbon tetrachloride toxicity in rats. The ME reduced serum enzyme levels (AST, ALT, and ALP) down to control levels despite CCl4 treatment, and reduced histological damage to 0%. CD68+ macrophages were reduced in number around the central vein. The hepatoprotective effects were better than positive control silymarin. HPLC fingerprinting suggested that hautriwaic acid present in the ME and EA and aqueous fractions may be responsible for the hepatoprotective effect. (47)
• Antiviral / Effect on Replication of Coxackie Virus and Rotavirus / Leaves: Study evaluated the in vitro antiviral activity of various extracts of D. viscosa leaves against coxackievirus B3 (CVB3) and rotavirus SA-11 (RV SA-11) infections. Results showed reduction in virus titre for CVB3 and RV SA-11. Crude extract showed potent inhibition of CVB3 and RV SA-11 replication by binding to a viral capsid of CVB3 and viral receptor of RV SA-11 preventing viral entry into host cells for both viruses. (48)
• Anticancer / Human Breast Cancer MDA-MB231 Cell Line / Leaves: Study evaluated the anticancer activity of D. viscosa leaves ethanol extract against human breast cancer MDA-M231 cells using MTT assay, cell morphology, flow cytometry analysis. Results showed IC50 75 µg/ml, inhibition of proliferation of MDA-MB231 cells. There was induction of apoptosis through cell cycle arrest at S phase and reduced mitochondrial membrane potential with increase of concentrations. Results suggest a potential candidate for prevention of breast cancer. (49)
• Renal Protective Staphylococcus aureus Infection: Study evaluated the potential effects of D. viscosa extract to treat kidney tissue changes of rats infected with Staphylococcus aureus. Sections of infected rat with S. aureus showed damaged glomerulus, necrosis of tubules cells and infiltration of mononucleated inflammatory cells and thickened renal vessel walls. After extract treatment, histological structure of the kidney showed improvement, the glomeruli returned to semi-normal state, and mononucleated inflammatory cells were absent. Results suggested antibacterial activity and improvement in rat kidney structure. (50)
• Antimicrobial Compounds from Leaves: Study evaluated the antimicrobial compounds that can be extracted from methanol extract and fractions from leaves of D. viscosa and assessed their potency using invitro agar diffusion method. The compound 3, 5, 7, 3′,4′-pentahydroxyflavone (1) and as 6-hydroxy-5, 8, 9-trimethyl-18-carboxylclerodane (2) were isolated from the leaves of D. viscosa. Results showed all extracts and isolated pure compounds showed significant antimicrobial activity against applied microbial strains. (51)
• Antimicrobial / Biofilm Inhibition /Anticancer / Leaves: Study evaluated the potential of partially purified bioactive compounds from D. viscosa against certain human pathogens, antibiofilm, and anticancer activities. Ethanol extract exhibited maximum zone of inhibition (11 mm) against S. agalatiae, B. cereus, S. typhi, and E. coli at 15 mg. Fractions Dv12 and Dv2 exhibited maximum ZOI against B. cereus. B. cereus, S. aureus, S. typhi, and K. pneumonia showed 31.1 - 53.6% biofilm inhibition. Active fractions pf Dv12 and Dv20 increased concentration showed gradual decrease in cell density and growth inhibition towards A549 human lung adenocarcinoma cells. (53)
• CNS Activity / Stem Bark: Study evaluated the CNS effect of stem bark of D. viscosa in experimental animal models. No mortality or sign of toxicity was observed up to oral dose of 2000 mg/kg. In Elevated Plus Maze (EPM), 200 and 400 mg/kg dose of EA extract produced significant p<0.0005, and p<0.0001 anti-anxiety effect, similar to diazepam. The extract also significantly potentiated phenobarbitone induced sleeping time. (54)
• Removal of Methyl Green from Aqueous Environment: Study reports on synthesis of activated residual Dodonaea viscosa by a simple chemical activation process for a cost-effective and sustainable adsorbent for the efficient elimination of methyl green molecule (MG) from polluted water. (55)
• Silver Nanoparticles / Antibacterial / Anticancer / Leaves: Study reports on the syntheses of AgNPs using various leaf extracts of D. viscosa. The AgNPs showed antibacterial activity with significant zones of inhibition (13-20 mm) against Streptococcus pyogenes. On cytotoxicity testing by MTT assay, the AgNPs were effective in inhibiting growth of A549 NSCLC (non-small cell lung cancer) cells. (57)
• Anthelmintic / Effect on Experimental Schistosomiasis / Aerial Parts: The emergence of resistance to anthelmintic drugs is a worldwide problem and has stimulated a search for alternative to commercial anthelmintics. Study evaluated the antiparasitic effects of aerial parts (leaves) of D. viscosa against Schistosoma mansoni infected mice. Results showed D. viscosa reduced the number of eggs in hepatic tissues of experimentally infected mice and attenuated the rise of AST and ALT, along with reduction in hepatic tissue granuloma size by histopathological exam. (58)
• Collagenase and Tyrosinase Inhibitory Effects / Stems: Methanol extract of stems isolated one nor-clerodane diterpene (1) and two labdane diterpenes (2,3), along with 17 known compounds (4-20). The isolated compounds were evaluated for inhibitory effects on collagenase and tyrosinase. Compound 9, 5,7,4′-trihydroxy-3′-(4-hydroxy-3-methylbutyl)-5′-(3-methylbut-2-enyl)-3,6-dimethoxyflavone showed collagenase inhibitory activity and compound 12, scopoletin, showed significant tyrosinase inhibitory activity. The two compounds have potential for use as cosmetic agents. (59)
• Antiplasmodial / Methylenebissantin / PfENR Inhibition / Aerial Parts: Study of aerial parts isolated a new methylene-bridged bisflavonoid, methylenebissantin (1), and nine known compounds, including flavonoids (2–5), diterpenoids (6 and 7), and phenol derivatives (8–10). Isolated compounds were evaluated for inhibition of Plasmodium falciparum enoyl-ACP reductase (PfENR). Methylenebissantin (1) exhibited moderate inhibition of PfENR with IC50 of 91.13 µM. (61)

Availability
- Wild-crafted.
- Seeds in the cybermarket.