Gen info
- Terminalia is a genus of large trees of the flowering family Combretaceae, comprising nearly 300 species distributed in tropical regions of the world. (6)
- The genus name derives from the Latin terminus, referring to the leaves appearing at the very tips of the shoots. (6)
Botany
Kalamansanai is a large deciduous tree, with an open, flat-topped crown, reaching a height of 30 meters. Trunk is straight, cylindrical, up to 70 centimeters in diameter. Leaves are alternate, crowded towards the ends of the twigs, leaving scars after falling, obovate-oblong to suboblong, 9 to 14 centimeters in length, and 4 to 6 centimeters wide, with the tip abruptly but sharply pointed, and a pointed base. Flowers are in axillary racemes, small, yellowish-green, and almost without stalks. Fruit is dry, indehiscent, about 4 centimeters wide, and furnished with two opposite, spreading, rounded wings.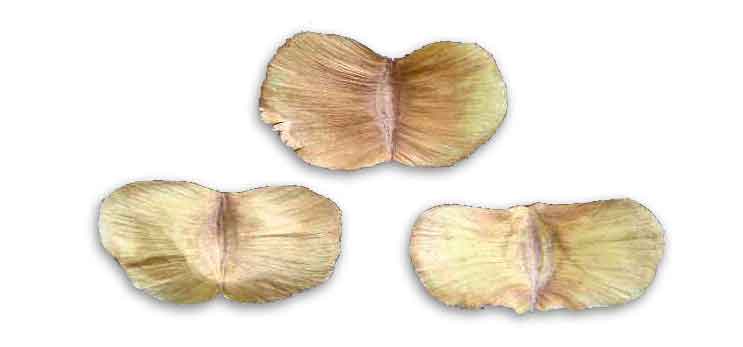 Distribution
- In most islands and provinces from the Babuyan Islands and northern Luzon to Palawan and Mindanao.
- Native to the Philippines and the South Pacific Islands.
- Reported in Indo-China, Myanmar and Thailand.
- Cultivated in NE India.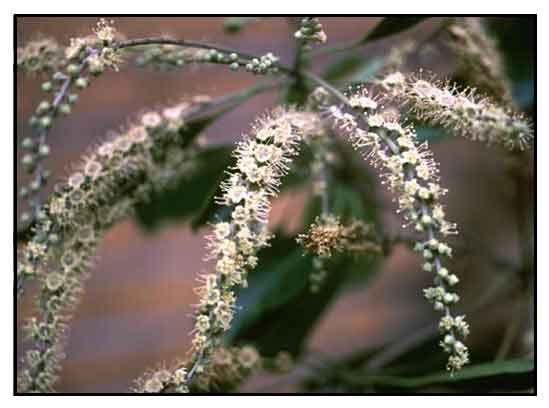 Constituents
- Study of leaves isolated ellagitannins: 1-α-O-Galloylpunicalagin, punicalagin, 2-O-galloylpunicalin, sanguiin H-4, and methyl gallate as main components.

Properties
- Astringent and lithotriptic.
- Study gas suggest anti-cancer properties.

Parts used
Bark.

Uses
Edibility
- Seeds are eaten, raw or cooked.
- Fruits are eaten raw. (4)
Folkloric
- In the Philippines, bark is astringent and lithotriptic. Used internally and externally.
Others
- Wood: Seldom used for construction because it is not durable. Used for foundation piles, cheap or temporary construction, ties, paving blocks and mine timbers. (4)

Studies
• Ellagitannins / Induced Apoptosis / Anti-Cancer: A 70% acetone extract of leaves inhibited the viability of human promyelocytic leukemia HL-60 cells. Isolated compounds induced-apoptosis of HL-60 cells. Results suggest a potential for 2-O-Galloylpunicalin and sanguiin H-4 for drug development for cancer treatment and prevention. (2)
• Tannins / Ellagitannins: Study isolated four new ellagitannins, calamansanin and calamanins A, B, and C, together with ten known tannins and related compounds from the leaves. (3)
• Anticancer / Induced Apoptosis in HL-60 Cells / Ellagitannins / Leaves: A 70% acetone extract of leaves of T. calamansanai leaves inhibited the viability of human promyelocytic leukemia HL-60 cells.
1-Alpha-O-galloylpunicalagin, punicalagin, 2-O-galloylpunicalin, sangulin H-4, and methyl gallate were main components isolated with IC50s of, 65.2, 74.8,, 42.2, 38.0, and > 100 microM, respectively for HL-60 cells. 2-O-Galloypunicalin and sangulin H-4 induced a decrease of the human poly(ADP-ribose) polymerase (PARP) cleavage-related procaspase-3 and elevated activity of caspase-3 i HL-60 cells, but not human peripheral blood mononuclear cells (PBMCs), suggesting potential for both compounds as new candidates for drug development for prevention and treatment of cancer. (7)
Availability
Wild-crafted.