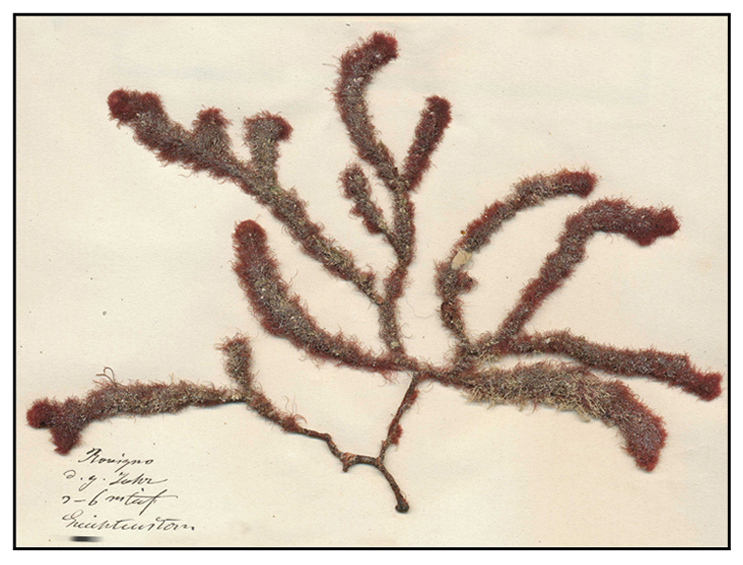 Botany
Kai-jin-so is a red alga, 5 to 10 centimeters long with rounded thallus, the branching irregular and dichotomous. Upper part of the plant is clothed with slender but stiff polysiphonous rumelli and often overgrown with various epiphytic algae. Color is purplish red turning greenish or grayish upon drying.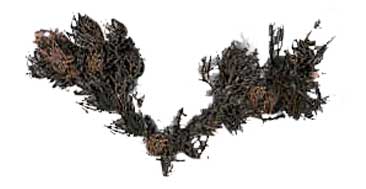 Distribution
- Common in the Batanes Islands, the east coast of Luzon and in Palawan.
- The seaweed grows chiefly on rocks or coral chips at a depth of 1.5 to 7 meters below the water level. Surface growth is not very abundant.
- Also reported in the southern part of Taiwan, the West Indies, in the Ryuku, in the southern part of Kyushu Island in Japan, and the Pratas Island in China.
Constituents
- Active principle as been identified as kainic acid.
- In Japan, kainic acid is derived from the seaweed, sold commercially as anthelmintic.
- Contains a kind of mucilage similar to agar-agar and related to arabin.
- In Japan, alga extract is called macnin.
- A Chinese study yielded algenic acid, a small amount of unidentified alkaloid, galactan, fucoidin and iodine.
- Study yielded sugar, uronic acids, sulfate, betaines, amino acids.
- An aqueous extract isolated seven Dragendorff-positive compounds. Two metabolites were assigned structures (R)-3-dimethylsulfonio-2-methoxypropanoate and (S)-2-acetamido-5-trimethylammoniopentanoate. (7)

Properties
- Seaweed grows chiefly on rocks or coral chips at depth of 1.5 to 7 meters below water level.
- Surface growth is not very abundant.
- Non toxic.
- Anthelmintic.

Parts used
Whole plant.

Uses
Folkloric
- In China, used as both anthelmintic and as laxative for infants supposed to be infected with "womb poison."
- Used in the treatment of Ascaris and Oxyuris.
- In Japanese folk medicine, use to rid the body of intestinal worms.
- Helminal, according to the United States Dispensatory, is an extract derived from Digenea simplex.

Studies
• Chemical Composition / Antioxidant Activities: Study of three algal samples, including Digenea simplex, yielded sugars, uronic acids, sulfate, amino acids and small amounts of betaines. All three algal extracts showed antioxidant activities on lipoxygenase, DPPH and Ames testing.
• Kainic Acid: In 1953, was isolated from the seaweed, Kainin-sou (Makuri) in Japan. Kainin-sou has been used as anthelmintic in Japan. Kainic acid is a potent CNS stimulant, a prototype neuroexcitatory amino acid acting on specific kainate receptors, used for seizure induction in experimental animals. (4)
• Celecoxib in Rat Brain after KA Administration: Kainic acid (Kainate, KA) is a minor amino acid found in Diginea simplex seaweed. Subcutaneous injection in rat induced limbic seizures. The KA-induced seizures in rat provide a model of centrally mediated, high level COX-2 induction. Study showed kainate's profound excitotoxic stimulus elicits selective high level production of PGE2 and PGF2a in the brain, accompanied by high level expression of COX-2 and PGE synthetase -- providing a model for evaluation of pharmacologic activity of inhibitors of enzymes in the PG biosynthetic pathway. (5)
• Anti-Inflammatory and Antinociceptive Polysaccharides: Study investigated the anti-inflammatory and antinociceptive activities of polysaccharide (PLS) fraction isolated from marine red algae Digenea simplex. Results showed dose-dependent reduction of carrageenan-induced edema, and inhibition of inflammation induced by dextran, histamine, serotonin, and bradykinin. The fraction inhibited neutrophil migration into both mouse paw and peritoneal cavity. Findings conclude PLS possess anti-inflammatory and antinociceptive activities and has a potential as an agent aginst inflammatory diseases. (6)
Availability
- Wild-crafted.
- Dried and sold in Japanese and Chinese apothecaries.
- Tablets and extracts in the cybermarket.