Gen info
- Neolamarckia cadamba is an evergreen, tropical tree native to South and Southeast Asia.
- The genus name Neolamarckia honors French naturalist Jean-Baptiste Lamarck.
- Since the 1930s, the botanical name of the species has been the subject of taxonomic analysis and debate. The conflicts arising from issues concerning specimens and their origins, and the confusing and conflicting synonyms given to them. (31)
- Etymology: The genus name Neolamarckia derives from Greek anthos and kephalos, referring to the ball-shaped flowering heads. The specific epithet cadamba refers to its place of origin.
Botany
• Kaatoan-bangkal is a medium-sized to large tree growing 15 to 45 meters high. Bark is gray, smooth in young trees, rough and longitudinally fissured in old trees. Bole is straight and cylindrical, branchless for up to 25 meters, with small buttresses and a broad crown. Leaves are large, 15 to 50 centimeters long and 8 to 25 centimeters wide, glossy green, opposite, ovate to elliptic, with acute to acuminate apex, loosely arranged, petioled with lanceolate stipules. Flowers are occur in terminal, solitary heads, 3 to 5 centimeters wide. Corolla is funnelform with five lobes. Fruits are united and embedded in a receptacle.
• It is a large tree with a broad crown and straight cylindrical bole. A fully mature tree can reach up to 45 m (148 ft) in height. It is quick growing, with broad spreading branches and grows rapidly in the first 6–8 years. The trunk has a diameter of 100–160 cm, but typically less than that. Leaves are 13–32 cm (5.1–12.6 in) long. Flowering usually begins when the tree is 4–5 years old. Flowers are sweetly fragrant, red to orange in colour, occurring in dense, globular heads of approximately 5.5 cm (2.2 in) diameter. The fruit of N. cadamba occur in small, fleshy capsules packed closely together to form a fleshy yellow-orange infructescence containing approximately 8000 seeds. On maturing, the fruit splits apart, releasing the seeds, which are then dispersed by wind or rain. Stamens 5, inserted on the corolla tube, filaments short, anthers basifixed. Ovary inferior, bi-locular, sometimes 4-locular in the upper part, style exserted and a spindle-shaped stigma. Fruitlets numerous with their upper parts containing 4 hollow or solid structures. Seed trigonal or irregularly shaped. (31)
Distribution
- Found in primary forests at low and medium altitudes in the Philippines.
- Occasionally planted along roadsides.
- Also occurs in India, China, Australia, Malaysia, Papua New Guinea.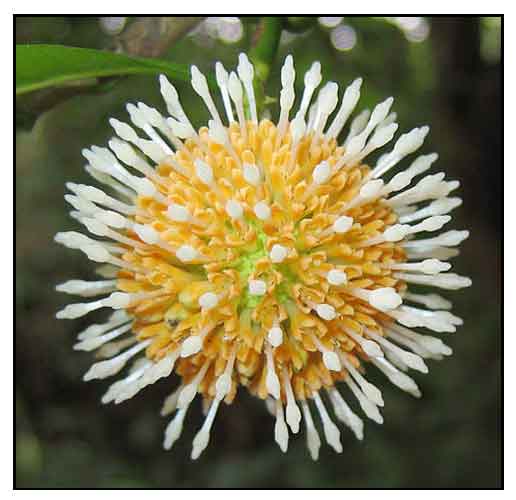 Constituents
- Phytochemical screenings have yielded indole alkaloids, terpenoids, saponins, sapogenins, terpenes, steroids, fats and reducing sugars, glycoside, steroids, fats, and flavonoids.
- Isolated principles are glycosidic indole alkaloids; cadambine, 3a-dihydrocadambine, isodihydrocadambine, and two non-glycosidic alkaloids- cadamine and isocadamine.
- Bark yields tannins and an astringent principle.
- Stem bark yielded a pentacyclic triterpenic acid, cadambagenic acid, along with quinovic acid and ß-sitosterol.
- Leaves have yielded cadamine and isocadamine.
- Leaves yielded nine compounds: clethric acid-28-O-β-d-glucopyranosyl ester , mussaendoside T, β-stigmasterol, hederagenin, ursolic acid, clethric acid, 3β,6β,19α,24-tetrahydroxyurs-12-en-28-oic acid, mussaendoside I, and cadambine. Compounds 1 and 2 were new triterpenoid glycosides. (2)
- Phytochemical screening of leaves yielded saponins, alkaloids, glycosides, and tannins. (see study below) (14)
- Phytochemical screening of methanol and aqueous extracts of roots yielded flavonoids, tannins, saponins, and sugars. The methanol extract yielded alkaloids. (see study below) (8)
- Phenolic, flavonoids, and proanthocyanidins in the leaf methanol extract were 48.0 mg GAE/g DW, 103.3 mg QE/g DW and 106.0 mg CE/g DW, respectively. Values were significantly lower in the fruit methanol extract with 18.0, 15.4, and 47.6, respectively. (see study below) (19)
- Methanolic extract of fruit yielded carbohydrate, phenol, phytosterol, protein and amino acid, terpene and glycoside. (see study below) (20)
- Phytochemical analysis of solvent extract of leaves by GC-MS yielded 26 compounds with major constituents identified as n-hexadecanoic acid (44.88%), hexadecanoic acid ethyl ester (17.96%) and octadecanoic acid ethyl ester (11.71%). (21)
- Methanolic extract of bark yielded alkaloids and tannins. (24)
- Proximate analysis of ripe fruit yields approximately 75% moisture, 2% fat, 3% protein, 18% carbohydrate, and 2% total ash. (32)
- Phytochemical screening of different root extracts yielded presence of alkaloids, carbohydrate, protein, gum, steroid, tri-terpenoid, saponin, flavonoid, and tannin. (35)
- Hydromethanolic extract of bark yielded alkaloids, steroids, glycosides, triterpenoids, carbohydrates, flavonoids, tannins, and phenols, with absence of protein and amino acids. (see study below) (38)
Properties
- Bark considered tonic, bitter, pungent, acrid, astringent, febrifuge, hypoglycemic, anti-inflammatory, digestive, carminative, diuretic, expectorant, antiemetic, wound-healing.
- Studies have shown antimicrobial, antioxidant, anti-diarrheal, wound healing, anesthetic, antiseptic, antidiabetic, antihepatotoxic, sedative, antiepileptic, thrombolytic, anthelmintic, wound healing, diuretic, laxative, genoprotective, hypocholesterolemic, immunomodulatory, anti-ulcer, antinociceptive properties.

Parts used
Bark, flowers, leaves.

Uses
Edibility
- Flowers used as vegetable.
- Ripe fruits are reportedly edible. (see constituents: 32)
Folkloric
- No reported folkloric medicinal use in the Philippines.
- Decoction of leaves used for ulcers, wounds, and menorrhea.
- Leaves used in treatment of snake bites.
- In the Western Ghats, paste used for treating skin diseases.
- In Ayurveda, plant used in the treatment of fever, anemia, uterine problems, skin diseases, leprosy, and to improve semen quality.
- Bark decoction used for diarrhea, dysentery, colitis. Bark used for skin infections.
- In Bangladesh, leaves used for to control sugar level in diabetics.
Others
- Myth / Ritual: There is belief in various religions that God lives inside the Cadamba tree. It figures in many Indian rituals and mythologies. (•) The tree was closely associated with the life of Lord Krishna (Hindi Deity). The word Kadamba also lends its name to the Kadamba Dynasty (345-525 AD). (31)
- Ornamental: Cultivated for ornamental use.
- Forage: Study showed high forage quality for ruminants and non-ruminants. (see study below) (23)
- Wood: A lightweight hardwood with poor durability. Pulp used for paper-making. Also, potential for use in wood-based industry: particleboard, medium density board and chipboard manufacturing. (see study below) (29)
- Essential oil: Scented orange flowers are used in perfumes. Flowers used as raw material for the production of 'attar', which are Indian perfumes with sandalwood base.
- Agroforestry: Suitable for intercropping. Also suitable for reforestation programmes. (34)
- Others: Leaves sometimes used as serviettes or plates.

Studies
• Analgesic / Anti-Inflammatory / Leaves: (1) Defatted aqueous extract of leaves of N. cadamba showed significant analgesic and anti-inflammatory activity. (2) Leaf extract showed significant reduction in the number of writhing induced by acetic acid and increased reaction time in hot plate test.
• Antipyretic: Various extracts ( cholorform, ethanol, distilled water) showed significant antipyretic activity.
• Antifungal: Alcoholic and aqueous fruit extracts showed significant antifungal activity against Candida albicans, T. rubrum, Microsporum, Aspergillus niger.
• Diuretic / Laxative: Methanol extract of bark of Neolamarckia cadamba exhibited significant diuretic activity. A chloroform extract produced significant laxative property.
• Hypolipidemic / Laxative: Study of root extract in alloxan-induced diabetic rats showed significant decreases in total cholesterol, phospholipids, triglycerides and lipid peroxides.
• Antioxidant: Study showed potent antioxidant activity by inhibiting lipid peroxidation and increase in the superoxide dismutase and catalase activity.
• Antimicrobial / Wound Healing: Studies have reported potent antibacterial and antifungal activities against E coli, Micrococcus luteus, B. subtilis, S. aureus, P. aeruginosa, K pneumonia, P. mirabilis, Candida albicans, A. niger, A. flavus among others. Study showed potent wound healing capacity as shown by wound contraction and increased tensile strength.
• Triterpenoid Glycosides: Leaves yielded nine compounds: clethric acid-28-O-β-d-glucopyranosyl ester , mussaendoside T, β-stigmasterol, hederagenin, ursolic acid, clethric acid, 3β,6β,19α,24-tetrahydroxyurs-12-en-28-oic acid, mussaendoside I, and cadambine. Compounds 1 and 2 were new triterpenoid glycosides. (2)
• Antibacterial / Fruits: Alcoholic and aqueous extracts of fruits showed significant antibacterial activity against Staphylococcus aureus, E. coli, Pseudomonas aeruginosa. (5)
• Hypoglycemic / Bark: Study of methanol bark extract in alloxan-induced diabetic mice exhibited significant hypoglycemic effects. Phytoanalysis revealed flavonoids, possibly stimulating or possessing an insulin-like effect. (7)
• Glucose Lowering / Roots: Study evaluated methanol and aqueous extracts of roots of Anthocephalus cadamba in rat models. Results showed significant dose-dependent blood glucose reduction in both normoglycemic and alloxan induced diabetic rats. (see constituents above) (8)
• Sedative / Antiepileptic / Bark: Study evaluated a methanol extract of bark extract in various experimental animal models (pentylenetetrazole, isoniazid, and maximal electroshock-induced seizure) for protective effect against absence and generalized type seizures. Results showed the ACE exhibited sedative and antiepileptic activities. (10)
• Genoprotective / Antioxidant: Study of methanol extract of bark showed good genoprotective potential comparable to gallic acid. The extract also showed potent antioxidant activity in all the assays. (12)
• Antihyperglycemic / Leaves: Study evaluated the possible glucose tolerance efficacy of a methanolic extract of Neolamarcka cadamba leaf using glucose-induced hyperglycemic mice. Results showed statistically significant oral hypoglycemic effect at two of the highest doses—200 and 400 mg extract per kg body weight. (14)
• Cytotoxic / Thrombolytic / Anthelmintic / Stem: Study evaluated the cytotoxic, anthelmintic, and thrombolytic activity of methanol extract of stem of Neolamarckia cadamba. On brine shrimp lethality bioassay, the extract showed an LC50 of 130.617±0.82 µg/ml, with vincristine sulfate as standard. The extract showed clot lytic activity (39.97±4.67%) compared to streptokinase's (48.82±2.35%). At highest concentration of 10 mg/ml, results showed significant anthelmintic activity compared to standard levamisole. (16)
• Alkaloids as Corrosion Inhibitor for Mild Steel: Study reports on the inhibition effect of Neolamarckia cadamba crude extract of bark and leaves and pure alkaloid (3b-isodihyd- rocadambine) on mild steel corrosion in 1 M HCl medium. Results showed significant reduction of corrosion rate at all concentrations. (17)
• Analgesic / Anti-Inflammatory / Antipyretic / Bark: Study of methanol extract of Neolamarckia cadamba bark showed significant analgesic (writhing and tail immersion test in mice), anti-inflammatory (carrageenan induced paw edema) and antipyretic (yeast induced pyrexia) activity. The oral acute toxicity study was found higher than 3000 mg/kg. (18)
• Antioxidant / Leaves and Fruits: Study evaluated the phytoconstitution and antioxidant properties of leaves and fruits of N. cadamba. Both leaf and fruit extracts exhibited strong DPPH radical scavenging and FE2-chelating activities. Antioxidant activity correlated with their phenolic contents. (see constituents above) (19)
• Membrane Stabilizing / Anthelmintic / Antioxidant / Fruits: Study evaluated a methanolic extract of fruits for membrane stabilizing, anthelmintic, and antioxidant properties. Extract showed good membrane stabilizing activity inhibiting both hypotonic solution and heat induced hemolysis in comparison to acetylsalicylic standard. Extract showed potent anthelmintic activity on a Pheretima posthuma model, compared to standard drug albendazole. Fruit extract also showed potential antioxidant activity using DPPH free radical scavenging assay. (see constituents above) (20)
• Antioxidant / Leaf, Twig, and Calli Extracts: Study evaluated the antioxidant activity of natural extracts of leaf and twigs of N. cadamba. The TPC (Total Phenolic Content) was highest in the twigs than leaves and calli extracts. Calli from leaves and internodes are an important source of bioactive compounds with the capability to scavenge diverse free radicals, with potential as therapeutic agents for treating radical-related pathogenic cell damages. (22)
• Forage Quality Index: Study evaluated the mimosine content and nutritive values of Neolamarckia cadamba and Leucaena leucocephala in comparison to Medicago sativa (alfalfa hay) as forage quality index. L. cadamba had low mimosine content (0.03%). Crude protein was 20.90%. Crude protein, crude fat, gross energy, protein to energy (P/E) ration, organic matter and total ash was higher compared to L. sativa. N. cadamba yielded higher nitrogen free extract, crude fiver and total ash than L. leucocephala. Results clearly indicate N. cadamba has high forage quality, comparable to traditional L. leucocephala and M. sativa as forage for ruminant and non-ruminants. (23)
• Antihepatotoxic / Chlorogenic Acid: Chlorogenic acid, isolated from Anthocephalus cadamba, was screened for hepatoprotective activity in carbon tetrachloride model of hepatic injury. Results showed intraperitoneal administration of chlorogenic acid (isolated from N. cadamba) to mice exhibited hepatoprotective action better than silymarin. The hepatoprotective activity was attributed to the antioxidative activity of CGA. (25)
• Corrosion Inhibition of Aluminum Alloy / Bark Extract: Study investigated an aqueous extract of Neolamarckia cadamba bark as corrosion inhibitor for aluminum alloy in 1 M NaOH solution. Results revealed a mixed type inhibitor, with an inhibition efficiency that increased with concentration. (26)
• Antidiabetic / Stem Bark: Study investigated an ethanolic fraction of stem bark for hypoglycemic activity in normal and alloxan diabetic rats. Oral administration of extract showed a significant antihyperglycemic effect in alloxan-induced diabetic rats with no hypoglycemic effect in normal rats. (27)
• Silver Nanoparticles: Study reports on the synthesis of silver nanoparticles using the leaf extract of Neolamarckia cadamba as source of reducing and stabilizing agents. (28)
• Raw Material for Wood Based Industry: Study reports on a wood based industry research to use Kelampayan (Neolamarckia cadamba) as alternative raw material in down streams production such as particleboard, medium density board and chipboard manufacturing. (29)
• Immunomodulatory / IL-2 Induction / Leaves: Study evaluated the immunomodulatory potential of hot aqueous extract of N. cadamba leaves in a Wistar albino rat model measuring differential leukocyte count and humoral immune response. Immunomodulating potential was indicated by antibody response in immunized animals. IL-2 as significantly (p<0.01) augmented in Concanavalin A stimulated in vitro splenocytes cultures. Increase in interleukin (IL)-2 expression at gene and protein level suggests application in immune suppressed animals. Results suggest the HAE of leaves has potential as a drug with immuno-stimulant properties. (36)
• Antidiarrheal / Flowering Tops: Study evaluated the antidiarrheal property of a hydroalcoholic extract of flowering tops of Anthocephalus cadamba on experimental animals. Dose of 250-500 mg/kg exhibited dose-dependent decrease in number of faecal droppings in castor oil -induced diarrhea in mice. There was also significant (p<0.01) dose-dependent reduction in intestinal fluids accumulation and gastrointestinal transit from 64.59% and 71.19% at doses of 250 and 500 mg/kg, compared with control and standard drug group at 37.85% and 74.91%, respectively. (37)
• Anticancer / Antioxidant / Bark: Study evaluated the antioxidant and anticancer potential of hydro-methanolic bark extract of N. cadamba. Results showed significant (p<0.01) antioxidant efficacy using DPPH free radical scavenging method. Anticancer activity using concentrations of 10, 20, 40, and 80 µg/ml of HM extract against N1S1 rat hepatoma cancerous cell line using sulforhodamine (SRB) assay showed dose dependent decrease in percentage of control cell growth at -37.66 and -34.13 at 40 and 80 µg/ml respectively. LC50, TGI, and GI50 of HM extract were 75.92, 46.73, and 17.46 µg/ml respectively. Results showed antioxidant and anticancer potential of N. cadamba bark. (38)
• Immunomodulatory / Humoral and Cell-Mediated Immune Responses / Bark: Study evaluated the immunomodulatory activities of hydromethanolic extract of N. cadamba bark with reference to humoral and cell-mediated immune responses in Wistar albino rats. Serum antibody titer was measured against Salmonella typhimurium 'O' antigen using indirect ELISA. In vitro cell mediated immune response was done with MTT assay using 5µg/ml CON A with HME concentrations of 20-500 µg/mL. Results showed various doses of HME (125, 250, 500 mg/kbw) caused significant increase in humoral and cell mediated immune responses. (39)
• Antinociceptive / Gastroprotective / Flowering Tops: Study evaluated the effect of alcoholic extract of Anthocephalus cadamba in experimental models of pain and ulcer. The crude extract at 500 and 250 mg/kg showed significant reduction in acetic acid induced writhing in mice with maximum effect of 68.02% reduction at 500 mg dose, comparable to standard diclofenac sodium at 79.93%. The extract also showed significant dose dependent inhibition of ulceration induced by both HCl and ethanol. Results suggest both analgesic and gastroprotective activities in mice. (40)
• Antidiabetic / Antioxidant / Flowers: Study evaluated the antidiabetic and antioxidant properties of flower extract of N. cadamba. Phenolic contents were found higher in the methanol soluble fraction (MESF) with 228.16 GAE/g of sample, while flavonoids were greater in the chloroform soluble fraction (CSF) with 291 QE/g of sample. The MESF showed highest free radical scavenging and α-amylase inhibitory potential with IC50s of 30.52 and 6.26 µg/mL, respectively. Highest reduction of blood sugar was observed with flower extract. NCME at 500 mg/kg resulted in 60.2% (p<0.05) reduction of blood glucose in the diabetic group, comparable with metformin effect (68.4%). Antioxidant and α-amylase inhibitory potential were attributed to flower extract rich in phenolics and flavonoid compounds. (41)
• Accelerative Wound Healing Effect / Leaves: Study reports on the accelerative effect of aqueous leaf extract of A. cadamba leaves on wound healing in diabetic Sprague Dawley rats with surgically sterile wound. A. cadamba treated group showed significant increase in percentage of wound closure (82%) on day 21 compared to diabetic control group (42%), povidone-iodine treated group (75%). Extract treated group exhibited marked epithelial regeneration, neovascularization, collagen deposition, and fibroblast proliferation along with higher expression of vascular endothelial growth factor. Results suggest topical application of aqueous leaf extract exhibits accelerative wound healing properties in diabetic rats. (42)
• Anticancer (HepG2) / Antibacterial (E. coli) / Leaves: Study evaluated solvent-based extract of leaves against liver cancer cell line (HepG2) and bacteria (Escherichia coli). Solvent extract of chloroform showed better activity in MTT assay and antibacterial screening. Phytoconstituents identified by FTIR and GC-MS were docked with potential targets of liver cancer and E. coli. The phytochemical 1-(5-Hydroxy-6-hydroxymethyl-tetrahydropyran-2-yl)-5-methyl-1H-pyrimidine-2,4-dione shows highest docking score against the targets PDGFRA (PDB ID: 6JOL) and Beta-ketoacyl synthase 1(PDB ID: 1FJ4) and their stability was further confirmed by molecular dynamics simulation studies. (43)
• Antipyretic / Leaves: Study evaluated the antipyretic activity of Anthocephalus cadamba leaf extracts using Yeast-induced hyperpyrexia method on Wistar rats.. Paracetamol was used as standard. Chloroform, ethanol, and distilled water extracts exhibited significant antipyretic activity within 30 minutes. (44)

Availability
- Wild-crafted.
- Seeds and extracts in the cybermarket.