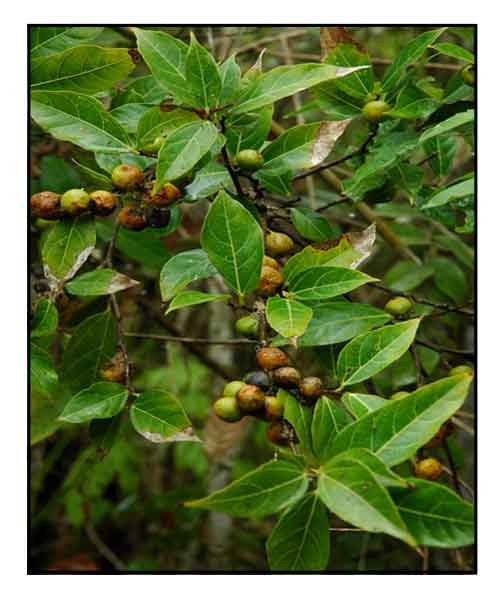 Gen info
- There are over 800 genus Ficus in the tropics and subtropics, comprising the fig or mulberry family (Moraceae, with about 40 genera).
-The sharing of common names in Philippine medicinal plants is so common and leads to much confusion. Such is the case with Is-is, isis, upling-gubat, local common names shared by both Ficus ulmifolia and Ficus fiskei, likely due to the use of both plants as scouring leaf material.
Botany
Ficus ulmifolia is a shrub or small tree, 3-5 m tall. Leaves are alternate,variable in shape, subentire, undulately lobed or coarsely toothed, sometimes deeply or narrowly lobed, base rounded and three nerved, 9-17 cm by 4-8 cm. Fruit is a fig, subglobose, about 1.5 cm long, orange-red to purple, axillary, solitary or in pairs, edible. (12)
Distribution
- Endemic in the Philippines.
- In thickets and open places, up to 1500 m altitude.
Constituents
- Phytochemical screening of aqueous crude extract yielded flavonoids, carbohydrates, saponins, reducing sugars, and tannins, with absence of alkaloids, resins, anthraquinone, proteins, glycosides and phytosterols. Ethanolic crude extract yielded only flavonoids, carbohydrates, saponins, and glycosides. (7)
- Study of dichloromethane extract of air-dried leaves yielded squalene, polyprenol, ß-amyrin fatty acid ester, α-amyrin acetate, ß-amyrin acetate, lutein, lupeol acetate, ß-carotene, phytol, α-amyrin fatty acid ester, sitosterol, and stigmasterol. (8)
- In a study of seed oil compositions by hexane extraction of three ficus species: Ficus ulmifolia, F. nota, and F. septica, linolenic acid is the most prominent fatty acid in the seed oils followed by linoleic acid, both comprising about 75% of fatty acids in the oils. Besides fatty acids, other phytochemicals were found, including squalene, pentacyclic triterpenes such as α-amyrin, ß-amyrin and lupeol, as well as sterols such as cholesterol and y-sitosterol. F. ulmifolia showed highest levels of these materials. (10)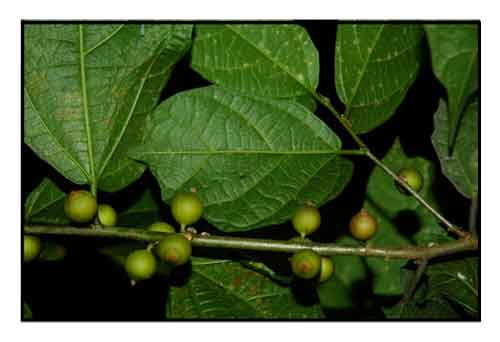 Properties
Studies have suggested antioxidant, alpha-glucosidase inhibitory, antihyperglycemic, anthelmintic properties.

Parts used
Leave, stems, seed, latex.

Uses
Edibility
- Fruits are edible, although with little flavor, sometimes eaten with sugar and cream.
Folkloric
- Leaves used in the treatment of allergy, asthma, diarrhea, diabetes, tumor and cancer.
Others
- Scouring: Young leaves are used to clean cooking utensils and to scour wood floors, stairs, etc.
- Broiler supplement: Study showed applicability and benefits for use of the fruit as supplements to commercial mash, which resulted in significant weight gain and better animal performance. (4)
- Repellent: Ayta people of Pampanga burn leaves and stem as mosquito repellent. (6)
- Wood: Used for crafts and furniture making.
Studies
• Antioxidant / α-Glucosidase Inhibition Activity: Study evaluated three Ficus species endemic to the Philippines: Ficus odorata, F. pseudopalma, F. ulmifolia for antioxidant and α-glucosidase inhibition activity. On FRAP assay, all three showed ferric reducing antioxidant activity relative to ascorbic acid. On α-glucosidase inhibition assay, Ficus ulmifolia showed inhibition against the enzyme with IC50 of 1.623 ± 0.248, with standard acarbose IC50 of 0.621 ± 0.567. (3)
• Antihyperglycemic Effect / Leaves: Study evaluated crude leaf extract of Ficus ulmifolia for antihyperglycemic effect in mice with temporary hyperglycemic state induced by feeding with high carbohydrate diet. Oral administration of 100 mg/k of F. ulmifolia leaf extract lowered blood glucose levels by 2.5%. At 1000 mg/kg extract, there was significant decrease in blood glucose by 47.5%, an effect similar to mice who received 150 mg/k metformin. Results suggest dietary supplementation of crude leaf extract has blood glucose lowering effect in mice. (5)
• Alternative Feedstock for Biodiesel: Seeds: Study evaluated the fatty acid profiles of oils from Ficus ulmifolia seeds and Theobroma cacao husks for their feasibility as alternative feedstock for biodiesel production. GC-FID results showed that 2is-is3 seed oil is rich in oleic acid with FAME weight of 46.96%, while the cacao husk oil is rich in palmitic acid with FAME eight of 39.51%. While the seed oil and husk oil have low oil yield, they have properties that meet the standard biodiesel properties. (9)
• Anthelmintic / Latex: Of nine plant species tested, the latex of Ficus ulmifolia and Carica papaya exhibited anthelmintic properties. Ficus ulmifolia latex as 100% effective against Ascaris and 93-96% against Trichuris. Both were inactive against hookworms. (11)

Availability
Wild-crafted.
Herbal teas and supplements in the cybermarket.