Etymology
- Polyalthia derives from the Greek words poly meaning "many" and altheo meaning "cure."
Botany
Polyalthia longifolia is a small- to medium-sized evergreen tree growing up to 15 meters. Young plants have straight trunks and weeping pendulous branches, longest at the base and shorter at the end of the trunk.. Leaves are long, narrow and oblanceolate, dark green, glossy and wavy margins. Flowers are delicate pale green with wavy petals. Fruits are ovoid, black when ripe.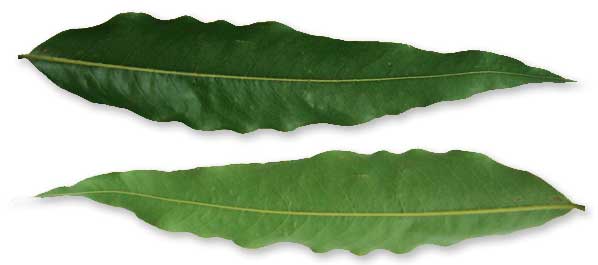 Distribution
- Native to India and Sri Lanka.
- An ornamental street tree.
- Recently introduced in the Philippines and widely cultivated in metro Manila, planted in parks, gardens and roadsides.
Constituents
• Leaf oil composed of sesquiterpene derivatives: allo-aromadendrene, caryophyllene oxide, ß-caryophyllene, ß-selinene, a-humulene and ar-curcumene. (4)
• Phytochemical study on the hexane extract of the stem bark led to characterization of clerodane and ent-halimane deiterpenes, two of which have shown antibacterial and antifungal activities.
• Preliminary studies of seeds showed a rich source of alkaloids, tannins, phenols, flavonoids, and carbohydrates. (16)
• Elemental analysis of seeds and leaves revealed large amounts of zinc, copper, iron, and manganese, in larger amounts in the leaves than in the seed. Nitrogen, phosphorus, and potash were present in negligible amounts. (23)
• Elemental analysis of leaves (L) and seeds (S) yielded nitrogen 1.05% L, 0.91% S; phosphorus 0.08% L, 0.11% S; potash 0.31% L, 0.40%; zinc 42.0ppm L, 44.0ppm S; copper 163.0ppm L,120.0ppm S; iron 204.0ppm L, 125.0ppm S; and manganese 312.0 ppm L, 8.0 ppm S. (29)
• Phytochemical screening of ripe and unripe pericarp yielded the presence of flavonoids, saponins, steroids, glycosides, and tannins in both extracts. Terpenoids and alkaloids were not detected. (see study below) (31)
Properties
• Studies have shown antibacterial, antifungal, cytotoxic, antiulcer, hypotensive, laxative, anti-inflammatory properties.
Parts used
Bark, leaves.

Uses
Folkloric
- No reported folkloric medicinal use in the Philippines.
- In India's traditional system of medicine, used for fever, skin diseases, hypertension and helminthiasis. - Bark used as febrifuge.
- In Nigeria, plant is used for skin disease, fever, diabetes and hypertension.
Others
- Fiber: Bark is a good source of fiber.

Studies
• Amino Acids: Study showed the seeds of Polyalthia longifolia to be a rich source of various amino acids - proline, L-glutamic acid, and methionine among others. (1)
• Phytochemical: Study isolated a new clerodane diterpene from the bark of P. longilofia. (2)
• Antimicrobial / Alkaloids: Study showed the root extract of P. longifolia var. pendula to possess significant antibacterial activity. Study also led to the isolation of three new alkaloids: pendulamine A, pendulamine B and penduline along with other known compounds. (3)
• Hepatoprotective / Anti-Inflammatory: Study evaluated various solvent extracts of leaf for anti-inflammatory and hepatoprotective potency. study showed the methanol extract as the most potent, showing significant anti-inflammatory (comparable to Diclofenac sodium) and hepatoprotective activity.  (5)
• Antifungal: Diterpenoids isolated from the hexane extract of the seeds of P. longilfolia demonstrated significant antifungal activity.
• Cytotoxic: Study isolated a new halimane diterpene and a new oxoprotoberberine alkaloid along with 20 known compounds, several of which were evaluated for cytotoxicity toward a small panel of human cell lines.
• Anti-ulcer: Study showed the ethanol extract of Polyalthia longifolia to have significant antiulcer activity through reduction of gastric volume, free acidity and ulcer index. It showed 89.71% ulcer inhibition in HCl-ethanol induced ulcer and 95.3% ulcer protection index in stress-induced ulcer. (6)
• Antibacterial: Study of ethanol extract showed promising antibacterial activity against thirteen Gram-positive and nine Gram-negative organisms. (7) Study evaluated in vitro antibacterial activity of various leaf extracts against six pathogenic bacteria viz. Bacillus subtilis, Sarcina lutea, Xanthomonas compestris, E. coli, K. pneumonia and Pseudomonas sp. The MIC values of all extracts against the six tested bacteria were almost 15.625 µg/10 µl. (17)
• Antibacterial / Phytochemicals: Study revealed the presence of steroids, alkaloids, biterpenoids, carbohydrates, amino acids, essential oil, phenolics and flavonoids. Highest antibacterial activity was seen with the hot aqueous (HAE) and methanol extract (ME) against K pneumonia, followed by E coli (HAE) and B subtilis (ME). (12)
• Hypotensive / Phytochemicals: Phytochemical studies yielded kolavenic acid, clerodane, liriodenine, lysicamine and bisclerodane and its isomer. Study showed the defatted 50% methanol extract of P longifolia root bark with significant ability to reduce blood pressure. (13)
• Nanoparticles / Antibacterial / Leaves: Study reports on the synthesis of silver nanoparticles using Polyalthia longifolia leaf extract as reducing and capping agent along with D-sorbitol. The synthesized silver nanoparticles were found to be highly toxic against Gram-positive bacteria than Gram-negative bacteria. (15)
• Laxative / Bark: Study evaluated the laxative activity of P. longifolia bark in albino Wistar rats. Results showed the ethanolic extract to have significant laxative activity with enhancement of wet feces production. The activity was similar to reference drug sodium picosulfate (5 mg/kg p.o.). (18)
• Antipyretic / Bark: Study evaluated the antipyretic activity of methanol extracts of leaves, stem bark, and root of P. longifolia in Wistar rats against lipopolysaccharide (LPS)-induced pyrexia. All extracts exhibited significant dose-dependent antipyretic activity with the root extract showing most activity. (19)
• Antiulcer / Anti-Inflammatory / Fresh Leaf Extracts: Study of ethanolic and aqueous extracts for antiulcer activity showed dose dependent decrease in gastric content, total acidity, ulcer index, and increase pH in a gastric pylorus ligation ulcer method. EtOH and aqueous extracts showed maximum anti-inflammatory activity on cotton pellet granuloma induced inflammation in rats. (20)
• Antimicrobial / Leaf and Pericarp: Study evaluated the antimicrobial activity of leaf and pericarp extracts of Polyalthia longifolia against S. aureus, S. typhi, K. pneumonia, and Sclerotium rolfsii. Results showed an inhibitory potential which could be attributed to the presence of secondary metabolites in the extract. (21)
• Corrosion Inhibition / Mild Steel / Leaves: Study investigated the inhibition efficiency of dry P. longifolia leaves on corrosion of mild steel in 1N H2SO4 medium. Results showed the leaves act as a good corrosion inhibitor with efficiency of 92% at 1.5% inhibitor concentration. (22)
• Anti-Diabetic / Leaves: Study evaluated the α-amylase and α-glucosidase enzyme in vitro inhibitory activity of ethanol and chloroform extracts of leaves and in vivo antidiabetic activity against STZ-induced diabetes in rats. Results showed α-amylase and α-glucosidase enzymes inhibitory activity, together with an protective effect against STZ-induced type 1 diabetes in rats. (24)
• Anticancer / DEN/PB Induced Hepatocellular Carcinoma / Fruits: Study showed the anticancer potential of methanolic extracts of fruits of P. longifolia in N-nitrosodiethylamine induced and phenobarbital promoted hepatocellular carcinoma in male albino Wistar rats. (25)
• Gastroprotective / Antimicrobial: Study evaluated the gastroprotective potential of P. longifolia on ethanol and ethanol/HCl-induced ulcers. Results showed reduction in ulcer index in a dose dependent manner.. On antimicrobial testing, gram positive bacterial showed more susceptibility to P. longifolia than gram negative bacteria and fungal strains. (27)
• Analgesic / Anti-Inflammatory / Leaves: Study evaluated the anti-inflammatory and analgesic activities of a hydroalcoholic extract of leaves of P. longifolia using albino rats. Results showed significant inhibition of rat paw edema in carrageenan testing and marked analgesic activity when tested against acetic acid induced writing response. (28) Study evaluated three different solvent extracts of P. longifolia leaves for analgesic potential by acetic acid induced writhing experiment in Swiss albino mice. The methanol extract the most potency followed by ethyl acetate and benzene extracts. (32)
• Acute Oral Toxicity / Leaves: Study evaluated the acute oral toxicity of Polyalthia longifolia var. pendula leaf extract in Wistar albino rats. The methanol leaf extract did not produce any toxic effects up to the dose level of 3240 mg/kbw, with no dose dependent changes in parameters of organ weight, biochemistry and hematologic analysis. (30)
• Antibacterial / Cytotoxic / Larvicidal / Ripe and Unripe Pericarp: Study evaluated the mineral content and bioactivities viz., antibacterial, cytotoxic, and larvicidal activity of ripe and unripe pericarp of P. longifolia. Elemental content except for copper was highest in the ripe pericarp. Extracts showed dose dependent inhibition of test bacteria and concentration dependent cytotoxic effect. Cytotoxicity was more pronounced against HT-29 than MDA-MD-231. The ripe pericarp extract showed potent larvicidal activity against 2nd instar larvae of Aedes aegypti. (see constituents above) (31)
• Antioxidant / Hepatoprotective / Paracetamol-Induced Injury / Leaves: Study evaluated the in vitro antioxidant, free radical scavenging, and hepatoprotective activity of methanol extracts of leaves of P. longifolia and Cassia spectabilis. Phenolic and flavonoid content correlated with antioxidant capacity. P. longifolia extract showed better in vitro antioxidant activity. Treatment with PL extract showed in vivo hepatoprotective effect in paracetamol-intoxicated mice. (33)
• Immunomodulatory Potential / Leaves: Study evaluated the immunomodulatory potential of Polyalthia longifolia leaves by Haemagglutination Antibody (HA) Titer and Delayed-Type Hypersensitivity (DTH) response using sheep red blood cells as antigens. Complete Freud's Adjuvant (CFA) induced arthritis models was used for estimation of rat paw edema, arthritic index, and biochemical parameters. Results suggest the ethanol extract of leaves exerted immunostimulatory effect on B and T lymphocytes. Study suggests a potential as immunostimulatory for treatment and prevention of immunodeficiency disorders. (34)
• Antimalarial: Study evaluated the antimalarial activity of three medicinal plants used in Nigerian folklore for the treatment of malaria infection. Polyalthia longifolia showed 53% chemosuppression of parasites at day 4 in mice infected with Plasmodium berghei. (35)
• Antidiabetic / Wound Healing / Bark: Study evaluated the antidiabetic and wound healing activity of a bark extract of Polyalthia longifolia against alloxan induced diabetic rats. A methanolic extract showed significant antidiabetic effect. The extract also showed strong wound healing effect through enhanced wound contraction either through enhanced contractive property of myofibroblasts or increased number of myofibroblasts recruited in the wound area. (36)

Availability
Cultivated.