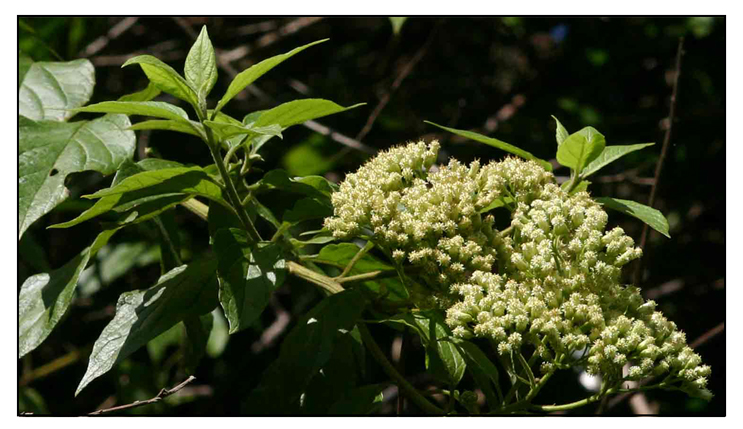 Botany
Hugas is a rambling shrub with longitudinally furrowed branches. Leaves are stalked, ovate-lanceolate, 3.5 to 7.5 centimeters long, pointed at both ends, and obscurely toothed at the margins. Heads are numerous, less than 1 centimeter across, and clustered on the branches of rounded corymbs. Involucral bracts are lanceolate. Achenes are compressed and 4-angled, with the reddish pappus about 3 millimeters long, or much longer than the minute achenes.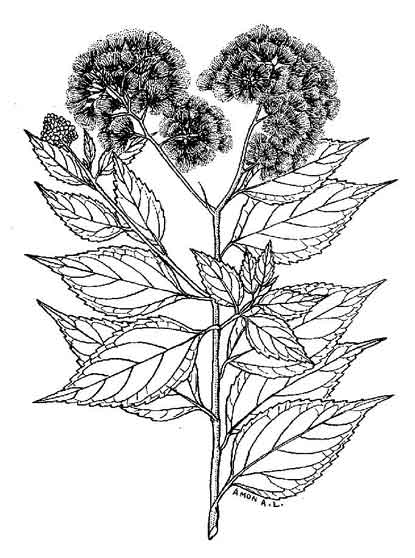 Distribution
- In thickets, chiefly at medium altitude and ascending to 1,500 meters, in Bontoc and Benguet Subprovinces, and Nueva Viscaya in Luzon; and in Negros and Mindanao.
- Also occurs in India to China and Malaysia.
Constituents
- Study on essential oil of leaves yielded(E)-ß-farnesene and ß-caryophyllene as main constituents. (See study below) (9)
- Study isolated diterpenes phytol and 6-E-geranylgeraniol-19-oic acid.
- Study of essential oil of leaves characterized 50 components, representing 98% of the total oil with germacrene-D as the major component.
- Study of roots isolated seven dihydrobenzofurans and seven triterpenoids (five dammaranes and two 28- nor-oleanenes). (3)

Properties
- In folklore medicine, considered anthelmintic, aphrodisiac, analgeisc, anti-filarial, abortifacient.
- Studies suggest anticonvulsant, antiplasmodial, sedative, and antiseptic properties.

Parts used
Leaves, root, root bark.

Uses
Folkloric
- Decoction of roots used for stomachache.
- Leaf decoction used for colds.
- In the Gold Coast, plant used for enema to cure fever in babies.
- In Liberia used as a remedy for cough.
- In Tanzania used for the treatment of headaches and colds.
- In West Africa powdered root used as snuff to relieve colds.
- In West Tropical Africa , juice of root, passed through fine linen, used as eye drops.
- Juice of warmed leaves applied as remedy for ringworm of the scalp.
- Tea-like infusion used for fever with headache; also used as inhalant or fumigant to cause sweating.
- Decoction is taken by women in labor.
- In Tanzania decoction of root and root bark used for epilepsy. Compresses soaked in root decoction applied to heal wounds of incised abscesses. Root juice applied to the eyes for cataracts. Leaf applied to inside of nose, in man and cattle, to treat coryza.
- Used for yellow fever, dropsy and backwater fever.
- In Africa M. pyrifolia is used for malaria.
- In Kenya pounded roots soaked in water used for colds and headache. Infusion of leaves used for malaria. Pound leaves used for treatment of limb fractures. (11)
- In Cameroon leaves of Microglossa pyrifolia, softened in fire, eaten as vermifuge.
- In Ghana used for the treatment of dermal infections and wounds.
- In Rwanda used for cough, elephantiasis and wounds.
- In Ethiopia leaves of M. pyrifolia used for mastitis. The Bench people use the leaves and roots mixed with I spicata for treatment of meningitis. (12)

Studies
• Triterpenoids / Dihydrobenzofurans: Study of roots of Microglossa pyrifolia yielded seven dihydrobenzofurans and seven triterpenoids. (3)
• Herbal Hand Antiseptics: In a study of plant species used as herbal antiseptics, Microglossa pyrifolia showed inhibitory against E coli.
• Anticonvulsant / Sedative: In a study of plants for anticonvulsant and sedative activity using animal models, M pyrifolia protected 50% to 100% of mice against convulsions and also exerted sedative activity by increasing duration of sleep induced by diazepam. (4) Extract of M. pyrifolia was shown to prolong the time to onset of convulsions induced by isonicotinic hydrazide acid and inhibit MES (maxima electroshock)-induced convulsions. Activity may involve antagonistic action on NMDA receptors. (15)
• Antiplasmodial / Leaves: In an in vitro study of 13 Rwandan medicinal plants, the leaf extract of M pyrifolia was one among those that showed good results on antiplasmodial activity, active against chloroquine sensitive and resistant strains. (5)
• Antiplasmodial / Aerial Parts: In an anti-plasmodial assay, aerial parts of M. pyrifolia methanol extract showed the highest activity against P. falcifarum chloroquine sensitive, D6 strain and chloroquine resistant W2 strain. (8)
• Essential Oils / Leaves: Essential oil samples from hydrodistillation of leaves of M. pyrifolia found the main constituents to be (E)-ß-farnesene (73-78%) and ß-caryophyllene (11-14 %). (9)
• Antibacterial: Study of M. pyrifolia on MIC testing showed 8mg/ml against both Staphylococcus aureus and S. sonnei. (12)
• Essential Oil / Antibacterial Essential oil evaluated for antimicrobial activity showed moderate activity with inhibition of a number of common human pathogenic bacteria (S. aurues, E. coli, Shigella flexneri, and G. scabra). Antioxidant capacity was examined using an in vitro radical scavenging test, The essential oil scavenged DPPH, with an IC5050>30% Equivalent quercetin. (13)
• Anxiolytic Activity: Study showed M pyrifolia, A ambrosioides, and M pudica possess anxiolytic-like and antipyretic like activity which could be helpful in the treatment of anxiety and fever in traditional Cameroon medicine.(14)

Availability
Wild-crafted.