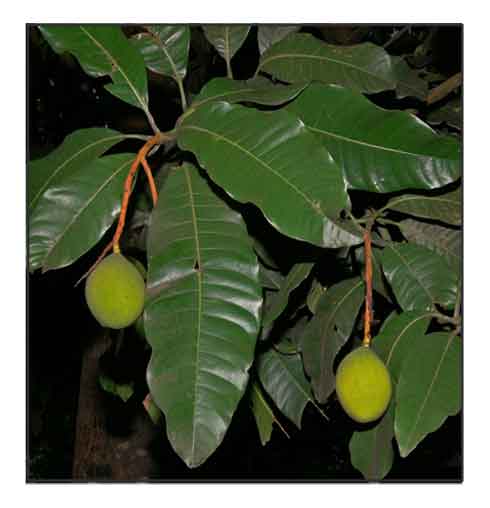 Gen info
- Mangifera odorata is a medium-sized tree 10-15 m high, rarely exceeding 20 m; crown globose or
- M. odorata is a polymorphic species. West Java has several forms: Bemben, an inferior form with a strong smell and taste of turpentine reminiscent of M. foetida; Kaweni, less fibrous with a milder taste of turpentine, the best forms being very palatable; Gandarassa, rare, superior to "kaweni", less sweet, more juicy, less strong smell. In the Philippines, "Sangay" from Jolo is distinguished by its yellow color at maturity compared to the greenish "huani" fruit. (1)
- Etymology: Genus name Mangifera derives from a local name "manga" and the Latin verb "fero" meaning "I carry". The species epithet is from Latin "odorata" meaning fragrant, referring to the odor from the flowers.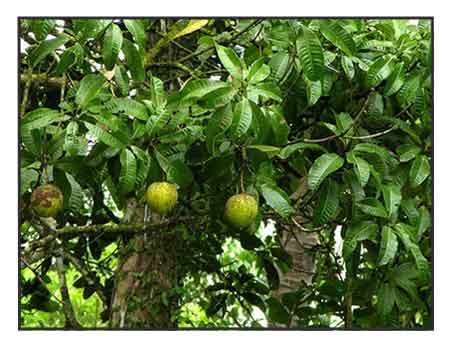 Botany
Mangifera odorata is a medium-sized tree 10-15 m high, rarely exceeding 20 m; crown globose or broadly ovoid; bole straight, bark gray, yielding an irritant sap. Leaves irregularly scattered on rather thick branchlets, oblong-lanceolate, 12-35 cm by 4-10 cm, coriaceous-chartaceoous, edge not wavy, shortly acuminate with prominent reticulated veins especially on the lower surface, not or hardly odorous when bruised; petiole 3-7 cm, swollen at the base. Panicles terminal, pyramidal, 15-50 cm long, rather densely flowered; rachis yellowish-green tinged with reddish-brown. Flowers 5- to 6-numerous, ca, 6 mm wide, fragrant; sepals ovate, 3-4 mm long, brown-red or partly green; petals lanceolate, ca. 5-6 mm by 1.2-2 mm, yellowish at the base, pale pinkish towards the apex, reflexed, with 3-5 fingers or ridges on about 2/3 of the length of the petals, confluent at the base, pale yellow becoming dark red; stamens 5-6, only 1 fertile, filament 5 mm long, staminodes 1.5-2 mm long; ovary subglobose, yellowish, style excentric, 3-5 mm long, dark red. Fruit obliquely ellipsoid-oblong, hardly flattened drupe, 10-13 cm by 6-9 cm, green to yellowish-green, sparingly spotted with dark brown lenticels; rind rather thick, 3-4 mm; flesh orange-yellow, firm, fibrous, sourish-sweet, juicy, with a pungent smell and taste of turpentine. Stone 8-10 cm by 4.5-5 cm by 2.5-3 cm, covered with rather soft fibers. (1)

The exact origin remains unknown -- possibly it represents a hybrid between Mangifera indica and Mangifera foetida.
Distribution
- Found along coastal towns or travel routes in Southeast Asia.
- In the Philippines found on the south coast of Mindanao, in Sulu Archipelago and neighboring islands.
- Native to Laos, Thailand, Vietnam, Philippines.
- Cultivated in Borneo, Sumatra, Jawa, Vietnam, Guam Is.

Constituents
- Nutrient information: About 70% of the fruit is edible. Per 100 g edible portion the fruit yields: water 80 g, protein 0.9 g, fat 0.1 g, carbohydrates including fiber 18.5 g, ash 0.6 g, ß-carotene equivalent 0.36 mg, thiamine 0.04 mg, riboflavin 0.06 mg, niacin 0.7 mg, and vitamin C 14 mg, with energy value of 290 kJ/100g.
- Proximate analysis of pulp showed high amounts of soluble fiber and moisture. The main sugar was sucrose, while ß-carotene, potassium, calcium, iron, and zinc were major vitamins and minerals. (see study below) (4)
- In GC and GC-MS study for volatile components, oxygenated monoterpenes (45.4%) and esters (33.0%) were the main classes of kuini fruit volatiles, and α-terpineol (31.9%) was the major component. (9)
Properties
- Sap from tree and unripe fruit is caustic and reported to cause dermatitis.
- Studies have suggest antidiabetic, antibacterial, mosquito larvicidal, anti-dysentery properties.

Parts used
Bark, seeds, fruit.

Uses
Edibility
- Fruit is edible; pulp eaten raw.
- Unripe fruit used for making chutney, pickles, and curries and as salad ingredient.
- In Java, flour made from seed kernels and used for preparing the Java delicacy 'jenang pelok' (a thick pappy preparation with Curcuma rhizomes) tor 'dodol' (based on glutinous rice).
Folkloric
- In folk medicine, bark is externally applied for hystero-epilepsy.
- In Bangladesh, tender leaves of M. odorata and seeds of Lens culinaris are made into paste using quern stones and fried in oil, then taken orally to treat dysentery. (8)
Others
- Wood: Moderately heavy and hard; not durable under exposed conditions. Susceptible to fungi, dry wood borers and termites.
- Construction: Suitable for light construction, turnery, flooring, paneling, boxes, crates, plywood and decorative veneer production.
Studies
• Antidiabetic / Potential as Function Food / Peel and Seed Kernels: Study evaluated the antidiabetic activities and phytochemical profile of M. odorata peel and seed kernel. The seed kernel showed lowest IC50 values for α-amylase and α-glucosidase inhibition assay in 60% ethanol and 60% acetone, respectively. Nutritional analysis showed the seed kernel to be rich in fat, protein, carbohydrate and ash while the peel contained significantly greater amount of fiber, minerals, ß-carotene and ascorbic acid. The ethanol extract yielded phenolic acid, ellagic acid, and flavonoid. Results suggest M. odorata food wastes has potential as functional ingredient in the food industry. (3)
• Antidiabetic / Pulp: Study evaluated the antidiabetic properties through α-glucosidase and α-amylase inhibition assays and phytochemical profiling of pulp using ultra-high-performance liquid chromatography-electrospray ionisation orbitrap tandem mass spectrometry (UHPLC-ESI-Orbitrap-MS/MS). A 60% ethanol extract showed highest α-amylase inhibitory activity among four extraction solvents. (4)
• Anti-Salmonellosis / Seeds, Peels, Flesh: Study evaluated the antipathogenic activity of natural extracts from M. odorata peel, flesh, and seed against two Salmonella species (S. enterica serovar Typhimurium and S. enterica serovar Enteritidis) causing Salmonellosis. Results showed extracts from kernel seed had highest inhibition percentage of 83-90% against Salmonellosis infection, followed by peel at 61-67%, and flesh at 53-69%. Enteritidis bacteria was highly susceptible to the methanol extract of kernel seed. The highly active activity was attributed to high total phenolics content at 8-10 g GAE/g extract, high FRAP and excellent scavenging activity. Results suggest the prophylactic property of natural compounds in M. odorata kernel seed has potential as anti-Salmonellosis agent and as innovative functional food source for groups vulnerable to Salmonellosis. (5)
• Antibacterial / Fresh and Fermented Flesh and Peel: Study evaluated the antibacterial activity of crude extracts from both fresh and fermented kuini flesh and peel. Results showed extracts from fermented flesh were more potent against Gram positive bacteria and less susceptible to Gram negative bacteria. Extracts from fresh and fermented kuini peel were both effective against Salmonella typhimurium. Fermented kuini extracts exhibited stronger antibacterial activity (86%) compared to fresh kuini extracts (56%). (6)
• Mosquito Larvicidal / Aedes aegypti / Leaves: Study evaluated the biological efficacy of several Mangifera leaf extracts on mortality of Aedes aegypti mosquito and inhibition of egg hatching. Leaf extracts of M. odorata, M. laurina and M. indica showed strong egg hatching inhibitory activity and enhanced the larvicidal activity of their essential oils. (7)
Availability
Wild-crafted.
Cultivated.