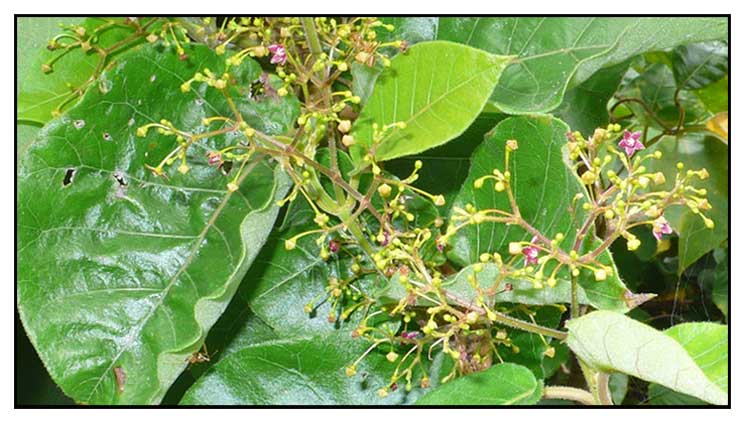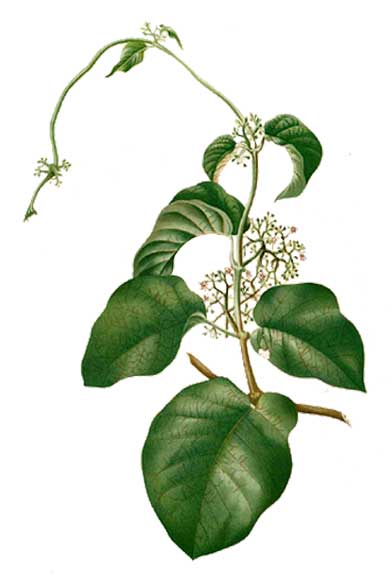 Botany
Hinggiu-kalabau is a woody vine with rather slender stems. Leaves are hairy, elliptic to elliptic-ovate, 7 to 15 centimeters long, 4 to 8 centimeters wide, rounded or heart-shaped at the base, and pointed at the tip. Cymes are axillary, solitary or in pairs, lax, and 4 to 9 centimeters long. Calyx is small and greenish. Corolla is purple, rotate, and 5 millimeters in diameter, with ovate or oblong-ovate lobes. Fruit is a follicle, cylindric, 5 to 9 centimeters long, slender, hairy, and pointed at the tip.
Distribution
- Found only in the Philippines.
- Common in thickets and secondary forests at low altitudes in Nueva Viscaya, La Union, Pangasinan, Tayabas, Bulacan, Bataan, Rizal, and Albay Provinces in Luzon, and in Mindoro.
Constituents
- Bioassay-guided analysis of leaves yielded loliolide (1), luteolin 3'-methoxy ether (2) and ursolic acid (3). (see study below) (2)
Properties
- Considered vulnerary.
- Study suggests antiproliferative properties.

Parts used
Latex.

Uses
Folkloric
In the Philippines, latex is used for wound healing.
Studies
• Cytotoxic Against Human Cancer Cell Lines / Leaves: Study evaluated the antiproliferative property of Stretocaulon baumii leaves. A hexane fraction showed nonselective inhibition of cell proliferation of BJ, A549, HCT116, and MCF-7 cell lines. Ursolic acid showed the highest cytotoxicity against HeLa, MDA-MB231, Cos&, and RAW264.7. (see constituents above) (2)

Availability
Wild-crafted.