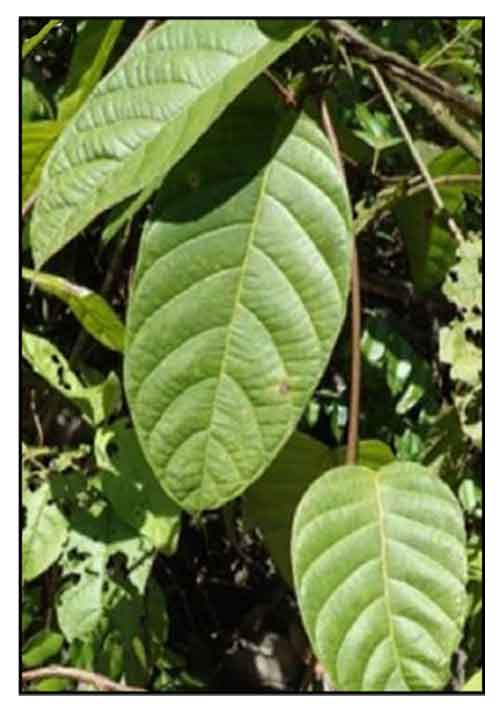 Gen info
- Anodendron is a genus of plant in the family Apocynaceae first described as a genus in 1844. It is native to most of tropical Asia. (3)
- Etymology: The genus name Anodendron derives from Greek words ano (climbing) and dendron (tree), referring to the habit. The species epithet Latin borneense refers to Borneo, a locality of natural distribution.
Botany
Branchlets glabrous. Inflorescence axillary and/or terminal, glabrous, 4.4-10.5 cm long, bract position variable; Sepals ovate, 1.2-1.8 by 0.7-1 mm, 1.4-2.1 times as long as wide, apex acute to obtuse, glabrous.  Stamens inserted at 0.3-0.6 mm from corolla base which is c. 0.1 of tube length; Ovaries 0.4-0.5 mm long; Fruit of almost parallel follicles, somewhat stipitate, 9-19 cm by 5-6 mm. (Flora Malesiana)
Distribution
- Native to the Philippines and Borneo. (1)
- A climber growing primarily in the wet tropical biome.
Constituents
- Phytochemical screening of extracts of stem ethanolic extract yielded stem bark yielded saponins, flavonoids, and steroids. (see study below) (3)

Properties
- Studies have suggested antioxidant, antimicrobial properties.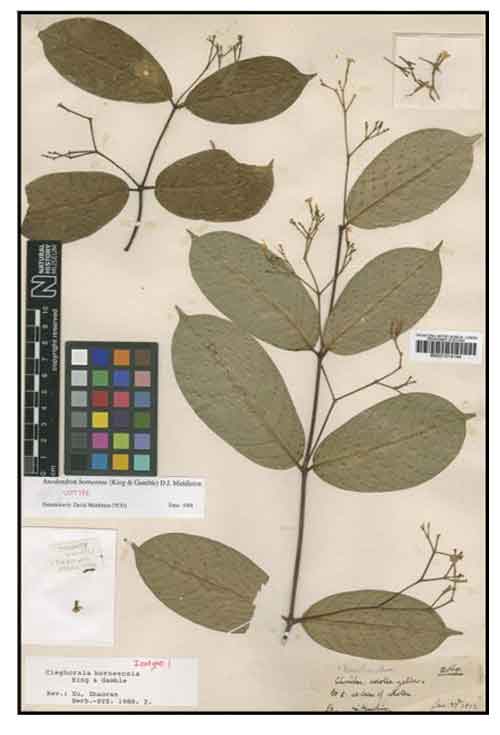 Parts used
Bark, stem.

Uses
Folkloric
- In Mindanao, tribe leaders, healers, and community elders use the plant for a varied range of diseases and conditions: cancer, diarrhea, stomach problems, ulcer, toothache, arthritis, rheumatism, pregnancy, body aches, weakness, fatigue, cramps, spasms, relapse and poisoning, Stems used for making tincture and decoctions for oral use to treat colon and prostate cancer, tumors, diabetes, hypertension, pulmonary tuberculosis, impotence, sterility, postpartum care, flatulences, sprains, etc.   (3)
- Stems soaked with coconut oil used for treatment of scabies, impetigo, scarlet fever, boils, skin eruptions, rashes, cuts, and wounds, animal and insect bites, among many others. (3)
- The Agusan Manobo tribe use bark and stem infused in local wine for 6-12 h, one tablespoonful twice daily for gastronintestinal and liver infection. (4) Stem infused with coconut oil applied to cuts and wounds. (5)

Studies
• Antimicrobial / Antioxidant / Stem Bark: Study evaluated extracts of air-dried stem bark for antioxidant and antimicrobial activities. Agar disc diffusion assay showed growth inhibition of gram inhibition of gram positive S. aureus and B. subtilis, although lower than chloramphenicol. The extract showed more inhibitory activity against fungi C. albicans and A. niger. Stem ethanolic extract showed weak antioxidant activity by DPPH assay with IC50 of 187.2 ppm compared to ascorbic acid 1.74 ppm. (see constituents above) (3)
Availability
Wild-crafted.