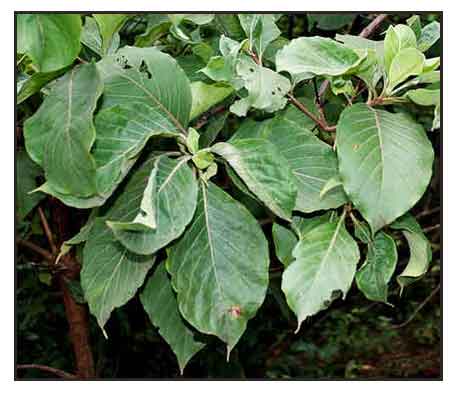 Botany
Hibau is a deciduous tree 10 to 12 meters in height. Bark is mostly furrowed and rough, except for the branches which is smooth), 10 to 20 centimeters thick, grey, exfoliating in irregularly shaped, softish scales. Leaves are ovate-elliptic or almost rounded, 10 to 24 centimeters long, 7 to 12.5 centimeters wide, pointed at both ends, and hairy on both surfaces. Flowers are stalked, white, fragrant, about 0.5 centimeter long, and borne in terminal, drooping panicles. Corolla-tube is slender and 5-lobed. Fruit, a capsule, is ellipsoid, 2 to 2.5 centimeters long, growing on recurved, thick pedicels 5 to 12 millimeters long. Seeds are many, flat, winged all around the margin, about 1 centimeter long, including the wing.
Distribution
- Abra, Ilocos Sur, Pangasinan, Nueva Ecija, Tarlac, Pampanga, Bulacan, and Rizal Provinces in Luzon; and in Palawan, Guimaras, Mindanao and Basilan, chiefly In secondary forests at low altitudes, often about cliffs near the sea.
- Also occurs in India to Burma and Java.
Constituents
- Studies have reported conflicting results on the bark constituents: One attributes the bitter taste of the fresh bark to aesculin; another reports an alkaloid, hymenodictyon excelsum; while another reports ß-methyl-aesculetin.
- Studies have reported coumarins and anthraquinones.
- Study of stem bark yielded tannin, toxic alkaloid, hymenodictine, a bitter substance, aesculin, an apioglucoside of scopoletin, hymexelsin.
- Roots yielded anthraquinones, rubiadin and its methyl ether, lucidin, nordamnacanthal, damnacanthal, 2-benzylzanthopurpurin, anthragallol, soranjidol and morindone.
- Study yielded two new acetylenic fatty acids, a new triglyceride, and 11 known compounds, among them: ursolic acid, ursonic acid, oleaqnolic acid, uncarinic acid E, ß-sitosterol.
- Study of leaves isolated two new acetylenic fatty acids, a new triglyceride, along with eleven known compounds including 3-oxo-11α,12α-epoxyurs-13β,28-olide, previously reported as a synthetic compound. (8)

Properties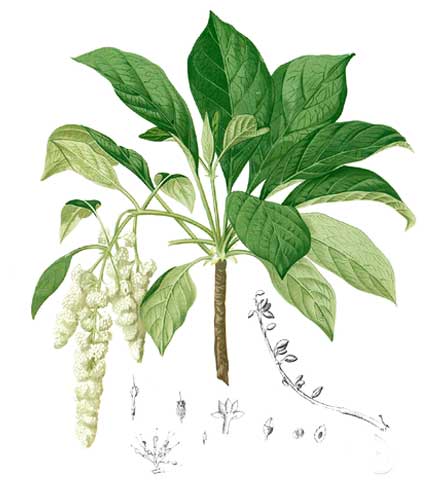 - Antiperiodic, astringent, bitter, febrifuge.
- Inner bark is bitter; outer layer of the bark is tasteless.
- Bark is astringent, febrifuge, and antiperiodic.

Parts used
Bark, leaves.

Uses
Folkloric
- As antiperiodic, bark used as substitute for cinchona bark.
- Bark used as astringent and febrifuge; leaves used to treat ulcers, sialitis, sore throat, tonsillitis,
- In India, the bitter bark is used as astringent and febrifuge; root, wood and stem-bark used as for fevers and to relieve thirst.
- In West Bengal, India, the stem bark is used to treat enlarged spleen in babies. Whole plant decoction used in babies for diarrhea and dysentery.
- In Bangladesh, bark used to increase appetite and cure tumors. Powdered wood used for herpes. Root juice mixed with the juice of bark of Callicarpa tomentosa used for fever. Leaves boiled in water used as bath in the treatment of jaundice.
Others
Lumber: Used as planks in building houses and boats; for making boxes, toys and matches.
In India, as a cheaper grade of wood for making furniture, warper bobbins and wool boards.

Studies
• Acetylenic Acids: Study yielded two new acetylenic fatty acids, a new triglyceride, and 11 known compounds, among them: ursolic acid, ursonic acid, oleaqnolic acid, uncarinic acid E, ß-sitosterol. (2)
• Antibacterial: In a study of traditional Cambodian medicinal plants Harrisonia perforata roots and Hymenodictyon excelsum bark exhibited bactericidal effect against S. aureus at a concentration of 500 ug/mL. (3)
• Antioxidant / Anti-Inflammatory: Methanolic extract of bark showed concentration dependent free radical scavenging properties in various in vitro antioxidant assays. Total phenolic content was 97.03 ug/mg of extract. Results showed HE bark extract had remarkable antioxidant and in vitro anti-inflammatory activities. (7)
• Anti-Inflammatory / Toxicity Study / Leaves: Study evaluated the leaves of Hymenodictyon excelsum for anti-inflammatory activity by carrageenan induced edema method in rats. A hydroalcoholic extract of leaves did not induce any toxic reactions at dose of 2000 mg/kbw . Results showed highly significant anti-inflammatory activity. (9)

Availability
Wild-crafted.