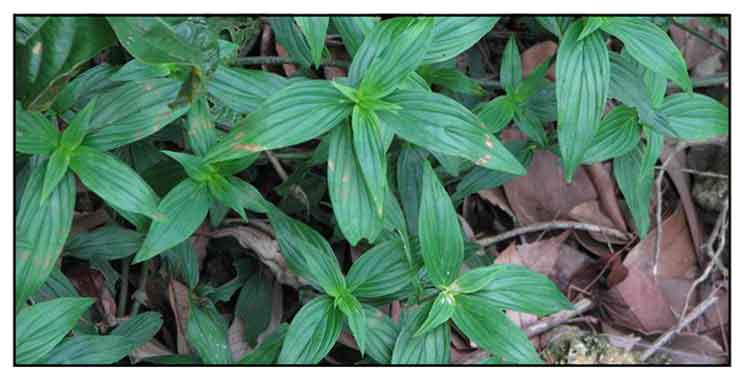 Gen info
- Hedyotis costata is a genus of flowering plants in the family Rubiaceae. It comprises about 115 species.
- Hedyotis, named by Linnaeus in 1753, derives from two Greek words: hedys meaning "sweet" and otos meaning "ear", referring to the sweet-scented ear-shaped leaves of some species. (3)
- An understudied plant.
Botany
Hedyotis costata is a rather coarse, spreading, diffuse, villous herb 30 to 60 centimeters long. Leaves are petioled, elliptic-lanceolate, 5 to 11 centimeters long, and 1 to 3 centimeters wide. Cymes are villous, small, borne in the axils of the leaves, and furnished with short stalks under 1.5 centimeters long. Flowers are very small, white, and crowded in small heads. Fruit is a capsule, small, rounded and hairy.
Distribution
- In open grasslands and thickets at low altitudes in Rizal, Laguna, Camarines, and Sorsogon Provinces in Luzon; and in Culion, Busuanga, Palawan, and Mindanao.
- Also occurs in India, and through Malaya to the Moluccas.

Parts used
Roots.

Uses
Folkloric
- Roots boiled and made into a lotion for rheumatism.
- In Chinese medicine, used for malaria, hepatitis, rheumatism, conjunctivitis. The plant is an ingredient in a polyherbal formulation for atrophic rhinitis. (1)
Studies
• Herbal Mixture for Atrophic Rhinitis: Invention relates to a traditional Chinese medicine for the treatment of atrophic rhinitis prepared from a mixture of medicinal materials viz.,folium eucalypti, sophora fruit, wrinkled giant hyssop herb, saffron crocus, fortune firethorn, athelenota ananas and Hedyotis costata. (1)

Availability
Wild-crafted.