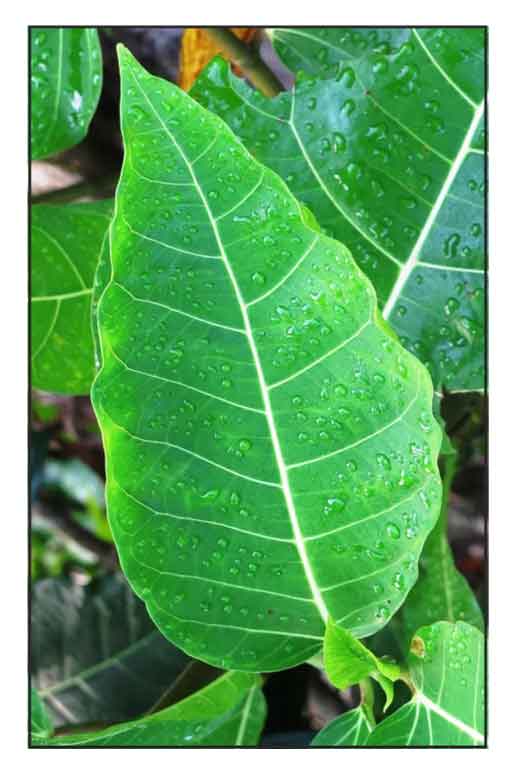 Gen info
- Ficus septica is a shrub or tree in the family Moraceae.
- It was first described by the Dutch botanist Nicolas Laurens Burman in 1768.
- The species epithet 'septica' derives from Greek, meaning putrid or septic, referring to the poisonous latex and its corrosive effect on the humann skin
Botany
Hauili is an erect, small tree, growing 3 to 8 meters high, smooth, with more or less hairy young shoots. Leaves are smooth and shining, not all roughened, oblong-ovate to elliptic-ovate, 10 to 20 centimeters long, with tip tapering to a rather sharp point, and the base pointed. Receptacles are axillary, solitary, depressed-globose or turbinate, obscurely ridged or angled, 1.5 to 2 centimeters in diameter, and shortly peduncled.
Ficus septica is a tree or shrub up to 25 m. Latex is characteristically yellow. Leaves and petioles are both glabrous. Leaves are symmetric, elliptic to oblong. Figs often grow in pairs but can be solitary or in groups of up to four, with 7 to 12 ribs towards the ostiole. At maturity, whitish to yellowish dots appear on the fig. Those in the Philippines have stems covered by short hairs while those in Taiwan are glabrous. (27)
Note: The water drops on the Ficus septica leaf (above/right) are not the result of rain or morning dew but expelled by "gutation", a natural process in plants that involves pushing out or secreting excess liquid from the leaves or blades. It occurs only at night while the stomata or small pores on the surface of the leaf are closed. It is common in many species of figs including F. elastica and F. chartacea. (Figs of Borneo) (32)
Distribution
- Native to the Philippines.
- In thickets at low and medium altitudes throughout the Philippines.
- Also native to Bismark Archipelago, Borneo, Jawa, Lesser Sunda Is., Malaya, Maluku, Nansei-shoto, New Guinea, Queensland, Santa Cruz Is., Sulawesi, Sumatera, Taiwan, Vanuatu. (16)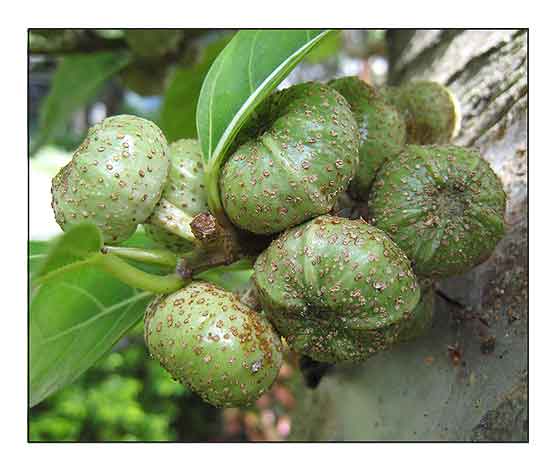 Constituents
• Phytochemical study isolated isoflavones: ficusin A and ficusin B from the root bark.
• Study isolated two indolizidine alkaloids: a novel ficuseptine and antofine.
• Phytochemical screening of an ethanol extract yielded alkaloids, quarternary base, tannins, 2-deoxysugars and benzopyrone nucleus. (see study below) (5)
• Methanol extract of stems yielded eight new alkaloids, namely, ficuseptines B−D (1−3), 10R,13aR-tylophorine N-oxide (4), 10R,13aR-tylocrebrine N-oxide (5), 10S,13aR-tylocrebrine N-oxide (6), 10S,13aR-isotylocrebrine N-oxide (7), and 10S,13aS-isotylocrebrine N-oxide (8), together with six known phenanthroindolizidine alkaloids. (see study below) (1)
• Study of ethanolic extract of dried leaves yielded alkaloids, condensed tannins, 2-deoxysugar, fats and oils. (see study below) (18)
• Study of dichlormethane extracts yielded ß-sitosteryl-3ß-glucopyranoside-6'-O-fatty acid esters (1), α-amyrin fatty acid esters (2), and a mixture of ß-sitosterol (3a) and stigmasterol (3b) in 5:2 ratio from the twigs, and 3α, ß-amyrin (4) and long chain saturated fatty alcohols (5) from the leaves. (22)

Properties
• Diuretic, sudorific, antiherpetic, antirheumatic.
• Studies have suggested cytotoxicity, anti-inflammatory, antibacterial, antifungal, immunomodulatory, antioxidant, hepatoprotective, antiprotozoal, anticancer, antiangiogenic, wound healing, anti-malarial properties.
Part utilized
Root, leaves, latex.
Uses
Folkloric
· In the Philippines, decoction of roots used as diuretic.
· Poultice of roots used for boils.
· Fresh leaves are sudorific; bruised with oil, used for headaches.
· Leaves applied externally as antirheumatic.
· Roots used for neutralizing toxins; also, for prevention of asthma.
· Fruits used as laxative.
· Latex used for herpes.
· Used by the Ayta people of Pampanga for wounds. (15)
· Used by the Ifugaos for diarrhea, cough, malaria and stomach problems.
· In southern Mindanao, bark used for diarrhea. (17)
· The Subanens in Dumingag in Zamboanga del Sur use decoction of roots and stems for headache and fever. (25)
· Used by the Ata Matigsalog in Arakan, north Cotobato for treating skin infections. (26)
Studies
• Phytochemicals / Phenanthroindolizidine Alkaloids / Stems / Cytotoxicity: Study yielded six known phenanthroindolizidine alkaloids, eight new alkaloids – ficuseptines B-D, 10R,13aR-tylophorine N-oxide, 10R,13aR-tylocrebrine N-oxide among others – from the methanol extract of stems of Ficus septica. Cytotoxicity of the new alkaloids were assessed in vitro using HONE-1 and NUGC cell lines. (1)
• Phenanthroindolizidine Alkaloids / Leaves / Cytotoxicity: Study yielded phenanthroindolizidine N-oxide, ficuseptine-A together with 18 known compounds from the leaves of FS. Some of the compounds exhibited strong cytotoxic activity against two human cancer cell lines. (3)
• Mucarinic Receptor Activity: Malaysian study of 224 plant extracts from 50 plant families for muscarinic receptor binding activity showed the greatest inhibition, and with other extracts that exhibited significant muscarinic properties were suggested to be worthy of further investigation. (2)
• Anti-inflammatory / Phenanthroindolizidine Alkaloids: Study examined the molecular mechanisms for the anti-inflammatory activity of phenanthroindolizidine alkaloids isolated from the leaves of Ficus septica. Study suggests that it exerts its anti-inflammatory effects by inhibiting expression of the proinflammatory factors and related signaling pathways. (4)
• Antimicrobial / Antifungal / Antiprotozoal: Study of ethanol extracts of F septica and S foetida showed antibacterial activities, inhibiting the growth of S aureus and E coli. Antifungal assay showed inhibition of Candida albicans. Antiprotozoal assay showed activity against T vaginalis and Entamoeba histolytica. Results suggest the extracts can be used to produce alternative forms of antimicrobials. (see constituents above) (5)
• Antimicrobial Alkaloids: Study of methanolic extract displayed intense antimicrobial and antifungal activities. Study isolated two indolizidine alkaloids: a novel ficuseptine and antofine. (6)
• Immunomodulatory / Anticancer: Previous study has shown anticancer effects singly or in combination with doxorubicin on T47D breast cancer lines. Study in thirty male Sprague Dawley rats showed HIF (hexane insoluble fraction) of leaves has a potential as protective agent combined with doxorubicin. (8)
• Apoptosis / Chemopreventive: Study of ethanolic extract of leaves showed potential as chemopreventive agent with its activity on inducing apoptosis in liver cancer with p53-independent pathway. (9)
• Co-Chemotherapeutic Agent / Leaves / Breast Cancer: Study evaluated the effects of n-hexane insoluble fraction (HIF) of Ficus septica leaves in combination with doxorubicin on cytotoxicity, cell cycle, and apoptosis induction of breast cancer T47D cell lines. Results show the HIF has potential to be developed as co-chemotherapy for breast cancer by inducing apoptosis and cell cycle arrest. (10) The combination of doxorubicin and ethyl acetate extract soluble fraction more potently inhibited cell growth than a single treatment of doxorubicin in T47D cells. The combination enhanced doxorubicin activities in T47D cells by apoptosis induction and cell cycle arrest. (24)
• Toxicity Study / Mutagenicity / Antifungal / Leaves: Study of dried leaf extract showed no toxicity at upper limit dose of 5000 mg/kg. The AMES test showed the leaf extract to be mutagenic against Salmonella typhimurium TA98. Antifungal activity was done using Kirby-Bauer Method with an active zone of 16.67 mm (C. albicans). (11)
• In Vitro Immunomodulatory Effect / Flavonoid and Phenolic Content: Study of various fractions of ethanolic extract exhibited increase in lymphocyte proliferation and macrophage phagocytosis activity. The ethyl acetate soluble fraction, with its phenolics and flavonoids, showed the highest immunomodulatory effect. (12)
• Antioxidant / Hepatoprotective: Study evaluated the antioxidant properties of leaf extract of F. septica and vine bark extract from U. perrottetti by measuring malondialdehyde (MDA) levels, as by-products of lipid peroxidation, in the liver of ICR mice. Extract treated mice had lower MDA levels with various signs of histological cellular repair. Results suggested hepatoprotection. (14)
• Antiangiogenic Activity:: Study evaluating the potential of leaves of various plants, including Ficus septica Burm. f., for angiosuppressive activity. All the extracts tested except for P. laevigata can reduce CAM (chorio-allantoic membrane) vascular density pointing to an antiangiogenic activity. (13)
• Antifungal / Leaves: Study evaluated ethanolic extracts of air-dried leaves of Ficus septica for antimicrobial activity. Results showed antifungal activity against Candida albicans, Aspergillus niger, Epidermophyton floccosum and Trichophyton mentagrophytes. (see constituents above) (18)
• Anti-Dengue: Dengue virus types 1-5 are positive-strand RNA viruses with an envelop that belongs to the Flaviviridae. In an in vitro study of 59 crude extracts, without cytotoxicity, from 23 plants, immuno-fluorescence assay showed the methanol extracts of fruit, heartwood, leaves and stems from Ficus septica had promising anti-DENV-1 and DENV-2 effect. Results suggest a potential antiviral drug against an enveloped virus such as DENV. (19)
• Cytotoxic Effect on Human Breast Cancer T47D Cell Lines: Previous study showed an ethanolic extract of F. septica to have cytotoxic effects on several cancer cell lines including T47D cells. Study evaluated various fractions of ethanolic extract for their cytotoxic effect on T47D cells. Results showed n-hexane soluble fraction and ethyl acetate soluble fraction exhibited potent cytotoxic eff3ect on breast cancer T47D cell lines. (20)
• Larvicidal / Aedes Mosquito / Leaves: Study evaluated the larvicidal potential of lagnob leaf extract on Aedes mosquito. A 95% ethanol extract of leaves caused significant mortality of two-day old Aedes larvae causing more than 50% larval mortality, with the larval mortality directly proportional to extract concentration. (23)
• Acute Dermal Toxicity Study / Leaves: Study evaluated the acute dermal toxicity of dried leaves of Ficus septica using OECD guideline. Results showed dried leaf crude extract was non-toxic with no signs of toxicity or deaths of rabbits at the upper limit dose of 5000 mg/kg. (25)
• Alkaloids / Cytotoxicity Against Cancer Cell Lines / Leaves: Study isolated two new aminocapro-phenone alkaloids, ficuseptamines A and B, and a new pyrrolidine alkaloid, ficuseptamine C, together with 12 known alkaloids and a known acetophenone. (26)
• Anti-Angiogenesis / Leaves: Study evaluated the antiangiogenesis activity and potential of awar-awar leaf extracts on chorioallantoic membrane (CAM) of chicken embryo inducted with basic fibroblast growth factor (bFGF). Results showed the higher the concentration of the extract, the growth of new vessels is decreased, demonstrated by reduced erythrocyte density, parallel blood vessel pattern, and looser cellular mesenchymal tissue. The increasing concentration of extract could inhibit new blood vessel growth (p<0.05). (28)
• Combination with Nigella sativa / Effect on HeLa Cycle: Study evaluated the potential combination of black cumin extract (BBC/thymoquinone) from Nigella sativa and awar-awar extract (AAE/tylophorine) from Ficus septica as chemotherapeutic agent in HeLa cell. Cell cycle analysis showed that either the single treatment or combination of BBE and AAE modulated cell cycle arrest in G2/M phase. The combination has potential as a chemotherapeutic agent for cervical cancer treatment. (29)
• Wound Healing / Cutaneous Ulcers / Clinical Trial: Infected cutaneous ulcers are major health problems for children in rural areas of Papua New Guinea. An open label cluster-randomized clinical trial evaluated the efficacy of Ficus septica in healing small cutaneous ulcers compared with Savlon antiseptic cream, and soap and water washing. In vitro, the topical exudate was rich in alkaloid ficuseptine, which was found to be non-mutagenic while inhibiting pro-inflammatory responses and exhibiting antibacterial activity. In the clinical trial, there were no significant differences between healing efficacy of F. septica exudate and two comparator treatments (Savlon antiseptic cream and soap/water treatment). (30)
• Antimalarial / Phenanthroindolizine Alkaloids / Twigs: A MeOH extract of twigs was showed to have antimalarial activity. Bioassay-guided fractionation of the methanol extract of twigs isolated a new seco-phenanthroindolizine alkaloid and three known phenanthroindolizine alkaloids. Compounds 2-4 showed antimalarial activity against 3D7 strain of Plasmodium falciparum with IC50 of 0.028-0.42 µM, while compound 1 exhibited moderate antimalarial activity. (31)

Availability
Wild-crafted.