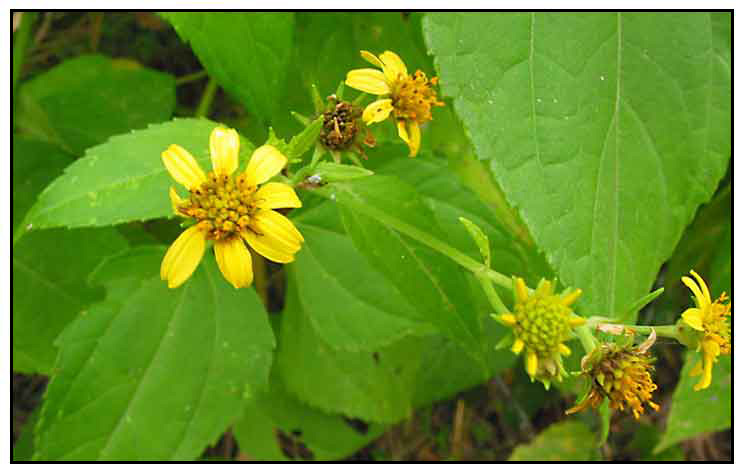 Botany
Hagonoi is a climbing, rough, herbaceous vine. Leaves are opposite, ovate, 6 to 8 centimeters long, with pointed tips and rounded bases, rather coarsely toothed margins. Stalks are 3 to 6 centimeters long. Head are 3 centimeters in diameter, numbering 1 to 3, sometimes more, in the upper axils, with stalks about 7 to 10 centimeters long. Involucral bracts are narrowly oblong, somewhat recurved, hairy, and equalling or exceeding the disk. Ray flowers are 6 to 15, the ligule oblong, yellow, 3-toothed, and 6 to 12 millimeters long. Disk flowers are numerous, yellow, or yellowish-brown.
Distribution
- Usually abundant in thickets of beaches and along tidal streams throughout the Philippines.
- Also occurs in India to China, Malaya, tropical Australia, and western Polynesia.
Constituents

Properties
- Considered emmenagogue, diuretic, stomachic.
- Leaves considered vulnerary.
- Roots are stomachic, leaves are diuretic and vulnerary.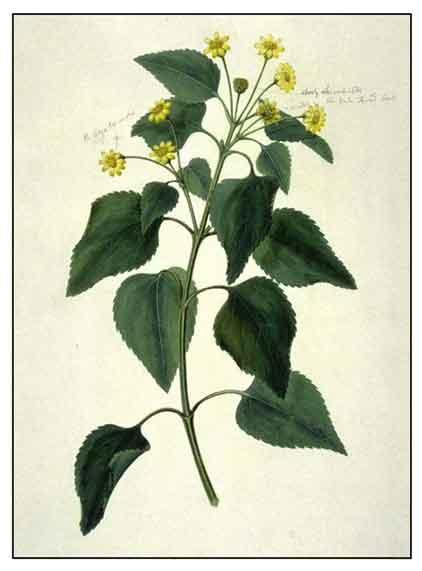 Parts used
Roots, leaves.
.
Uses
Edibility
- Plant used as substitute for tea.
Folkloric
- In the Philippines, roots used as stomachic, and the leaves as diuretic.
- Decoction of roots is slightly purgative.
- Used with Blumea balsamifera for baths.
- Leaves in decoction are antiscabious.
- Decoction of roots and leaves for stomach aches and fevers.
- Leaves used for cleaning and dressing ulcers.
- Juice of leaves, with cow's milk, taken as tonic after childbirth.
- Decoction of leaves with ginger for flatulence. The same preparation used for venereal diseases in Singapore.
- Decoction of leaves used as antiperiodic in Malaria and in hematuria.
- Flowers are known to be a violent purgative.
- Plant is used for headaches and fevers.
- Roots used to check vaginal discharges.
- In Lower Thailand used for headache and fever.
- In New Caledonia, juice of leaves in water used as remedy against children's dysentery. Also for diarrhea caused by cold exposure while fishing.
- Elsewhere, poultice used for cuts, ulcers, sores, varicose veins, stomach aches.

Studies
• Antifeedant / Antifungal Activity: Cotton boll weevil antifeedant activity and antifungal activity (Rhizoctonia solani and Pythium ultimum) of extracts of the stems of Wedelia biflora: Extracts showed antifeedant activity which led to an investigation of antifungal properties. (1)
• Analgesic Activity: Comparative study on analgesic activity of ethanol extracts of Wedelia biflora, W trilobata and E alba showed significant antinociceptive activity in a dose-dependent manner in mice comparable with standard drugs such as aspirin. (2)
• Phytochemicals: Phytochemical screening yielded alkaloids, steroids, sugars, tannins, terpenes, proteins, carbohydrates, coumarins, anthraquinone, glucosides and cardiac glycosides. (3)
• Antimicrobial / Anthelmintic: Alcoholic and aqueous root extracts were evaluated for anthelmintic and antimicrobial activities. Both extracts showed anthelmintic activity against adult Indian earthworm, Pheretima posthuma, with Piperazine citrate as reference standard. The ethanolic extract showed maximum antimicrobial activity against tested organisms. (6)
• Antimicrobial / Wound Healing / Leaves: Study of an ethanol extract of leaves in in vitro assays showed antimicrobial and wound healing activities in excision and incision wound model in Wistar albino rats. In the treatment group, there was greater wound healing and higher collagen redeposition. (7)
• Antiplasmodial: Sernai leaves (Wedelia biflora) extracts of leaves exhibited antiplasmodial activity against Plasmodium berghei on mice infected experimentally. (8)

Availability
Wild-crafted.