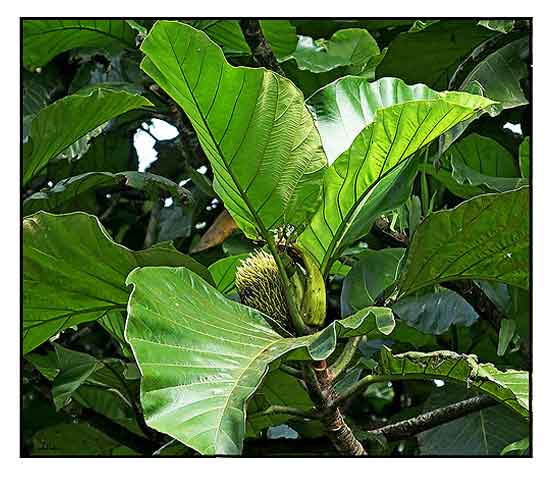 Gen info
- Artocarpus is a genus of approximately 60 trees and shrubs of Southeast Asian and Pacific origin, belonging to the mulberry family, Moraceae.
- Artocarpus sericicarpus is a tropical evergreen tree species of the family Moraceae. It is a cousin of jackfruit and breadfruit.
- Etymology: The genus Artocarpus is derived from the Greek words artos (bread) and karpos (fruit). The name was coined by Johann Reinhold Forster and J. George Adam Forster, father-and-son botanists.
Botany
Artocarpus sericicarpus is a fairly large tree up to 40 m tall, bole up to 100 cm in diameter. Leaves dark green, elliptical to ovate, base rounded to cuneate, slightly scabrid above, pubescent below, 20–70 cm (8–28 in) by 10–50 cm (4–20 in), with 11-16 pairs of secondary veins, stipules amplexicaul. Male head cylindrical, 15-20 mm across, on a 55-100 mm long peduncle; styles in female head simple. Syncarp ellipsoid to cylindrical, up to 5 cm across, with long, flexuous and solid processes, covered with long hairs. Fruits are globular, up to 15 cm diameter, skin bright orange when ripe, hairy (like rambutan). Pulp is white, very sweet, some say the sweetest in Artocarpus. (2) (3)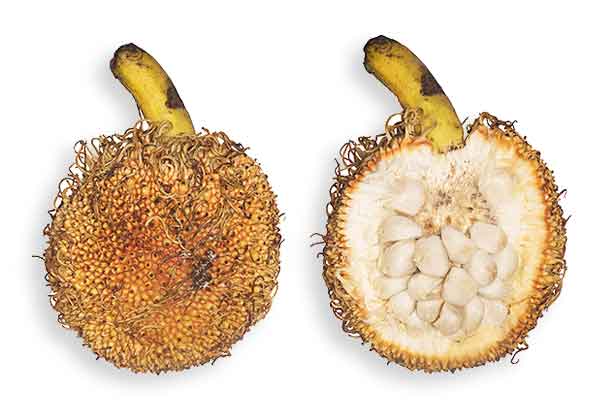 Distribution
- Native to the Philippines.
- Also native to Borneo, Maluku, Sulawesi. (1)
- Commonly found in humid tropics with a mild monsoon climate, in tropical evergreen forests at 500-1000 m altitude
Constituents
- Phytochemical screening of fraction 5 of dichloromethane extract yielded flavonoid, polyphenol, and terpenoid compounds. (see study below) (4)
Properties
- Fruit considered by some as the tastiest of all Artocarpus.
- Studies have suggested antimalarial and antibacterial properties.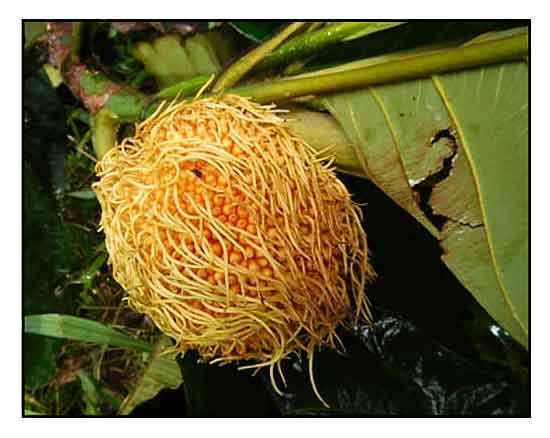 Parts used
Bark, stems.

Uses
Edibility
- Fruit is edible.
- Seeds are roasted and eaten.
Folkloric
- No reported folkloric medicinal use in the Philippines.
Others
- Latex: Sticky latex used in batik making.
- Wood: Used for furniture, house, and boat building. Bark used to make barkcloth.

Studies
• Antimalarial / Plasmodium falciparum / Stem Bark: Study evaluated the active antimalarial fractions from Artocarpus sericicarpus stem bark using n-hexane, dichloromethane, and methanol as solvents against Plasmodium flaciparum 3D7 strain. The extracts showed antimalarial activity with IC50s of >4, 2.11, and > 4 µg/mL, respectively. Dichloromethane extract yielded 13 fractions, seven of which showed antimalarial activity. Fraction-6 showed highest inhibition with IC50 of 1.53 ± 0.04 µg/mL. Phytochemical screening of fraction 5 of dichloromethane extract yielded flavonoid, polyphenol, and terpenoid, likely antimalarial compounds that strongly inhibited P. falciparum. (4)
• Antimicrobial / Bark: Study of bark extract of A. sericicarpus showed weak antibacterial activity by well diffusion assay against K. pneumonia and E. aeruginosa with inhibition zone of 6.52 mm and 6.72 mm at 10,000 ppm. (5) Methanol extract of bark showed moderate inhibitory activity against Enterobacter aerogenes and low inhibitory activity against K. pneumonia.
Availability
- Wild-crafted.
- Fruits, seeds, fruit trees in the cybermarket.