Gen info
Hibiscus syriacus is the national flower of South Korea.
Botany
Gumamelang-asul is a smooth and erect shrub growing to a height of 2 meters. Leaves are cuneiform-ovate, about 5 cm long, nearly or quite smooth, 3-lobed with toothed margins. Flowers are pale bluish-violet that do not open fully. Petals are obovate petals. Capsules are oblong, slightly hairy. Seeds are also hairy.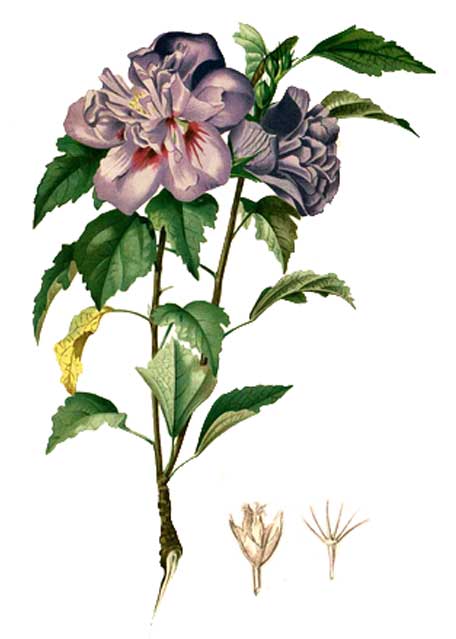 Distribution
- Ornamental cultivation.
- Nowhere naturalized.
- Native of tropical or subtropical Asia.
- Now widely cultivated.
Constituents
• Bark contains mucilage, carotenoids, sesquiterpenes, anthocyanidins.
• Study of bark yielded seven constituents: nonanedioic acid (1), suberic acid (2), 1-octarcosanol (3), β-sitosterol (4),1,22docosanediol (5), betulin (6) and erythrotriol (7). (12)
• Methanolic formic acid extraction of the petals of Hibiscus syriacus yielded 3-0-malonylglucosides of delphinidin, cyanidin, petunidin, pelargonidin, peonidin and malvidin. (14)
• Nutrient analysis of flowers showed comparable nutrients to common vegetables, with higher content of trace elements zinc and selenium (11.04 µg/100 g). (15)
• Study of leaves yielded 15 compounds viz., β-sitosterol(1), β-daucostero (2), β-amyrin (3), oleanolic acid (4), stigmast-4-en-3-one (5), friedelin (6), syriacusin A (7), kaempferol (8), isovitexin (9), vitexin (10), apigenin (11), apigenin-7-O-β-D-glucopyranoside (12), luteolin-7-O-β-D-glucopyranoside (13), vitexin-7-O-β-D-glucopyranoside (14) and rutin (15). (see study below) (16)
• Study of root bark yielded 4 new triterpenoids viz., 3β- acetoxy-olean-11-en,28,13β-olide (1), 3β- acetoxy-11α,12α-epoxy-olean-28,13β-olide (2), 19α-epi-betulin (3), and 20, 28-epoxy-17β,19β-lupan-3β-ol (4) together with 12 known compounds. (see study below) (17)

Properties
• Considered anthelmintic, antiphlogistic, antipruritic, demulcent, diuretic, emollient, expectorant, febrifuge,stomachic and styptic.
• Bark and roots are mucilaginous.
• Studies have shown antioxidant, antiproliferative, MAO inhibitory, antifungal, antibacterial, apoptotic properties.

Parts used
Flowers, bark and roots.
Uses
Edibility
• Flowers, leaves, root and oil are edible.
• Flowers impart a taste of lettuce.
• Tea made from flowers and leaves.
• Young leaves, eaten raw or cooked. Used as salad ingredient.
• Root is edible, though fibrous, and lacking flavor.
Folkloric
• In Malaya, infusion of dried flowers used as a diuretic. Also used for itches and other skin ailments.
• Decoction of flowers used for dizziness, bloody stools.
• Leaves are used as stomachic.
• In Indo-China, used for dysentery.
• Bark and roots are mucilaginous; used as demulcent, for diarrhea, dysentery and dysmenorrhea.
• Seeds used for headaches and colds: also used in combination with pig marrow as an application to discharging ulcers.
• Flowers sometimes used as substitute for tea.
• Roots used for treatment of athlete's foot.
Others
• Fiber: Stems yield a fiber, used for making paper and rope.
• Shampoo: Hair shampoo made from the leaves.
• Dye: Blue dye obtained from the flowers.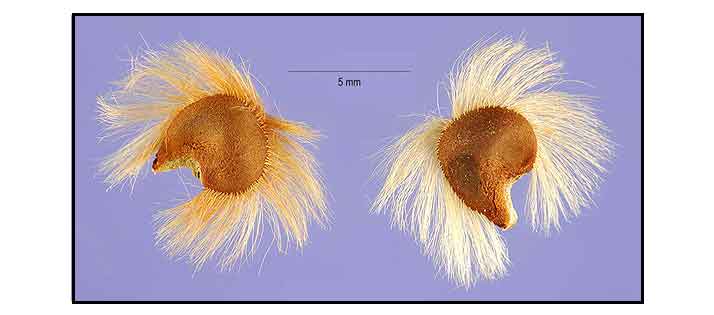 Studies
• Antioxidant: Study on the stems and roots of Hibiscus syriacus showed the extract of heat-treated HS was more effective than those of non-treated HS in reducing the stable free radical DPPH. (2)
• Antiproliferative / Apoptosis by Activation of p53 and AIF in Human Lung Cancer cells: Study showed the acetone extract of HS exhibited better cytotoxic effect on lung cancer cells than the methanol and water extract. Results show HS-AE suppresses exerts significant dose-dependent anti-proliferative effect on cancer cells in vitro and in vivo. (3)
• Naphthalenes / Cytotoxicity / Anti-Lipid Peroxidation: Study isolated three naphthalenes from the root bark of Hibiscus syriacus – syriacusins A, B and C. The compounds exhibited lipid peroxidation and one showed cytotoxicity against some human cancer cell lines. (4)
• Anthocyanidin Malonylglucosides: Methanolic formic acid extract of petals yielded 3-O-malonylglucosides of delphinidin, cyanidin, pentunidin, pelargonidin, peonidin and malvidin. (6)
• Triterpene Esters / Lipid Peroxidation Inhibition / Anticancer: Root bark yielded two triterpene caffeates. Both compounds exhibited lipid peroxidation inhibitory activity and significant cytotoxicity against a panel of human cancer lines. (7)
• Coumarins / MAO Inhibitory Activity: Root bark yielded a coumarin, a new coumarin lignan, and known compounds scopoletin and cleomisconsins A, C, and D, The coumarin analogue and scopoletin inhibited MAO, while the coumarin lignan and cleomiscosin C exhibited lipid peroxidation inhibitory activity comparable to vitamin E. (8)
• Nonanoic Acid / Mutant H. syriacus / Antifungal Activity: Study of a methanolic extract of roots of H. syriacus Ggoma, produced by mutation breeding. The extract exhibited four time higher antifungal activity than its parent type against Trichophyton mentagrophytes. Spectroscopic analysis identified the antifungal substance as nonanoic acid. (10)
• Antioxidant / Leaves: Study evaluated a methanolic extract and fractions of leaves for antioxidant activity in invitro and ex vivo models. Results showed the CMF of leaves to scavenge superoxide radical, nitric oxide radical, reducing power and inhibited lipid peroxidation. The antioxidant activity can be attributed to phenolic compounds such as delphinidin, petunidin, malvidin, and quercetin. (11)
• Triterpenoids / Apoptosis / Anti-Breast Cancer: Screening of H. syriacus extracts identified a novel anti-cancer drug for patients with ER-negative breast cancer. The natural compound betulin (K02) and its derivatives (K03, K04, and K06) induced human breast cancer cell apoptosis and inhibited cell proliferation. Results suggest H. syriacus extracts might inhibit breast cancer cell viability and induce apoptosis by activating p53 family regulated pathways and inhibiting AKT activation. (13)
• α-Glucosidase Inhibitory Activity / Leaves: Study evaluated H. syriascus for chemical constituents and α-glucosidase inhibitory activities. Fifteen compounds were isolated from the leaves. Compounds 7 and 9—syriacusin and isovitexin, showed strong α-glucosidase inhibitory activities with IC50 of 39.03 ± 0.38 and 32.12 ± 0.62 mg/L, inhibition ration of 94.95% and 97.15%. (see constituents above) (16)
• Cytotoxic Effect of Triterpenoids / Root Bark: Study of root bark yielded 4 new triterpenoids together with 12 known compounds. Extract and the compounds were evaluated for cytotoxicity against A549 human lung cancer cells. Compound 12, betulin-3-caffeate, significantly reduced cell viability (IC50 4.3 µM. (see constituents above) (17)

Availability
- Wild-crafted.
- Cultivated.
- Hibiscus syriacus flower tea.