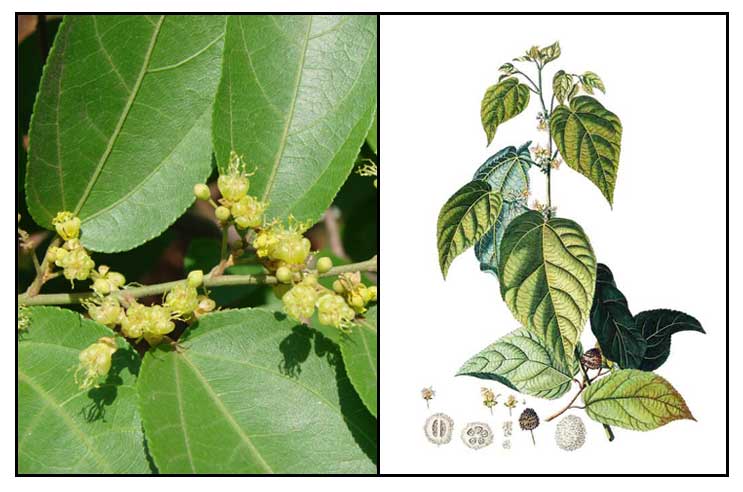 Botany
Guazuma is a tree growing to a height of 10 or more meters. Leaves are oblong to broadly ovate, 4 to 16 centimeters long, with pointed tip, rounded to heart-shaped base, and toothed margins. Flowers are small, yellowish-green or whitish, sweet-scented, and borne in axillary cymes. Fruit is a woody capsule, nearly spherical or oval, 2 to 4 centimeters long, covered with black tubercles resembling those of a mulberry, and imperfectly 5-valvate at the apex. Seeds are numerous in each cell.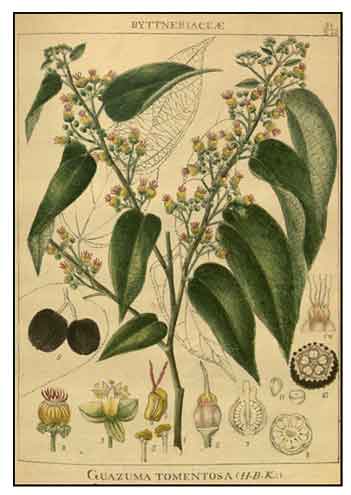 Distribution
- Recently introduced into the Philippines.
- Garden cultivation.
Constituents
- Study yielded proanthocyanidins.
- Roots yielded a new dicoumarol, 3,3'-methylenebis(4,6-dihydroxycoumarin) along with known metabolites β-sitosteryl stearate, n-tetracosanoic acid, friedelin, friedel-1-en-3-one, β-sitosterol, 29-norcycloartanol, oleanolic acid, 3-O-acetyloleanolic acid, 6-methoxy-7,8-methylenedioxy coumarin, and methyl-3-acetyloleanolate.
- Studies for chemical constituents have yielded: acids (tartaric, kaurenoic, asparaginic), flavonoids (kaempferol, procyanidin B2, procyanidine B5, procyanidine C1), gums (xanthan gum), purines (theobromine, caffeine), tannins (catechins, colatannins), and others ( octacosanol, friedelin-3a, 3ß-ol, ß-sitosterol, friedelin, farnesol, taraxerol, colestin). (11)
- Ethanolic extract of leaves yielded alkaloids, terpenoids, saponins, tannins, flavonoids, and steroids. (see study below) (16)
Properties
- Bark is considered emollient, sudorific and astringent.
- Fruit is considered pectorant.
- Studies have shown antimicrobial, antioxidant, anti-inflammatory, gastroprotective, hypotensive, vasorelaxant, anti-leishmanial, wound healing, and anticancer properties.

Parts used
Bark, fruit and other plant parts.

Uses
Edibility
- Seeds are edible, fresh or cooked.
- In some parts of India, capsules reportedly eaten as famine food.
Folkloric
- Bark and other plant parts used for malaria, cutaneous and syphilitic affections, elephantiasis, afflictions of the chest and leprosy.
- In Martinique, infusion of the old bark is considered sudorific and used for chest and cutaneous diseases.
- In the West Indies, the inner bark is used for elephantiasis; also as a sudorific.
- In the Antilles, the bark is mucilaginous and used for astringent applications.
- Fruit is considered pectorant and used for bronchitis.
- Beverage of crushed seeds soaked in water used for diarrhea, dysentery, cold, coughs, contusions and venereal disease. Also, used as diuretic.
- Used as topical remedy for hair loss and baldness.
- Reported use by Latino healers in NYC for uterine fibroids.
- Leaves used for weight loss.
- In Indonesia, used as ingredient in a slimming tea mixture. Bark used for pneumonia, colds and cough, bronchitis and hemorrhoids.
- Leaf extracts used in the treatment of acne. (17)
- Leaves used for alopecia, dermatitis, fever, dysentery, asthma, wounds and ulcers. Seeds used for constipation. Fruit used for diarrhea, infection, uterine page, hemorrhage. (11)
- In Mexico, used for empirical treatment of type 2 diabetes. (12) Used for treatment of gastrointestinal disorders. Decoction of bark, leaves or buds used for treatment of diarrhea. (20)
Others
- Fodder: In many countries, an important source of livestock fodder.
- Wood: Used for posts, general carpentry, light construction and charcoal.
- Rope: Tough, fibrous bark and young stems used for making rope and twine.

Studies
• Anti-Diabetes: In a study in hyperglycemic rabbits of 28 medicinal plants, eight, including Guazuma ulmifolia, significantly decreased the hyperglycemic peak and/or the area under the glucose tolerance curve. (3) G. ulmifolia water extract showed antidiabetic effects by stimulating glucose uptake in both insulin-sensitive (3T3-F442A adipocytes) and insulin-resistant adipocytes without inducing adipogenesis (Alonso-Castro and Salazar-Olivo 2008) (12)
• Radical Scavenging / Anti-Inflammatory / Gastroprotective: Study evaluated the gastroprotective effects of an aqueous suspension of an ethanolic extract of leaves and flowers of G ulmifolia in a diclofenac-induced acute gastric ulcer model. Pretreatment with GU or omeprazole decreased the ulcerated area in a dose-dependent manner. Results conclude the aerial parts of GU protect gastric mucosa from the injurious effects of NSAIDS mainly by anti-inflammatory and radical-scavenging mechanisms. (4)
• Antibacterial: A study evaluated 21 extracts from 7 herbal drugs, including G ulmifolia bar, for their antibacterial properties against E coli, P aeruginosa, S aureus and E faecalis. Almost all the extracts were able to inhibit growth of one or more bacterial strains, except that of E faecalis. (5)
• Proanthocyanidins: Proanthocyanidins from the bark has been shown to inhibit the activity of cholera toxin. (6)
• Hypotensive / Vasorelaxant: Study investigated the in vivo and in vitro cardiovascular activity of a procyanidin fraction (PCF) from the acetone extract of G ulmifolia. Results conclude that G ulmifolia bark possesses long-lasting antihypertensive and vaso-relaxing properties linked to endothelium-related factors where nitric oxide is involved. (7)
• Effect of Leaf Extract on Renal Histopathology: Study evaluated the effect of oral administration of Jati Belanda leaves extract on histopathology of the kidney. Single dose treatment of leaves extract caused histopathological kidney changes including increased mesangial proliferation, congestion of renal blood vessels in the glomerulus or tubules, inflammatory cell infiltration and tissue necrosis. (13)
• Cytotoxicity / HeLa Cell Line: Study evaluated three South Sulawesi medicinal plant extracts (Gmelina arborea, Guazuma ulmifolia, and Curculigo orchioides) in the treatment of HeLa cell line. Results showed dose-dependent cell growth inhibition with IC50 of 113.61±0.12 µg/ml, 174.90±1.22 µg/ml, and 126.05±2.43 µg/ml on HeLa cancer, respectively. (14)
• Anti-Leishmanial / Cytotoxic / Leaves: Study evaluated the antiparasitic and cytotoxic activities of three Brazilian plant species. Ethanol extract of leaves of Guazuma ulmifolia showed significant antiparasitic inhibition against Trypanosoma cruzi (63.86%), Leishmania brasiliensis (92.20%) and Lesihmania infantum (95.23%) at 500 µg/ml. Its higher antilesihmanial activity may be due to the presence of quercetin, a known potent antileishmanial compound. (15)
• Wound Healing / Leaves: Study evaluated an alcoholic extract of leaves for wound healing activity in albino Wistar rats in a chemically induced wound model. Results showed significant dose dependent wound healing activity with faster re-epithelization than control. (see constituents above) (16)
• Antihypercholesterolemic / Combination with Curcuma xanthorrhiza Rhizomes / Leaves: Study evaluated the effect of an aqueous extract of mutamba leaves in combination with ethanol extract of java tumeric on serum lipid levels of Wistar rats. Results showed combination of water extract of mutamba leaves (25 mg/kbw) and ethanol extract of java tumeric rhizome (12.5 mg/kbw) decreased total blood cholesterol and significantly decreased LDL. Results were better compared to either drug alone. (18)
• Antioxidant / Root Heartwood: Study evaluated various fractions of root heartwood by GC-MS analysis. Dichlormethane fraction showed most effective antioxidant activity by DPPH free radical scavenging effect and FRAP total reduction capability. Results could be attributed to phenolic constituents. (19)
• Anthelmintic / Leaves: Study evaluated various extracts of leaves of Guazuma tomentosa against adult earthworm. Results showed dose dependent action and inhibition of spontaneous motility (paralysis) and death of earthworm. Anthelmintic activity may be due to the presence of tannins, flavanoids, and purines. Alcoholic and dichlormethane extracts were found to be potential sources of natural anthelminthic compounds. (21)

Availability
Wild-crafted.
Seeds, powders, teas, tinctures in the cybermarket.