B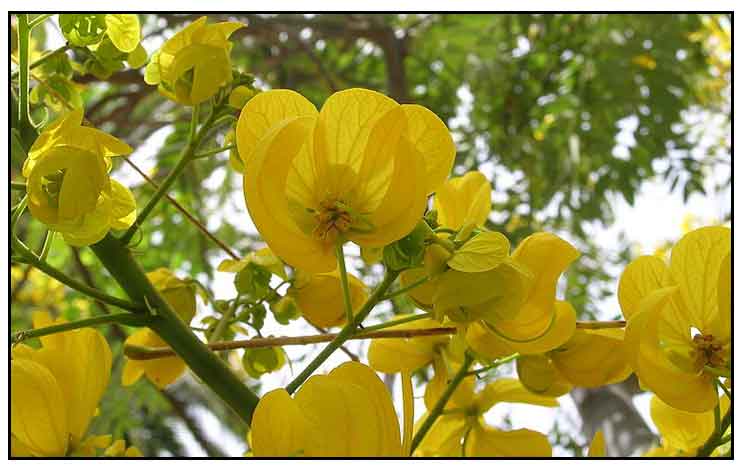 otany
Cassia spectabilis is a small- to medium-sized tree, 10 meters or taller, the branchlets softly hairy. Leaves are alternate and pinnately compound. Leaflets are oblong-lanceolate, up to 15 pairs, 7.5 centimeters long, green and smooth above, finely hairy underneath. Flowering branches are up to 60 centimeters long. Flowers are in racemes, spikes or cymes, clustered, bright yellow, up to 3.5 centimeters across. Perianth consists of a calyx and a corolla of 5 segments each. Pods are cylindrical, brown, and up to 30 centimeters long.
Distribution
- Introduced after the Second World War.
- Common ornamental cultivation in gardens, parks and along the highways.
- Considered native to South America.
- Fast-growing, overtaking native forestry ecosystems.
- considered invasive in many countries. (14)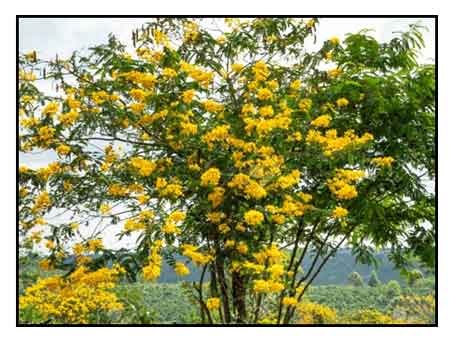 Constituents
• Phytochemical study of the flowers yielded three new piperidine alkaloids: (-)-3-O-acetylspectaline, (-)-7-hydroxyspectaline and iso-6 -spectaline, together with known (-)spectaline. (4)
• Methanolic extracts of green fruits isolated a new piperidine alkaloid, (+)-3-O-feruloylcassine (1), in addition to the known (−)-spectaline (2) and (−)-3- O-acetylspectaline (3).  (see study below) (2)
• Study of leaf and stem bark powders yielded significant amounts of retinol, α-tocopherol, thiamine, nicotinamide, ß-carotene, lycopene, and ß-cryptoxanthin. Mineral composition analysis showed Mo, V, Ni, Cr and Cu were higher in the leaf than the stem bark, while Se, Fe, Zn, Mn and Co were more abundant in the stem-barks. (see study below) (19)
Properties
• Studies have suggest antifungal, antibacterial, antioxidant, anti-inflammatory, antimalarial, biosorbent, antimalarial, antileishmanial, anticonvulsant, antiproliferative properties
Uses
Folkloric
• No recorded folkloric medicinal use in the Philippines.
• In Thailand, traditionally used for ringworm and skin diseases.
• In Cameroon traditional medicine, used for constipation, insomnia, anxiety, seizures.
• In Brazilian folk medicine, used as analgesic, anti-inflammatory, laxative, purgative and anti-ulcer.
• In Ayurveda, used for fevers and headaches.
Others
• Wood: Moderately heavy and durable when kept dry; resistant to termites. Used for making small implements like tool handles, boxes, etc. (15)
• Mulch: Leaves used as mulch. (15)
• Fuel: Wood used for fuel and making charcoal. (15)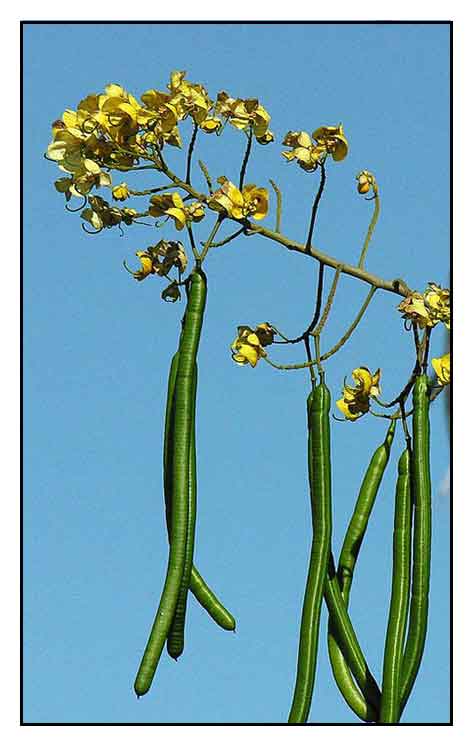 Studies
• Antifungal: Cassia spectabilis methanol leaf extract study showed significant antifungal activity and suggests a potential use in infections caused by C albicans. (1)
• Antioxidant / Cox Inhibition: Phytochemical studies isolated a new piperidine alkaloid (3-O-feruloylcassine and known spectaline and 3-O-acetylspectaline which showed moderate antioxidant activities and marginal COX-2 inhibition. (2)
• Antimicrobial: Study evaluated crude ethanol and aqueous extracts of various parts of Senna spectabilis and S tora for in-vitro antimicrobial activity against E. coli, B. cereus, Candida albicans and S. cerevisiae. Results showed crude water extracts of S. spectabilis inhibited growth of B. cereus (20-25 mm). S. spectabilis showed no antifungal activity. (3)
• Anti-Candida Biofilm Activity / Leaves: A methanol leaves extract of C. spectabilis showed a favorable antiyeast activity against C. albicans with an in-vitro biofilm reduction of 96.9% compared to fluconazole 95.4%. (6)
• Toxicity Study: Toxicity was evaluated on male crossbred cow calves fed with 20, 40, or 60 g/kg doses of leaves of C. spectabilis for 5 days. There were no signs in the 20 g/kg group. In 40 g/k, all the calves died within 15 days, while at 60 g/kg all calves died within 10 days. Necropsy showed catarrhal gastroenteritis and pericardial petechia, with degenerative changes in the liver and myocardium. At doses of 40 and 60 g/kg, results indicate the plant is highly toxic. (see study below} (7)
• Antioxidant / Free Radical Scavenging: Study evaluated in vitro antioxidant, free radical scavenging and free radical scavenging, and hepatoprotective activities of methanol extracts of C. spectabilis and Polyalthis longifolia. All extracts showed considerable dose dependent in vitro antioxidant and free radical scavenging activities. Phenolic and flavonoid content significantly correlated with antioxidant capacity. (8)
• Biosorption of Chromium: Biosorption is the process of removal of heavy metal contaminants from aqueous solutions. Study investigated the biosorption of chromium (Cr VI) using bark of Cassia spectabilis. Results showed both biosorption and bioreduction were involved in the Cr removal. Data examination showed the biosorption process followed pseudo-second order kinetic model. (9)
• Acute and Subacute Toxicity Studies / Leaves: A leaf extract was evaluated for acute and repeated dose 28-day oral toxicity in Wistar rats. In acute toxicity study there were no clinical signs of toxicity and mortality even at doses of 2000-5000 mg/kg. In repeated dose 28-day oral toxicity study, there were not significant changes in biological and hematological parameters, no significant change in body weight, and no gross and histopathological changes. Results suggest C. spectabilis is non toxic at given dose. (see study above [7]) (10)
• Anti-Malarial / Piperidine Alkaloids / Flowers: Study isolated two known piperidine alkaloids from the flowers of Senna spectabilis. On acetylation, the compounds yielded derivatives (-)-O-acetylcassine and (-)-3-O-acetylspectaline. Screened against Plasmodium falciparum-infected RBCs in culture, the first two alkaloids showed antimalarial activity, more effective in comparison to standard compound chloroquine. (11)
• Antimicrobial / Leaves: Study investigated the antimicrobial properties of various crude extracts of leaf against bacteria (Gram positive: B subtilis, S. aureus; Gram negative: E. coli, S. typhi, P. aeruginosa) and yeast (Candida albicans). The methanol and acetone leaf extracts showed good antimicrobial activity. (12)
• Antimicrobial / Laxative / Leaves: Study of crude extract of leaves showed in vitro antimicrobial activity against bacterial strains of E. coli, S. aureus, and Bacillus sp. Methanol extracts showed moderate laxative activity. (13)
• Anticandidal Mechanism in Debilitating Candidiasis / Leaves: Study sought an alternative to commercial, potentially toxic, and expensive anti-Candidal agents. Study evaluated the possible mechanisms of C. spectabilis leaf extract by potassium leakage study and the effect of the extract on constituents of cell wall and enzymes and morphological changes on C. albicans. The extract was non-toxic as suggested by IC50 of 59.10 µg/mL. Study suggested effective anti-candidal activity as evidenced by potassium leakage of 1039 ppm (compared to Amphotericin B (1115 ppm), Treated cells showed abnormalities, damaged or detached within the microcolonies. Results suggest the leaf extract as an effective anti-C. albicans agent. (16)
• Antimalarial / Inhibition Effect in Heme Detoxification / Leaves: Study evaluated the antimalarial mechanism of a leaf extract of Cassia spectabilis using P. berghei mice. Study evaluated the effects of antimalarial prophylaxis and antimalarial activity in combination with artenunate. Results showed the active antimalarial isolate from C. spectabilis leaf had a structural pattern identical to (-)-7-hydroxy-spectaline. The use of C. spectabilis plus artesunate was better than standard combination of amodiaquine + artesunate. Results suggest C. spectabilis leaves possess potent antimalarial activity and has potential as an effective and affordable antimalarial phytomedicine. (17)
• In Vivo Toxicity Study: Study evaluated the toxicity of aqueous extracts of three plants (Maytemus putterlickoides, Senna spectabilis, and Olinia usambarensis) on mice models through biochemical assays, histopathological changes and increase in lymphocyte numbers. The three extracts were active against diarrhea causing pathogenic bacteria in previous bioassay. All plants extracts exhibited changes in body weight, hematological and histopathological changes. Single-dose toxicity study was done with 1.0 g of plant extract/kbw. Senna spectabilis caused intense infiltration of inflammatory cells causing necrosis and loss of cellular details of the kidney. The study furthers understanding in the safety of ethno-medicinal materials in the management of diarrhea caused by intestinal pathogens. (18)
• Phytonutrients / Minerals / Antioxidant Capacity / Leaf and Stem Bark: Study evaluated the phytonutrients, mineral elements and in vitro antioxidant capacity of leaf and stem bark powders. Antioxidant activity was 63.36 and 28.12% for leaf and stem bark powders, respectively. Free radical scavenging activity was 90.95% and 88.98%, respectively. (see constituents above) (19)
• Leishmanicidal / Piperidine Alkaloids / Flowers: Study evaluated the antileishmanial activity of crude ethanolic extracts, fractions, and two major alkaloidal metabolites. Fractions dichlormethane (FL-DCM) and n-butanol (FL-Bu) and a mixture of (-)-cassine/(-)-spectaline exhibited significant activity against parasite Leishmania major without toxic effects on murine macrophage. (20)
• Spectaline / Antileishmanial: Study evaluated the antileishmanial properties of constituents from Senna spectabilis by bioassay-guided isolation approach and fractionation. Results demonstrated that the compound (+)-spectaline, a piperidine alkaloid, isolated from S. spectabilis is active in vitro against L. major infection. (21)
• Anticonvulsant: Study evaluated the anticonvulsant effects of S. spectabilis decoction on seizures induced by maximum electroshock (MES), pentylenetetrazole (PTZ), pilocarpine (PC), and possible mechanism of action in animal models using FLU, BC, and BIC. Results showed anticonvulsant activity as evidenced by delay in onset time and reduction in mortality rate. Possibly, the plant decoction could interact with GABAA complex receptor probably on GABA and benzodiazepine sites. (22)
• Alkaloids / Antiproliferative on HepG2 cells / Flowers: Study evaluated the the in-vitro antiproliferative and cytotoxic potentials of an alkaloid mixture from S. spectabilis, (-)-cassine (1) and (-)-spectaline (2). Alkaloids 1/2 showed antiproliferative activity on HepG2 cells by inducing cell cycle arrest in G1/5 transition, associated with ERK inactivation and down-regulation of cyclin D1 expression. Results suggest the alkaloids 1/2 strongly inhibited cell proliferation of hepatocellular carcinoma cells. (23)
Availability
Wildcrafted.
Seeds in the cybermarket.