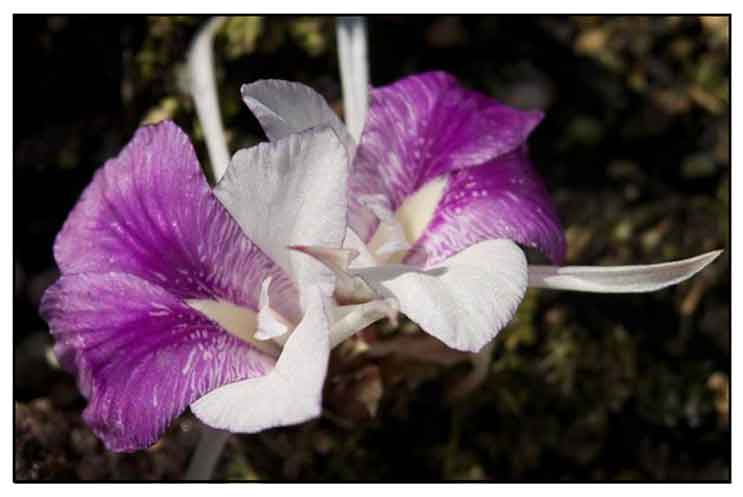 Botany
Kaempferia rotunda is a stemless herb with rhizomes that resemble those of Kaempferia galanga. Leaves are oblong and stained underneath. Spikes are radical, appearing before the leaves. Flowers are fragrant, sessile, purplish white. Calyx is 1-leafed, as long as the tube of the corolla, somewhat gibbous, with the apex generally two-toothed, with a dotted purplish color. Upper segments of the inner series of the corolla are lanceolate and acute, the lower ones divided into two broad obcordate lobes.
Distribution
- Of recent introduction as an ornamental.
- Cultivated throughout the world.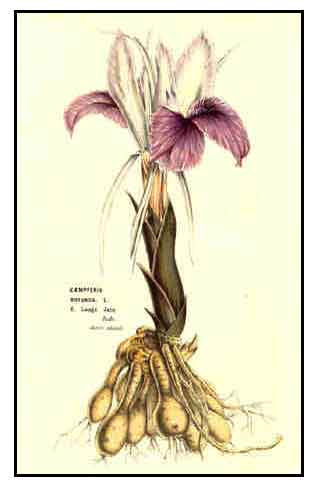 Constituents
- On distillation, rhizomes yield 0.2% essential oil of light yellow color, with an unpleasant odor, similar to camphor and later, of tarragon oil.
- Oil contains cineol.
- Plant yields flavonoids, crotepoxide, chalcones, quercetin, flavonols, ß-sitosterol, stigmasterol, syringic acid, protocatechuic acid and hydrocarbons.
- Study yielded three new cyclohexane diepoxides together with crotepoxide and (-)-zeylenol from the rhizomes of K. rotunda. (5)
- Dried and milled rhizomes of K. rotunda yielded three known flavanones. namely 5-hydroxy-7-methoxyflavanone (1), 7-hydroxy-5-methoxyflavanone (2), and 5,7-dihydrox- yflavanone (3). (see study below) (16)
- Phytochemical analysis of rhizomes yielded alkaloids, steroids, triterpenoids, flavonoids, and saponins (see study below) (17)
- Study of methanolic extract of K. rotunda yielded 12 compounds (1-12), including a new polyoxygenated cyclohexane compound, (-)-3-acetyl-4-benzoyl-1-benzoyloxymethyl-1,6-diepoxycyclohexan-2,3,4,5-tetrol. (see study below) (21)
- GC and GC-MS studies on the volatile constituents of the rhizomes showed the most abundant constituents to to be benzyl benzoate 69.7%, 20.2%), n-pentadecane (22.9%, 23.8%), and camphene (1.0%, 6.2%). (2)

Properties
- Rhizomes are cooling and diuretic.
- Reported poisonous nature of the rhizome juice when administered internally for throat affections, producing profuse salivation and vomiting.
- Studies have suggested antioxidant, insecticidal, antibacterial, antifungal, larvicidal, anthelmintic, anticancer, antimutagenic, analgesic, anti-inflammatory, antihyperglycemic properties.

Parts used
Rhizomes, roots, leaves.

Uses
Culinary
- In Java, rhizomes and young leaves used to flavor food.
- In Malaysia, leaves are eaten fresh or cooked as vegetables; also used for flavoring.
Folkloric
- Rhizomes use internally for gastric complaints.
- Externally, rhizomes used with coconut oil as a cicatrizant.
- Rhizomes used in mumps, for bruises and wounds.
- Ointment made from the powder used for healing wounds.
- Rhizomes used as diuretic.
- Juice of rhizomes used as resolvent of phlegm, of dropsical afflictions of the hands and feet, and for joint effusions.
- In India, powdered roots used for mumps; as poultice, used for suppurations.
- In Bangladesh, used for treatment of diabetes and pain.
- In Indonesia, used for abdominal pain, wounds, diarrhea, colic disorder, sputum loosening.
Others
Cosmetics: Rhizomes and leaves used in making cosmetic powders.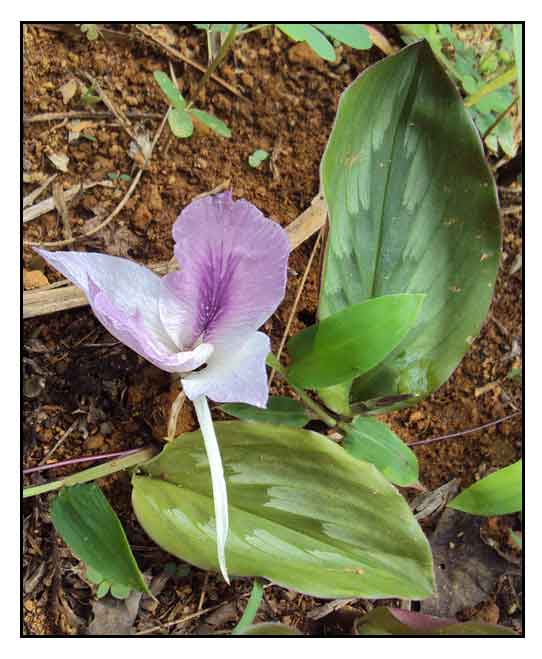 Studies
• Antioxidant / Rhizomes: Study evaluated the antioxidant effect of Kaempferia rotunda and its contribution to control lipid peroxidation. The scavenging of radicals by the methanol extract correlated with the antioxidant potential of the plant, with a potential to control age-dependent diseases such as myocardial infarction, diabetes, atherosclerosis, cancer, etc. (1) Study showed the chloroform extract of rhizomes of K. rotunda showed significant scavenging effect of DPPH free radicals.
• Essential Oils: Study on the volatile constituents of the rhizomes showed the most abundant constituents to to be benzyl benzoate, n-pentadecane, and camphene. (2)
• Insecticidal / Rhizomes: Extracts from rhizomes of K rotunda and Z cassumunar, incorporated into artificial diets displayed significant insecticidal activity against neonate larvae of the pest insect Spodoptera littoralis. Rhizomes of K rotunda yielded two active metabolites - crotepoxide and benzyl benzoate. Benzyl benzoate exhibited insecticidal activity only when applied locally. (3)
• Antimicrobial / Larvicidal / Antioxidant / Chemical Constituents: In a study of 4 medicinal plants, K rotunda was shown to yield five pure compounds - crotepoxide, tetracosanoic acid, benzoic acid, stigmasterol and p-sitosterol. The major constituent of the essential oil was benzyl benzoate. Extract showed activity against tested microbes (P aeruginosa, S typhimurium, B subtilis), moderate antioxidant activity, and some larvicidal activity.
• Anthelmintic / Rhizomes: Study evaluated the anthelmintic activity of alcoholic extract of rhizomes against Pheretima posthuma and Ascardia galli. The alcoholic extract exhibited significant anthelmintic activity.
• Lectin / Cytotoxicity / Antibacterial / Antiproliferative: Study purified a lectin (KRL) from the extracts of rhizome. The lectin showed against brine shrimp nauplii and strong agglutination activity against seven pathogenic bacteria. It also showed antiproliferative activity activity against Harlech ascites carcinoma. (9)
• Antihyperglycemic / Antinociceptive: study of rhizome extract showed significant antihyperglycemic and antinociceptive activity validating its use in Bangladesh for the treatment of high blood sugar and relief of pain. (10)
• Wound Healing / Leaves: Study of aqueous and methanolic leaf extracts using incision and excision wound models in rats showed significant wound healing activity. (12)
• Safety Studies / Tuberous Rhizomes: Study evaluated ethanolic extracts of rhizome, tuber, rhizome fractions and essential oil for acute and 28-days repeated dose toxicity studies on Wistar albino rats. The extracts and fractions showed no acute toxicity up to 2000 mg/kbw and the no-observed-adverse-effect (NOAEL) of the extract and fractions is greater than 1000 mg/kbw per day per orem for 28 days. (13)
• Lectin / Antibacterial / Apoptotic Induction: Study evaluated the effect of K. rotunda lectin (KRL) on EAC (Ehrlich Ascites Carcinoma) cells in vitro. Results showed the lectin induced apoptotic cell death in Ehrlich ascites carcinoma cells. KRL also showed agglutination activity against E. coli and S. aureus, with partial inhibition of their growth. (15)
• Antimutagenic / Flavanone Compounds: Study sought to isolate and to investigate antimutagenic activity of some flavanones from K. rotunda. The methanol extract and isolated flavanones showed significant antimutagenic effect compared to control group. (see constituents above) (16)
• Antimicrobial / Rhizomes: Study evaluated the antibacterial activity of various solvent extracts of K. rotunda rhizomes against six bacterial strains i.e., S. aureus, H. influenza, P. aeruginosa, S. pneumonia, S. pyogenes and L. acidophilus and one fungal organism, Candida albicans. The ethyl acetate extract of rhizomes showed antibacterial activity against L. acidophilus (17.3 ± 0.57 mm), S. pneumonia (16.6 ± 0.28 mm) and S. pyogenes (16.6 ± 0.28 mm). All extracts showed low antifungal activity against C. albicans. (see constituents above) (17)
• Antioxidant / Rhizomes: Study evaluated the antioxidant effect from rhizomes of K. rotunda by DPPH free radical scavenging assay. A chloroform soluble extract of rhizomes showed significant scavenging effect on DPPH free radicals (IC50=180 µg/mL). Tow compounds were identified: 1,2'-hydroxy-4-4',6'-trimethoxy-chalcone (1) and (+)-crotepoxide (2). Compound 1 was the active constituent with IC50=142 µg/mL. (18)
• Lectin / Apoptosis and Growth Inhibition / Colon Cancer Cells / Rhizomes: Study evaluated the anti-cancer activity of K. rotunda tuberous rhizome lectin (KRL,MW 29±1.0 kDa) against colon cancer cells SW480 and SW48. The lectin inhibited 67% and 59% of SW480 and SW48 cells growth, respectively. Cell growth inhibition was dose-dependent. Results suggest the KRL prevented SW480 and SW48 cells proliferation by induction of apoptosis in the mitrochondrial intrinsic pathway. (19)
• Analgesic / Anti-Inflammatory / Rhizomes: Study evaluated an ethanolic extract of rhizomes of K. rotunda for anti-inflammatory and analgesic activities using experimental animal models. Acute toxicity study by OECD guidelines showed absence of mortality or any toxicity at higher dose of 2000 mg/kbw. In Results showed significant reduction in paw edema in the carrageenan induced paw edema in rat model. In Eddy's hot plate and tail immersion methods, the ethanolic extracts increased the stress tolerance capacity of test animals. (20)
• Cytotoxicity / Pancreatic and Breast Cancer Cell Lines: Study of methanolic extract of K. rotunda yielded 12 compounds (1-12). The compounds were tested for cytotoxicity against pancreatic (PSN-1) and breast (MDA-MB231) cancer cell lines. Compound 12 showed moderate cytotoxicity against PSN-1 and MDA-MB231 without showing cytotoxicity against the normal cell line, TIG-3. (see constituents above) (21)
• Anticancer / Human Breast Cancer / Rhizomes: Study evaluated the anticancer activity of bioactive compounds from K. rotunda rhizome against human breast cancer in vitro and in vivo. In in-vitro cytotoxicity assay, the chloroform extract of K. rotunda and pinostrobin (1) showed an IC50 of 41.72 µg/mL and 59.8 µg/mL, respectively. In in-vivo assay, the fastest cancer volume decrease occurred in the chloroform extract treated group at dose of 500 mg/kbw, and group treated with pinostrobin (1) in dose of 20 mg/kbw. The bioactive compounds can repair breast tissue histopathology and suppress c-Myc expression on mice with T47D breast cancer xenograft. Results suggest potential for K. rotunda rhizome as breast cancer therapeutic agent. (22)
• Nanoparticles / Rhizome: Study reports on the synthesis of nanoparticles produced by chloroform fraction of K. rotunda loaded with alginic acid and combination alginic acid-chitosan. The NPs showed lower activity in antioxidant and cytotoxic effect against human breast cancer T47D cell lines than the starting chloroform fraction material of K. rotunda. (23)
• Androgenic Activity / Rhizome: Study investigated in in-vitro anti-androgenic activity and chemical composition of various extracts of K. rotunda rhizome. Antiandrogenic activity was tested by the effects of various extracts on the conversion of testosterone. The hexane extract was mot potent (IC50=0.43 ± 0.10 mg/mL). On GC-MS analysis, the hexane extract yielded the most volatile components, including mono- and sesquiterpenoids. Results suggest a potential plant source for anti-androgens. (24)
• Antibacterial / Benzyl Benzoate and Crotepoxide / Rhizome: Study evaluated the antibacterial activity of benzyl benzoate and crotepoxide, major components of rhizome, against four pathogenic bacterial, i.e., E. coli, E. aerogenes, B. cereus and S. aureus using disc diffusion method. Results showed benzyl benzoate and crotepoxide exhibit a medium level of activity. Benzyl benzoate showed highest antibacterial activity against B. cereus with MIC of 50 µg/mL and ZOI of 5.9 mm, while crotepoxide showed highest activity against E. aerogenes with MIC of 100 µg/mL and ZOI of 6. mm. (25)

Availability
Wild-crafted.