Gen info
- The genus name Glycosmis derives from two Greek words viz. "Glynis" and "Esme", which mean sweet and smell, respectively, indicating the characteristic sweet-scented flowers common in the genus.
- The genus belongs to the family Rutaceae and includes at least 51 species. (17)
Botany
Glycosmis pentaphylla is a tree up to 5 m tall. Leaves 3- or 5-foliolate; petiolules 2-10 mm; leaflet blades oblong, 10-25 by 3-7 cm, papery, base cuneate, margin serrate, apex mucronate. Inflorescences axillary or terminal, paniculate. Flowers globose in bud. Sepals broadly ovate, less than 1 mm. Petals white or pale yellow, 3-4 mm, caducous. Stamens 10. Ovary globose to broadly ovoid; style extremely short; stigma slightly expanded. Fruit reddish, subglobose, 8-10 mm in diameter. (2)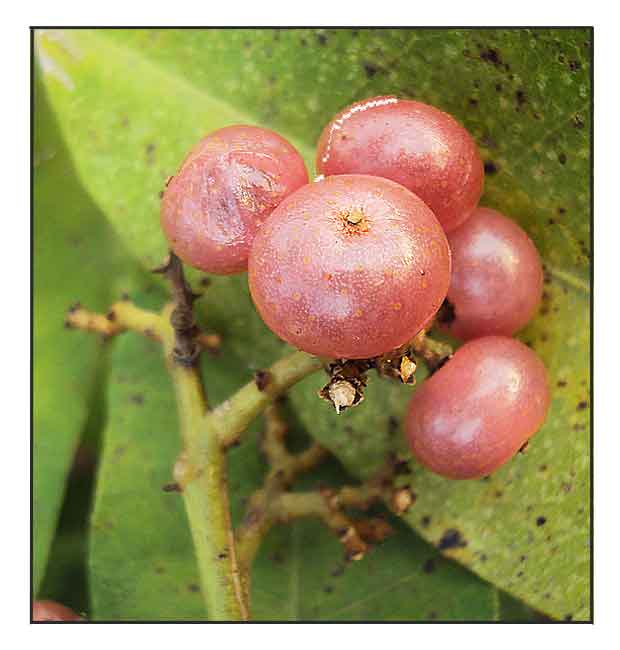 Distribution
- Native to the Philippines.
- In thickets and secondary forests at low and medium altitudes, ascending to 1,100 meters, from northern Luzon to Palawan and Mindanao, in most if not all islands and provinces.
- Also native to Andaman Is., Assam, Bangladesh, Cambodia, China, East and West Himalaya, India, Jawa, Laos, Lesser Sunda Is., Malaya, Myanmar, Nepal, Nicobar Is., Sri Lanka, Thailand, Vietnam. (1)
- Cultivated for its edible pink fruits or as an indoor houseplant.
Constituents
- Extensive photochemical studies of different parts have yielded at least 354 secondary metabolites from diverse classes including alkaloids, amides, phenolic compounds, steroids, terpenoids, and fatty derivatives.  (17)   
- Contains the active principle, glycosmin, a crystalline glucose, present in traces throughout the plant, its greatest concentration found in the new leaves and buds where it reaches 0.2 per cent; in the mature leaves, it varies from 0.08 to 0.1 per cent.
- Leaves also yield a tannin, a phlobaphene, traces of salicin, and about 2.1 per cent of sugars (reducing and non-reducing).
- From the leaves, study isolated glycolone, a quinolone alkaloid. (3)
- From the root bark, study isolated carbazole and 3-methylcarbazole. (4)
- Stem extract yielded a new naphthoquine, glycoquinone, and a new acridone alkaloid, glycocitrine-III along with 12 known compounds. (14)
- GC-MS study of leaves for essential oil yielded 67 compounds representing 99.71% of essential oil. Phytol (28.03%) was the dominant compound. Most representative compounds were sesquiterpenes (46.39%), followed by diterpenes (28.58%), fatty acids (10.61%), monoterpenes (5.81%), and alkane and alkene (3.83%). (21)
- Phytochemical screening of root extracts yielded alkaloids, glycosides, terpenoids, flavonoids, tannins, and phenolic compounds. (see study below) (23)
- Study of stems yielded a new simple carbazole alkaloid, 4-(7-hydroxy-3-methoxy-6-methyl-9H-carbazol-4-yl)but-3-en-2-one (1), and two new dimeric carbazole alkaloids, bisglybomine B (2) and biscarbalexine A (3), together with seven known alkaloids. (24)
- Study of stems isolated two new flavanols, glycoflavanones A (1) and B (2), both possessing α-pyrone moiety, together with five known compounds 4'-O-methylgallocaechine (3), ß-sitosterol (4), alphitol (5), 3,4-dimethoxy-5-hydroxy-trans-cinnamyl alcohol (6), and oxyresveratrol (7). (25)
- Study of BuOH-soluble fraction of EtOH extract from stems isolated three new phenolic glycosides, glycopentosides D-F (1-3). (40)
- Study isolated a new ent-abietane lactone,3-oxojolkinolide A (1), together with 16known compounds, helioscopinolide E (2), helioscopinolide A (3), 3-methyl-9H-carbazole (4), carbalexin (5), carbalexin B (6), glycaborinine (7), arborinine (8), 1H-indole-3-carbaldehyde (9), glycoamide A (10), glycoamide B (11),
2-(N-methyl-2-phenylacetamido)benzoic acid (12), 2-(methylamine)-methylbenzoate (13), fraxidin (14), scopoletin (15), (-)-syringaresinol (16) and ferulic acid (17). (41)

Properties
- Glycosmin is slightly bitter.
- Considered astringent, vermifuge, anti-inflammatory and expectorant..
- Studies have suggested anthelmintic, hepatoprotective, antibacterial, cytotoxicity, antioxidant, antipyretic, antidiabetic, anticancer, antiarthritis, anticancer, mosquitocidal properties.

Parts used
Stems, roots, bark and leaves.


Uses
Edibility
- Fruits are edible with a juicy spicy flesh with a gin-like flavor.
Folkloric
- Used in various traditional medicine systems for treatment of chest pains, cough, fever, anemia, jaundice, liver problems, bronchitis, inflammation, rheumatism, urinary tract infections, pain, bone fractures, toothache, gonorrhea, diabetes, cancer. Topical preparations are used for boils, eczema. (17)
- Bitter juice of leaves used for fevers, liver complaints and intestinal worms, especially in children.
- Stems and roots of plant used on ulcers.
- Paste of leaves, with a bit of ginger, applied to eczema and other skin diseases; also, applied over the navel for worms and other bowel disorders.
- Infusion of leaves given to women after delivery to induce appetite.
- Wood is used for snake bites.
- Used for cough, jaundice, inflammation, rheumatism and anemia.
- In Bangladesh, used to reduce blood sugar and to relieve pain.
- In traditional Indian medicine, used for jaundice and other liver afflictions.
- In India, used as astringent, expectorant, and for snakebites.
Others
- Toothbrush: In eastern Bengal, stems used as toothbrushes for its fibrous nature and slightly astringent and bitter quality.
Studies
• Anthelmintic / Roots: Study showed extracts from G pentaphylla roots showed potent anthelmintic activity on the earthworm, Pheretima posthuma, The methanolic extract showed greater activity than the chloroform extract. (5)
• Hepatoprotective: Study evaluating the hepatoprotective activity of plant materials on Swiss albino rats with liver damage induced by CCl4 showed G. pentaphylla, B orellana, C caja, and C equisetifolia exhibited moderate dose-dependent protective effect evidenced by lowering of serum enzymes and supported by histopathological studies of liver tissue. (6)
• Antibacterial: Study of the methanol extracts of seven medicinal plants, including Glycosmis pentaphylla, showed moderate activity against all the tested organisms. (7)
• Sulfur-Containing Amides / Cytotoxic Against Leukemia Cell Line: Chloroform extracts of G citrifolia and G elongata yielded a triterpene, four sulfur-containing amides (E-dambullin, Z-dambullin, E-methyldambullin and Z-methyldambulin) and two alkaloids (skimmianine and arborinine). The amides were strongly cytotoxic against a T-lymphoblastic leukemia cell line. (8)
• Antioxidant / Leaves: Study showed the extract of leaves of G. pentaphylla and Bauhinia variegata inhibited free radical scavenging activity. The effect was attributed to flavonoids, phenolics and other phytochemical constituents. (9)
• Antipyretic / Aerial Parts: Study of ethanolic extracts of aerial parts of B. variegata and Glycosmis pentaphylla exhibited significant antipyretic activities in Brewer's yeast induced pyrexia in rats. Activity was attributed to inhibition of prostaglandin synthesis in the hypothalamus. (10)
• Antidiabetic / Analgesic: Study evaluated an ethanolic extract for antihyperglycemic and analgesic effects in Swiss albino male mice. Results showed an antihyperglycemic effect with blood sugar reduction more significant at 120 minutes, comparable to that induced by metformin. The extract also exhibited an analgesic effect comparable to diclofenac sodium. (11)
• Apoptosis Inducing Effect / Hepatocellular Carcinoma Cell Line: Study evaluated the in vitro anticancer and apoptosis inducing activity of G. pentaphylla in hepatocellular carcinoma cell line, Hep3 B. Results showed concentration and time dependent induction of apoptosis. (12)
• Anti-Diabetic / Anti-Arthritic / Stem Bark: Study evaluated the antidiabetic and anti-arthritic potential of an ethanolic extract of stem bark of G. pentaphylla. Results showed significant reductions in fasting glucose levels and inflammation observed in diabetic and arthritic animals. Observed increase in insulin levels was attributed to pancreatic ß cell regeneration. There was also significant improvement of hematologic parameters, including ESR. (13)
• Antinociceptive / Anti-Arthritic / Leaves: Study investigated a methanolic extract of leaves for anti-nociceptive activity. The extract produced an antinociceptive effect with significant inhibition of late phase formalin induced pain and significant decrease in the number of writhing. (15)
• Antimicrobial / Antioxidant / Cytotoxic / Leaves and Stems: A methanolic extract of stems showed moderate antioxidant activity, probably due to polyphenolic content. Both stem and leaves extracts showed moderate antimicrobial activity. The stems extract showed showed potent cytotoxic activity. Several antitumor alkaloids were identified. (16)
• Anti-Chikungunya Virus / Isovaleric Acid and Avicequinone C: Oral administration of tender leaf extract is traditional known to prevent chikungunya virus infection. Study profiled phytocompounds in the plant through LC-MS/MS, sought to identify active antiviral constituents and drug-likeness through molecular docking. Docking results showed compounds isovaleric acid and avicequinone-C have good interaction with chikungunya causing protein targets. ADME/T profiling of the phytocompounds revealed the two compounds could be promising molecules for drug development against chikungunya virus. (18)
• Anticancer / Apoptosis and Cell Cycle Arrest / Breast Cancer Cells / Leaves: Study evaluated the effect of various fractions of G. pentaphylla leaves on cell cycle and apoptosis of breast cancer cells viz. MCF-7 and MDA-MB-231. HPTLC and HPLC profiling revealed presence of lupeol, chrysin, quercetin, ß-sitosterol and kaempferol. Selected fractions possess cell cycle inhibitory and apoptosis inducing effect on both MCF-7 and MMDA-MB-231 cells. Apoptotic effect may be through the mitochondrial pathway by activation of caspase-3/7. (19)
• Anti-Inflammatory / Antiproliferative / Leaves: Study isolated 18 previously undescribed sulphur-containing amides (1-18) and three known analogues (19-21) from the leaves of G. pentaphylla. Isolates were investigated for antiproliferative and anti-inflammatory activities. Prenylated sulphur-containing amides exhibited significant inhibitory effects against nitric oxide (NO) production stimulated by lipopolysaccharide in mouse macrophage RAW 254.7 cells. They also exhibited considerable antiproliferative activities against HepG2 cell line. (20)
• Hepatoprotective / Paracetamol-Induced Toxicity: Study evaluated the hepatoprotective activity of G. pentaphylla against paracetamol induced hepatotoxicity in Swiss albino mice. Results showed significant reduction in the elevated serum ALT (p<0.001). AST (p<0.001), ALP (p<0.001) and total bilirubin (p<0.01) and an increased level of total protein (p<0.01) with a significant reduction in liver weight. Biochemical observations were supplemented by histopathological examination of liver sections. (22)
• Anti-Arthritic / Roots: Study evaluated the anti-arthritic efficacy of chloroform, ethyl acetate, and ethanol root extracts screened by bovine serum albumin renaturation method. All extracts tested showed positive response, with the ethanol extract showing maximum efficacy of 46.46%. (see constituents above) (23)
• Antioxidant / Antimicrobial / Leaves: Study evaluated methanol extract of G. pentaphylla leaves for antioxidant and antimicrobial potential. Antioxidant activity of different concentrations of plant extracts increased in a concentration dependent manner with IC50 of 69.64 µg/ml compared to ascorbic acid (27.02 µg/ml). Total phenol content was 25.28 mg/g GAE. Highest antimicrobial activity was against Salmonella paratyphi with zone of inhibition of 22 mm. (26)
• Glycosmisines / Antiproliferative / Stems: Study of stems isolated two unique carbazole-indole-type dimeric alkaloids, glycosmisines A and B (1 and 2), and their cytotoxicity was tested against three cancer cell lines (A549, HepG-2, and Huh-7 cells) using MTT assay. Compounds 1 and 2 exhibited significant levels of cytotoxicity against the three human cancer cell lines, inducing apoptosis in the same cell lines as evidenced by changes in morphological features of the treated cells and dose-dependent accumulation of a sub-G1 population. (27)
• Anthelmintic / Leaves: Study of evaluated the anthelmintic effect of methanolic extract of leaves on adult Indian earthworm, Pheretima posthuma. The extract produced significant (p<0.05) dose dependent inhibition of spontaneous motility (paralysis) and death of earthworms. (28)
• ZnO Nanoparticles / Antimicrobial / Leaves: Study reports on the simple, green synthesis of of zinc oxide nanoparticles from methanolic leaf extract of G. pentaphylla. The synthesized ZnO NPs exhibited excellent antimicrobial activity against pathogenic organisms. (29)
• Silver Nanoparticles / Antimicrobial / Fruit Pericarp: Study reports on a novel, one-pot, cost-effective, green synthesis of silver nanoparticles (AgNPs) from fruit epicarp extract of Glycosmis pentaphylla. The AgNPs showed strong antifungal activity against Alternaria alternata, Colletotrichum lindemuthianum, Fusarium moniliforme and Candida albicans and antibacterial activity against Bacillus subtilis, Streptococcus mutans, Escherichia coli and Salmonella enterica. (30)
• Arborine and Skimmianine for Multidrug-Resistant S. aureus: Study aimed to isolate antibacterial principles against the clinical isolates of multidrug-resistant (MDR) Staphylococcus aureus from ethyl acetate extract of Glycosmis pentaphylla. Isolated compounds were identified as arborine and skimmianine, which exhibited significant antibacterial effect with lowest MIC and MBC values against MMDR Staphylococcus aureus and in vitro kinetic and protein leakage assays supported the antimicrobial activity. Significant morphological changes such as unneven cell surfaces and morphology, cell shrinkage, and cell membrane damages were observed in MDR S. aureus upon treatment of arborine and skimmianine. (31)
• Glycopentalone / Anti-Hepatocellular Carcinoma: Study aimed to isolate and characterize the most active anti-hepatocellular carcinoma (HCC) compound from an alcoholic extract of G. pentaphylla. The most active anti-HCC compound was a chalcone derivative, which showed specificity against Hep3 B with minor cytotoxicity against non HCC cell lines, RAW 264.7 and HEK293. MTT assay, physiological and FACS analysis showed the anti-HCC efficacy of the isolated compound in vitro. (32)
• Anti-Inflammatory / Roots: Study evaluated the anti-inflammatory effect of methanolic extract of roots of G. pentaphylla using carrageenan and egg albumin-induced rat paw edema, xylene induced mouse ear edema and formaldehyde induced arthritis inflammation tests at doses of 5-400 mg/kg intra- peritoneally. Results showed significant (p<0.05) dose dependent inhibition of edema formation in all four methods. Results seem to justify use of the plant in traditional Indian medicine in the treatment of inflammation. (33)
• Effect against Arsenic Toxicity / Leaves: Study evaluated the effects of Glycosmis pentaphylla leaf powder against sodium arsenite (NaAs)2) induced toxicosis in adult albino rats. Results showed G. pentaphylla leaf powder may mitigate the arsenicosis in rats at a dose dependent manner, with potential for use to reduce or prevent arsenic toxicity in humans. (34)
• Glycopentanolones / ß-Hexosaminidase Inhibition / Alkaloids / Stems: The ethanolic extract from stems was found to suppress antigen-mediated degranulation of rat basophilic leukemia (RBL-2H3) cells. Study isolated four new geranylated 2(1H)-quinolone alkaloids and 12 known compounds from the stem of Glycosmis pentaphylla. Four alkaloids (1,2,8, and 11) with N-methyl moiety exhibited potent inhibition of ß-hexosaminidase release. (35)
• Effect against Arsenic Toxicity / Leaves: Study evaluated the effect of Glycosmis pentaphylla on key markers of apoptosis, metastasis, and angiogenesis in vitro and evaluated the effect of fractions in vivo in DMBA-induced mammary tumor model. Results showed fractions induced apoptosis in breast cancer cells through the intrinsic/mitochontrial apoptotic pathway. Fractions inhibited the metastatic and angiogenic markers, MMP-9 and HIF-1α. Anti-tumor studies in DMBA-induced mammary model in Sprague Dawley rats also showed favorable results. (36)
• Wound Healing / Excisional Model / Leaf Ointment: Study evaluated the wound healing potential of 10% and 15% ointment formulations of methanolic leaf extract om am excision wound model in rats. The 15% w/w ointment group showed significant wound healing comparable to that of nitrofurazone ointment treated animals. Closure time was less and percentage of wound contraction was more. Both concentrations of methanolic extract ointment showed significant responses when compared to the control group. (37)
• Mosquitocidal / Leaves: Study evaluated the mosquitocidal effects of Glycosmis pentaphylla using different solvents of acetone, methanol chloroform and ethyl acetate extracts against three medically important mosquito vectors. G. pentaphylla extracts showed larvicidal and adulticidal activity against the mosquito vectors. Acetone extracts showed highest larvicidal effect against An. stephensi, Cx. quinquefasciatus, and Ae. aegypti with LC50 and LC90 values of 0.0004, 138.54; 0.2669, 73.7413; and 0.0585, 303.746 mg/ml, respectively. Results suggest potential for an eco-friendly approach for larvicides and adulticidal mosquito vector control. (38)
• Selenium Nanoparticles / Antibacterial / Leaves: Study reports on the green synthesis of selenium nanoparticles using G. pentaphylla leaves. The NPs showed strong antibacterial activity against four urinary tract pathogens viz., E. coli, P. vulgaris, S. aureus, and P. aeruginosa. (39)

Availability
Wild-crafted.