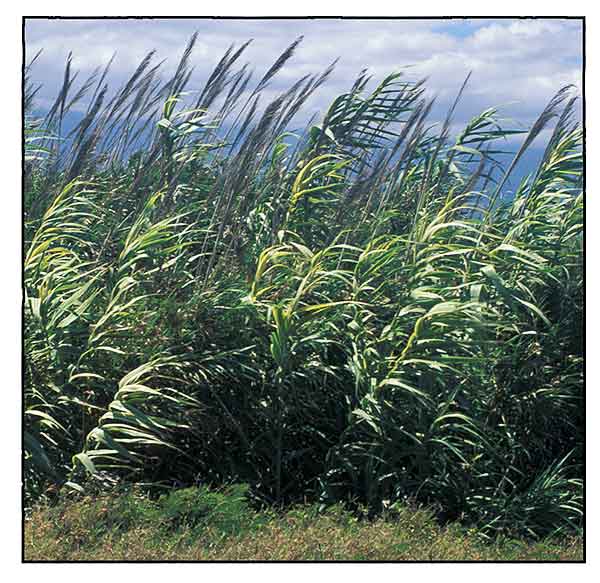 Gen info
- Arundo donax is one of several so-called reed species.
- Etymology: Arundo donax derives from old Latin and Greek names for 'reed'.
- Giant reed is adapted to a wide variety of ecological conditions, but is generally associated with riparian and wetland systems.
- In New Zealand, it is listed under National Pest Plant Accord as an 'unwanted organism." It is among the fastest growing terrestrial plants in the world, nearly 10 cm (3.9 in) per day. Its leaves and stems contain a variety of harmful chemicals, including silica and some alkaloids, which protect it from insect herbivores and deter wildlife from feeding on it. It is also highly adapted to fires, highly flammable throughout the year, especially during drier months. (3)
- Use of Arundo donax dates back to 5,000 BC when Egyptians used its leaves as lining for underground grain storage. It has been said that leaves were used in wrapping mummies. It the 4th century AD, it was cultivated for the production of reeds for musical instruments.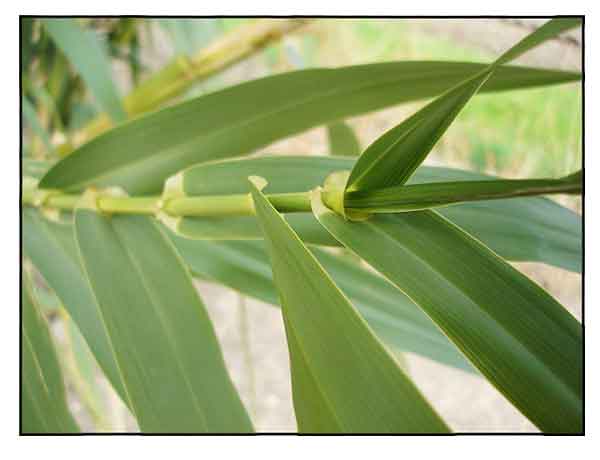 Botany
Arundo donax is a perennial, tall, erect grass, with creeping woody rhizomes. Culms erect, up to 5 m high. Leaf-blades conspicuously distichous, linear-lanceolate, rounded or cordate at the base, 30-60 cm long, 2.5-5 cm wide, glabrous, smooth, long-attenuate at the tip. Panicle 30.60 cm long and 5.8(10) cm wide. Spikelets 10-15 mm long; glumes subequal, lanceolate to narrowly lanceolate, (8-)10-13 mm long, the lower a little shorter than the upper; lemmas lanceolate, (6)8.5-13 mm long, 3-5-nerved, 3 of the nerves produced as short aristae, hairy all over the back below the middle with hairs up to 7 mm long. (Flora of Pakistan)
Distribution
- Introduced to the Philippines.
- Naturalized.
- Grows primarily in subtropical biome.
- Highly invasive in many countries.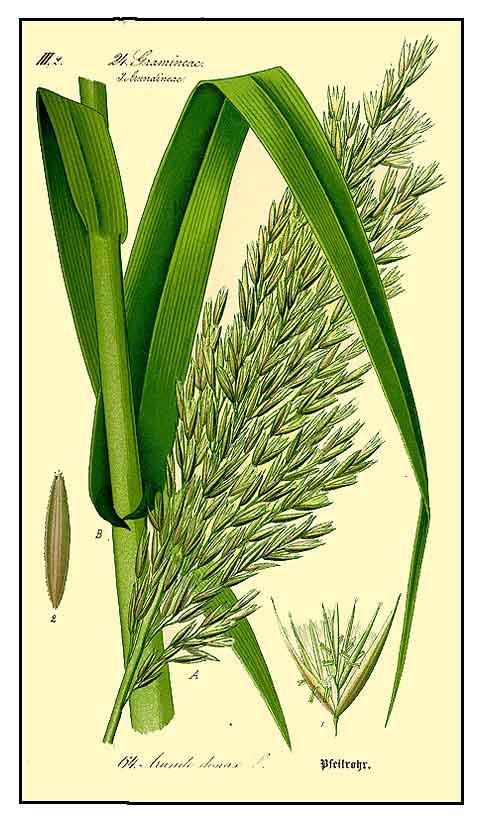 Constituents
- Constituent studies per 100 g of green roughage yielded zero moisture, 6.9 g protein, 1.3 g fat, 82.6 g total carbohydrate, and 37.5 g fiber. Carbohydrates consisted of rhamnose 0.15%, mannose 0.35 %, arabinose 2.00 %, galactose 0.84 %, xylose 33.88 %, glucose 62.13 %, 4-O-methyl glucuronic acid 0.65%. Arundo donax showed an average of 22% lignin, 42% α-cellulose, and 27% hemi-celluloses. It also contained calcium 0.30-o.67%, phosphorus 0.08-0.15 g, potassium 2.04-3.19%, and Mg 0.20-0.30%. Alkaloids include tryptamine, bufotenidine, gramine, and arundamine. (5)
- Constituent study of rhizomes yielded 23 compounds including sterols and phenylpropanoids: lauric acid (1), 5,6-epoxy-22,24-ergosta -8(14),22-diene-3,7-diol (2), 5,6-epoxy-22,24-ergosta-8(9),22-diene-3,7-diol (3), 5,8-Epidioxy-22,24-ergosta-6,22-dien-3-ol (4), stigmast-4-ene-3,6-dione (5), 6,9-Epoxy-ergosta-7,22-dien-3-ol (6), stigmast-22-en-3,6,9-triol (7), 3,4,5-trimethoxyphenol (8), 2,6-dimethoxy-quinone (9), sinapaldehyde (10), hydroxycinnamic acid (11), β-sitostenone (12), α-asarone (13), 4-DODecylbenzaldehyde (14), β-sitosterol (15), α-spinasterol (16), p-hydroxybenzaldehyde (17), ursolic acid (18), N-acetyltryptamine (19), daucosterol (20), (-)-syringaresinol (21), 1-[11-(ferulyloxy)-undecanoyl)]glycerol (22), N-€-feruloylserotonin (23). (9)
- Study of 70% aqueous ethanol extract of rhizomes yielded a new bis-indole alkaloid, names arundaline (1), a new phenylpropanoid, named arundalcohol (2), and four known alkaloids, N-acetyltryptamine (3), trans-N-(p-coumaroyl)serotonin (4), trans-N-feruloylserotonin (5), and tuberosine B (6). (12)
- Study of rhizomes isolated a new indole alkaloid, donasine. (14)
Properties
- Studies have suggested antibacterial, phytoremediative properties.

Parts used
Rhizomes, root leaves, stem.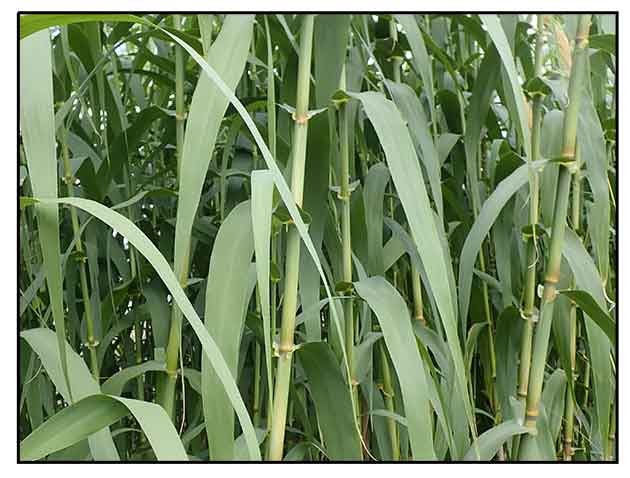 Uses
Folkloric
- Rhizome or rootstock once used for dropsy.
- Root or rhizome boiled in wine with honey used for cancer. Used for condylomata and indurations of the breast. Root infusion used as antigalactagogue, depurative, diaphoretic, diuretic, emollient, hypertensive, sudorific, hemostatic; and used for treatment of toothache, pertussis, and cystitis. (5)
Others
- Crafts: Split young culms used for weaving baskets, mats, trays, lattices and chair-seats. Unsplit culms used as fishing rods, umbrella handles, walking sticks, and fish traps.
- Reeds: Used as reeds in woodwind instruments, such as clarinets, oboes, bassoons, saxophones and bagpipes, for which it is cultivated France and, to a small extent, in the United States. In the late 1950s, the reported annual production of A. donax cane for the manufacture of reed was estimated at 90-140 t in France and 10 t in the USA, producing 15-20 million and 5-7 million reeds respectively. (4)
- Forage: Young shoots sometimes eaten; grazed by cattle when other fodder is scarce. (4)
- Paper: Fibers showed potential as alternative material to produce cellulose and handmade paper. (see study below) (16)

Studies
• Potential for Ecological Remediation / Review: Giant reed is considered one of the most important energy plants due to its huge dry biomass production. It can be used for bioenergy or biopolymer production. It can replace maize and reduced the production cost of biomass and electricity. Raw material can be used for production of rayon viscose and paper. Its flexibility and strength make potential for manufacture of fishing rods, brass musical instruments, canes and construction supplies. It has also shown potential for ecological remediation. Giant reed is able to decontaminate polluted soils. It can absorb heavy metals, purify the wastewater and decrease the pH of saline soil and make red mud safer. Review presents available evidence for the utilization of giant reed in field of phytoremediation and its potential applications combined with advanced remediation technologies in ecological remediation.(6)
• Antibacterial / Rhizomes: Study evaluated the antimicrobial activities of rhizome extracts of Arundo donax using disc diffusion assay against yeast Candida albicans, gram-positive S. aureus and B. cereus, and gram-negative E. coli. Various extracts of rhizomes inhibited B. subtilis and B. cereus. None of the extract inhibited E. coli and C. albicans. Analysis of compounds showed hexadecanoic acid was the major compound influencing B. subtilis growth, and xanthone affecting B. cereus growth. (7)
• Amoxicillin Adsorption / Phytoremediation Potential: Antibiotics are an emerging concern as pharmaceutical contaminants in aquatic environment even at very low concentrations due to adverse effects on humans and animals including acute and chronic toxicity and development of bacterial resistance to antibiotic treatment. Amoxicillin is one of the most used commercial penicillin antibiotic and its existence in wastewater from pharmaceutical industries and hospital effluents is cause of concern. In this study, microwave assisted KOH activation of renewable biomass Arundo donax was adopted for preparation of activated carbon with high capacity for amoxicillin antibiotic (AMX). Thermodynamic analysis showed that adsorption enthalpy of AMX was 17.7 kJ/mol, which revealed endothermic and physisorptive nature under examined conditions. (8)
• Antibacterial / Leaves and Roots: Study of methanolic root extract of A. donax exhibited maximum efficacy against Pseudomonas aeruginosa. A methanolic leaf extract was highly effective against Staphylococcus aureus. No activity was observed against Bacillus sp. and E. coli. (10)
• Phytoremediation / Cadmium / Nickel: Study evaluated the potential of Arundo donax for phytoremediation of cadmium (Cd) from contaminated soil and water. Both Bioaccumulation Factor (BF) and TF values for hydroponics were greater than 1. IC50s for ABTS and DPPH showed both time and increasing Cd concentrations affected the production of antioxidants with lower IC50 on the 21st day. A. donax showed better potential for Cd phytoremediation of aquatic environments. (11) Study evaluated the potential of A. donax in phytoremediation of Ni-contaminated soil. The translocation factor (TF) of greater than 1 categorizes A. donax as a great candidate for nickel phytoremediation. (13) Giant Reed is one of the most used plants as trace element bioaccumulator, especially via phytoremediation processes with capacity to absorb contaminants such as metals that cannot be easily biodegraded. Studies have documented giant reed to efficiently decontaminate soils polluted with Cu, Cd, As, Pb, Ni, high content of salts bauxite-derived red mud. Study reviews scientific literatures and utilization of giant reed biomass feedstock for phytoremediation and other uses. (15)
• Potential for Handmade Paper Production / Culms and Leaves: Study evaluated the morphological characteristics and chemicial composition of fibers of leaves and culms from A. donax for an alternative, renewable, low-cost source for cellulose and handmade paper production. Results showed fibers from A. donax are a viable alternative material to produce cellulose and handmade paper and/or can be mixed with other raw materials to produce different types of paper. (16)
• Biofuel Potential: Arundo donax is a strong candidate for use as renewable biofuel source due to its fast growth rate and ability to grow in different soil types and climates, with ability to grow up to 25 years without replanting. The biomass calorific mean value of giant reed is about 17 Mj kg-1 dry matter. Studies in the EU have identified A. donax as the most productive and lowest impact of all energy biomass crops. (3)

Availability
- Wild-crafted.
- Supplements in the cybermarket.