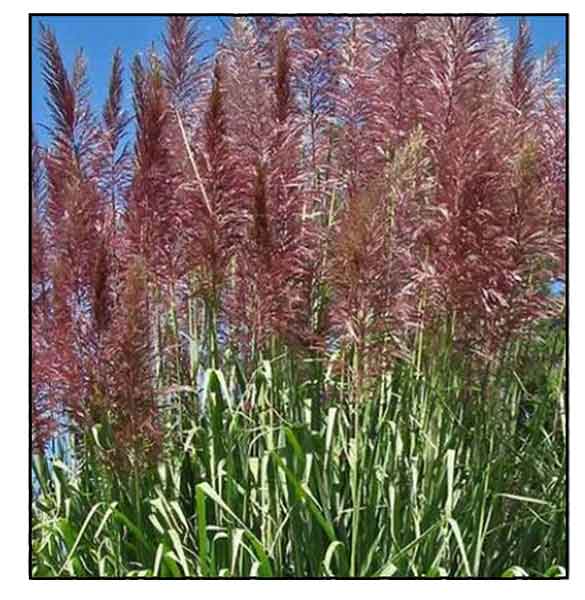 Gen info
- Etymology: Specific epithet arundinaceum derives from Latin arundin pertaining to Arundo and -aceum meaning 'resembling, having nature of; similar to Arundo, the reed genus. (3)
Botany
Saccharum arundinaceum is a perennial, forming large clumps. Culms robust, (0.7–)1–6 m tall, 1–2 cm in diam., glabrous. Leaf sheaths glabrous or pubescent, ciliate at mouth and margins; leaf blades (60–)100–200 × 1–2 cm, abaxial surface glabrous, adaxial surface velvety with long soft hairs on broad lower midvein, margins serrate, base narrow, apex long attenuate; ligule 1–2 mm. Panicle (25–) 30–80 cm, much branched, axis glabrous; racemes 3–5.5 cm; rachis internodes 3–5 mm, pilose with long silky hairs. Spikelets 3–4 mm, straw-colored tinged purple upward; callus hairs ca. 1 mm, shorter than spikelet; lower glume thinly cartilaginous, back pilose with silky hairs twice length of spikelet, keels scabrid, apex acuminate; upper glume usually glabrous in sessile spikelet, rarely thinly pilose, clearly pilose in pedicelled spikelet; lower lemma subequal to glumes; upper lemma lanceolate, apex mucronate or with awn to 3 mm. Lodicules glabrous. Anthers 1.8–2 mm. (Flora of China)
Distribution
- Native to the Philippines.
- Also native to Andaman Is., Assam, Bangladesh, Borneo, Cambodia, China, Hainan, Himalaya, India, Jawa, Korea, Laos, Lesser Sunda Is., Malaya, Maluku, Myanmar, Nepal, New Guinea, Sri Lanka, Taiwan, Tibet, Vietnam. (1)
- Moist places, along watercourses, often gregarious.
Constituents
- Stem is a good source of furfural (yield 5.67%, dry basis). Yields 19.5% (on dry weight) of reducing sugars when digested with sulphuric acid; glucose, xylose, galactose and rhamnose have been identified in the hydrolysate which contains 34.5% fermentable sugars. (It can be used as a potential source of alcohol.) (5)
Properties
- Study has suggested biosorbent properties.

Parts used
Leaves, roots, stems.

Uses
Edibility
- Leaf buds eaten as vegetable and in salads.
Folkloric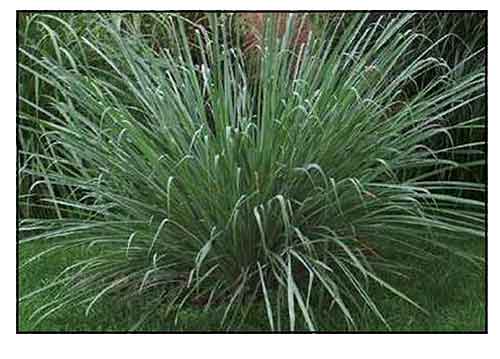 - Whole plant used for treatment of dysentery.
- Decoction used to treat boils and skin complaints. (2)
- Roots and stems used for diarrhea and fever.
- In Ayurvedic Phamacopoeia of India, roots recommended for treatment of dysuria, giddiness, and vertigo. In Kerela, used as Shara for dysuria, diseases due to vitiated blood, erysipelas, leucorrhea, and piles. (5)
Others
- Fiber: Leaf sheaths a source of fiber (Munji fiber), strong and elastics, enduring moisture without decaying. (5)
- Crafts: Leaf sheaths plaited into baskets, chairs, and screens. Considered valuable for paper making. In Java, used for handles of device (canting) applied in the batik process. (2)
- Fodder: Young shoots used as fodder. (2)

Studies
• Biosorbent for Removal of Methylene Blue Dye from Wastewater: Study reports on powdered Saccharum arundinaceum leaves (PSAL), an abundant agricultural waste, as a versatile, low-cost biosorbent for removal of dyes from wastewaster in manufacturing, printing, and textile industries. Based on kinetic analysis, PSAL showed to be an effective biosorbent form removal of methylene blue dye from wastewater. (4)
Availability
- Wild-crafted.
- Plants in the cybermarket.